Fumie Suguri: "There's always more to learn."
 
August 14, 2013
By Atsuko Kuryu
Photos © Kappa, Anna Bertoloni, Ia Remmel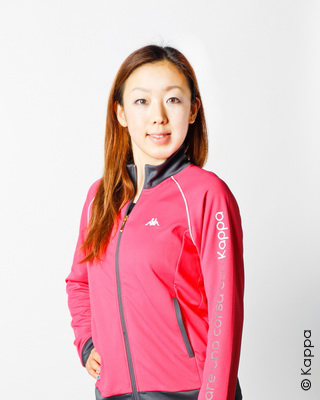 At the beginning of July, just as the Olympic season started, I had a chance to interview the former World medalist, Fumie Suguri. She was so beautiful and looked very healthy, at the same time she seemed to be all pumped for the up-coming season. I am happy to be able to share this interview with the Absolute Skating readers.
I heard you participated in the Music On Ice show in Europe. How was it?
It was in Geneva, Switzerland, and it was great. A friend of mine, a retired figure skater who produced the show, invited me to the show. And that was really wonderful because it drew a large audience.
You are famous for your special expressiveness on the ice. Which do you prefer, competitions or shows?
I like both, but in competitions I need to jump, which troubles me a bit.
You tweeted that you just came back from abroad.
Yes, I went to Canada because I am training there this season.
Please tell us about your programs for this season.
The programs were choreographed by Lori Nichol. She and I have been working together for 15 years, I think. My short program is Puss in boots. It is an American computer-animated movie originating from the French fairytale Le chat botte, directed by Chris Miller, the director of Shrek the Third. The free program is Moonlight.
You have skated to Moonlight once before, haven't you?
Yes, I have. I skated to the same music at the Salt Lake City Olympics in 2002.
Sounds really exciting. You said you are training in Canada. Who is your coach there?
Lori Nichol and the head coach of the rink. And I have been working with Noriko Sato in Japan as well, at the Shin Yokohama Skate Center. I skate 3 - 4 hours daily 6 days a week.
I heard you changed your affiliation to the Kappa team through Phoenix sportswear.
Yes. I'm satisfied with my practice environment this year and very thankful about it.
Note: Fumie joined Phoenix as a worker. Phoenix then set up the Kappa figure skating team for her and she is the first team member. This is a popular way in Japan; amateur athletes join a company and also its sports team. Some work as company workers and play sports but others just play sports. They get paid from the company and the company supports the athletes in every way.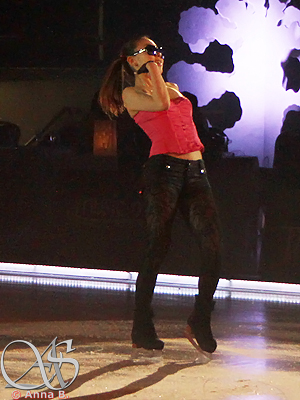 You seemed to have struggled these past two years.
I've had trouble with my boots. That's it.
You have worked with many coaches in you career, does your condition or motivation change depending on the coach?
Well, of course, it is about human relationships so there must be something to it. But every coach has given me a lot in so many ways.
You went to Nikolai Morozov after having struggled for two years after the Torino Olympic Games 2006, and you had a successful year. I remember your beautiful performance at the 2008 Japan Nationals. Did you owe that success to Nikolai?
Well, some part of it, yes. But there was more than that. I had had hard seasons for two years, from which I learned a lot. Those hardships made me flourish in 2008. Of course Nikolai is a really good coach who motivates his students and keeps them in good condition. Every coach has good and bad points, as does Nikolai.
I assume that Nikolai is very protective and tries to mold his student in his hands. On the other hand, you look really independent.
That is Nikolai. He is good at aligning himself to his students' personality. If someone needs to be protected, he is the nurse. On the other hand; if the skater is independent, Nikolai will leave a lot up to the skater to decide. That's why he is regarded as one of great coaches today.
Now you've had two hard seasons again, just as you had in 2008, and we are expecting a great come-back this year. Do you think you have changed during those two years?
Yes, I'd like to think so. I have been struggling for the last two seasons, and now I can realize how things really are about my condition. So what I need the most is to know how I can speed things up towards reaching my goal.
This is your fifth Olympic season as a competitive skater, what is your goal this year?
I want to go to the Olympics so I must have good results at Nationals.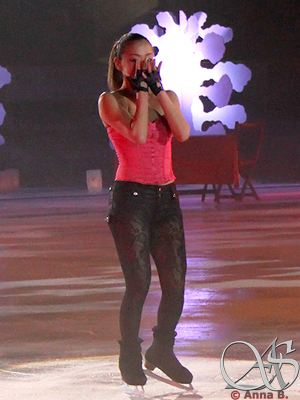 If good results are required at Regionals or Sectionals, you need to enter the new season in top condition.
I know that I have to enter the season at my best. My first competition, Regionals, will determine whether I can do well this season or not. If it goes well, I believe I can go through to Nationals without any problems. But if there is a stumble, I might have a hard time.
How's your condition right now?
I just performed in a charity show in Fukuoka; I feel I am in good condition. I am strong enough to skate through the program powerfully. As for the jumps things are a little different. I'm still anxious about my jumps so I will focus on them this summer.
Are you going to find a jump specialist coach?
No, I'm not. If you change coaches or rinks frequently, you would feel a bit messed up (and wouldn't get good result). So I decided to work with the Canadian coach and Noriko Sato this year.
Many years ago, I guess it was at Worlds 2004, you said that bad results could be meaningful for the future. And then you won the World silver medal and went to the Torino Olympics. So do you think the hardships of the last two years meant something to you?
Well, when I said that, I did pretty well at the Worlds, but one bad jump in the qualifying round left me far behind the top. Nobuo Sato, my coach at that time, said "That jump! The flip!"several times, even though being seventh in the world was the best result for me at that time. So what I meant there was that one jump can cost you a lot,I wasn't referring to any mentalthing. But the next year, I was able to get a ticket to the Salt Lake City Olympics after a crucial battle among the Japanese ladies. I was supposed to get it at the NHK Trophy but Yoshie Onda won the title there and got the Olympic spot. I barely won Nationals and went to the Olympic. So I guess the experience the year before taught me something. And I hope the hard experiences of the last two seasons will help me in some ways this year as well.
I have the impression that you are always very strong at Nationals.
I might be lazy so I don't make full use of my abilities, unless I'm cornered. (laughs)
Like at Nationals before the Torino Olympics?
Yes, just like that.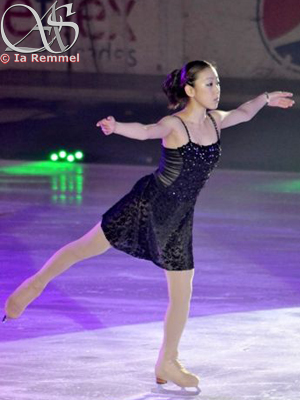 After you finished fourth at the Torino Olympics, you said "I was spellbound at the Salt Lake City Olympics, and the magic hasn't been removed" and you decided to continue competitive figure skating. Is the magic still there?
Yeah, I guess so. I had decided to continue until the Vancouver Olympics, but I couldn't go there. I'm sure the magic won't be removed unless I go to Olympics again. I really wanted to turn the magic off so I definitely want to go to Olympics.
I think this is the very last chance for you to challenge for an Olympic spot…
I'm sure it is.
So do you have a strategy to win a spot?
All I can do is my best from the beginning of the season. But I worry that there won't be enough time for me to get things ready and that really frightens me. So I try to work efficiently this summer and prepare for the season.
Making the minimum score at Regionals in order to be sent to international competitions must make you absolutely tense. But you have lots of experiences and you are tough enough to overcome such tension, aren't you?
Tough? Not at all. I'm an ordinary person and I never get used to the tension. I know I'm not strong so I always think about how to handle it.
Have you come up with any good ideas?
Actually, no. All I can do is to practice hard. I believe the more you practice, the more confident you will be.
Is that what you tell yourself before your performance at a competition?
Not really, but I am trying to control the tension during practice. I can't do well in either case when I put too much pressure or not enough pressure on myself. So I try to control myself during practice to find out how to put the needed pressure on myself to make it right.
Does your physical condition relate to the result?
I don't think so. Looking back, I often collapsed when I was in my best condition. I rather had better results when I had lots of troubles cause the better shape I'm in, the more tension I feel. So during practice I always consider how I can take pressure off.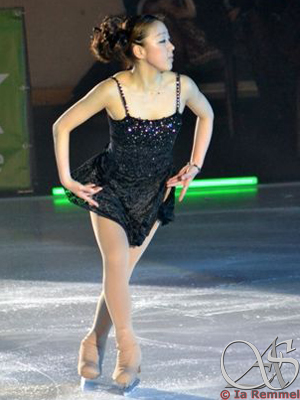 Have you ever thought about retiring?
Yes, of course. I might quit after this season. Anyway I will think about it after this season is over.
What do you think is the cue for retirement?
Marriage? No, just kidding.
You once said that you couldn't retire until you had a really great performance. Do you think you can quit if you had such performance even if you can't go to Sochi?
I don't know. I want to see how I would feel after such performance. It would relate to expressiveness and must be delivered superbly to the audience. I mean I want to perform the program as a perfect package. However, it is hard to do in competition because you need difficult jumps there.
How do you divide your thoughts between technical matters and expressiveness?
Well, I wish I could skate without thinking about technical matters. But I always concentrate on things like the lines or timing into jumps, and maybe some other techniques I especially care about. Nevertheless, during the flow of dramatic expression I hope I will make it possible to execute those things without thinking.
By the way, what has kept you in figure skating this long?
Figure skating is very difficult and I'm always frustrated with my lack of progress. There is always more to learn but I don't mean some technique which is obviously difficult. The ones seemingly easy to do are the most difficult to do perfectly. For example a counter turn. You go into it on an outer-edge and stay on that outer-edge even during the turn, and then exit on an outer-edge. You must do it smoothly and evenly. Sometimes you change the edge during the execution or your speed might change in the middle. Even very young skaters can do counter turns but most skaters can't execute them perfectly, while the skaters who competed in the era of compulsory figures could do it. That's why Patrick Chan is so appreciated.
I guess many skating fans can't recognize this so easily.
Right, especially when you watch it on TV; you can't feel the speed.
Does speed really count?
Yes, it does. How fast your blades glide on the ice is essential in figure skating. Talking about jumps, you can even do them on the ground. But gliding on blades is the reason why figure skating is special.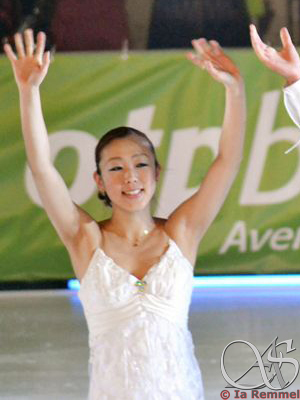 Are you saying the difficulty in using the blades and edges keep you in the sport and won't let you go?
Well… I am working on such things all the time.
I thought you were more hung up on expressiveness.
Of course I care about that side too. There is a theme in each program and you can show it through body movements. How you stretch your arm makes difference. My dearest wish is to deliver a perfect performance in competition, which would put all the details together.
And you are desperately seeking such performance this season. How's it coming?
I performed in Fukuoka last week and could feel my skating becoming very strong. I will concentrate on jumps from now on. Jumps have always been my problem; they need extensions, especially in the air. That's my challenge.
You are one of the last skaters who actually know the old 6.0 judging system. Which do you prefer: the 6.0 system or the IJS (ISU Judging System)?
Well … I think the 6.0 system gave more freedom to the choreography. On the other hand,the IJS has brought a great change in figure skating. Thinking about the whole figure skating world, it has contributed to a pretty vigorous development in the sport.
I thought you'd prefer the 6.0 systems because you're such an artistic skater. Don't you think you would get paid better in the old system?
Well, there are pros and cons in both systems. After the IJS was implemented, the skating technique improved tremendously. Skaters have been persevering in their effort to achieve higher levels so now they have a wider range of skills. Especially the spins and step sequences; you need to change to various positions when you are doing spins; the step sequences are becoming more and more complicated and skaters are also required to be more skilled. But on the other hand, the choreography tends to be more similar because we have to execute all the elements stated in the rules. Consequently we don't have enough time to show artistic expressions.
What do you think about the PCS (Program Component Score)? Sometimes it seems to reflect the skater's recent record rather than his/her performance. And if so, you might not receive a fair PCS as you don't have specific results from the past two years.
I don't want to become obsessed with that possibility. I'm not saying I don't worry about it, but all I can do is provide my very best performance. I want to convince the judges with my performance and let them say: "This is Fumie who deserves high appreciation!"
I want to ask you something about the current situation of figure skating. What do you, who's hung in there for such a long time, think of the youngsters these days?
Well, they are young and definitely very powerful. This is good. And they are really superior technically. They started skating under the current rules, so they practice special techniques such as rockers, counters, twizzles and more, and do them very well. I really appreciate that.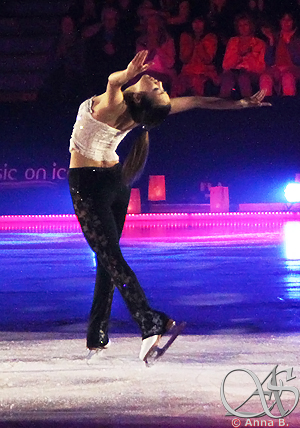 There are many skaters who have five triples and outstanding spins at the age of 12 or 13. However, many of them may not make it to the world topand disappear. You started skating at age 6 but didn't take it seriously until junior high; I guess that's why you've been able to continue so long in this sport. Don't you think the young skaters these days are hot-housed too early?
I regret that I wasn't truly committed in figure skating earlier. If I had started working hard much earlier, I wouldn't have struggled this much all through my career. So I don't oppose the special education for gifted children when they are very young. But maybe we should find other approaches as well? It may not be appropriate to let them dedicate their life only to figure skating; it might negatively influence their growth. I suggest that they try other sports such as tennis, swimming, dance, or baseball as well as figure skating. Some of the Japanese skaters are not very tall and neither am I. If I were six centimeters taller, the visual effect on the ice would be better. And if the young skaters can experience various sports, they would have better physique.
I really appreciate your long skating career and hope the youngsters love this sport and prolong their skating life. Do you have any advice for them?
The most important thing is to avoid injury. So you need to build your physical strength. Hanging in there is really important. I think this is my fate to provide them good ways to continue skating. We need lots of money to train in figure skating, but many will retire after they finish school. I hope the young ones will continue to skate and make it a life-long carrier.
So you want to do something skating related after you retire; like what?
I want to produce shows. Actually I think I'm a natural at coaching. But during my career, the entertainment experiences have helped me in many ways. They made me laugh or brought relief in hard times. They have a revitalizing effect. I wish I can do the same in the future.
Why do you think you are good at coaching?
I feel good when I spend time with children. They also teach me a lot. I think that to enjoy with them and teach them is the best thing I can do. Also, I have lots of experience and would be able to advise them. I am confident that I would be a good coach. With show business, I would have difficulty getting used to the new world and I would have to learn so many things unknown to me. Still, to learn new things suits my personality and I could benefit from my experiences. I also want to set stages for young skaters. There is a stage; there is a new job, right? They can work not only as a skater but also in other fields related to skating shows.
Do you have any advice right now, especially for the young skaters?
Well… Take good care of your body. This is fundamental.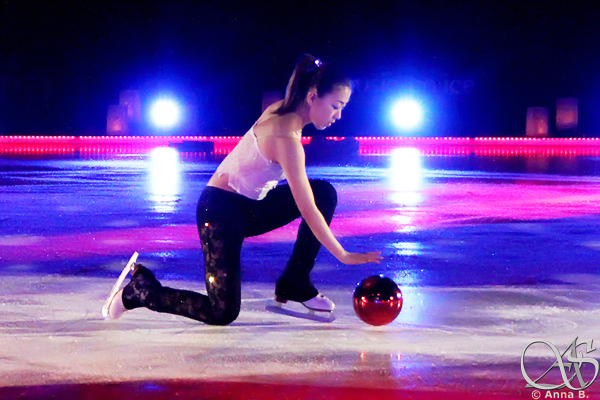 All through the interview, Fumie talked openly and often very enthusiastically. It might not be so easy for her to earn an Olympic spot under the present circumstances in Japan. But she looked positive and upbeat about joining the Kappa team, and if she can make her wish come true, that would be really amazing. A 33-year old female skater attending the Olympic Games! Fumie, with her elegant style, would create a buzz in Sochi; I wish if I could see it! Let's wish her the very best of luck.