An Olympic spot for Brazil - meet Isadora Williams
 
December 2, 2013
By Lena Halonen, assistant Eva Maria Jangbro (EMJO)
Photos © Eva Maria Jangbro (EMJO), Joy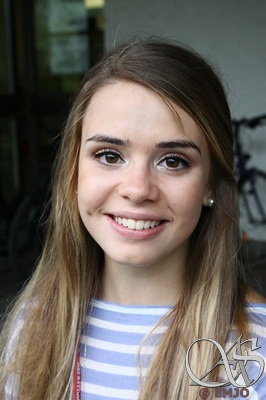 A great thing about the Nebelhorn Trophy is that skaters from all over the world come to the tiny town of Oberstdorf, Germany, to compete. Last year we noticed a girl there representing Brazil. We watched her at practice and liked her style. This year that same girl grabbed the last spot for the Olympics. Her name is Isadora Williams and she is seventeen years old. Before the men's long program, we sat down for a talk with her.
To begin with we would like to know a little about you background. How old were you when you started skating?
I was about four and a half. We lived in Georgia, USA. Nobody in my family actually skated, we just did it for fun; my daddy took me to public skating and I loved it and kept going. We still live in Georgia and I train in Virginia. Being here in Oberstdorf I think of how beautiful it is with the mountains, at home everything is just flat.
You have a Brazilian mother so you represent Brazil that way. But you speak American English; do you have citizenships in both Brazil and USA?
Yes, I have dual citizenships. I actually always dreamt about representing Brazil; my mother always talked about it, and I never thought about representing any other country. Skating for Brazil was my premier goal. I still feel very Brazilian.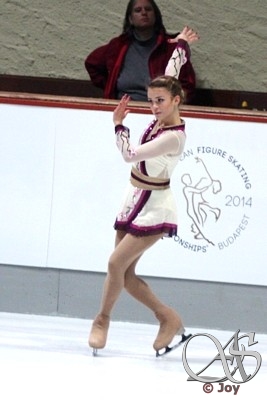 What language do you speak with you mother?
Oh, we speak Portuguese. My daddy is from Colorado and he speaks English, so we are mixing both.
Do you have relatives in Brazil?
Yes, in Belo Horizonte, which is on the coast. My mother has eleven brothers and sisters, so I have a lot of family!
Have they been watching you here?
They have been keeping up with the results here and I got a lot of congratulations. So I am so blessed to have them supporting me.
How many in Brazil even know they have a figure skating representative? Are you the first one ever?
No, definitely not, we had Stacy Perfetti and others too (Stephanie Gardner was the first skater representing Brazil at an ISU competition; Four Continents 2007). But we have gotten more media attention with my and Luiz Manell's successes (Kevin Alves was the first man representing Brazil at an ISU competition; Four Continents in 2008). And the sport is growing in popularity, but I'd love to see it grow even more and seeing more girls and boys in figure skating.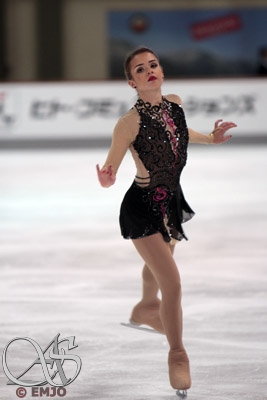 And to have Worlds in South America, wouldn't it be nice?
We are putting together a full size rink. I pray we will have the Grand Prix there someday, it would be so amazing. I would feel so proud.
You have a new short program, tell us about it.
We wanted to do something that stood out and something I was comfortable with. Being Latin I like Spanish, I like to have a character to play. It is actually a Russian folk song, Dark eyes, but a tango version. My coach found it and I thought it was perfect. We went to see a new choreographer, Danielle Rose, in Canada. She coaches in the same rink as Lori Nichols. She wanted to do a program that emphasis the eyes.
At the Nebelhorn Trophy you appeared happy with your skate in the short program.
Yes, I was. (Isadora had a perfect short program with a triple Lutz-double toe combination and a triple flip. The British commentators called it one of the best programs among the 35 representatives. Isadora earned 50.35 points and placed 8th).
Your free program Memoires of a geishais the same as last year. Tell us your feelings about your performance. It started out well, didn't it?
It was okay. I think the wait was really long; it was about 45 minutes after the warm up, and during those minutes I was overthinking everything. I was so, so nervous. And I just thought: "you've got to do this, you've got to do this" and was scaring myself. Then I just let my head take over, I felt ready, I had a good warm-up.
Is it important to you to have a good warm-up?
Yes, but I can pull myself together even if I don't. In the long program I had a very good warm-up, but the long wait to get to skate I think was a major factor.
You looked very unhappy after the long program. In the short program you looked ready. Like "I want this and I can do it. This will go my way."
Well, it did!(we all laugh)
So now Brazil has a spot at the Winter Olympics. Do you know if you are going? Some countries do not send their athlete even if they got a spot.
Yes, I am going. That was actually my goal.
What are your other goals for this season?
Goal number one was to make it to the Olympics. I also really want to try to get more consistent. I learned the triple Lutz-triple toe at home, but it is not very solid.
You are young; you could still be competing in juniors if you wanted to. Are you doing both?
I think we will stick to seniors this season. Also because my loop is not very good and that is the required jump in juniors this season.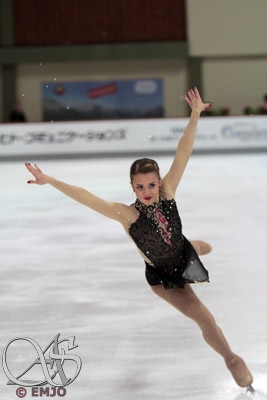 So which jumps do you prefer?
I like everything, but we are working on my flip to really get it so it's on an inside edge. We took it out of the program to play it safe here, but we are definitely going to put it back in for the rest of the season.
What is your favorite: jumps or spins?
I like jumping, jumping is my favorite, it makes me feel powerful.
How much do you skate, twice a day?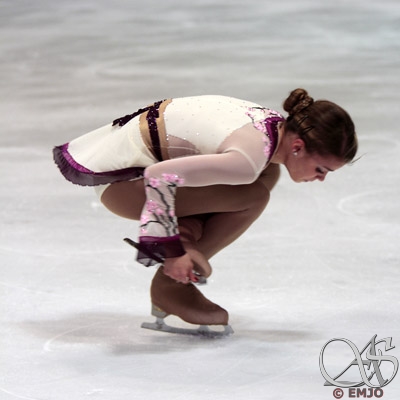 I practice once in the morning and once in the afternoon. In the morning I practice for about 2 hours and then in the afternoon 1,5 hours.
And your off-ice training?
I go to a gym twice a week and do yoga once a week. The gym is at the rink and they design a program for you according to the sport you are into. Basketball players and hockey players go there too. I feel I could definitely not be jumping if I did not do the strength training. I used to do ballet but I don't anymore because I think our ballet teacher pushes us too hard, and I actually got injured a few times from over stretching. I do yoga for flexibility and it is so good. I think I get just as much from that, and I don't get injured.
How does your high school studies fit into you schedule?
What I do, I take a few online courses and I go to school for two classes; I take math and science. And I think it is a really good balance because I can focus on my skating while I am at the rink and then go to school and be with my friends and relax, go to football games and dances.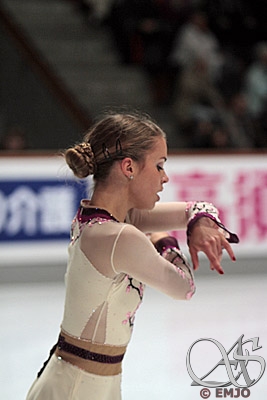 What is your competition line up?
We're trying to find something in November, then there's Golden Spin in Zagreb, Four Continents, and the Olympics and Worlds.
Have you had the same coach, Andrei Kruikov (he represented Kazakhstan in pairs), the whole time?
For six, seven years now, yes. I think six years. Andrei is amazing; I am not the easiest student at times (laughs).
In what way?
Well, the sport is so tough at times and you get softed out and he just pushes me and he supports me, he is always there. I am so blessed with the whole team.
When we finish the interview, Isadora heads off to watch her team mate Luiz Manella compete. He was in 24th place after the short program, but ended up in 4th in the free skate and got to perform in the gala.
Brazilian figure skating definitely has a future and we are dreaming of attending the World Championships in Brazil. We wish Isadora the best of luck in upcoming competitions (Golden Spin in Zagreb where she grabbed the bronze medal last year). And we hope to see her again next year in Oberstdorf.