Javier Fernandez: "I'm not retiring anytime soon"
January 9, 2014
By Sigrid Rivera
Photos © Oxana Shkrebtienko (LMDJ), Irene Villalón, MG, Keiko Kasai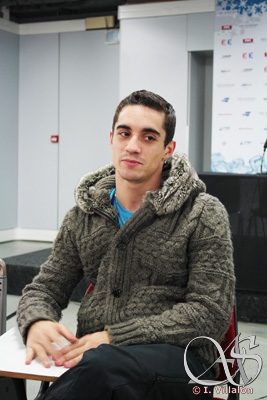 A few hours after landing in Paris, one of the first faces I see in the Palais Omnisports, where the Trophée Eric Bompard is held every year, is Javier Fernández. He's training in preparation for his second Grand Prix event, the Rostelecom Cup, as his coach Brian Orser is here with his other student, the Japanese Yuzuru Hanyu. Even if he's not competing here, Javier is one of the most sought after people by the media. Everybody wants to talk to him and Javier always has a few minutes for anybody. I patiently wait my turn, watching the ladies practice, while Javier spends a long time addressing the media. When he finally sits in the press room with me and my photographer he confesses with a tired smile that he's sleepy, so he's happy to finally be able to talk in Spanish.
After a really good start at the Japan Open in October, you finished 5th at your first Grand Prix event, NHK. What happened there?
Every skater has good and bad competitions and that's what happened to me. I don't think it was a technical problem and my coach and I are not worried about this. There are a lot of important competitions this season like the Olympics, and European and Worlds are very important as well, so I can't obsess over this. I need to keep on working and I feel ready for the next competition.
With your 5th place at the NHK Trophy you'd need to win the Rostelecom Cup and wait for results from others in order to qualify for the Grand Prix final. Do you think it's especially important to qualify for the Grand Prix Final in the Olympic season as a way to show that you're ready for the Olympics?
I think that qualifying for the final definitely helps so the judges can see that, competition after competition, you've had a high level and you're working for it. But there are a lot of examples of skaters who haven't had good Grand Prix showings but they've been brilliant in the second half of the season, so not having a perfect start to the season - it's not the end of the world.
Note: Due to placing 3th at the Rostelecom Cup, Javier unfortunately did not qualify for the GPF
Talking about that second half of the season, do you think you can keep your European Champion title this year?
I would love to, and I know that I have a real chance, but I need to work hard to get it. If I skate well I will be happy even if I don't medal, but that would also mean that I need to improve the programs.
Now let's focus on the Olympics. This season there are a lot of names aiming for that Olympic podium, how do you see the Sochi competition?
The Olympics are a completely different story. A skater can either have the skate of his life or just have a bad day, so it's very difficult to predict. I personally think that every skater in the top 15 of the World could earn a medal on a good day. Maybe the front-runners are Patrick Chan, Yuzuru Hanyu, Daisuke Takahashi… but there are a lot of other skaters that could easily join them in the battle for the medals.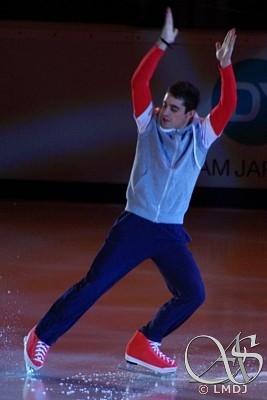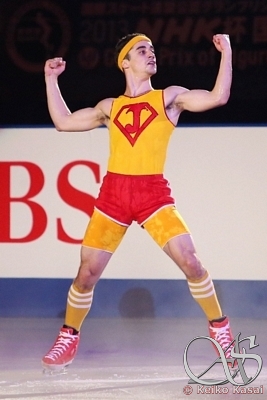 You probably know that Spain has only earned two Winter Olympic Games medals in all its history (a gold in 1972 and a bronze in 1992) and you have a real shot at joining this small list. If you did it, you'd probably get a lot of media attention in your country. Would you be ready for this?
I think so. In January, after winning the European title, I went back to Spain and a lot of people wanted to interview me, but the attention doesn't last long so it's not a big problem. You can tell them: "look, I have two days for doing all the interviews you want, but then I have to go back to training" because the World Championship is just one month after the Olympics.
So whatever happens in Sochi you are going to Worlds, right?
Yes, I will, and I will keep on skating after Worlds too. I'm not retiring anytime soon. Maybe if I want to take a break because I feel too tired after all these years of training non-stop, I will take longer holidays. Maybe I could skip the Grand Prix season, but I'm definitely doing the European Championships and Worlds next season.
Do you know that your name is being mentioned as a possible flag-bearer for the Spanish delegation in the Opening Ceremony in Sochi?
I've heard that the Spanish Olympic Committee has different athletes in mind and I'm one of them, but I'm not sure if I could do it. As Spain isn't qualified for the Team Event (which starts one day before the Opening Ceremony) I could arrive at Sochi later, right in time for the men's event trainings, and that's what Brian (Orser) wants me to do; he wants to treat it as a normal competition and not arrive a week earlier than needed. Of course it'd be a huge honour but the important thing is doing well at the Olympics and maybe it's necessary to stay home for a bit longer to train as much as I can before Sochi. So if they ask me to be the flag-bearer in the Opening I will try to explain to them that I don't want to arrive that early because of my training schedule and maybe offer to be the flag-bearer in the closing ceremony.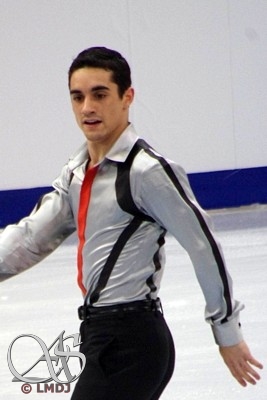 Before we finish, let's talk a bit about your programs for this season. For your short program you skate to the piece "Satan takes a holiday" and for the long program the choice is the "Peter Gunn" soundtrack. It's interesting how both pieces are quite similar in style. Tell us a bit about the music selection process.
It's true that the programs are not very different, but they each have their own unique details. The first music we chose was the short program one as I really knew what I wanted to do. For the long program we had a lot of different ideas; at first, we thought about some soundtracks like "The Last Samurai" or "Braveheart", and more things I can't remember right now, but there wasn't anything decided for sure when my coaches brought up "Peter Gunn". I didn't think it was special music at first but I thought "ok, let's make the program and see how it works" and after skating to it a few times, people started saying that they liked it so we kept it. Later in the season we'll decide if we continue with it or if we go back to Chaplin (Javier's last season's long program).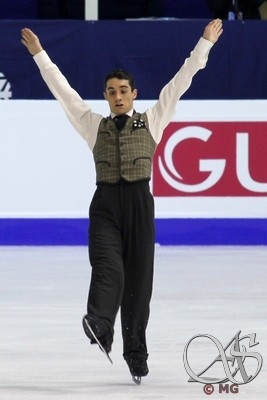 So are you really thinking about going back to your Chaplin program? (in photo)
Yes! (he nods) Some people, judges included, have said to me that I should think about skating to Chaplin again because it's a program that suits me more than the current one. It's true that I've always felt very connected to that program and it's been a fan-favourite, so I'm seriously considering it. If I skate to it again I'd change things, of course, it wouldn't be the exact same program, for example I would have new choreography and a new costume.
Note: Javier has recently announced that he's not going to change his free program this season.
Speaking of costumes, people are quite shocked by your Short Program costume. What's the story behind the creation of such a different costume?
Well, as it's a fun program, we thought about making a fun costume, something with stripes and other patterns, something a bit crazy. So we gave the ideas to the designer and she came up with that. Then Brian suggested adding the Spanish flag colours to the collar and I liked the idea so we also added the colours to the lines that go through the back of the costume. I really like it and I think it suits the program so I'm not planning on changing it.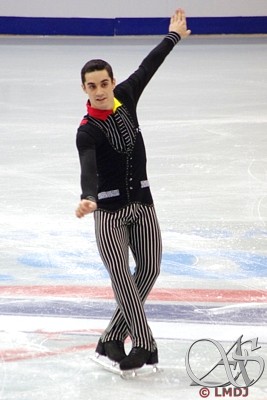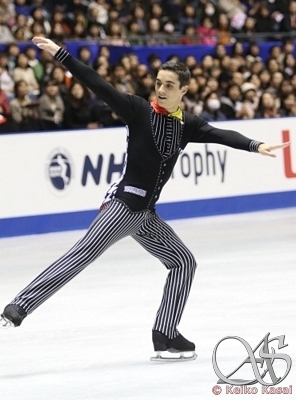 It's not a dull costume, there's no doubt about that. Well Javier, thank you very much for giving us a bit of your time and best of luck for the rest of the season, starting with the European Championship next week!