Justus Strid: "Europeans and Worlds still mean a lot"
January 11, 2014
By Titanilla Bőd, Új Szó
Photos© Mireille Geurts & Joy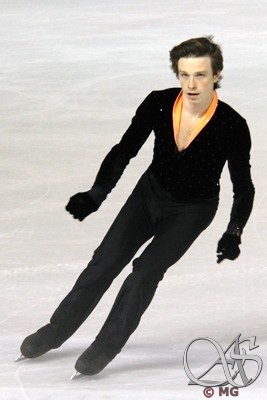 Justus Strid didn't make it to the Olympics, but he skated a memorable free program at the Nebelhorn Trophy and placed 11th overall. His goal is to skate like that at the big competitions too, because Europeans and Worlds also mean a lot to him. We had a little chat with Justus after the competition in Oberstdorf and an email exchange only a few days ago.
You landed seven triples including an Axel and earned 120.91 points for your free program. It was a great performance; how did you feel on the ice?
It was amazing. There were some little mistakes and stupid things all day, but the program was just fantastic for me. Inside it felt really good and the audience was fantastic. I am very happy. It feels like I'm calmer now with this program. I had the same program two years ago, but now the jumps are much easier. There is a jump and there is a landing. I feel more comfortable. And here in Oberstdorf, I wasn't even tired. I was saying: "Aaaaah, let's go!" It felt amazing.
Why did you decide to go back to your Les Miserables program?
We really love the music and we feel a connection to it. Everyone around told me they really loved it, so they suggested I might go back to it. I also loved the music and thought it was a good program, and in the Olympic season you can't really change too much. So it felt like a good choice.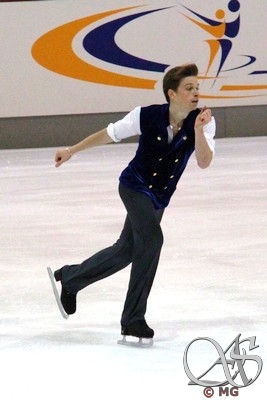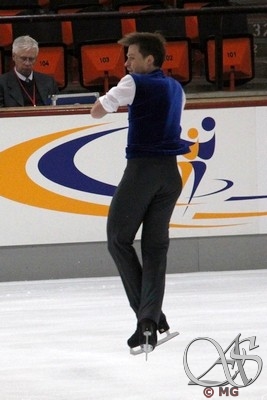 You reached 17th place after the short program but the Olympics were clearly gone for you. Was it hard to concentrate after that?
No; just the opposite. The short program was really bad. I was so nervous and I knew if I made one mistake, I would be almost out. And I was last to skate, so I knew what everyone had done, and that I'd need 65 or something to get the place. With a perfect program I have this score, so then I was really nervous and it was shaky. It was okay, but not perfect. After that I knew I wouldn't go to the Olympics, so I said: let's just skate for the rest of the season. There is still a season ahead. There is the European and the World Championships, so let's not focus on the Olympics but on the other competitions. So I felt very comfortable and relaxed.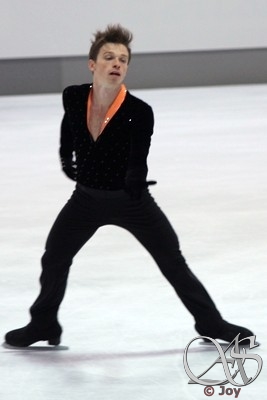 So weren't you very disappointed that you won't make it to the Olympics?
Not really. I knew there was a small chance for everyone. There were a lot of guys that could go; about 20 skaters who have a triple Axel and a triple-triple combination. I knew there was a chance I might go, and there was a chance that I wouldn't go. In the short program I was nervous because then I had a chance, but it was kind of easy to skate in the free program. You can't get hung up on the small things; Europeans and Worlds are still a lot. I can't say I've been to Worlds so many times, the Olympics is the only thing. So I could move on. Now the season can finally start!
It seems you feel kind of relieved after this competition.
Yes, now the pressure is over. I really felt that huge pressure before the short program. There were a lot of people who wanted me to go, but they really supported me afterwards too. I got a lot of texts; they love me no matter what.
What are your plans for the season?
Not competing as much as last season, obviously, because now I have the points needed for the worlds. Maybe we will try putting in another Axel in the free program, building more on what we have. Now we have a stable base for what's working, so it's easier. I just want to train hard and to skate like this!
After the Nebelhorn Trophy Justus competed in Bratislava at the Ondrej Nepela Memorial in Bratislava, Slovakia, where he was 8th and the Crystal Skate in Brasov, Romania, where he finished in 6th place. He was 5th at the Warsaw Cup and 4th at the Ice Challange of Graz.
We asked him for a short update about his feelings before the Europeans in Budapest.
"I have been struggling this season with my short program, while the free has been solid and the points have been continuously going up during the season. I also finally feel like I know I can do the Axel in my programs. I feel like I have a lot of confidence going into the European Championships and I believe I am ready to deliver my all. I feel like I'm getting older but strangely better. I read the interview with Jason Brown on Absolute Skating, and I think my New Year's resolution should be to get as flexible as him. It was inspiring."
We wish Justus a great competition in Budapest and we are happy to hear the AS articles can inspire even the skaters!