Michal Březina: "I go on the ice and try to skate my best"
December 29, 2013
By Alexandra Ilina
Photos © Alexandra Ilina, Absolute Skating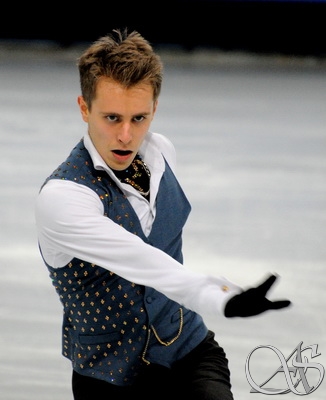 After competing his short program at the Trophée Eric Bompard Grand Prix event in November, Michal kindly spoke about his fourth place finishes, his ambitions and his programs. Michal missed landing his triple Axel in the short program, but he said, "If it only happens once in three years, it's ok."
What are your feelings today, after your short program?
Well, I feel very good because I did my quad and my practice was good, very easy. I was not tired, but I cannot believe that I missed my triple Axel. I don't know why I missed the triple Axel for the first time in three years of competitions. It can kill the mood, but if it happens only once in three years – it's ok (laughs).
What did your coach say to you?
He could not believe it either because I never miss my triple Axel in practice; we could not believe it, but it happens. I could go right now and do [a triple Axel] again. I don't know. It's life.
Can you tell me about your new free program?
I really like the new movie [Sherlock Holmes] with Robert Downey Jr. I chose the music and I want to look kind of like him. The program looks good, I think people like it and the music can touch them. I feel really good skating to it.
But you wanted to make two new programs for this season, right?
Well, we wanted two… and we have decided, my coach and I, that it might be too much for the Olympic season to change both because that can be hard. And so we stayed with the short program because I think people like it, the music is very strong and the end is very difficult.
Your step sequence at the end is really good.
I have power for the step sequence. It's very good to do it; that's also why we kept this program for this season.
You have, in the recent past, placed fourth many times. What do you think about this?
(Laughs) Well, I think fourth place stuck with me. In most of my senior competitions I've won 4th place. I don't know why, but whether I skated clean and had good competitions or whether I have made mistakes – I was fourth. It can be funny to compare my fourth places when I skated clean or with mistakes. I really don't know what to think about it. Usually I go on the ice and try to skate my best.
Let's speak about your coaches. Petrenko teaches athletic skating… What have you learned from him?
In practice he teaches you to not over think, but to do as much as you can, because that's how he was trained. And I think it helps me a little bit mentally. Probably not skating-wise, but mentally. Because he always repeats himself - like when I'm at practice, I always go and if I do something wrong he always tells me, "Why did you do that? In practice, you do that perfectly. Why do you think? Just go and do the jump." I think, since he has been repeating that in practice for over a year now, it really helped me.
And your former coach?
Well, it's hard to say because Mr. Fajfr and Karol Divin basically taught me everything because I had been with them since I was 16, and when I came to Oberstdorf I could already do all of the triples, but I learned how to make them better in Oberstdorf. I improved my technique there. It was kind of a growing process there; the only thing I could never pull off when I was there was doing the quads. It helped when I moved to train with Victor; I think he helped me a little bit because now we do quads in every competition. I went for the quad and landed most of them, and this year I have already done most of my programs with the quad in competition. At this point I agree with Zhenja (Evgeni Plushenko): in the men's competitions in figure skating we have to do quad jumps.
Have you seen his program in Riga?
No, but I heard about it and I think I will watch it.
A question about your costumes: you often wear vests at the competitions, why? Do you like this item of clothing?
I don't know why, but it seemed that in most of the music I used the main character wore a vest. And if I wanted to look like the main character, I'd have to wear a vest, too.
What about in real life?
I would not wear one, only on the ice (laughs).
What music you would never choose for ice skating ?
I am open to anything, but I think the only music that I wouldn't choose is some slow classical songs like the ladies usually skate to (laughs). I need to have some drive.
You took part in the Japan Open which was also a team competition. What do you think about the team competition in Sochi?
We can't do it with Tommy [Verner] because we have no team; we'll only have two men and one lady at the Olympics, but no ice dancers and no pairs team has qualified for it. I think this competition is good, but I would do it after all of the other skating, because it actually starts before the opening of the Olympic Games. If you have the same skaters competing in the team event, followed by the singles event, I think it will be hard for skaters because they'll have to perform two short programs and two long programs in one week. In everyday practices you lack the stress and adrenaline that drives you in the competition. Once you're done with one competition, your adrenaline is down for a while, and it's hard to get back the motivation. For me, if I've finished a competition it takes me two or three days to get the drive back, I mean. I would choose different skaters, but it depends on which teams the federations choose, and the Olympic committee.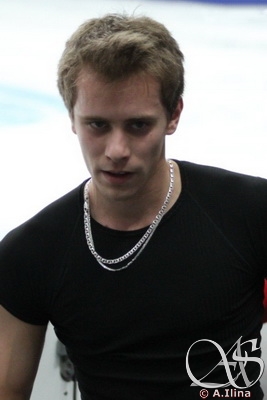 Can you imagine skating with your sister?
(Laughs) I can imagine being at a competition with her, but I don't think I would ever skate [pairs] with my sister. I actually did an exhibition number with her. I could do it for a show.
And what about skating with some celebrities, like in a show?
Figure skating is not popular in Czech Republic. Nobody watches figure skating there. For some years, when we had world champions from Czech Republic, or when Tommy was the European champion, we could do it, but not now.
Can you imagine being a coach? For example, Ondřej Hotárek said that you are like an assistant trainer for him, and he is for you.
(Laughs) He always helps me when I am on the ice. It helps me mentally. He is a best friend of mine and when he's around it doesn't feel like a competition and my head is completely clear. When I go on the ice, I have no thoughts in my head, and I usually skate very well. So we can help each other. Every time we have competitions together we usually skate really well.
What are your plans after Sochi?
I don't know, it's still too far away for me to think about what I am going to do after the Olympic Games. I will still finish the season. I am 24, what else can I do? (laughs) There is much I can do; I can do shows, and I can do competitions. Because I am only 24, there's really no point for me to stop skating now.
Michal Březina ended up placing fifth at Trophée Eric Bompard and second at the Czech Nationals (4 nationals, as it was named this year because skaters from Poland, Hungary and Slovakia also participated). We wish him success for this Olympic season and hope to see him competing and in shows for many more years.