Miki Ando: "I really want to fly one more time"
 
October 22, 2013
By Titanilla Bőd
Photos © Eva Maria Jangbro (EMJO), Joy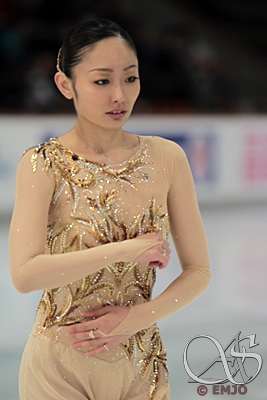 She did it her way. She first decided to give birth to her daughter and after that she decided to return to competitive ice. At the age of 25 she felt old amongst the other skaters, but she is ready to do everything necessary to get back into shape and make it to the Olympic team. Miki Ando from Japan was one of the biggest stars at the Nebelhorn Trophy, but she didn't turn down any journalist. She kindly agreed to have a chat with Absolute Skating, too.
What was the main impulse causing you to decide to come back and compete again?
The first reason that I decided to come back was my fans. In the last two years they wrote me so many letters, and almost everyone wrote they didn't really care about my results; they wanted to see me on the ice, fighting. This makes it much easier to come back as a competitor. One more reason is, of course, my daughter. It's a good challenge to come back as an athlete again, and fight with the top skaters. I can show her this. She might not understand yet, but I can tell her in the future. That's the reason that I have come back.
Is your daughter in the arena when you compete?
Here in Oberstdorf she slept during both the short and the long programs in the hotel. But she had already come to some shows, and she probably enjoyed that.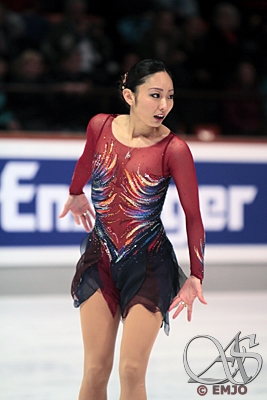 Many athletes who are mothers say they have become calmer and more relaxed in their sport after giving birth to a baby. Is this also true for you?
Probably, yes. For this competition I expected I would be more nervous. But it was fine. Of course I was a bit nervous, but at the same moment I really enjoyed that I'm here again.
After you gave birth to your daughter, was it harder mentally or physically to return to the ice?
Physically. Mentally I was so happy to skate, but physically I wasn't ready. The muscles, health, everything – oh, my god, it was so hard.
How did your family and friends react when they heard your decision to come back?
My family cares about me not only as their daughter, but as a skater too. However, there were some people who supported me as a skater and told me "Don't give birth to a baby." But I really didn't want to say goodbye to my daughter, so I decided to give birth to her. Of course it's really hard, a challenge for me. My family supports me and helps me a lot, and my friends are also excited.
When you are practicing at home, who takes care of your baby? Is she with you at the rink?
When I'm practicing my mom takes care of her. It was the same when I was a kid, too. My mom and dad were working, so my grandmother was at home with me. It's good to have a family like this.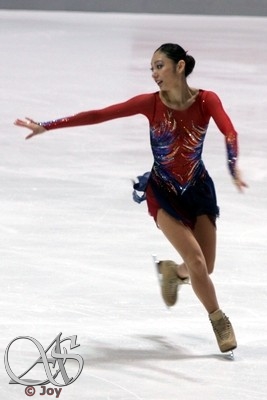 At what age do you plan to buy her first skates?
If she says she is interested in skating then I will buy her a pair of skates, but I won't force her. But she has already been to so many shows, and if she follows me like this she will probably say "Mom, I want to skate, too!"
How has your life changed since her birth? What has she brought into your life?
She makes it so much shinier. Even if I'm really nervous or tired from practice, when I see her face I can smile again. She has so much power to make people smile. Not just me, but my mom, my brother, they also smile when they see her. She is just the spark of my life.
Is she a good baby?
Yes, she sleeps well. But she wants to eat my medals (laughs). She thinks they are toys and she can eat them. The silver medal from the Nebelhorn Trophy will be a present for her. I really want to say thank you to the German federation for inviting me to this event. The Japanese federation couldn't send me to this competition because I'm not on the national team, so I'm really thankful that I could still compete in Oberstdorf. It was a really big chance for me.
You said you came back mostly because of the fans, because they like what you create on the ice. But you can also do that in a show.
I was thinking the same thing, but Japanese people love to see a competition. I don't know why. I thought that in a show we can also give power to the people, show emotions. I think it's Japanese culture that people are more excited by a competition. So that's why I said okay, since I got so much power from my fans, I will give it back to them. That's why I decided to come back.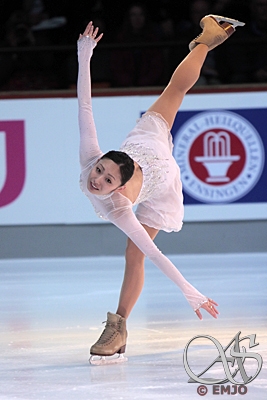 What are your goals for this season?
It's an Olympic year, but I never think about the Olympics, because we have to pass the Nationals, which is really tough in Japan. I don't really think about Sochi now. First of all, I'm not on the national team, I have to get back there, and I have to qualify for the Nationals, and there I have to place in the top three. Really tough. But if I get the chance to go to the Olympics, of course I will go and I'll try my best.
What will you need to be in the top three ladies in Japan?
Just to skate well and to perform as Miki Ando. For the top three you have to skate really well. The judges give the score, not us, so I just can say I will do my best.
In your official biography there is no coach listed.
But now I have a coach! Just since today! It's Valter Rizzo. I decided to work with him because during this competition I worked with him for just two days but I felt really strong thanks to him. Even though it was my first competition I wasn't super-nervous, I could be relaxed; I enjoyed very much being with him. He believes in me, he concentrates on me. I trust him; we have known each other for a long time, so I think it will work very well.
Until now did you prepare all alone?
Yes. Of course I had a technical coach in Japan, with whom I worked since the very beginning, and I learned my technique from her. She helps me a lot to get back my jumps.
Wasn't it hard to motivate yourself without a coach?
It looks hard, but I learned from Nikolai Morozov how to manage and even how to work by myself. So it wasn't really hard for me. It was really comfortable to skate by myself, because at first I couldn't jump anything. It was better to skate alone in Japan, rather than to skate with everyone, in front of many coaches, because I didn't know what they would say.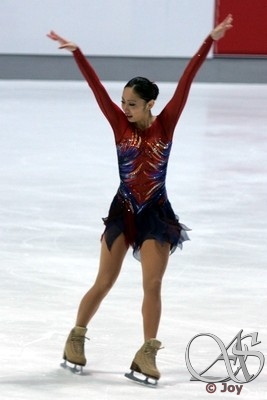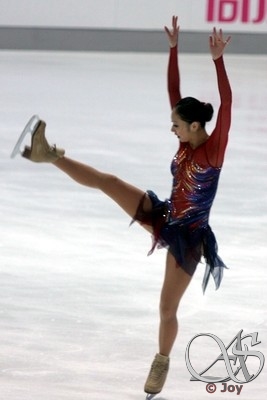 How much time did it take to get all your jumps back?
I landed my first triple Lutz in early September. I really had to re-learn all the jumps from the doubles. I fell on doubles and couldn't land any triples during the first three months. So I had many off-ice practices, I trained so hard to get back.
So female figure skaters have to learn jumps as kids, then, when their body changes, they have to learn them again, and when they decide to give birth, they have to learn it even for a third time.
Everybody can get injured and then they have to learn everything again. But if you practice, the body will remember, and if you get physically back into shape, the jumps will be back too. This is good to understand for the future. I want to be a coach, it's my dream, and so it's good that I experienced this re-learning myself.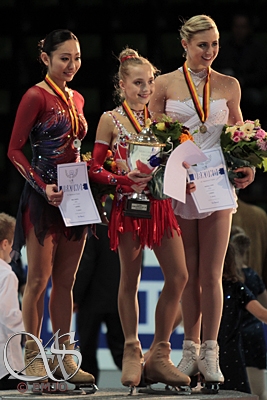 What do you think about your young rivals? Here in Oberstdorf fourteen-year-old Elena Radionova beat you.
I felt like I was the oldest skater in this event! But she reminds me of when I was fourteen. I had so much energy, I was super-hyper, I didn't get tired, and I just went for it. Elena is a great skater, also like Ashley [Cain – bronze medalist in Oberstdorf], she is really pretty and so tall. She turned to singles from pairs skating, this is very nice. I'm really proud of myself to be here in this event, and to skate with these great competitors. But I felt old. Especially with this Russian girl! Oh, she has so much energy, I wish I could go back and be her age. Of course I can't and I'm already a mother, but I enjoyed the company of young competitors.
What are your plans for the next months?
I'll have a competition in Japan soon [Miki won - ed.], so I have to keep practicing hard. This will be my first competition in Japan, so I want to show what I'm able to do. The short program won't be a problem, I think, but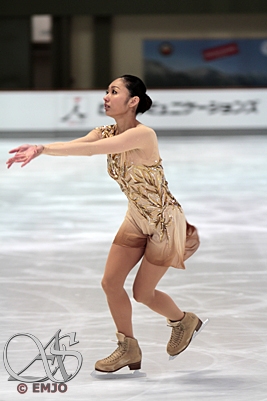 in free skate I have to build everything from the beginning.
You skate to I Did It My Way for your short program. It fits you very well, because you also did it your way.
It was my choreographer's choice. She can find music which fits me and I love to skate to this music. I couldn't put much emotion to it now, as it was my first competition. But I can do much better with much more emotion.
What about the free skate?
This is me. I have really good memories of Firebird from the times when I started to skate at senior competitions instead of junior events. The choreographer is Lea Ann Miller, the same as before. She felt that she can make it for me and it works very well. I mean, not in this competition, because here in Oberstdorf my long program was really bad, but I really want to fly one more time, that's why we chose Firebird.
Miki was invited to compete at Ice Challenge in Graz, Austria, at the end of November. We wish her best of luck!