Sara Hurtado and Adrià Diaz: "We took a risk with this year's programs but we think it was all worth it"
December 4, 2013
By Eva Maria Jangbro (EMJO)
Photos © Eva Maria Jangbro (EMJO)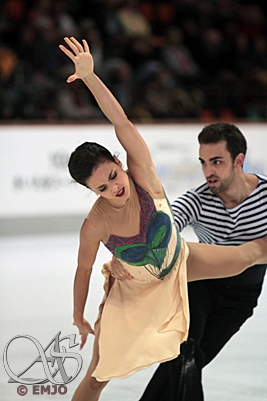 During the free dance at the Nebelhorn Trophy competition, the Spanish team Sara Hurtado/ Adrià Diaz charmed the audience with a stunning performance, which told the love story of Picasso and his muse. This was good enough to earn Spain a very much desired Olympic spot. However, the start of this season was a little shaky with Adrià getting injured. They had to withdraw from the Quebec Summer Figure Skating Championship in August, just slightly over a month before the Nebelhorn Trophy, the important Olympic qualifier. We talked about what that meant for them in terms of lost preparation time and adjusting to those facts, but also how they have raised the level of their skating going into this Olympic season. (And since Adrià prefers being called Adrian - see explanation on their website - we'll do so from now on.)
Adrian, you injured yourself in the beginning of the season. How are you now, are you fully recovered? (from muscle cramps/spasms)
Adrian: Yes, I am fully recovered. Sometimes I feel it, but I know what to do and how to take care of it. We were scared when it happened because it was just before the competition we planned to do in Montreal (the Summer Provincials), and we had to adapt to the plan we had so I could recover well and be ready for Oberstdorf which was the main goal.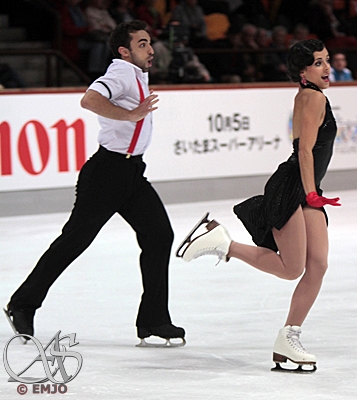 Were you ready for the Nebelhorn Trophy?
Sara: Yes, we were, mostly because we knew it was now or never! Everybody was going to be at their top and fighting for the Olympic spot, and we wanted it as much as any of them. That's why the training was so important and we didn't want to feel we could have done more.
Where did you train to get ready for this season, and did the summer training give you what you wanted?
Sara: We spent the whole summer training in Montreal with the rest of our team. We are very happy about the outcome and yes, we felt it was the key to our success at the competition. Even though we made a lot of small mistakes that cost us many points, we were able to give good performances, which is the main goal at this point of the season. We had to be ready sooner, and trusting the training helps a lot in dealing with the pressure of a competition like this.
To me it looked like you have more technically difficult programs this season, is that the case?
Sara: Yes, we had more time to work on our basics and we pushed ourselves with more difficult transitions and steps, as well as lifts. We didn't want to play it safe; we wanted to bring something to the sport, pushing the boundaries. Creating new stuff is the fun in figure skating too; you get the chance to create something that will help your sport evolve.
Were you nervous in Oberstdorf?
Sara: It was the hardest competition we have ever done and yes, we were nervous. It was mostly in the free dance, because we were so close but still out of that qualifying spot. We had to have a clean skate and we knew all the things that could go wrong... There was a lot of tension to deal with and we skated for the dream of our life... not an easy thing to do! But we fought to stay in our little bubble, leaving all the worries and tension outside and just skated the best we knew how, and it worked!
Is one of you the calm person, so to say, and the other more nervous?
Sara: I don't know... we are both nervous and calm at the same time, each of us have our moments. For example, this was the first time that Adrian turned to me and told me: "Sara, I think I'm really nervous", when normally he is the one telling me everything is going to be okay so I stay calm! (Laughs)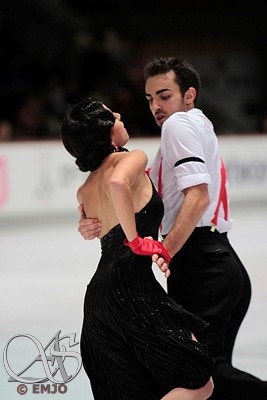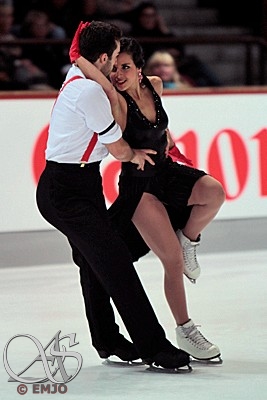 How did you feel after the free program waiting for your points?
Sara: It was like time had stopped! First of all it took a really long time for the judges to give the score and that time was the longest of our lives. Then when we saw the 3 point deduction, we went over the program in our heads to figure out where we lost those points. But at the same time we heard the crowd going "oooh" because they didn't like the score, and we had Gloria, our team leader, on our side telling us "GUYS, YOU MADE IT, YOU ARE GOING TO SOCHI!!!", and that was when we realized: "yes, this is real and it is happening, we are qualified for Sochi!!!" And the excitement started...
The audience really responded to your program, did you notice?
Sara: Yes, we did! It was something that really touched us. When we were in the creative process of our programs we always thought about telling a story so the audience could take part in our programs and enjoy them. We want to give them something with our skating; move them with our emotions. We think that is a characteristic that we can't forget about in figure skating. In ice dance, we can touch people with our skating and that's incomparable to any other feeling, it is very fulfilling. We took a risk with this years' programs, but we think it was all worth it.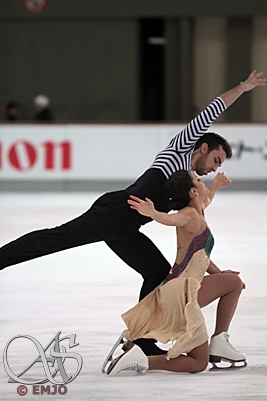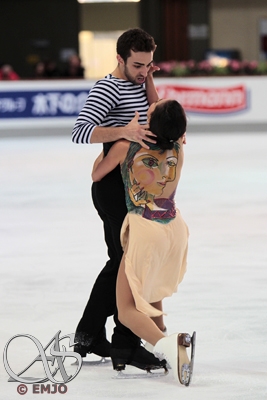 Tell me about your programs, specially the free dance?
Sara: The short dance is a mix of a few songs from the soundtrack to the TV Show Boardwalk Empire. The free dance is to the soundtrack from the movie Surviving Picasso plus another song: Le Di a La Caza Alcance, by the Spanish singer Estrella Morente. The free dance is more about the story we want to tell. Adrian is Picasso and I am the muse, and we tell their love story and how she goes crazy when he wants to leave. It's pretty challenging for us, but I think people will like it. Since it's an Olympic year we wanted to do something Spanish, but not the very traditional Flamenco. We think it's better to save it for when we are ready to do the best flamenco ever! And believe me it's very hard after what Marina Anissina/ Gwendal Peizerat (the French ice dance winners at the 2002 Olympics) and Tessa Virtue/Scott Moir (the Canadians who won in 2010) did.
Did you found out about the 3 point deduction?
Sara: Yes, one was an illegal element; 'the scorpion' lift is what we call it. In the program, Adrian's hands were above his head and that has to be what caused that illegal element deduction (-2). The other point was an extended lift. I don't know how we do it, but we always end up having extended lift deductions at the beginning of every season, we will have to work on that.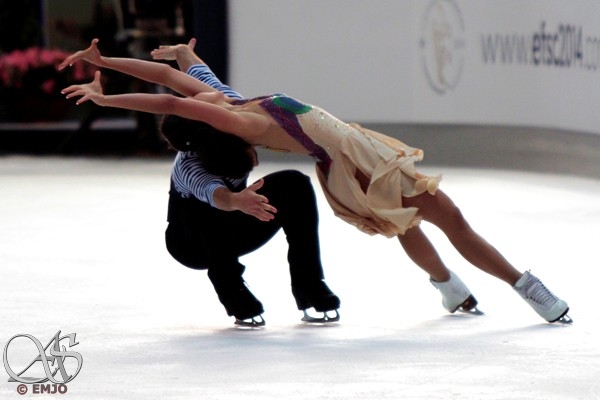 Will you change anything in the free program?
Sara: We will make some adjustments. We want to put in one more lift that we were working on this summer, and then fix all our levels. The program itself we really like and we don't think we have to make any major changes.
Who made you beautiful costumes? The painting on Sara's back in the free dance is stunning!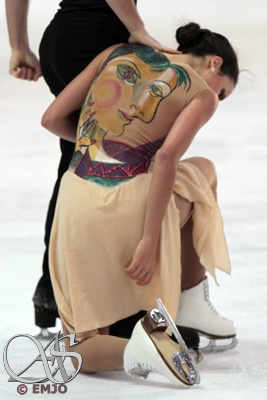 Sara: Thank you! The costumes were made by Maria Cordeiro, she is a seamstress in Montreal who also makes the costumes for Meagan Duhamel/ Eric Radford (Canadian pair skaters). Unfortunately, just before the competition her house burned down, yes, it did, and both pairs of Adrian's trousers and a blouse burned up with it. So for the competition Adrian used two of Patrice's old pants, which he had to adjust in Oberstdorf before the official practices. Patrice Lauzon is like our 'orchestra coach' he can do anything! So we are very happy you liked the costumes!
Luckily my costumes did not need any fixing since they didn't burn. The painting was made by the mom of one of our team mates. I'm so glad everything turned out so great; it was a big risk to paint something like that.
What is next for you, which competitions are you going to?
Sara: We are doing the Golden Spin and the Winter Universiade as our next competitions, before Nationals and then Europeans. Really, the schedule is very tight and we have to think about everything: flights, timing, etc. I hope we will achieve our goals to get some ranking points for Europeans in Zagreb.
Have you been able to go home to Spain?
Sara: Yes, we went there for a week. After such a long summer we planned it with our coaches so we could have a little break before the rest of the season comes. Being such a long season, with so many important competitions and all, we have to be clever about organizing our time.
Their hectic schedule starts again this weekend when they will compete at the Golden Spin competition in Zagreb (Nov 5 - 8). Hopefully they will get the ranking points they want, but also avoid a repetition of the 3 point deduction for their great lifts. I wish them good luck on their way to their goals and dreams. .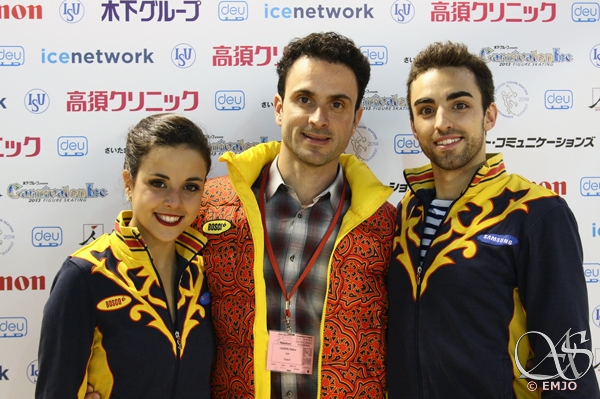 For news and more updates, you can follow their journey on their website here!