Tatiana Volosozhar & Maxim Trankov: "We might not compete at the Europeans. The schedule is horrible!"
October 18, 2013
By Titanilla Bőd
Photos © Eva Maria Jangbro (EMJO), Joy & Mireille Geurts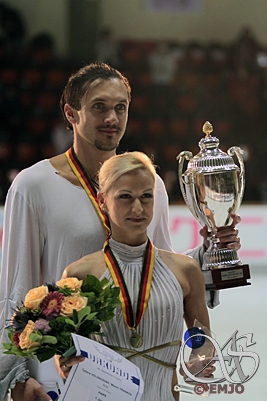 Russian pair Tatiana Volosozhar and Maxim Trankov won the Nebelhorn Trophy for the third time in a row. After the competition they talked about their new programs and plans for the Olympic season.
This was your third victory in Oberstdorf. Why do you like this competition; why do you come here every year?
Maxim: The first year we came because we had no points in the world rankings as we had just started skating together. It was a good season for us, so next year we came again, because it was a good start to the season. Since then it has become a tradition that our first competition is in Oberstdorf.
In the short program you earned a world record score: 81.65 points. Did you expect such a score?
Maxim: It was a huge surprise for us.
Tatiana: Last year the short program was not so good, so this time we just concentrated on the skating; we didn't think about the scores. It's good to start a season with this score.
When you created the program, did you count the points, the value of the elements?
Maxim: No, no. For sure, we thought that if we skate to a dance program in pair skating, it might raise the component score a bit. But it was very hard to learn to skate the waltz on the ice; it was a very hard summer for us. We are just happy that it worked and the scores also showed that it was the best choice for us to skate to this music, Masquerade.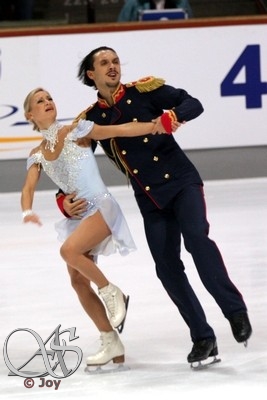 Did you also have off-ice dance practices?
Maxim: Not yet, but we are planning to. Now we need to find the dance teacher - now we are in the searching phase. We have some good ideas; we want to continually improve our programs.
What was the hardest part of implementing a dance in pair skating?
Maxim: First of all we have to do all the elements and we have to have speed and concentrate on all this. Because we are constantly turning around, our heads are spinning. At first it was very difficult. When we did a full run-through at a practice for the first time, during my step sequence, I couldn't see anything; my head was so dizzy as if I've done ten spins!
Tatiana: Maybe you need a special simulator for this!
Maxim: Oh yes, just like spacemen.
Have you got used to it yet?
Maxim: Yes, now as we work and skate to it all the time, now it's better.
Whose decision was it to choose this music?
Maxim: When we searched for the music we tried some other pieces, but we were not excited about them. And then I just listened to music on my iPhone where I had Masquerade on my playlist as well, because I like it. I showed it to Nina [Moser – their coach] and she said "I think it would be good, but ask Nikolai!" [Morozov – the choreographer of both programs]. So he listened to the music and he was in total agreement with the idea. From then on we started to create the program. Everybody said it would be good.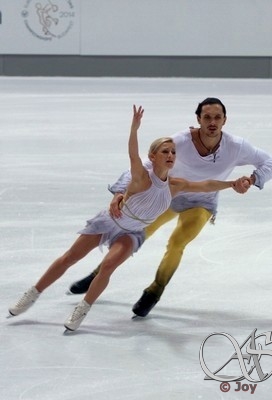 What about the free program? There was a picture on your Instagram showing the tickets to Jesus Christ Superstar show – did the show inspire you to choose this music?
Tatiana: Yes, it was this year, but last year we saw the musical on Broadway, and we immediately thought we might skate to this.
Maxim: It's a long story, because when I was young, I loved this music. When we were in New York last year, we wanted to see some musicals. I begged: "Please, go to Jesus Christ Superstar, because it's my dream to watch!" After the show we were in shock. It was so cool. I said: "I want to skate to this, please, please, please!" But we already had the Ikuko Kawai program, so Nina advised that it was not a good time to change programs. So we agreed that we will skate to Jesus Christ Superstar in the Olympic season. We still had to fight for it, because Nina wasn't sure if it was a good program for the Olympic season. But already during the first practice when we tried some elements, she said it was perfect music.
In the free program you wear yellow pants. At the press conference in Oberstdorf you said you knew that there would be questions about that…
Maxim: I have to say the costume is not finished yet; the yellow won't be so bright. It will be darker. It's a rock opera about the hippy times, so I must represent sunshine, happiness, peace and love; I can't be very dark.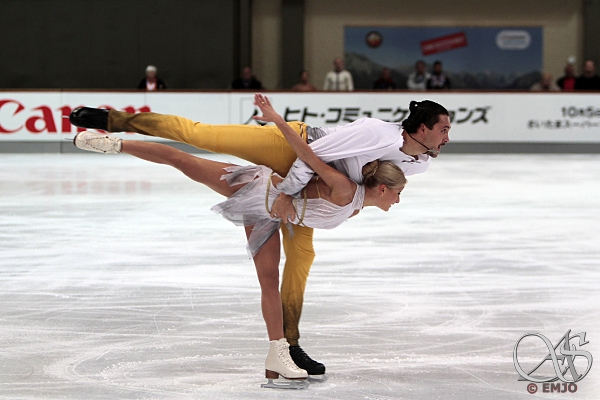 How did you prepare for the roles of Maria Magdalena and Jesus Christ?
Maxim: First of all we watched all the shows in Russia and in New York. We also watched the old movie. We searched for some scenes on YouTube. Secondly, we plan to improve, so we want to work in collaboration with a very famous ballet artist. He has already agreed to this and he will help us. We also talked to people about the relationship of Jesus Christ and Maria Magdalena. It is harder for Tatiana, because she has all the passion, while Jesus mustn't show any passionate or erotic affection. Maria Magdalena is full of emotion, while Jesus is just okay, understanding.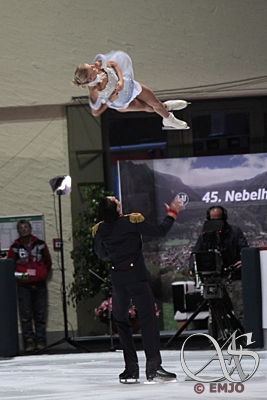 How is this season different, considering that it is an Olympic year? How much do you think about the Olympics?
Maxim: Every day.
Tatiana: We know every day how much time it is until the Olympics.
Maxim: We have to work, we have to keep working. If we are lazy or tired we say "No, no, you can't rest, it's the Olympic season!" It helps us to push ourselves.
Is it an extra pressure or extra motivation that the Olympics will be in Russia?
Maxim: We don't feel pressure; the biggest pressure is how we push each other. For sure everybody in Russia wants us to win, and we want to win as well, but we don't feel it as pressure. It is just like Worlds or Europeans; we just have to do our job. If we skate well, we'll win, if we don't skate well, another couple will win. Our goal is to skate well and clean, and to show our best.
For the first time there will be a team event. What do you think about that?
Tatiana: It's a good idea, but why is it before the individual event?
Maxim: This is the bad thing about it. We will skate in the short program in the event, and the federation will decide which couple will skate in the free skating.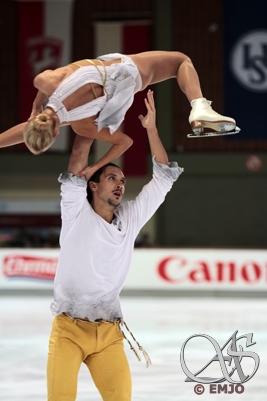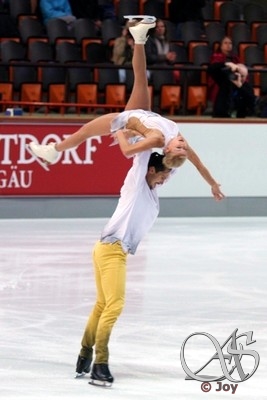 What kind of a host country will Russia be?
Maxim: We have skated in the Iceberg a few times.The first time, the Olympic Park was still under construction, but now it is beautiful, there are a lot of palm trees; it's like a huge garden. I think the Olympics will be very nice; a celebration for all the Russian people. We are very happy that we are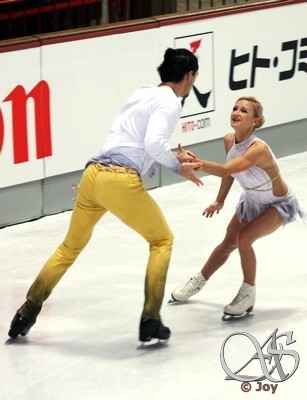 the hosts.
What are your plans on the road to Sochi – at the Grand Prix or at the Europeans?
Tatiana: Of course the first place and skate well!
The Europeans are the last big competition before the Olympics, where everybody wants to scare the others somehow. How do you prepare for that?
Maxim: Actually we are thinking about not competing at the Europeans. There is a very bad schedule there: pairs short on Friday afternoon and free on Sunday morning! It's horrible! We are not sure if we will compete there. I don't know what the other top couples say, but we don't know what to do yet. It's very hard to skate a free skate on Sunday morning and after that the exhibition. Pair skaters are the oldest - many of us are over 30 years old, and it's very hard to skate two programs per day. The pair event was always the first to finish their competition and now we are the last. I don't know why.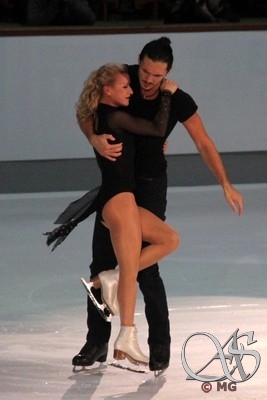 We have some information that it's because of the television broadcasting rights.
Maxim: Probably the TV wants to show a fight for the gold in pair skating as well, but if it's on Sunday morning, maybe there won't be a fight, because there won't be many of the top competitors.
Tatiana: I think on Sunday morning most people are sleeping…
Maybe you should write a petition with other pair skaters to change the schedule.
Maxim: I think it's impossible to change. We asked the ice dancers and ladies and they didn't understand it either. They said they are ready to skate for the last time. I think it's a bad idea, but the athletes' needs are always put in the background; everybody cares only about the money.
The first Grand Prix on their schedule is Skate America, in Detroit, October 18-20. We wish them good luck!