Maylin and Daniel Wende: "It's good to be back"
 
December 27, 2013
By Titanilla Bőd
Photos © Eva Maria Jangbro (EMJO), Mireille Geurts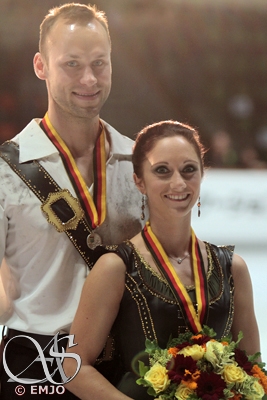 They didn't compete last season, but they say they never really stopped. They got married in the summer and they enjoy when the announcer says: "On the ice: Wende/Wende!" They had a medal filled season so far, bronze at the Cup of Nice, Silver at the Merano Cup, the Ice Challenge in Graz, the NRW Trophy in Dortmund and at German Nationals. Soon we will see them on the ice in Budapest and they will also represent Germany at the Olympic Games. Absolute Skating had a chat with them about their programs, preparations and more.
What was the main reason that you decided to come back to competitive ice?
Daniel: We never really stopped. Last season was hard, especially after some injuries. I had problems with my back, with my disc cartilage. There were also some very sad things in the family, like death. But we always said we wanted to come back, we want to skate, we want to reach the Olympics again and we just want to have fun on the ice. It's good to be back. We feel really good.
How did it feel to compete again?
Maylin: I was really nervous before the short program (of the Nebelhorn Trophy, their first competition after the season off), but it was a bit better before the free. We had a practice the day before, so it was okay.
Now you train in Oberstdorf, right?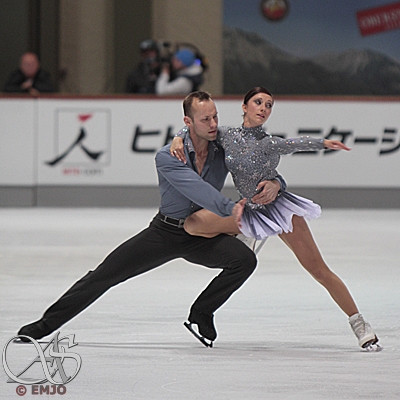 Daniel: Yes, so it was a home rink. The audience was perfect for us. But sometimes it's not so easy to have the first competition at home, because you know that everybody watches you, everyone knows you here… But I think we managed it and it was a good start to the season.
Can you tell us something about your programs?
Daniel: The short program is November Rain. We both really love the song; for us it's kind of a love story. When we skate, it feels like we really love it, we try to show the relationship on the ice. The judges liked it and the audience as well, so it was a good decision to take it. The free program, Your Highness soundtrack we used already two seasons ago; we just changed some parts and did added new stuff.
Maylin: We just loved that free program and we didn't get to show it so many times, that's why we decided to work over and show it again.
Daniel: We have to say a big thank you to Anjelika Krylova and Pasquale Camerlengo; they both worked on both programs, and it is just amazing to work with them. It was a lot of fun, we loved it.
Is your main goal now the Olympics?
Daniel: Yes, that's the main thing. We wanted to get into the Olympic team. Of course we also want to skate well at the Europeans and all the other competitions we do.
Was the internal qualification between the German pairs for the Olympic spots hard?
Daniel: Yes, because both our rivals for the Olympic spots: Mari Vartmann/Aaron Van Cleave and Aliona Savchenko/Robin Szolkowy skate very well.
The Nebelhorn Trophy was the first time you competed as Wende/Wende after your wedding in the summer..
Daniel: I like to hear it. It just feels now that we are really married, we are one family now... and this is great.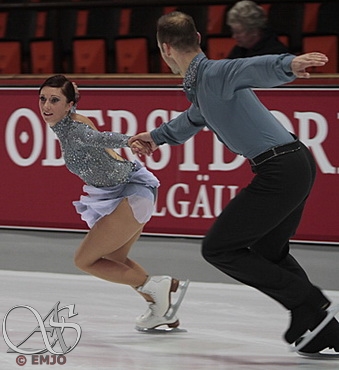 Do you never argue about figure skating at home?
Daniel: Sometimes.
Maylin: But not at home.
Daniel: We try to discuss it in the rink, but when we are at home it's time for our private life.