The artists behind "Art on Ice" spill their secrets
February 27, 2014
By Reut Golinsky
Photo © Ia Remmel (Pia), Irina Teterina (Attenais)
It is this exciting time of the season, between the Europeans and Worlds, when we cover one of our favorite European ice shows, "Art on Ice", which grew to be among the most attended indoor shows in the world with nearly 100,000 spectators annually! In anticipation of what "Art on Ice" 2014 has prepared for us, we'd like to give you some insight into how this amazing production comes to life.
Below are three short interviews we conducted during last year's show in Zurich with those who are behind it.
Gary Scott
Singer and guitarist, "Art on Ice" musical director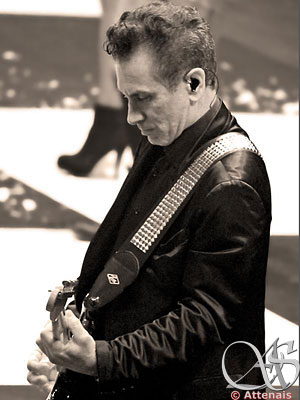 How and when did you join the "Art on Ice" team?
I actually started with doing the after parties about twelve years ago and started working in the show about four years ago. The first years I didn't know much about the show, we were here [at the hotel], working on the party. Eventually I started watching it and I was just amazed. For me it's like an international world class show and I was amazed that it was going on in a small country like Switzerland, for me it should be everywhere! Over the years it has become better and better, the ideas are incredible, the acts are great. It's really exciting and fun to work on it.
Before this show had you ever seen figure skating?
No! I mean, on TV but that's about it. I didn't fully appreciate the level of the skaters [in the cast] until I watched them in this show, to be honest. The nice thing about this show is that there's this great interaction between the singer, the band, the dancers and the skaters.
As a musician, how do you work with the skaters to develop this interaction?
For example, with Stéphane Lambiel for "Art on Ice" 2012, he decided on the song he wanted to skate to three months before the show, and then we worked on the arrangement, and we were in contact about the different parts of it.
For "My Body is a Cage"?
Exactly. So that was a really nice collaboration. He knows what he wants to do and has this whole vision, which is great, because he's very creative. It's a great experience to work on something with him. The song was originally written by "Arcade Fire", then Peter Gabriel did a totally different version, and we tried to recreate it... Rhonda Dorsey did an amazing job interpreting the piece, it was just a great collaborative effort.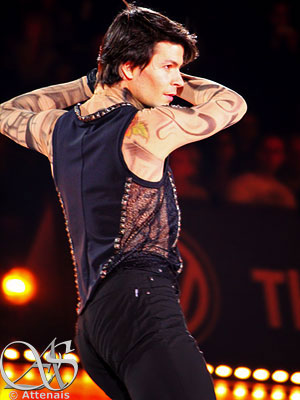 I think your version was better suited for a figure skating program.
Well, that's because Stéphane was really the one who tied the whole thing together. Our job is to hear what the skaters want and what the singer wants and then to do it as well as we can.
In "Art on Ice" usually skaters just receive the song to skate to...
It depends. For example, a few years ago John and Sinead Kerr wanted to skate to a live song, and we went back and forth trying different songs for them. We ended up with an Elvis medley, but we had tried several different things.
So you say that you prefer when skaters are more involved.
I love it when the skaters are more active. A lot of them are very creative, artistic people. And it's nice to get input from lots of people to try and come up with the best product. Stéphane, for example, with "Paint It Black" he's got certain moves that he does, so he tells us: "This is what I want here, here and here." And it's fun for us to play it because we know that he is going to do those special moves. And if we don't do it, he tells us: "Hey, I was expecting from you to do this to have those moves!" And that's what the rehearsals are for, basically.
For "Paint It Black" we changed a lot of things to get to the point where he was able to do what he wanted, for example different accents, drums and things like that.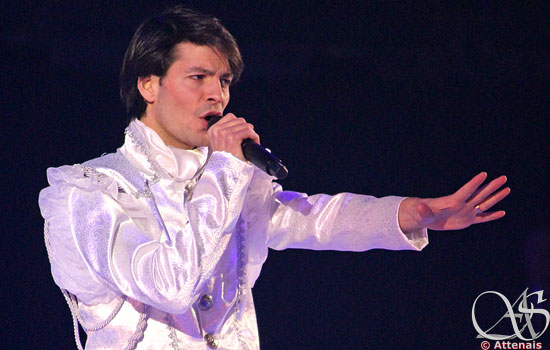 I also understood that he took singing lessons from you?
Yes, voice coaching.
What do you think about his singing? But tell me the truth.
He is an incredible singer, because he's got such an amazing personality. Singing is all about connecting to the listener, to the crowd. He does that almost better than anybody I know. He is really great! There is this technical part to singing which you have to train for and there is the feeling part of it. Some singers can actually have very good voices but they might not have the ability to express emotions. And you know as well as I do Stéphane has that 100%. You can hear in "Live Your Fantasy" he does an amazing job, he is a natural born star. If you look at some great singers, for example, they sing, they dance, they act... And he can do all those things. And also skate.
Marc Lindegger
"Art on Ice" marketing & communications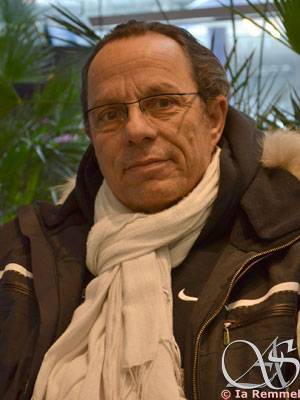 For "Art on Ice" 2013 you've invited young Russian rising stars - Victoria Sinitsina/Ruslan Zhiganshin, Adelina Sotnikova. Why them and how did you notice them? In general, how do you decide on the cast?
We noticed because we look around, that's our job. Our choice depends on a lot of different things, sometimes we look for skaters who are good for certain pieces of music or for some main acts. Sometimes our choice might look a little bit surprising, but Oliver (Höner) normally knows exactly: "I need someone for such a piece of music, so I need these skaters and not these." Eventually others could be better skaters with higher marks at the competitions, but we need skaters also with a certain show potential. There are some really good skaters who are great competitors, but are not what we need as far as the entertainment aspect.
Some skaters would like to come to "Art on Ice" but they cannot, because they have some other plans, they prefer to prepare for the next competition or they already signed with other shows, we understand that. Or, for example, we sometimes have problems inviting Japanese or North American skaters, because the Four Continents competition is usually at the same time as "Art on Ice".
You've also had a few last minute changes. How did you manage to solve this?
The first change was for Nathalie Péchalat/Fabian Bourzat because he was injured. We had a little bit more time to prepare for this one. When we try to find a substitute, we try to keep the same level. It's not that easy sometimes. I think we made a good choice with Victoria and Ruslan. This is probably a pair to watch in the future, if they continue like this. They are here to learn, they have a small part in the program, but I think it's a good experience for them.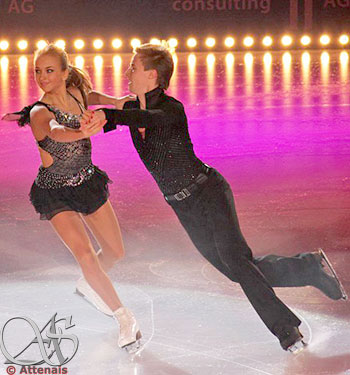 With Evgeni Plushenko's substitute we had to really hurry up. It was a tough situation when we realized that he was injured, because Europeans were going on, the skaters were in Zagreb and we had to make a lot of phone calls. I think we found the best possible [solution]... I'm very happy Florent is with us and he is doing a great job. He was just fantastic yesterday.
You say that you usually have a well-defined vision of which skater should skate to which music. On the other hand I know that "Paint It Black", "My Body is a Cage" were initially Stéphane's ideas. How open are you for skaters' propositions?
We are rather open. For instance Aljona and Robin (Savchenko/Szolkowy) choose this specific song by Seven. We usually discuss this with skaters; we don't just send them one piece of music and say: "You have to skate to this music, you have no other choice". We always ask: "You want to do an up tempo? Or something more slow?" If skaters come to us with good ideas, then why not?
Marvin A. Smith
Entertainment specialist, "Art on Ice" choreographer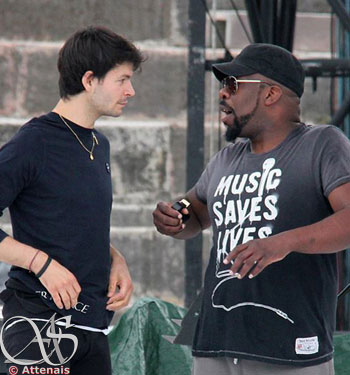 You've been with "Art on Ice" since 2008. How has your work changed since then?
I think a lot of things have changed. The show has become more intricate, its design has become more difficult. We have a lot of special stories and a lot of little things, gimmicks and gags, and every year we try to do something new. We start a lot earlier now. After the tour is finished everyone needs to relax and breathe, take a little vacation, but we then start [with the next show] very early. I love to start at least eight months in advance, because there are a lot of ideas and we need time to work on them.
It's really like a story book in development. We never try to top the show from the last year; we just try to do another show. When the ideas concerning [the] other show come, then the creativity just flows and flows. We have had water, and fire, and a floating stage, and segways, and trampolines... We've had so much stuff in this show!
Once the new idea comes we take it from there. We're in talks about it for months, but we only really have a couple of days to rehearse, so during that short time of rehearsal we have to put everything together, because the skaters can only be here four days before the show. So we're trying to put eight months of preparation together in four days.
Out of six shows, which one was your favorite?
My honest answer is that every single year I like something totally different. The magic has to go on, it's still very magical, but every year there is an element that I like more and more. I don't have one year that I like better than others, I don't have one show that I like better. That's impossible!
The show with the biggest impact on me was the first show, of course, because I'd never seen it before. So we had no idea what to expect. But I liked things about that show and about the last night's show... It's always something different, it really is.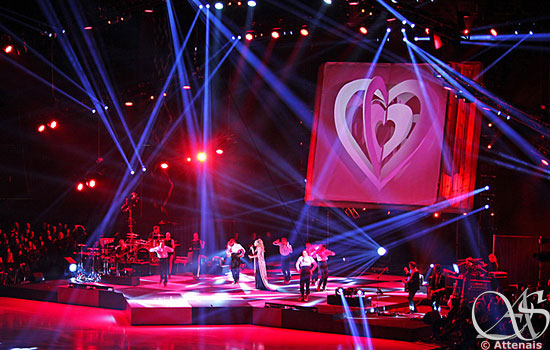 Last time we talked, a few years ago, you told me that following your collaboration with "Art on Ice" you started to work with skaters. Back then you mentioned Sarah Meier and Kiira Korpi. Any new names?
Sarah Meier, and a little bit with Shizuka Arakawa, with Anna Cappellini and Luca Lanotte, Olivier Schoenfelder and Isabelle Delobel, with so many people and it gets more and more exciting.
Those were programs for "Art on Ice"?
Yes, [for the shows] somewhere, either Zurich or Stockholm or "Opera on Ice" in Verona. The latter is amazing because the setting is so beautiful and we have a chance to work with everybody, and we carry a story-line throughout the entire show.
Anything new that you would have wanted to add to "Art on Ice" or "Opera on Ice"?
You know what I'd have wanted for "Opera on Ice"? (laughs)
To add dancers on stage like in "Art on Ice"?
It could be very good to add classical dancers, it could be a good idea, a really nice element that we haven't thought about yet and we haven't used yet. On the other hand, you know, the stage there is different, smaller, with a choir and orchestra. Still, to try to incorporate the dancers could be really great.
But you know what I want to see [in Verona] if I can get that one day? It's to have two lions in a cage! When I first walked into the venue that was the first thing that I thought of: what if we have two lions - right and left. That could be a beautiful picture! That's just something in the back of my mind. (laughs)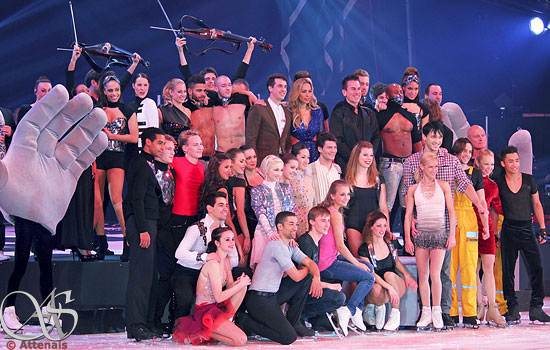 Well, we probably won't see lions tonight but we have no doubt that innovative visual effects and creative surprises, a tasteful blend of beautiful music and skillful skating are waiting for us!
The 2014 European Tour starts in Zurich today (27 February-2 March), moves on to Lausanne (4 and 5 March), then is off to Davos (7 and 8 March 2014), Helsinki (11 March 2014) and Stockholm (13 March). The stars of 2014 edition are the band "Hurts", the pianist Khatia Buniatishvili, the singer Loreen, the Swiss ensemble "Mummenschanz". And the stars on the ice are Stéphane Lambiel, Sarah Meier, Kurt Browning, Joannie Rochette, Florent Amodio, Aljona Savchenko & Robin Szolkowy, Gev Manoukian, Tatiana Volosozhar & Maxim Trankov, Nathalie Péchalat & Fabian Bourzat, Adelina Sotnikova and others. For more details and tickets check the official site.