Brian Joubert: "A fighting spirit helped me so much to be a very good skater"
January 23, 2014
By Titanilla Bőd, Új Szó
Photos © Mireille Geurts, Joy, Eva Maria Jangbro (EMJO), Daphne Heij, Rüdiger Lawall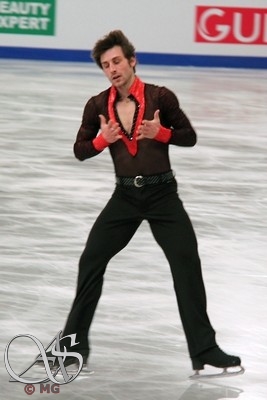 Ten years after his surprising first title, Brian Joubert competed again in Budapest. Many things have changed since then: there is a new judging system, there are new young competitors, new rules and new rivalries. But one thing has remained the same: Brian's famous fighting spirit. He talked about this approach, his memories and his pre- and post-Olympic plans in an interview made during the gala intermission.
You are here again in Budapest after ten years. How do you feel about that?
I feel very good. I'm very proud because I fought a lot during this competition and the support of the people made me very happy. Everybody was behind me during this competition, even in the practice, and it made me happy and confident for the next competition.
Do you recall the memories of the Europeans 2004 in Budapest?
Of course, because it's the same practice rink, the same hotel, even though it's not the same main rink. I cannot forget 2004; it was one of my best competitions. But it was easy. I was 19 years old, no pressure, nothing to lose. So I could surprise.
How have you changed since then as a skater and as a person?
I think artistically I'm better, because I feel more mature on the ice. Technically it's more difficult to jump, because I feel that now I'm 29, physically it's very hard to compete against the young skaters. I have to be strong, but I have a lot of experience, so still I can give 100 per cent at every competition; I can fight. And who knows what will happen at the Olympic Games?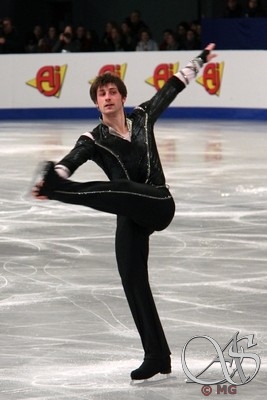 In your short program in Budapest there were mistakes; you missed the quad and the triple Axel. You said that it was because this program was made just a few days ago. So are you still satisfied with the decision to change the short program?
I think it was the best way, to change the program just before Europeans. Of course it was impossible for me, and I think it would be for anybody, to do a clean program after only one week. But we are focused on the Olympic Games. Europeans is also a very important competition, but I just want to have a good short and free in Sochi and I think this is a good short program for the Olympics. I was not surprised about my short program. Of course I was disappointed, because I don't like to skate like that and people were also happy to see me although I didn't have a good short. But the free was good and I'm satisfied with my decision to change the short.
You mentioned that you might change your free program as well. Is it still your plan?
No.
There was some talk about that?
Yes, because Nikolai [Morozov] wanted to change it, but I didn't want to. If I change the free next week, it's going to be a disaster for the Olympic Games. We made this mistake at this competition, because it's kind of a practice. But I don't want to make mistake for the Olympics.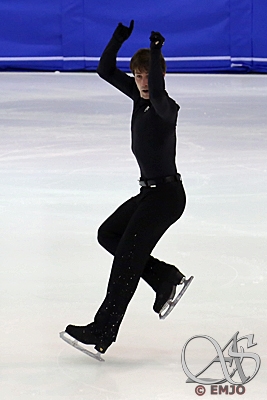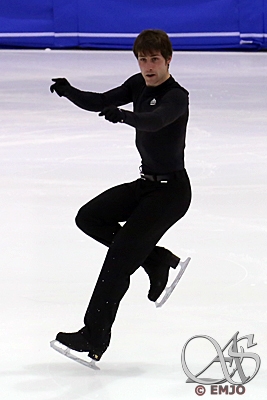 Have you already discussed it with Nikolai Morozov?
Yes. Even if he still wants to change I will keep this long program, because I feel very confident and comfortable with it. I just need to work physically and technically to put in one more quad and one more Axel.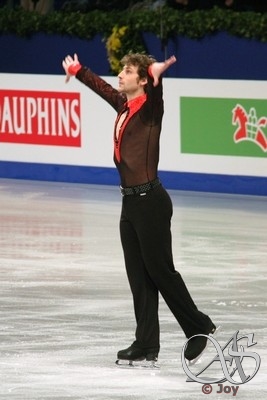 You surprised many of your fans with your music choice, Concierto de Aranjuez. It's completely different from your usual style.
Well, that's the difference between now and when I was 19. Back then I was not able to skate to this kind of music. Now I feel ready to skate to this concerto and I love it. When I work on this program in practice I really enjoy it and I really wanted to do a great free program, and short of course, at my last competition.
So far the Olympic Games haven't proved too lucky or happy for you. What do you need to do to have a good Olympics for the last time?
I just have to work, to feel strong and confident. If I feel ready for the competition, I'll do my job. If I do my job, I can have a good result. I don't think about points and placements, I just want to do my job and skate well.
You said that this time you will have a different approach to the Olympics, you will live in the Olympic village and you want to have fun.
During the previous Olympics I wanted to protect myself too much. For example in Vancouver I rented a house, I was alone, I was too much focused on the competition. Now I really want to enjoy this event, because it's a gift that we athletes have. I just have to live this competition 100 per cent, especially because it will be the last one. I'm happy that it's going to be in Russia and I like to skate in Russia.
Are you going to the opening ceremony or do you plan to come later?
It depends. I have to talk with my federation about the team event. I don't know if I'm doing the short or the free. I have to discuss it with them. I don't want to stay for too long in Russia, I need to be at home and see my family as well.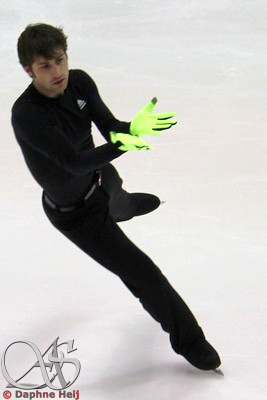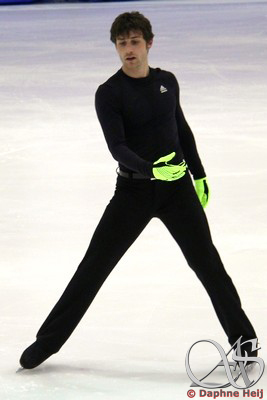 What do you think about the team event? Is it a good idea?
It is a good idea, but it's a bad idea to put it before the main event. I think we can lose a lot of energy in this competition, so nobody will skate 100 %, because we'll want to keep the energy for the short program of the main event. So I think it's a mistake.
For you the team event will be a chance to win an Olympic medal, which was your dream. It probably will be easier than in the individual event.
Of course, it's going to be easier! I think I can't medal [in the individual event] in this Olympic Games. But you know I'm not disappointed about this. I had my chance in 2006 and 2010. I didn't take it, that's my fault. As for the team event, I don't know if we can get a medal. We're going to fight, we're going to do our best, but it's going to be very, very difficult. We will probably fight for the bronze with the Italian and the Japanese teams.
Will you go back to Russia after the Europeans to work with Nikolai Morozov or will you train at home?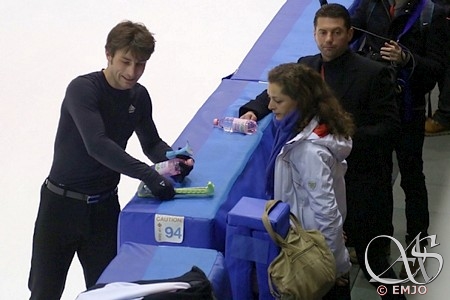 I will go back to Russia, because we have to improve the free program. I like to work with Nikolai, but I have to go back to Poitiers to work with my coach [Veronique Guyon], too, because she has to know both the short and free programs and technically she makes me confident. So I have to work with both of them.
Does Morozov help you with choreography and artistry the most?
Yes, but he helps me with how to work as well. He knows the high level in figure skatin; he knows how to prepare. My coach is a very good coach, but she doesn't have his experience.
How many hours are there for you on the ice when you are in Russia training with Morozov?
It depends. Sometimes it's four, sometimes five hours. But I stay in Novogorsk and there is nothing to do, just practice. So for me it's okay.
What are your plans after the Olympics?
I will do a tour with Evgeny Plushenko. There are about forty shows – it's a lot! And later I want to be a coach. But I want to do shows for many years, and maybe to come back to competition; maybe I'm going to try pair skating…
You always mention this pair skating idea…
Because it's still in my mind! I think I will try it once.
What are your ambitions as a coach?
I'd like to work with small children and then follow them through their career. I want to have a champion. I think I have a lot of experience and I can teach them a lot.
Budapest was your thirteenth European championships. Which was your most memorable one?
The first one, in Lausanne in 2002. I was seventeen years old, I finished there on the podium with Alexei Yagudin; it was amazing. And there I qualified for the Olympic Games in Salt Lake City. So it is the best memory of my career.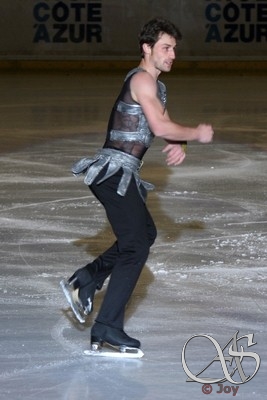 Now this was your last Europeans. Do you feel any nostalgia, a bit of sadness?
No. I think it's a good time for me to stop. I'm ready to finish with competition. Last season in London it was my last world championships, but I was not sad about it. I'll have a different life, but I'm okay with this. And the young skaters are very strong, so it would be difficult for me to compete longer.
After the short program Tomáš Verner said at the press conference that he likes your fighting spirit and he wishes he had the same. Where does this fighting spirit come from?
I don't like to lose! When I play cards, when I play bowling, I want to win every time! It was the same when I was five or six years old. I think it is my personality, I didn't work on it; it is natural. And I think this helped me a lot to be a very good skater.
What have you learnt from this Europeans?
I surprised myself, because I didn't think I was able to do this kind of free program. It made me stronger.