Anna Cappellini and Luca Lanotte: "We have a beauty of the dance"
February 8, 2014
By Reut Golinsky
Photo © Ksenia Nurtdinova, Anna Bertoloni
Special thanks to Laura Sciarrillo for the help with this interview.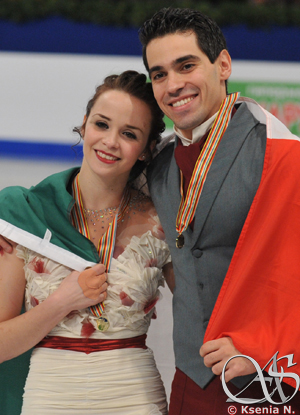 Two days after winning their first European gold, tired after the reception with the Italian ambassador and the gala rehearsal, Anna Cappellini and Luca Lanotte still found time for our talk. From their programs to Luca's critical attitude, from them circa Vancouver 2010 to their dreams and hopes towards the Games 2014, from the obstacles Italian skaters meet to how proud they feel for the Italian team, we talked, and talked, and talked... and I have a strong feeling it wasn't my last interview with these lovely, funny and smart people.
Let's start with your programs. You know, when I heard about your choice of free dance music I instantly wondered if it was inspired by last season's "Opera on Ice" which I had a pleasure to see live.
Anna: "Opera on Ice" was definitely an inspiration for this year's free dance. This show is such a wonderful portrayal of the Italian culture with the Arena, the singers... We feel so proud; it's really a collection of beautiful things that Italy has to offer.
It was Carolina Kostner who skated to this particular piece.
Luca: It was the opening number.
Anna: We were standing next to the ice because it was the opening number, so we were going to take the ice too, and we thought it was fantastic, and the crowd loved it. We said right away: "This could be our free dance". So when the time came it was one of the choices right away. There were other options but eventually we thought that this was the year to be skating to this music, we wanted to bring Italian culture to the Olympics.
It was Italian and also classical which is considered to be a "safe choice" for the Olympic season...
Anna: I think you're absolutely right. Sometimes you push the limits, but sometimes you want to do something a little safer. Although as far as we're concerned this is the type of the music that we usually choose. It's not as dramatic as other free dances, we've experimented with different pieces but we love the classics, I think it is the best.
Actually I checked before our talk, you didn't have that many classical programs. "Carmen" and "La Traviata" a few years ago...
Anna: Yes, that's true. I guess what I mean is more classical melodies, even from classic movies. The only free dance which was groundbreaking for us was "Requiem for a Dream" and another one, which we skated to for only half of a season, was to jazz music. But other than those two experiments we had "Love Story", "Umbrellas of Cherbourg"...
So "classics" not in the meaning of "classical music" but more like "classical, iconic scores", I see.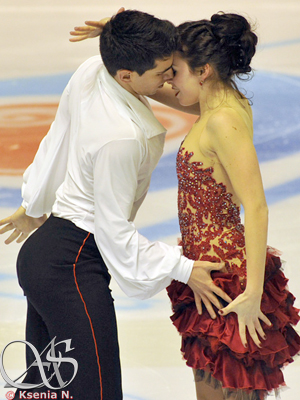 If we mentioned "Carmen", was it a challenge to take such popular piece, to "compete" in a way with all the other performances to this music? Including Virtue/Moir, of course.
Anna: Actually we started with another free dance and then we changed it. "Carmen" was something that seemed perfect for us. It had this power like we haven't done before. We came from "La Strada" (free dance of season 2011/12), which was quieter and the [other] free dances that we've chosen didn't have the power that we needed to step further. So as soon as we realized that, we had Paola Mezzadri flying over to the US to try to decide what to do. And we all agreed that "Carmen," with that passionate and strong character, could be delivered by us really easily, naturally. And it brought us to a level of skating that we had not done in the past. The last season was as good as it could have been: the Grand Prix events, the Grand Prix Final, the Europeans, Worlds. We really made a step forward.
Virtue and Moir went for originality in their modern choreography. And what we did was more about the drama and the characters, and for us to deliver more power.
Luca, based on what I saw and heard during the press conferences I've got an impression that you're more critical and demanding out of the two of you. Tell me if I'm right.
Luca: It's true...
Anna: We talked about it yesterday. I said to him that it was a little too much, I think. He was too harsh on himself and on us.
Yes, you've just won your first title and Luca's comment was: "Well, it wasn't the best, there are things to improve..."
Luca: I said what I thought. I mean I really felt that we can do more. I think it's good that I say we can do more, that we can do better. I don't see it as a bad thing to be critical. Often people only say: "Oh, we're happy, we're fine", and I gave a little bit of truth. That's why you have a press conference. For people who always hear the same answers, it's nice sometimes to have someone saying: "Yes, OK, it was good, we're happy, but there is still work to do". Because if there is no work, we would have been the Olympic champions, and we're not. We have to improve; there are lots of goals to reach.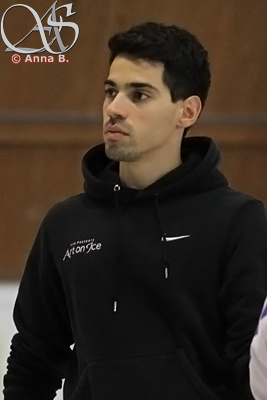 What I felt was about myself. Maybe Anna skated amazingly and she was at her 100%. It's fine that what I felt isn't what she felt. But with this European title I feel that I want more and I want to work more. And from the second that I'm the European champion I think how can I move on, I need to improve this, this, this. That's why it looked a bit negative maybe.
And who is more demanding during your practices? Who is saying over and over: "Not good, let's do it again"?
Luca: We're both.
Anna: On a daily basis I think I'm even more. I'm never satisfied and never confident in what we're doing. Sometimes they have to stop me and say: "It's fine!" I think on the spot Luca has more critical reactions and during everyday work I'm always: "Let's check this lift; I want to see if the timing was good".
Luca: But you have to be like this with yourself. If not, everybody else will arrive first. You have to push.
So where do you need to push more? What are the things you want to work on in these few weeks before Olympic Games?
Luca: I think we can improve our speed, for sure. We can improve how we look on the ice, stronger legs, stronger arms, everything bigger. Of course, to work on lifts looking more effortless, because other couples have amazing lifts. We have to work on our strong sides that make us stand out from the group of other good skaters, but also on the sides that are less strong, that the other couples have.
Talking about your strengths ... If I were to ask you to finish the sentence: "Olympic bronze medal should be ours because..."
Luca: We never thought about it. It is simple, but it is clever [what you ask].
Anna: (to Luca) But if you don't believe it first, why should others believe it?
Luca: (to Anna) But it's not only if I believe or not, but why. I believe it should be mine, but why do I believe so?
Let's ask it differently: what are your strongest qualities? In what ways are you better than other couples?
Anna: Probably because what we are, we're dancers. We ARE dancers. We dance, we literally dance. The reason we were always strong in original dance, in short dance now, is that whether it's a polka or latin or whatever theme of dancing they give us we embrace it so hard. I think we have that characteristic, also in interpretation and style. And I think it's something that made us stand out even if we lacked certain abilities that we saw in the teams next to us. Maybe we're not as acrobatic, or maybe in skating skills at times we're not the best. Maybe someone next to us has more to offer in other fields, but I think what we have is really a beauty of the dance.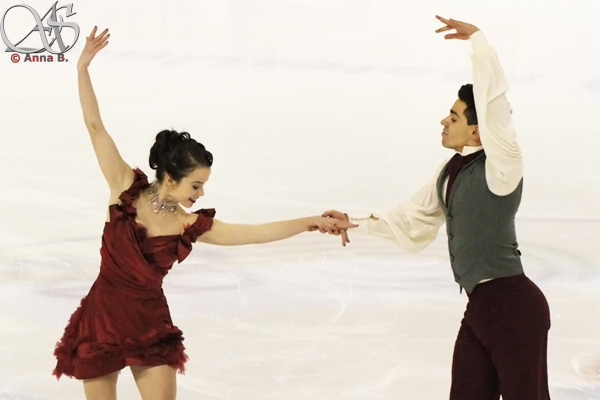 If you compare yourself now to yourself four years ago, before the 2010 Games...
Anna: I think four years ago we were really clueless in terms of training. We've changed coaches a few times [since then], and we've tried to take the best from everybody.
Luca: Now we have a method, a very precise method of training, based on repetitions, on making them bigger every time you repeat, on putting together a few elements during those repetitions. We have repetitions just for elements, we have repetitions for transitions. We work a lot with the videos... That's the biggest difference.
And all that thanks to Igor Shpilband?
Anna: It's a mix of lessons; we've taken a little bit from everybody, from Muriel Zazoui, from Nikolai Morozov, from Igor. Right now with Igor we feel like we're definitely improving in training. But the past we've had has prepared us for today. We really tried to take the best from everyone. There are a lot of things that I remember from everyone when I take the ice. For example, Nikolai's advice: "Just go around, don't do anything, just feel beautiful". And that is something that I've taken with me. Don't worry, just be! Maybe it's a little thing but these were things that changed us. When were in France (in Lyon, with Muriel Zazoui - ed.) the way they pushed us in terms of skating, we were scared and they were pushing us to try.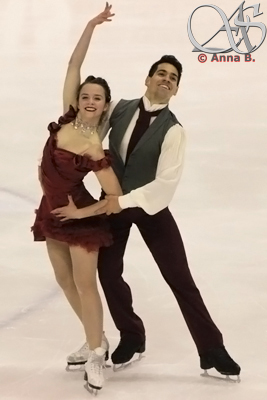 And we made a lot of mistakes back then, but we were trying to get out of our shells, out of the limits that we created for ourselves. And now with Igor... his record shows that he is about the best coach in the world, and we couldn't agree more.
Luca: He is amazing!
Anna: He can tell you starting from the psychological level to the smallest technical detail, he'll know... He corrects our interactions during the practice, because he knows that sometimes I get bossy, but I'm the woman, I follow the man, so I shouldn't be bossy, I should follow my guy. Because when we're out there he should be stronger...
Luca: That's what people are going to see. Maybe people don't realize it, but you can read the body language, you can see this, totally. And you deliver [this message] without being aware of it. You deliver to the judges, to the audience. And in the end it is a part of your performance, everything is a part of your performance, from the moment you step on the ice to the last moment when you go to the Kiss&Cry. Everything sends messages, everything is important.
Anna: And from the smallest key point or if the choreography is not 100%, he will tell you. Last year in Zagreb I thought that we skated well, but then we went to America before Worlds. When I was skating at Worlds I didn't feel very well, there was a lot of pressure, we were in a good position - just like this time here - but after I saw the program I realized that the work Igor had made us do turned the program around. And I didn't even realize, I didn't know we were improving so much! It's magical.
Whose idea was it to go to him?
Luca: There was a plan to go to Igor and Marina Zueva when we were still in Nice [at Worlds 2012].
Anna: The very first time when we mentioned remotely that we might go to them was in 2007 at Worlds, but it didn't work out. There were a lot of things to be arranged...
Luca: ...and we abandoned the plan. A few years later we thought about it again: "Maybe there is something we can learn from them". And then two weeks before leaving for Canton to Marina and Igor we learned about the split.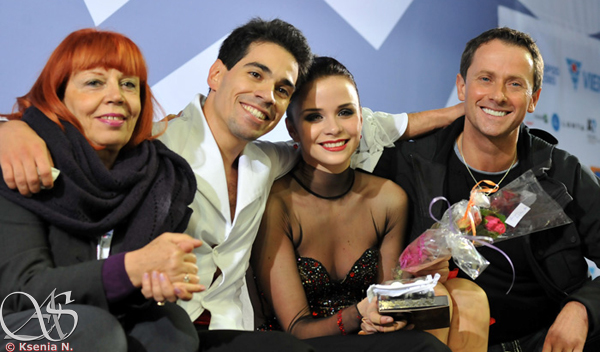 How did you decide to which one to go?
Anna: We wanted to go to the school, so the fact that they've split, of course, created this problem of who is going to move where. And we had the flights booked already, and the house... We thought that what Marina could give is more like what Paola (Mezzadri) can give.
Luca: We needed to learn how to train the elements, technical corrections, so for us it was better to go to Igor.
Anna: Marina is doing a great job with her couples, but as a coaching figure we have "our own Marina" and we were looking for someone technical.
There will be much more pressure on you in Sochi than there was in Vancouver. Do you wonder if you will enjoy it less this time?
Anna: In Vancouver we felt that we just earned the spot, we took in the emotions, the craziness, the Olympic buzz. [In Sochi] there are several couples who can grab that third place and pretty much the only chance we have is if we skate amazingly. So we want to go there and skate our best, really give it a try. Being fourth or seventh it's just about the same, you're not on the podium, and you don't have a medal, so why not give it a shot and skate...
Luca: ... one hundred percent. Also, you know, after twenty years we're finally approaching the top.
Anna: It's like when you see people who skated their free dance in the first warm-up group. And one side of you thinks...
Luca: ..."Lucky them, they've finished already". My roommate, for example, came back and I was still waiting for my competition to start!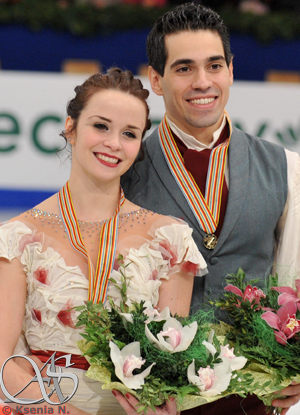 Anna: So one side of you says: "Oh my, they have no idea what pressure I'm under". But on the other side you know you're playing for the big game. Last time [at the Olympics] we went and we could just have fun, but this time we're actually making these Olympics a life changing experience. I think that with the chance that we have to get that place, we need to skate it all out and take whatever will come.
Let's talk about the Italian team, especially because you will take part in the team event in Sochi.
Luca: We're proud of our team; we're getting to be a really great team. We're lucky that we grew up together, since, you can say, Warsaw 2007. We're coming from the same generation. This year we were noticing a very funny thing- that this Europeans was full of Italians, even skating for other countries. Someone is skating for Germany, someone is skating for Slovakia. We feel that our team is now strong, those who are behind us, they are pushing. The more they push, we push.
And Carolina is a diamond...
Anna: Carolina is a blessing for Italy and Italian skating. And Stefania and Ondra are doing such a groundbreaking job in pairs. We barely ever had a pair to present. It was hard for them. We had a tradition, there was a school, competent people, and they didn't. This is something they've created and made us all so much stronger for team event and for the World Team Trophy. And the boys... are catching up. (laughs)
So what do you think about the team event?
Anna: The only thing we're sorry about it is that it would have been better to have it at the end. It is so amazing to skate at the World Team Trophy, everybody is so ready and the tension of all the other competitions wears off, so you feel that you can skate exactly like you're able to skate.
Luca: Yes, the best performances were always at the World Team Trophy.
Anna: And the team event in Sochi creates quite a problem schedule-wise for our own competition because not to lose the shape might be a challenge. We're working on the last details to figure out the way we can train more: staying or going? We have a week in between, what to do? That's the only annoying thing about it, but other than that we're proud that our team is in the top five in the world. When you think about how many people skate in America, Russia, Japan and how many people skate in Italy,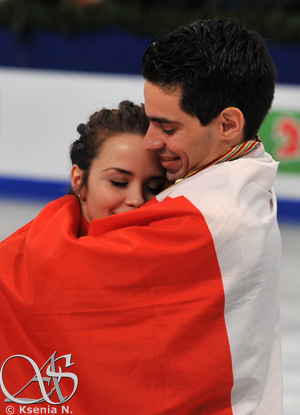 to see what we do with this is quite impressive. I'm very proud of us.
Also the infrastructure they have in Russia or in States...
Anna: Yes... It's a whole different way to approach the sport. To be an athlete in Italy is not easy, we need to make a lot of sacrifices to train. And figure skating is not that big in Italy as a sport, so no big structures, not a big federation, there is only so much they can do to help us. Sometimes it's really, really hard. I know that Samuel (Contesti) had problems with this which is why in the end he retired. Even to find the time to train on the ice might be a challenge.
Do you think it will improve?
Anna: It has definitely improved since Turin 2006. Everyone knows who Carolina is, which means something because it's a minor sport. Unfortunately there is a lot of demand, the ice is full, sometimes we beg: "We need half an hour more!" And with the economic crises they are not building new ice rinks, we're always afraid that some might be closed. Hopefully they will open more ice rinks, hopefully the crises will pass too.