Carolina Moscheni and Ádám Lukács: "Our strong point is that we have the same goals!"
May 5, 2014
By Petra Mihályi & Titanilla Bőd (Új Szó)
Photos © Andriana Andreeva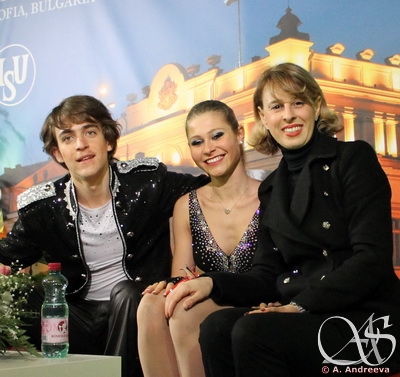 Carolina Moscheni and Ádám Lukács teamed up in 2012 and since then they have placed 6 th at two JGP events and last year they won the junior ice dance competition at the Ice Challenge in Graz. She is Italian, he is Hungarian and they train in Italy and compete for Hungary. They were 14 at the junior Worlds in Sofia and their longer term goal is to get to the 2018 Olympics. We talked to this promising couple in Bratislava at the Four National championships, where they dominated the junior ice dance field.
How did you find each other?
Carry: Well, for me it was hard finding a partner. I was training alone for a while, looking for a partner. Then my coach, Barbara Fusar-Poli heard from the judges that this Hungarian guy was looking for a partner. Actually he stopped skating with his previous partner and two weeks later he found me, so it was really fast. And then he came to Italy, we tried out and we felt very good from the first time we skated together. So he decided to move to Italy and train with Barbara. And after a few months we decided to join Igor Shpilband 's team for some parts of our training.
How was moving abroad for you?
Ádám: I can say that I was very lucky that I have found her in such a short time after splitting with my previous partner. Now I feel that it was a very good decision. I enjoy living in Milan and skating there. I can say that everything is good.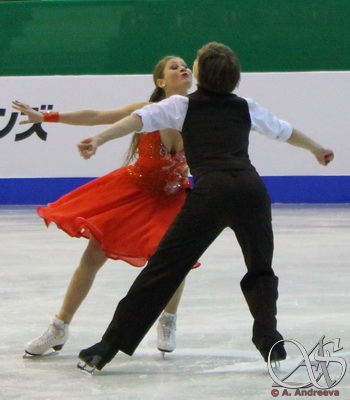 How do you manage with your studies?
Ádám: I'm a home student at the moment. I have all the books and in the afternoons when I have some free time I'm trying to study the subjects. At half term and at the end of the school year I go home to do my exams. It's okay; last year I finished with a 4.2 overall result, so it's going pretty well.
And how did you deal with moving abroad from your family?
Ádám: During the first couple of months it was pretty hard. Especially because it takes some time to get used to that you have to buy your own food, clean the flat, cook for yourself... This is usually mothers' stuff. But now I'm comfortable with the situation.
What makes you two a well-matched couple?
Carry: I think that our strong point is that we have the same goals. If there is something wrong, we speak to each other, trying to understand each other and fix it. And then our type of skating matches pretty well, too.
Carry, you are really graceful and airy on the ice, while you, Ádám, stand strong with your feet solidly on the ground.
Ádám: I think the first and biggest role of the man should be leading the couple. For the lifts, for the step sequences, for everything the man has to be the strongest. He has to show the directions, to help the girl to get into a comfortable position where she can present herself.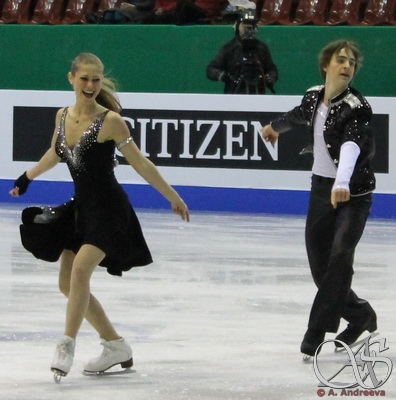 Carry: The girl has to show what the couple is able to do, as everyone's eye is usually on the girl. So his job is to present me, and my job is to present our qualities. The girl has to rely on the man. If the man says 'do this', then I do it. He knows what he is doing, so I just trust him. If something is wrong then we are going to go wrong, but the most important thing is to rely on each other.
Ádám is Hungarian and Carolina is Italian. How did you decide which country to represent?
Ádám: In the first couple months, or even maybe the first six months, we weren't totally sure which nation we would choose. But then in the end we decided in favour of Hungary, for many reasons. One reason was the federation. They are very kind and helpful to us; they really try to do their best to support us in every possible way. Not every federation supports their skaters as much as the Hungarian. This was one of the most important reasons.
Carry: And also because we are not from the same country, so one of us would need a new passport, new citizenship. Getting this is much harder in Italy, then in Hungary. As our aim is to compete at the 2018 Olympics in Pyongchang, we would like to get the passport.
You are pretty good at junior level, especially compared to the Hungarian field. How does it feel for you?
Carry: It's great to be good at junior level but we want to improve. We are trying to work as hard as we can. We get along with all the teams and we like to feel close to each other even if we compete against them. Most of the other teams go to school, so they don't have that much possibility to improve at the moment. We don't go to school every day, so we have much more time to train, more hours. This is the choice of life and we decided to do it this way.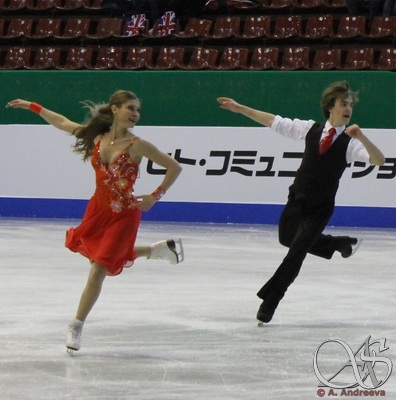 The Hungarian skating federation has now the aim to develop figure skating in the country. You are pioneers of it; does this put any more pressure on you?
Ádám: I wouldn't say that. It's something that gives us even more motivation to move forward and to try reaching our goals. I feel that it is just helpful for us.
What are those goals?
Ádám: In the short term, to get into top 10 at junior Worlds. Our longer term goal is to get to the Olympics in 2018, and achieve a good result there. At the moment we are putting all our efforts to prepare for the junior Worlds.
At the Four Nationals (national championships of Slovakia, Czech Republic, Poland and Hungary) you dominated the junior ice dance field by winning both the SD and the FD. It is a promising result, isn't it?
Ádám: We are very happy about all that happened at the Four Nationals. Unfortunately we were not in the best shape. I had a small back injury and we had to skip almost ten days. After that she got sick, so we didn't have all the ice time to skate, and we couldn't skate our very best in Bratislava. But we are still happy that it was enough. We know that we still have big space to improve.
This is the first year Hungary joined the multi-country Nationals. Do you like this event?
Carry: I think it is a good idea. Before that I always competed as Italian, where we have a few competitors at Nationals, but as Ádám told me when he skated at Hungarian Nationals, it has never been a big competition. I think this is a middle way that provides an opportunity to improve yourself and show what you can do, but at the same time you also have the chance to compete with other skaters, not only by yourself. So it is very good.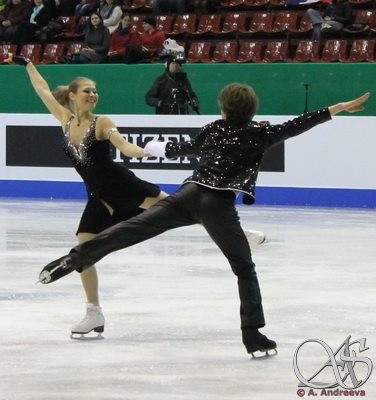 You had that really special lift during the Earth song in the Michael Jackson medley in your free dance. Whose idea was that?
Carry: Actually this lift is in Barbara's mind for years, she always puts this lift to my programs. We added it last season, too and this year again. We wanted to change it this season. At the beginning we wanted to do it in a different way. We said: "Barbara, it's good, but we have already used it", and she replied: "No, no, let's use it again." And I'm sure next year she's going to say: "Can we do it in a little different way?", and we are going to say: "Three years in a row…" (laughs) But it looks good, because we have good lines for that but at the same time we would like to change and try something new. Maybe next year we will show something different.
Barbara couldn't come with you to the Four Nationals. Did this make it harder to compete?
Ádám: Our coaches were not here but the sports director of the federation is here and helps us during the whole event. We feel that we are in good condition. And everything went well. We don't have a bad word.
What is it like to train with Barbara Fusar-Poli? What's she like as a coach?
Carry: The environment in our rink is very good because there are many senior couples there right now, and we are the only juniors. It's good to see what we are going to try in a few years, it's motivating for us. She is funny, she is a great coach, she has a great personality and she wants you to do your best. She pushes you harder and harder, even if you are tired, she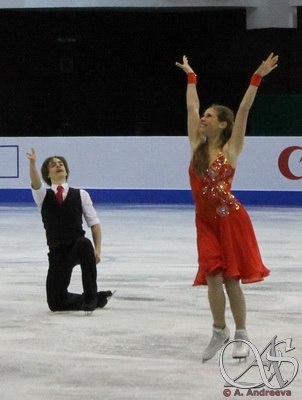 pushes you anyway. It's good.
When she was skating, we remember some of her angry faces when she was pissed off at the end of a performance. Does she look like this at you, too, if you make a mistake?
Carry: Yes, she is a typical Italian; she has to show her emotions. But she is very good.
Do you have any favourite elements, or maybe a favourite dance?
Ádám: I love the quickstep. This year this is our pattern dance in the short dance and I really like it. I'm very happy that we are getting the scores with it in every competition. I feel that it's really a dance that just fits us.
You are managing yourself pretty well; you are in contact with your fans via Facebook. You also share information on Korikalauz, a popular Hungarian figure skating group on Facebook.
Ádám: I always feel that it's a good thing when a group of people become fans of something. Together they go for it, watch the events, share photos and videos. I think that's why many people are watching sports, because it's getting people together. I am really happy that this sport is getting more and more popular in Hungary. I am trying to help how I can. I know I am not enough for this, being the only person, but I'm trying to do what I can.