Natasha Purich, Mervin Tran: "For us, it is really just the beginning"
January 28, 2014
By Titanilla Bőd, Új Szó
Photos © Mireille Geurts, Joy, Johanna Welnicki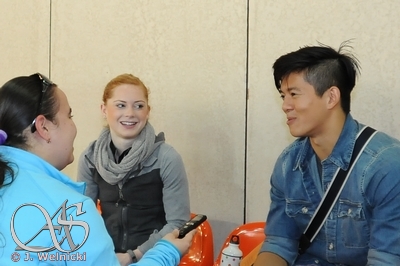 He has already won a bronze medal at Worlds, she's just come up from juniors. Natasha Purich and Mervin Tran have been skating together for less than a year, but they look forward to competing with pairs who have been together for many years. The first international competition of this Canadian duo was the Nebelhorn Trophy, where they also found time to have a little chat with Absolute Skating.
Your first international competition was the Nebelhorn Trophy, where you placed 6th. How satisfied are you with your performances?
Mervin: We are really happy with our short program, we had a really good score and we know we can get even more points than that. So we were glad with that. As for the free, we were just happy that we were able to finish it. There was a bit more of a struggle, but still, there were a lot of firsts for us: being here for the first time, competing together for the first time. Considering that, we are happy with what we've done.
Were you nervous before the competition?
Natasha: Yes, I was! I don't think I've ever been so anxious before getting on the ice.
Mervin: Usually I get excited to skate but I never get nervous. So it was okay.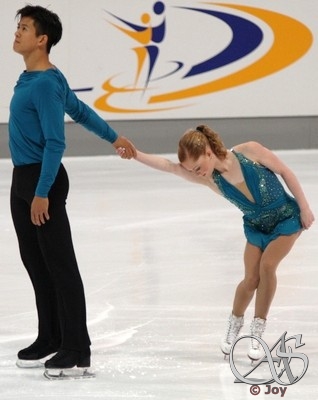 Your short program to Elton John's "Tiny Dancer" really caught my heart. How did you choose the music?
Mervin: It was our choreographer who chose it. When we listened to it we just knew we would love it. We just try to be very elegant and pretty, like dancers. She is the tiny dancer in the program and I try to showcase her a lot. There is not really a storyline, we just skate to the music, and try to do everything according to how the music sounds. Our free program is to "Life is Beautiful" and again, we don't follow a storyline. As all of you know, it's a very sad movie, and we don't want to portray that. But the piece of music is very beautiful, so we just skate to the music without a specific story.
At the press conference you said you've been together for seven months and you have to compete with couples who have been together for seven years. What was the hardest thing at the beginning of your partnership?
Natasha: I think everything came together pretty easily. For me there wasn't such a big change in my training, but I had to bring my skating up to the next level, because I'm coming out of juniors.
Mervin: At first there were technical goals so that we are able to do all the stuff that we do now. What you see from senior skaters- experience, unison, togetherness, we have to work a lot on that. I don't think we look quite like we've been together for a long time. It is true we haven't been, but to compete we should look like that. We try really hard, we skate a lot together, we see a choreographer two times a week and we take ballroom dancing classes. We are trying to look together as much as possible.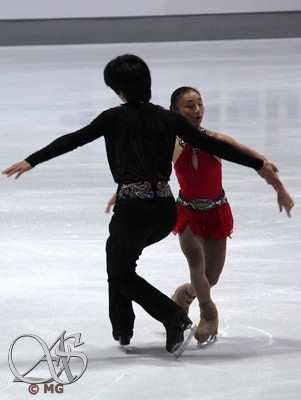 Mervin, you were a World bronze medalist with your former partner Narumi Takahashi, representing Japan. How did you feel about the split up, why did it happen?
Mervin: It happened because she wanted to end it. We are okay with that; there are no hard feelings or anything. She is here doing her thing [Narumi Takahashi competed in Oberstdorf with Ryuichi Kihara and placed 11th overall - in photo], and I'm doing my thing. She seems to be happy with where she is now and I'm extremely happy about where I am. It was a little weird when we first saw each other, but there were no problems, we just continued on as if at normal competition.
After the bronze medal everyone expected that you would apply for Japanese citizenship…
Mervin: Yes, I know they did, but it looked like it wasn't going to happen, so it didn't work.
Is that true that you were advised to marry Narumi to get the Japanese citizenship?
Mervin: (laughs loudly) Nobody said I had to do that, but I did hear about it. Someone presented that option. They said it might work. It was a funny thing, but we never took that option seriously.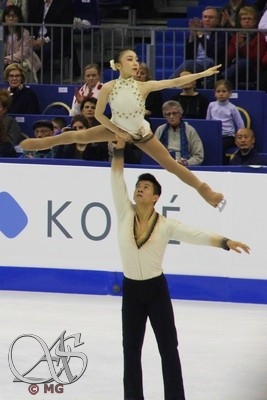 So what led to the split up?
Mervin: Last season Narumi was injured, and during that time she thought about what she wanted to do. She realized that she wanted to skate for Japan at the Olympics. There were other reasons for our split up, too. She said she didn't like the way the things were going, so it ended there. For my part, when it ended, the coaches and I had a meeting and they asked what I wanted to do. I said I wanted to find someone who, I believed, would have the potential to do more than Narumi and I achieved. I love skating, but if I was done then, I would be okay with that. I was happy with what I did, and I could move on. So for me to continue it wasn't just for the same thing, to do this again, but for something more. Like the Olympics or more world medals. So when we were searching for a new partner, there were very strict criteria, but then we found Natasha. We started to skate together and we believe we can do it. [in photo, Mervin with Narumi, at Worlds 2012]
When searching for a new partner, were there tryouts with more skaters or just with Natasha?
Mervin: She was already training with us the year before. In a big pair school you often have to skate with other people just to help with some elements. Since that year I didn't have a partner, I skated with lot of girls to just help them. So we already knew she was there and that she is really talented. I had a few other trials, just to see how it works. Natasha was always an option but I wanted to make sure I checked everything, because I don't want to skate with her just as a default but because I really want it. So I looked around and in the end said: OK, this is what I want.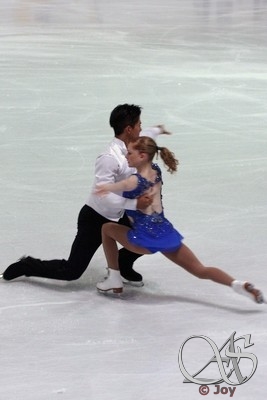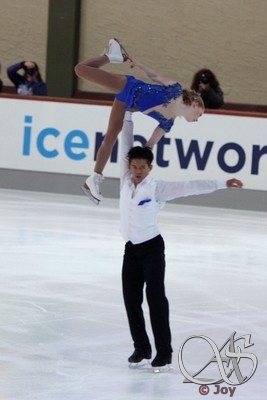 Natasha, for you what is the biggest difference coming to the senior level from junior?
Natasha: It's different to skate with people who I've been watching for five years and I've dreamed about being like them. Being on the same ice is unbelievable. I'm lucky that I have Mervin, he is very calm. I'm enjoying it so far!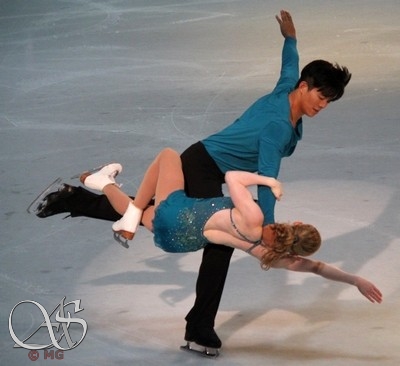 What was the easiest element to learn together?
Natasha: Mervin is one of the best lifters, so the lifts are very easy. As for the throws… We just have to keep on working.
What are your ambitions together?
Mervin: This season we hope we can go to the Olympics. There are three spots for Canada, we are going to try really hard to get that.* And in the long term we want to have a very successful career. Lots of skaters look at their career as Olympic cycles and many of them finish after the Olympics. But for us, it is really just the beginning. Our journey doesn't end this season after the Games, it just begins.
Natasha, you started as a single skater. Why did you switch to pairs?
Natasha: I originally started skating because I wanted to be a pair skater. I was told that I have the body for it and that I should use it because not everyone can be a pair skater. I used to do singles and pairs and I thought that I liked singles more, but when I moved to the pairs' school I started to really enjoy pairs.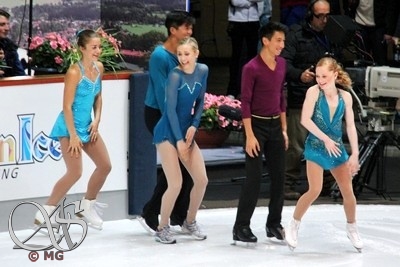 Do you get along well also off the ice?
Mervin: Sure, we hang out a lot together. Our skating school is pretty close by so we spend a lot of time together between the practices. [in photo: Mervin & Natasha + Veronik Mallet, Ashley Cain and Jeremy Ten complementing Jason Brown's exhibition program]
Can you imagine yourself one day as a coach?
Mervin: Yes, I actually already coach right now. I coach mainly singles. So maybe when I stop skating I will be a coach but I'm also in school, I'm keeping all my options open. I'm trying to do everything.
What do you like the most about figure skating?
Mervin: Just skating. For me, I just love gliding on the ice, it's a sensation close to flying. It's just nice to skate and have the wind against you.
Natasha: For me it's the same thing.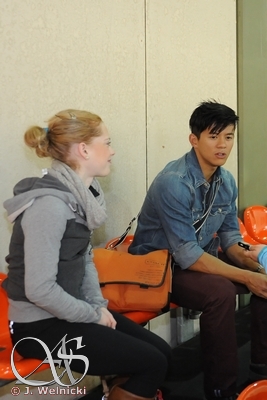 In Canada ice hockey is the national sport. Did you ever think about playing ice hockey instead of skating?
Mervin: Actually when I first started skating I was supposed to play hockey. My parents sent me to a hockey camp and I remember that the very first time when I was on the ice I had the hockey skates and hockey stick. My parents bought a too big stick because they said I was going to grow into it. I remember that I pulled it behind me and the coach came and said: keep it in front of you! I had never skated before. After the session the coach asked my parents, have these boys skated before? It was me and my brother there. And they said: "No". So the coach suggested we need to learn how to skate before we start to play hockey. My sister was figure skating at that time, so they brought me to the CanSkate program, which is Skate Canada's learn-to-skate program. My brother and I passed by the levels really fast, and in the end we were just put in figure skating classes. A few years later the hockey coach came back and said: I think they can skate now! But we were stuck with figure skating.
Natasha: I really wanted to play hockey, because I was watching my brother at the rinks. I started skating pretty late; I was eight and a half years old. I really loved sports, so when I came to figure skating I enjoyed that too. I started because I often watched "Stars on Ice", that's when I decided I wanted to be a pair skater.
Who are the skaters you look up to?
Natasha: When I was in singles it was Kristi Yamaguchi and Joannie Rochette, obviously. For pairs, it's at the rink: Meagan [Duhamel] and Eric [Radford]. I look up to them; they are in the top three in the world.
Mervin: When I started skating I didn't watch skating too much, I didn't really follow competitions. So my first idols were people I trained with. They were the big guys for me. I just remember taking a break from the junior session and watching the senior session. They would go on the ice and do these amazing things. I said that I wanted to be there one day.
And you managed to do that. You earned your biggest success when skating for Japan and now you skate for Canada. Is there any difference between the approach of the federation or other things?
Mervin: At the beginning of September we had a team camp and for me it was really different. In Japan they really tried to include me and Narumi as much as possible, but they don't really have a pairs program, so they couldn't really offer what Skate Canada could offer us. At this camp we had a simulated competition with all the other pairs who were there and it was really funny. There were judges, experienced callers who know pairs, and they explained to us what we need to do for the season. I've never experienced that. In Japan we just did our own thing.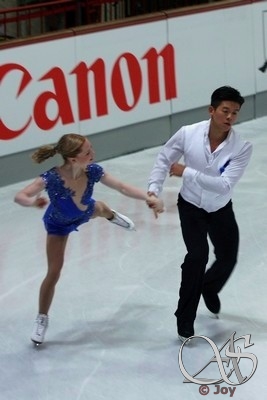 How hard is it for you skaters to always follow the new rules? There are some changes every year.
Mervin: I follow the rules. Bruno [Marcotte, their coach] and I, we like getting into arguments about the rules, it's really fun. Not to prove the other one wrong, but for me it just helps me learn a lot better. He knows the rules very well, and I'm pretty well-read, I read the rules a lot. I'm always asking questions and trying to find tricky things, which he explains me. We just keep talking. For all the features we have in the program I know exactly what we are doing for what level, and I can count level one, level two, etc.
When creating a program, how much do you count points and how much do you care about the overall impression?
Mervin: We don't say that we need a certain score and what we need for that. We just want to do every element as well as possible, the biggest throw, the highest twist and so on. Before the Nebelhorn Trophy we had no expectations. But now we have the score sheet, so we will look at the things where we can get more points and maybe we will change a few things.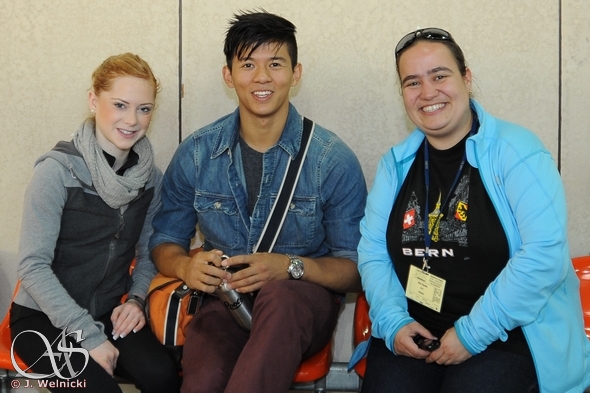 * In November, Natasha and Mervin competed at TEB, where they placed sixth and they became fourth at their nationals, sadly not allowing them to be assigned for the Olympic Games.