Rafael Arutunian: "In sports there is no irrelevant detail; all details are important."
June 7, 2014
By Veneta Yaneva
Photos © Andriana Andreeva, Keiko Kasai
Rafael Arutunian is one of the world's most respected figure skating coaches. Of Armenian descent, he was born in Tbilisi (USSR, now Georgia), and has worked with some of the best skaters, including Michele Kwan, Sasha Cohen, Alexander Abt, and Jeffrey Buttle. Between the Olympics and the World Championships, he was in Bulgaria for Junior Worlds with American Nathan Chen. Mr. Arutunian agreed to share with me some of his experiences and his recipe for success.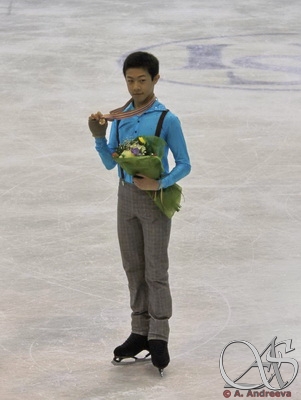 You are here with US hope Nathan Chen. Tell me about him; why is he such a special kid?
He is a hard worker and well prepared. He has injuries from time to time, like now, but he's going to fight and we'll see what he is going to get [he won bronze]. Any sportsman risks his body, so athletes must be protected by their federations, by the government, because they represent their countries; they are the face of their countries. My point is that the government must be more involved with the sport in order to protect their sportsmen - at least with regard to their medical care and access to facilities.
Tell me about the crew you work with?
That's a good question. Basically it must be a big team of workers. I'm not talking only about coaches but also choreographers, physiotherapists and doctors. Russia was very successful at the Olympics because they did that; they had a large team of about 8-9 people behind every skater. Sports are becoming more professional and everybody wants succeed. To achieve success you must have a big team.
What advice can you give to coaches from small skating nations?
Just to continue what they're doing and hopefully the officials will give them a chance to work. Everyone must be supportive; they need money, sponsors, and a government which must protect them. If they have all that it will not be problematic to develop good skaters.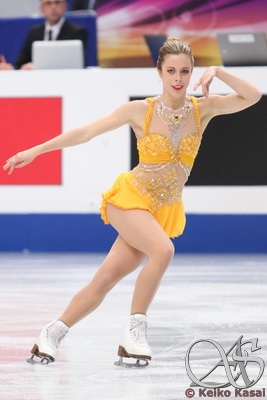 You were in Sochi with Ashley Wagner. She was in a difficult situation after finishing fourth at US Nationals. How did you help her survive all the media pressure and be at her best for the Olympics?
What we did is that we concentrated on her for 2-3 weeks. And she received the best attention. But if she wants to compete and be the best, she cannot rely on only 2-3 weeks. Her training must be done at the highest level all year long. I don't really read a lot of what they say and write. We concentrated on what we were able to do, and everything had to be done in the best way, down to the smallest detail. In sports there is no irrelevant detail; all details are important. If you ignore the small details, they will hit you back. So always make everything perfect - they way you train, the way you live, how far you live from the ice rink, who teaches you, and who does your choreography. It's not perfect every time, not even in the USA.

What is her best quality as a skater?
I think it's her performance, the way she performs. Technically she needs to develop and she needs to change her work ethic; she needs to work more, which is difficult, but I think that it's not too late to change that.

You work with Adam Rippon. He had a pretty good first part of the season, with a stable quad lutz, but then had a disappointing performance at Nationals.
He was in very good shape, but my team had a lot of work to do and I was not always there for him. I had already made 10 trips, which is a lot of time to spend traveling. The schedule is very full. I did 4 Grand Prix events, the Grand Prix Final, US Nationals, and Sochi. It's a lot; the schedule's tough. That's why the team work is important. You need a strong team of people to work with, and if they are not there for you it's difficult.
You were part of the lady's event in Sochi. Do you think the judging was fair, as there many speculations?
You know I'm not a judge, I'm a coach. In my view it isn't always possible to be right. I judge skaters from a coach's point of view, but judges judge differently. It's not my business to do investigations- if something is wrong, if the result was set up, then someone must investigate, it must be done.
To whom would you have given the gold medal, as a coach?
As a coach you see the way people have improved. For us it's important how he/she improved.
I would say that Yuzuru Hanyu improved and improved, and we saw that Carolina Kostner improved, and for her age she made amazing jumps. She performed well, as an adult, mature skater, as a developed skater. The Russian ladies also performed well. I liked Carolina, the Russian girls, and I liked Gracie. I liked how Yuna came back after 4 years and won a medal and had good performance. Again I'm not a judge, but I don't want to have priorities like "I'm Russian so I will give medals to the Russians," or "I'm French so I will give to the French." That must change.
What are your expectations for Worlds? *
It depends on who will be there. Again it will be fight between the same people. Without Yuna, I think Mao will try, since it's in Japan and she will try hard there. After that terrible short in Sochi, she performed an amazing free skate. I respect her.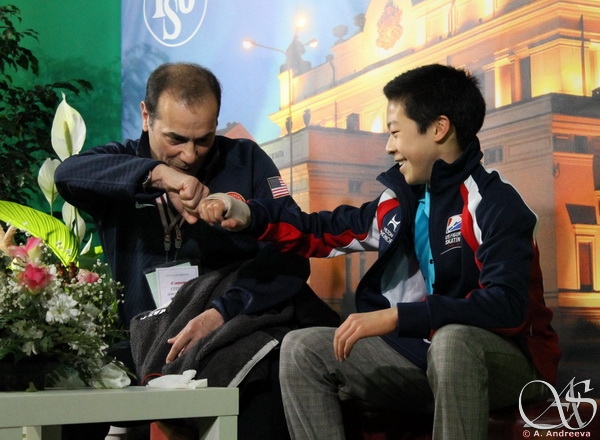 * The World Championships already took place, of course. But this interview was taken at Junior Worlds, as explained in the introduction, and we did not want to keep this nice answer from you.