Alexia Paganini: "I love the positivity of my new team"
September 24, 2020
By Judith Dombrowski
Photos © Judith Dombrowski, Joy, Mireille Geurts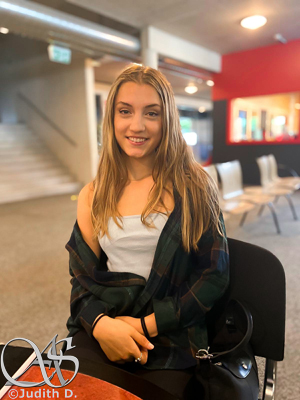 I met Alexia at her new "office", the Palladium in Champéry, Switzerland. This was in August, almost three months after her move from New York to her new training location. For the interview we sat down in a quiet corner of the building to discuss her new training and living situation as well as her plans for the new, difficult and quite different season ahead. It turned into a really entertaining conversation about the on- and off-ice insides from team Champéry.
Alexia, how are you right now and how would you describe your current training process?
Good, I am doing good and it's going well. I am still adjusting to all the changes that I am going through from the US to here, but so far everything is going smoothly and I think things are coming along.
What specifically are you working on right now?
The main thing right now is getting the triple flip into my free skating. We also changed the order of the jumps around, in both of my programs, and we are working on getting that really set. Then, here and there, I try quads but that's plan B. Right now my plan A is the programs.
Good luck also with the quads! I still think it's quite crazy how they've become almost mandatory within just a few years, to be on top.
Yes, definitely.
You've been with Team Champéry for a few months now, and I understand it was quite easy to settle in. What do you like the most about training with Stéphane Lambiel and his team?
I really like how positive everyone is. We are working very well together because we are happy and I like that.
Yes, you can feel the positive vibes from everyone. While watching the practice yesterday I was thinking: "This is how it should be!"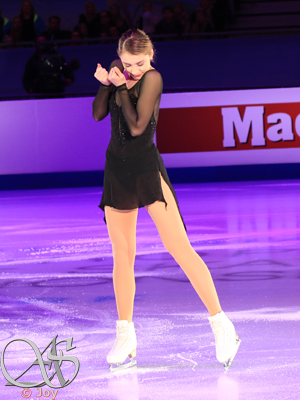 From your experience, what would you say are the differences in training methods between the US and Champéry?
I think one difference is that we're all working in a team here, while in the US everything is very individual. I would set up my own lessons and I was always kind of alone, I had my own private lessons. I would also do my off-ice workouts alone and they were all private. But here we do all the on-ice workouts together as well as the off-ice. Also, here all the off-ice is organized by Stéphane and Chris (Christopher Trevisan, CEO of the Skating School of Switzerland - ed.), but in the US it was my job to do that myself. Those are the biggest differences.
What do you like about living in Champéry?
It's definitely different from New York, but I like the beauty of the mountains and the entire landscape. It's very peaceful here and it's easy to be calm and feel safe, but it was a really big change for me.
Do you like hiking in the mountains?
Yes, I do, for sure.I did the Galerie, I think that's the main one. (Galerie Defago, a small path next to a cliff with an amazing view over Champéry - ed.) A couple of times me and some other skaters from the team have gone hiking, but without a real destination. For example, Deniss (Vasiļjevs) and Ísold (Fönn Vilhjálmsdóttir) and I went on a two-hour walk, or so we thought. We were walking along thinking we'd just make a circle, but five hours later we were still not back to where we started, and Deniss and Isold were like: "Oh, this is so great!" But I thought: "We're in the middle of the woods right now, and we don't know where we are, I don't know if this is so great!" But I just was not used to that kind of thing, so I said: "Let's just keep going and we will figure it out!"
And you survived...
Yes, we survived. But I was sore because we were going up and down.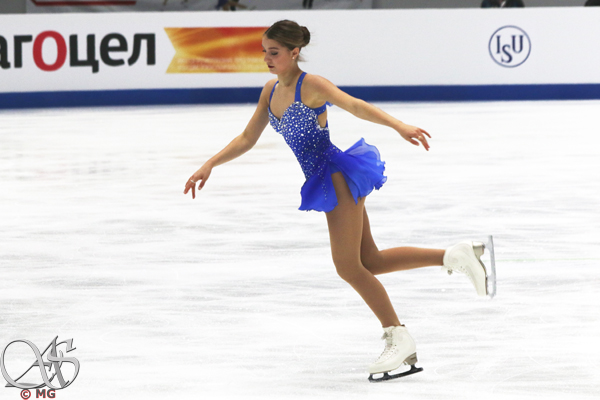 What are your living conditions here like?
When I first got here I shared an apartment with Koshiro (Shimada), but now I live in a different building. It is also only temporary since I will be getting a different apartment at the end of November, after the Grand Prix.
Did you move to Switzerland by yourself, without any family members?
Yes. My mom can't come here and right now nobody can because of the travel restrictions. And my mom only has a Swiss passport, so she couldn't go back to the US if she came here right now.
That must be hard.
Well, I kind of expected that for traveling during this time. But I have both a US and a Swiss passport so when I came in May there were no problems. And I wasn't planning to go back to the US anytime soon anyway. It wasn't mandatory but I did self-quarantine, which wasn't bad because I could still go for walks alone and enjoy nature.
Do you miss anything from the US?
I miss my friends. In New York there is always something happening and I was always going somewhere.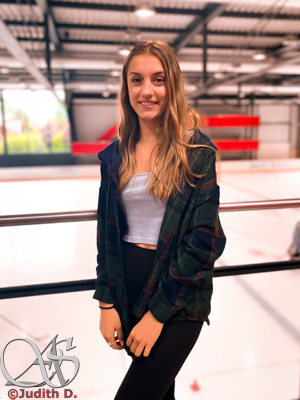 Here I am a lot less busy which is nice, but sometimes it is a bit weird for me.
Let's go back to skating: what competitions do you plan to attend?
I am hoping to do a Swiss Cup or Nebelhorn Trophy, we are not sure yet. And then I might get assigned the Grand Prix in France and after that probably another Swiss Cup and then Nationals.
Let's hope all that will be possible. What is your main goal for the season and is there anything in particular you want to achieve?
I want to include two triple - triple combinations in my free skating; that's a really big goal of mine. I also want to add the flip and possibly a quad, but first the flip.
You have trained some time with Rika Kihira, what was that like?
It was cool, I really enjoy training with her. She is very focused but also humble and down-to-earth, I like that.
Your new free skating has a Spanish theme. Could Stéphane help as he did his famous Poeta program? And did you need special dance lessons to prepare?
Stéphane and I chose the Spanish theme as he watched me skate and thought that style would suit me well. I did take ballroom lessons, but that was not so much for preparing the program, it was more for skating in general.
During the summer camp here in Champéry you also had dance lessons with Khoudia Toure, a dance coach who taught hip-hop. Did you like it and could you consider integrating this kind of style in your programs?
Yes, I honestly loved working with Khoudia. She actually made my exhibition program for this year. It was really fun and different. She doesn't know skating too well so she taught us stuff from all different dance styles and that was really cool. We learned how to shuffle and we did the Krump. It's very aggressive dancing but it was so fun to learn all these steps. You should youtube the Krump!
Is your exhibition program the one you presented in the showcase here in Champéry at the beginning of August? You skated to two Alicia Keys' songs - Fallin' and Never felt that way.
Yes, that's the one! It was really new then, it had been maybe ten days since the making.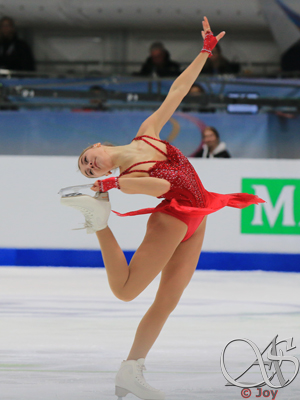 Is this also the style of music you listen to in your free time?
Yes, well, I love music so much and I listen to many different styles. But yeah, actually me, Stéphane and Khoudia were in the car listening to all these songs and then Alicia Keys came on and they were like: "That's it! That's your exhibition!"
I am looking forward to seeing that program very soon! But besides skating, what are your plans next? I read you finished high school.
Right, and now I am trying to study for the entry exams for college. And then college, but that's more of a long time plan, I need to get through those entry exams first.
And college would be back in the US?
I think yes, or maybe online college.
Is there a particular field you want to study?
I think I am going to study business or communications. I am thinking of either doing reporting or something in management, maybe in skating shows.
You have taught some skating already and worked a bit as a coach for children. Can you also imagine yourself as a coach in the future?
I think I can. I don't know if I would coach or maybe choreograph, but I do know that coaching is very intense. Especially at Stéphane's level, he has to deal with all of us and our feelings, all at the same time...
And he is busy! I arrived at the rink at 11 am yesterday and he was already jumping up-and-down doing off-ice with the younger kids, and he basically continued like that until after 6 pm when I left.
Yes, exactly. So, I don't know yet if this is my kind of thing, but we will see. I mean coaching is fun and I love teaching children, it's just so intense.
We already talked about your hiking, but what are your hobbies in general?
I like fashion! I like looking at clothes, wearing them, going shopping... It's hard here but there's online-shopping and Lausanne. I also like food, so I'd say cooking, although I am not that good at it yet.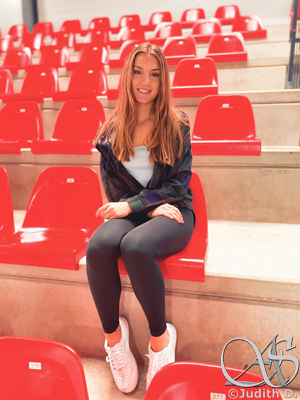 But you have some role models in that field right here in Champéry! Deniss is known for his excellent cooking and baking skills, as is Stéphane.
Oh, yes, I have some really good teachers and I admire them. They are so good, but how did they get there? For his birthday, Deniss made this cake - it was amazing! Another day we had a lasagna-party, that was really good too. In Telfs Deniss made pizza and that was also very, very good. But my favorite was his cheesecake, it was perfect!
Besides eating and cooking I like taking pictures. I have a camera and I like to experiment with it, and, of course, I enjoy hanging out with my friends.
Your father is Swiss, right? Did you spend much time in Switzerland as a child?
I went to visit family, but I was really young and we were going to the same places all the time. So I can't say I saw much of Switzerland, mainly my family's house. But now I have more time to explore, and at Art on Ice I had the chance to look around the country.
You speak pretty good German; did you learn it from your parents?
I actually went to a private German school in New York so my classes were in German until seventh grade, that's how I learned. But that's also why I speak standard German and not Swiss German.
We are almost done with my questions, but I left a fun one for the end: I read on Twitter that you gave Stéphane a Britney Spears shirt...
Yes, I gave it to him yesterday.
Oh, really, so it was the one he was wearing during practice?
Yes, because I gave it to him I was late for the session. I had been online shopping and saw it, and I just thought this shirt was perfect for him, so I got it and gave it to him. Then we were talking about Britney Spears and decided to have a Britney-only-session.
Aha, so it was not your regular warm-up playlist?
No, we have days with certain music, but yesterday was definitely going to be a Britney-day.
Which was obviously great for everyone's mood! But that's it for now. Good luck with the season and all your goals, never get lost in the forest again and we hope to see you and talk to you soon again!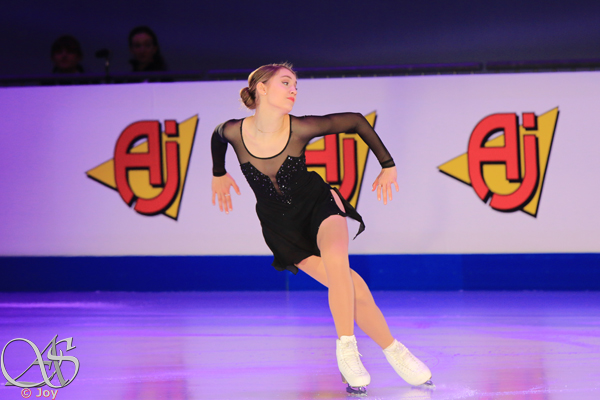 Alexia will start her season today at the Nebelhorn Trophy, we're looking forward to see her new programs and wish her lots of luck!