Meet Camden Pulkinen
January 15, 2021
By Reut Golinsky
Photo © Jay Adeff/U.S. Figure Skating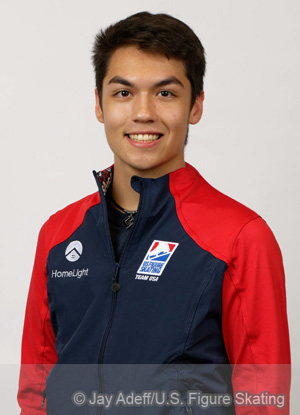 Camden Pulkinen is the 2018 U.S. National Junior Champion, 2017 Junior Grand Prix Final silver medalist and two-time JGP champion. He started his second senior season and, like for the whole skating world, it was not easy. Thanks to the opportunity to cover the event virtually we could catch up with him during Skate America and talk about his last season, his programs, virtual competitions, lockdown, and lessons learned from the current situation. We even had time to discuss the new Disney+ TV series "The Mandalorian".
Last season was your first full senior season. How would you summarize it? Your highlights, best competition you had...
It was my first senior season and I understood how long the season is, there are so many competitions! Overall, I was happy with everything, I think I was a solid "middle of the pack" which is where I wanted to be for my first senior season.
You said you were especially excited to compete at the Four Continents. That was probably the biggest event for you, considering the crowd and the organization?
It was maybe not the biggest with the crowd, however it was the largest [international] competition I had because we had Yuzuru Hanyu, Jason Brown, a lot of really good Canadians, really good Japanese men too. It was definitely the highlight of the last season because I had the most competition there and everyone was skating well.
And that was your last competition of that season as you were not supposed to skate at Worlds, right?
Yes, I was an alternate.
So for you it probably hurt less when it was cancelled?
It didn't really affect me much because I wasn't on the team but regardless it still hurt because I love watching skating. And so as a fan I was upset that I couldn't watch some great skating and learn from some really good athletes. In that regard I was pretty upset about it.
After the Four Continents did you start working on programs or you didn't have the chance to work on anything before the lockdown?
I didn't get the chance to work on any programs because the season was still going on so all the choreographers were still focusing on Worlds. As soon as the the Four Continents ended I took a break from skating because that's typically what we do in the off-season, we prepare for the next season and relax and that's what I was doing.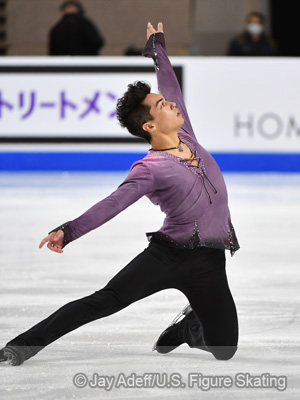 If I remember correctly some safety measures were already taken at the Four Continents.
Yes, at the Four Continents we were wearing masks everywhere. It felt like an introduction to the coronavirus but then once it really hit, once we were in lockdown... I don't think anyone really expected it to be this bad. And it is bad, this coronavirus is serious. As skaters and as people we really need to take this virus seriously. Of course, to try our best to train and have competitions but to put our health and our loved ones and just humans first, to really care about those around us.
So what do you think, was it worth it to have this competition now?
I think this competition was a good thing. Although we are in a state of pandemic and the world is not in a great place right now, I still think it was good to prove that it's possible to hold competitions when you hold them safely and not have anybody that tested positive. Of course it's always a risk but at least we know that it's possible. But whatever side you look at there's going to be pros and cons. For having a competition, pros are obviously that there's a competition and spectators get to watch, cons are that a lot of people are together. On the other side, no competition is bad but we're keeping everyone safe and limiting the exposure. I'm happy that we get to have a competition as long as it's done safely.
From what I saw, I was really impressed by the organization and the efforts which went into it.
Yes, everything was very clean, we were not allowed to really spend time with each other, we always kept six feet apart, always wore our masks. Obviously, since this is the first time, there are some things that need to be worked out with the whole bubble concept, but I think the US Figure Skating team did a great job with this. They really stepped up to the plate and took the initiative to keep us safe.
So back to the end of the last season, you had a rest and then there was a lockdown... How much time were you off-ice?
I was off-ice for about two and a half to three months. Since I just learned the quad toe and wanted to learn other quads too, my body forgot how to rotate and definitely when we're off the ice for so long our body starts changing. When I came back on the ice, I felt like I was a completely different person! I felt different, as if I forgot how to skate. Even now, although I've been training, I'm still feeling this. So, I'm happy that I have gotten my programs out once, and now I can go home and train for the Nationals, get some good training, get back to normal, start feeling better about myself and be more confident.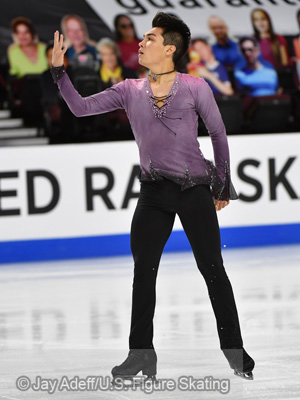 Did you have some off-ice training during those months?
I did a lot of off-ice training! A lot of off-ice rotations, off-ice jumping, stretching, yoga, all these things I can do from my own living room but still none of that really compares to [being] on-ice. We can try to replicate it off-ice as much as we can but at the end of the day it won't feel the same as on-ice, and that's the hardest thing. All these things I was doing probably did help with the transition back to the ice, but I was just really missing being on the ice and skating.
You had more time to read, to watch, to learn new things, what did you do? I don't know... Maybe you started cooking?
Yeah, cooking was the big thing. I started cooking a lot more because we couldn't go out and eat. I cooked a lot of meals and I learned how to cook various things; I feel like I'm a lot better in the kitchen now. And actually, I like cooking, I found that it's pretty fun. Also, I kept up with my family, I called all my family quite often and if anything good came from this period it brought me closer to my family. And that's something I felt I may have lost a little bit of touch with, but through the quarantine period just consistently having family FaceTime sessions and Zoom calls really helped bring us together, even though we were all separated around the States.
When you were back on the ice you decided to make two new programs and then you got back to your previous short.
I had a new short, but I wasn't really connecting with it as much as I'd like to. Throughout all this uncertainty, not being sure if we're going to have competitions, I decided that it was right to have one thing that was certain. Since I really liked my short program from last season, I thought it would be best to keep it but to have a new free skate to challenge myself.
You competed with that new short program, virtually, at the Peggy Fleming Trophy, and in a preview you explained that you love this song, "In This Shirt" by "The Irrepressibles." I love this song too and I think it suits you well, so I wondered if you would consider going back to it when times get normal and you have more competitions.
Yeah, I'm going to use it as an exhibition but maybe one day I will go back to it, maybe in a time of more certain competitions. But really, every time I performed it, for some reason I didn't feel calm, I felt a little bit stressed out by the program. It's nothing against the music or the artist, I think I needed more time to connect with it. And since I was having competitions around the corner, the International Selection Pool (ISP) Points Challenge and Skate America, I needed something that I knew I could do.
How in general do these virtual competitions work?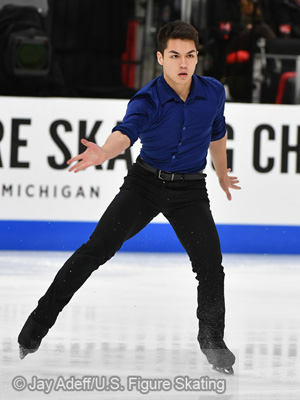 Basically, we had 10 people from our rink doing the Points Challenge but we all treated it like a competition. We drew out of a hat and picked our numbers and then we would do our program and they would film, and then the next skater would go. Pretty much how you would imagine it. It was really weird though because no one was clapping. At least at this competition there was fake clapping, the sound of clapping, which I liked because it made me feel a little more like at a competition. But when we did the Points Challenge it was: "Camden Pulkinen..." and then silence. And I thrive off of an audience, I really like hearing the audience supporting me, so that may have thrown me off a little bit, made me feel like I don't really have that support. That was definitely a little weird and a bit of a challenge.
You said that your last season's short program, "Caruso", was inspired by Denis Ten.
My recollection of him skating to "Caruso" was from the Four Continents 2015, in Korea. And it's interesting because I competed [with this program] at the Four Continents in Korea, at the same venue so that was a cool moment.
I followed that event because I was really interested to see Joshua Farris, who is my choreographer now. I remember watching them and thinking that they were both so good. And then of course with the tragic passing of Denis recently... I always loved this piece of music and I felt I wanted to skate this one for him.
Before I compete, I always think about the reason behind my program, and any program should have its own individual reason, I think. I can't say I was best friends with him but when I met him, he was always supportive and very giving, he wasn't a selfish person. It's nice to know that I'm skating for someone, to remember someone. And that always helps.
It still hurts to think how unfair his death was, I miss him a lot. And so, I was really touched to see that the young generation remembers him and wants to make such a tribute. I was not aware that you knew him personally.
We met a few times in Los Angeles where he was training at Toyota Center. I was from Arizona which is directly southeast of California so I would always go up to California and do the competitions there. And also, when he was over in Palm Springs I would see him there sometimes.
Denis was so special and that's the word I would use to describe him... Even though I barely knew him - and probably only said 30 words to him in my life - I looked up to him. He was always so nice, every single time I met him. He would always wave to me and I was excited: "He knows who I am! I'm just a little 14-year-old boy and he knows who I am!" He probably didn't know it, that simple wave or that simple smile and "hi, how are you?" maybe they were nothing to him, but they made my world.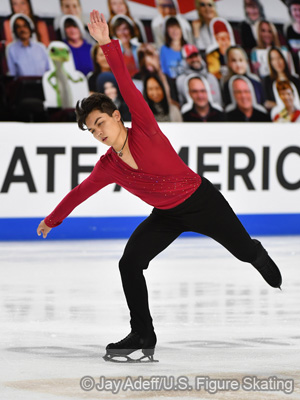 The thing is, as skaters we tend to think of ourselves very selfishly, but it's important how we are impacting the next generation, the future, how we can be role models. I'm not old, I'm 20, but I'm a senior now and more in a position like Denis was, where I can be a role model for others. And the goal is not just to be a great skater and get medals but to create something that will last for 15-20 more years down the line.
You said every program should have a purpose, a story. What is the one for the free skate?
I don't know that one yet actually. Usually - other than my short program - when I create a program, I take the season to learn what that purpose is. I prefer to skate to abstract pieces rather than something specific like, let's say "Gladiator", everyone knows the story of "Gladiator", right? But no one knows the story of my free skate because it's not from a movie, it's not from a specific story. And that's the beauty, that it's all up to someone's interpretation. As long as I can make the audience feel emotions, feel something, then the audience can create whatever story they want in their head. And that's really what I'm trying to portray, not one specific story but a general story that anyone can interpret in their own mind and create that path. And if I can do that - which I think I can, throughout the season as I keep growing it - then I think that's good.
Then, what was the story of your last season's free skate? You should know it by now.
Last season's story - although I feel like no one really understood what the story was - in my mind I always felt that it was a battle between good and bad. That's another thing that's very abstract where it can be a superhero-supervillain, it could be what's right in the world and what's wrong... But in my mind, I would always think of this battle between good and bad. The good was winning and then the bad started to overtake the good, and then towards the end the good became victorious. Whatever that good may be, maybe it's a superhero, maybe it's a war, maybe it's fighting the coronavirus. Although the athlete may try to give a story, it's up to the viewers' interpretation. And that's how there's that connection between the audience and the skater.
That free skate was choreographed by Stéphane Lambiel. He usually has detailed, at times unexpected, librettos to his programs. What was his input? Also, who chose the music? Because he skated to Ryuichi Sakamoto's music himself, too.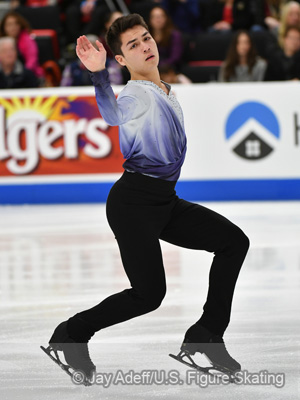 I chose the music. Actually, when I initially got the program choreographed I had almost the same cut as him, with "Merry Christmas, Mr. Lawrence." I really wanted to do it, but I didn't feel that I was connecting as well as I should have been and as I would like to, so we decided to change it.
One important thing he told me was that it is like how kids draw: they are given outlines and then they draw with crayons. He said: "You're a kid, I give you an outline and you colour it in with your colours." He gave me an outline, my program, but I needed to create the story myself, to figure out what it means to me. The choreographer can give the motions - the spins, the jumps, the pattern - but it's up to the athlete to colour it in with whatever colours he wants, because at the end of the day it's the athlete skating it. So that was something Stéphane said that really stuck with me. But, yes, we came up with the idea of a fight between good and bad together.
Performing to abstract ideas must be harder than showing a specific story. Do you have any technique, preparation before you skate?
Something I do every time before I compete, I find a dark room and I think of the people who support me and love me. Knowing that they will love me no matter what, whether I skate perfect or not, helps me feel good. At the end of the day, I think a performance should make someone feel good, and if I feel that I'm supported then I know that I can convey that emotion to the audience.
Another great technique, maybe not during the competition but when you're learning a program, is to sit in front of a mirror and do your movements and work on those facial expressions. It's really important to do that, I did that a lot over quarantine.
This is a tough situation we're in, the whole world is suffering, for months. I wonder whether there was any silver lining in it for you. Maybe there was something you learned or understood or honed some skill.
I've thought a lot about this actually. Over the past months I've learned that life is so short and that things aren't to be taken for granted. In the past I always took competitions for granted but this year nothing is for sure. Even school is not for sure, seeing your family is not for sure, nothing is for sure! The best time to do something is yesterday, the second-best time is now. If you want to do something, you should do it. You should do that right now because for all you know tomorrow it could be gone. I don't mean the schoolwork, but something more important like calling your family. Tell the people, tell your parents, your significant other that you love them. If you want to skate, go skate because you may not be able to skate tomorrow. All these things that I took for granted, I realize now, can be taken away.
And then we are more grateful when we get things like competitions or meeting people or... hugs! I started really appreciating hugs now.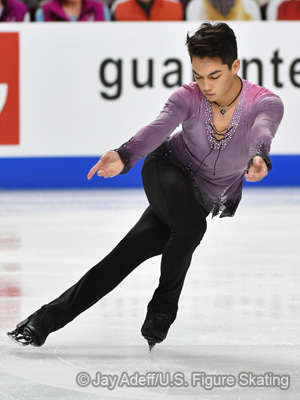 Yes! The number of times I've seen someone that I am really close with here and I want to hug but I can't, it kills me! It hurts but at least we get to see them. The little things in life, like hugs, going to a coffee shop, those things that we can't do without taking risks. So once this eventually passes, just remember that it can be taken away again. There could be another virus, there could be another pandemic...
To finish on a brighter note let's talk about something not related to skating. I saw in your profile that you love "Star Wars". So, what do you think about "The Mandalorian" TV series?
I am so, so excited! I would watch it as soon as it came out, on that day every single week. I loved it! There's some depth to it, the bigger picture when there is this soldier, this rugged army man who is now caring about someone else. And that's like a metaphor for life because as kids we're very selfish but then we grow up and we start caring about others. And we don't know how to do it, no one knows exactly how to do it, but you have to learn through it. I always like to think what's the deeper meaning behind things. And it's super cool to see this translate into "Star Wars" with the characters that we all love, like baby Yoda. It's just so very well done!
They also had "Disney Gallery" documentaries where they showed how they did things, which ideas they wanted to explore.
Yes, I always like these "making of" series because then you can see what image they were going at and you're saying: "Wow, I thought the exact same thing!" And it's really cool. In a way, it's just like skating and these interviews which are "making of" a short and a free program.