Eva-Lotta Kiibus: "The music and I have to play together"
March 08, 2021
By Judith Dombrowski
Photos © Judith Dombrowski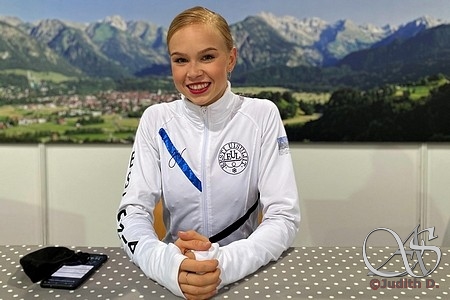 Eva-Lotta Kiibus from Estonia burst onto the figure skating scene with a flawless performance in her free skate at the last season's European Championships in Graz, finishing that competition with a very respectable 7th place. The 18-year-old started this season with winning the Nebelhorn Trophy and getting a silver medal at the Challenger event in Budapest a few weeks later. At her very first Grand Prix event, the Rostelecom Cup in Moscow, she reached a 6th place finish.
We spoke with Eva-Lotta after her victory in Oberstdorf.
Congratulations, Eva-Lotta, on winning the Nebelhorn Trophy 2020. What is your take-away from the competition and what do you take out of it for yourself?
Thank you. This competition wasn't easy for me mentally after the short program. I didn't really believe in myself that I could do it. Especially since we had a day between the programs. And during that time you shouldn't have negative thoughts. Even though it's good for my body to have a day off in-between, for my head it's difficult to stay focused.
So the main thing I take from this competition is that I need to work on this mental side.
I had some challenges during my free skate but result-wise it turned out well for me in the end.
You have two new programs, both choreographed by Benoît Richaud. Can you tell us a little bit about how and why you chose these programs and what working with Benoît was like?
I chose both programs together with Benoît. The short program is by Harry Styles, "Sign of the Times", and I am a huge Harry Styles fan. Benoît also loves his music and especially this song. It has such an important meaning and suits my life right now so well. So the moment Benoît sent me that song and suggested to use it, I was so happy. It was just a perfect match.
The free skate is a new kind of program for me. I had never skated to such a big piece of music. Such a big, classical piece by Rachmaninov. This is a huge thing, a big responsibility, to take this music, to really feel and express it. This music can't just play and I skate to it. We need to play together, I have to listen to every detail to really express my feelings.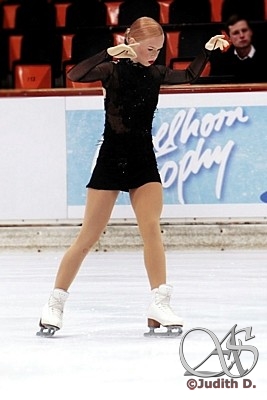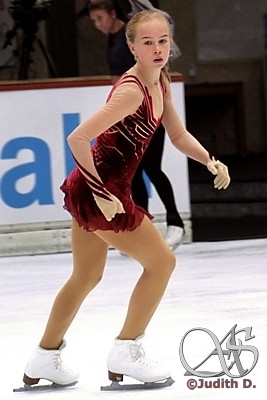 About Benoît, I admire everything he does. He just knows what he does and pushes me to the right direction and brings out the best in me. He makes me try to push myself to skate better because that's a big, big thing in figure skating. It's not just about jumping, we have to skate and we have to show emotions and I think Benoît really helps with that. I will definitely keep working with him in the future.
Of course the current situation with the coronavirus pandemic isn't easy for everyone in the sport of figure skating. How did it affect you skating-wise and personally?
I think I can take a few good things from it. The quarantine time gave me some extra motivation. So when I came back to the ice I was motivated to train again, skate again and develop new programs. I think my mind has gotten a little bit stressed from my everyday routine, when you're constantly doing the same things for ten months. So breaking this routine was a good thing. Obviously there were many bad sides: not getting on the ice, not seeing your coach, but I tried to take some positives out of this.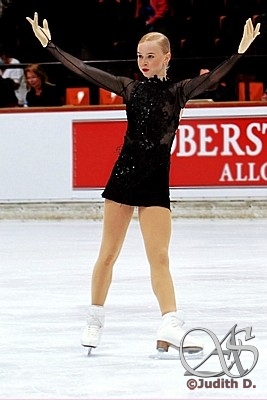 That's definitely the best way to handle a difficult situation. Let's take a few steps back, how did you start skating?
I was four years old when I started roller skating with my older brother at home. Then my mother took me to the ice rink. My parents didn't know much about figure skating but they saw that I seemed to like and enjoy it. So they gave it a try and put me into figure skating. And here I am now.
What did you like about skating back then?
I think during the first three or four years I really enjoyed skating in my group. When I started skating I never thought about it as something hard, it was just a fun thing to do. I can also say that I wasn't especially good. These days you can see really young children doing extremely difficult jumps. I couldn't do that back then but I enjoyed it really much. Later on it got serious and I started to land some difficult jumps successfully. And then I thought that I can maybe do even more.
When did you realize that you can maybe achieve something in the sport?
I think I was about twelve or thirteen when I landed my first double Axel and some triples and I realized that not everybody could do that and that I have something in me that wants to go further, wants to achieve more and more. I also realized that I needed to train more if I wanted to achieve more. But in that moment I knew for myself that this was what I really wanted: train more and become more successful.
Is there anyone you look up to / admire as a skater?
One example would be Carolina Kostner. She had such a long career, she didn't only peak for two years and was gone afterwards. I would like to be like her, I'd love to be able to skate as long as I want. But it's a hard question because there are a lot of skaters that I enjoy watching. I also look up to my coach (Anna Levandi) and I look up to myself when I succeed in something. Then I watch myself and I'm proud of myself and this gives me a lot of power, more than anything else could give me.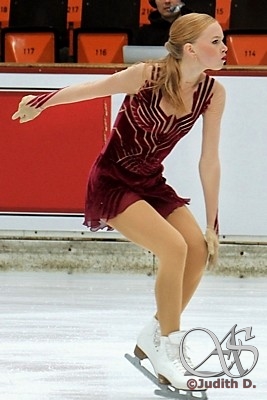 Last season you were really successful, especially at Europeans. How did that success influence you?
It showed me that I am able to do it, and I am able to do even more because I didn't trust and believe in myself too much and I need to do that more. This competition and the last season really showed me what I'm able to do. So that's what I took with me from that season.
What are your next long-term goals in figure skating? Are you working on something new specifically?
I'm working on new triple-triple combinations. And I'm working on skating cleaner programs. I want to have a good mix of good jumps, spins and steps in my programs.
You are still going to school, right? How do you manage school and skating at the same time?
My usual daily routine looks like this: I get up around 6am, have school from 8am until 3pm, and after that I train. I'm pretty used to that, because I think it has been like that for the last seven years. Of course it's not easy. You also have to know your limit. Sometimes I can't do all my schoolwork or all my classes but I have a great school, I can talk to teachers, they really support me. And it's the same in skating—when I feel too tired I can talk to my coach and we can do something else instead.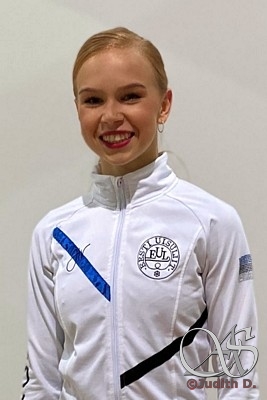 Sounds great to have such a supportive group of people around you. You don't seem to have too much free time, but if you do, how do you like to spend it?
I really like to hang out with my friends and my family. I wouldn't describe myself as very extravert but I like company. Sometimes I also like to be alone and just listen to some good music.
Harry Styles, for example, I guess.
Yes, definitely. But I also enjoy my brother's music. (Eva Lotta's older brother is the Estonian rapper Nublu -ed.). Sometimes I listen to his music when warming up. His music is really upbeat and tense so it brings me into the right mood. I really enjoy his music.
Thank you very much for your time, Eva Lotta, all the best and good luck for the World Championships!