Aljona Savchenko: "I like to build something new"
November 23, 2022
By Anna Kellar
Photo © Anna Kellar
Aljona Savchenko is one of the most successful pair skaters in history. She is the 2018 Olympic Champion and a two-time Olympic bronze medalist, a six-time World Champion, a four-time European Champion, and a five-time Grand Prix Final champion. I caught up with her at Skate America, where she was accompanying the Swedish pair team of Greta and John Crafoord in their first Grand Prix event - which was also her first Grand Prix as a coach.
"Learning from the best"
How has the competition been for you so far?
Good. [Greta and John] are getting better. I'm happy that they can [be here] because she had bad luck last year after the Nebelhorn Trophy. She broke her knee and teeth. It felt like a horror movie. It's a gift that she can even walk. That's why, when she got the invitation to this Grand Prix, they weren't sure what to do, because she had just an operation six weeks ago. Four weeks ago, they started to practice, and I said: "You know what, we can just enjoy this, because it's experience for you and practice. You'll do what you can for now, and then we will move on. This is a good opportunity for you, you need to have this experience." I'm happy that we are here, and she can do what she loves. When she stepped on the ice [after the surgery], she was walking with real difficulty and she was upset, because she couldn't even do single jumps. And then we worked step by step until she landed a triple throw. She was crying and saying "I can do it! I can do it! I didn't believe that I can!" So, for us, it's like a gift.
That's an amazing story. What limitations do they have, what are they still not able to do at this point?
She still has pain when she taps the ice, so we took out the triple twist and difficult jumps for her, to take the risk away. We are doing the triple Salchow throw, which she can do.
Is it easier on edge jumps?
Yes. We're just four weeks practicing, so what she can do, from being in the hospital, it's already a lot.
I thought what they are doing is good quality. You couldn't tell that they had been off the ice for a while, they have the look of a strong team.
In the practice at home, of course they're more confident. So that's why we are here: to learn to skate when the judges are there, so that they can learn in this situation to make the best of it.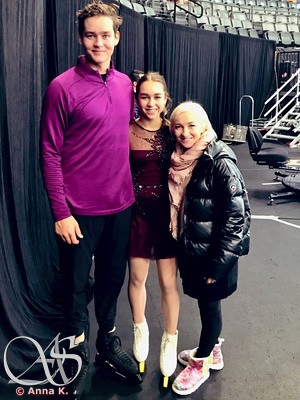 How did they come to work with you?
I was coaching in the US, and they asked me to help. We did a couple of sessions, and then, after they came to the Nebelhorn Trophy, they wanted to move to Oberstdorf. They moved and we practiced for two weeks, and then that accident happened to her knee, so she went back to the U.S. to have an operation and he stayed with me. We continued to work and skate together because I wanted to keep him in shape...Of course, if you don't know if you even can skate in the future, it's hard to motivate someone. Especially because they are brother and sister and they have never been apart from each other. It made the break even harder because they were always together, and he was missing her, and she was feeling alone. She flew back around January, February, or March. She was there just to visit, not to skate because she couldn't. We tried to step on the ice, but it was painful for her. And then when she went back [to the U.S.] they realized she needed a different operation. She had the other operation, and it was much better. That's why after six weeks, she could skate.
And is it her landing knee that was injured?
No, luckily not. But you still need to use both legs! I think it's also mentally difficult because you always feel like it can break, and then it would be finished. I've tried to help her to get out of that thinking.
Is that being worried of the pain, or because, having had a bad injury once, you're scared that you might get one again?
I think it is more like having a pain when you don't expect to have it. Because she has this bond in her knee that is connected by screws, so it's not like her own knee anymore. And that's difficult. After this competition, I hope it will be much better. She needs to learn and build confidence, and of course we need to look after her injury and protect everything.
What is it like for you being back at the Grand Prix here as a coach?
To be in this atmosphere again, it's very nice. And at the same time, it's such a strange feeling not to compete, because I competed for so long. [It's strange] to feel like an athlete, and now just be at the boards, where you cannot do anything. I guess I also need to get used to that and to learn. But I love to share my experience and hopefully to give the passion for skating and love to the kids.
Are you a nervous coach or are you calm for your skaters?
You know, it depends. Like I was last week at a competition with one boy, and he asked: "Can you tell me how you felt when you were in the Olympics?" I said: "You know what, each competition is a competition, it doesn't matter, Olympics or just something simple." And he was surprised. With him, I really thought it was relaxing. It depends also on the kids, the personality. Of course, I also feel nervous for the kids, and I try to keep that feeling away from them, but at the same time, I want them to do their best. So, for me, it's also a new experience. Even though I've already coached, still, it's the first Grand Prix, and we need to start from somewhere.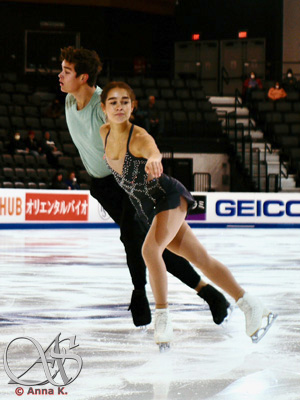 I also got the opportunity to ask Greta and John what it is like to be coached by Aljona.
John: Knowing how much experience she has and coming to competitions like this knowing that she has been through it herself, it really feels like she can provide the guidance we need. I don't think there is any better coach, because she is probably the best pairs skater I have ever known.
Greta: I think she is also one of the best coaches, a lot of people would say she was very tough on the ice, when she was skating, but she is also very understanding.
How did you decide to work with her?
John: We had some lessons with her in the US, and then we just made a split decision at Nebelhorn [in 2021]. The competition didn't go so well, and we thought we needed to make a change. We had a couple of meetings, it was a good opportunity, so two weeks later we moved to Germany.
Greta: We were convinced by her coaching that we experienced in the US.
John: We thought, of course we'll take this opportunity to learn from the best. And then Greta broke her kneecap, and I was able to continue training with Aljona, and I did some pair elements with her to keep my pairs skills up.
Greta: She's an incredible coach, I know she is new to coaching, but she is doing a great job and we are very happy.
John: We learn from the best!
"I like to build something new"
Could you tell me a little bit about the role you have in the Netherlands at the National Training Center?
They asked me to be head coach of the National Training Center. They are trying to build something new, and the facilities are amazing, since this is also the short track and speed skating main rink. At the time, I was thinking about what to do. Because of COVID, we couldn't do shows, so it was a really difficult time to decide. It was more exciting for me that it's something new, and they want to build skating in the country. I like to build something new.
It's still the beginning, and it's very difficult, but I think we can grow this into something very good, with a good team. Now I work alongside our off-ice coach. She was a gymnast. She does off-ice, there are doctors, the physio, everybody is there, so the facility is good. But for coaching, I'm alone, so we will need to have an assistant coach. But this is just the start.
It's just been since the summer, right?
In August we moved there. It's been two months.
I spoke in September with Jeroen Prins from the Dutch Skating Federation, and he was telling me a little bit about how being able to share resources with the speed skaters and short track for medical and even some off-ice stuff is a nice way to try to get figure skating more resources in the country.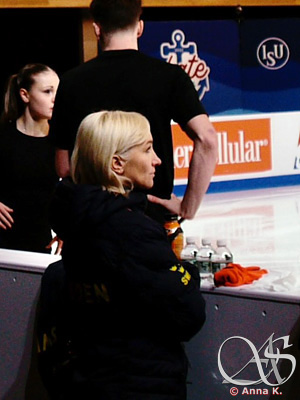 Yeah, because the country is really into sports. They have a lot of athletes, so the facility is full all the time. I was wondering why figure skating isn't so popular. Now they want to build, and I'm happy to help with that and see what we can create. It's also international, everyone is welcome there. I think it's great for other skaters to join. There are three ice rinks, and everything is there. [Heerenveen] is not a big city where you need to stay in traffic. On the other hand, it's not that small. When I was living in Oberstdorf, at one point I realized that for my daughter I need more. She doesn't want just skating, she wants to do different stuff. I was thinking [of moving] because of her, to give her an opportunity to do gymnastics and other things.
You have much more happening around you in the Netherlands, and it's easier to be connected to other places.
If you go one half hour in each direction, you come to big cities. We'll see. It's work. It's a lot of work, but it's nice.
Which other skaters are working with you?
Well, for now, I have six singles skaters. Two boys, one came here from Ukraine. I took him in, and there is also Nicola Todeschini, who was skating for Switzerland, but has moved now to the Netherlands. He's still not allowed to compete [because of switching federations], but he will from January. Then we have the couples coming, like Daria and Michel (Danilova/Tsiba). They practice there, and they used to also go to practice in Russia, but now not anymore. So, I have them too. We also have a second pair, Nika and Dima (Osipova/Epstein), who were in August one month with me. Then we have another assistant coach [Thomas Kennes], who comes to me every Friday with his students, like Eva Lotta (Kiibus) and Lindsay (Van Zundert).
It's a lot of singles skaters.
I like to do singles. I don't know, but maybe because it was my dream to do also singles, and it was not possible back then. It's nice to see a balance and see the difference between pairs and singles.
There's been a lot of discussion about pairs as a discipline because there were so many teams that either retired or left after the end of the last season. What do you think should be done to encourage more pairs and to grow the discipline?
Well, it's a very difficult discipline. You need to have strong personalities, especially the girl must be strong. I think we need to do more promotion to show how nice pairs can be, with the trust between two people. Of course, everyone has respect, a lot of respect for the discipline. But it's also beautiful, and you can create something special. I think we need to put more work into showing that.
You were lucky to have such a long career and be able to stay mostly healthy through it. Is that something that you want to encourage for your skaters? How do we make it easier for skaters, especially for pair girls, to be able to stay healthy and compete longer?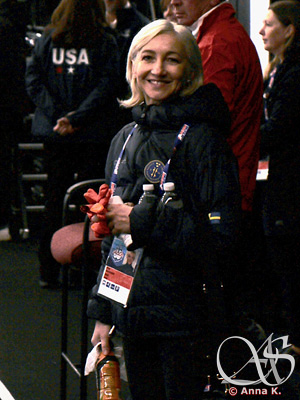 I was one of the healthiest skaters when I was preparing for competitions. I grew up with my dad teaching me how to be strong. [You must] protect your body, do the right exercises to build the muscles around the bones, and I grew up doing that. I want the same for my skaters, who don't know the basics. Now I see a lot of skaters don't even warm up, but this is not the way it should be, and a lot of talented athletes are injured because they don't do that. Maybe they didn't have the right teacher. From the beginning, when the skaters come to me, I want to protect them with the right exercises and warmups.
For me, the warmup is the most important. Then, of course, what you eat, how you treat your body, what you do after the ice. Everything around the skater must be working well, getting the right sleep also. So, they live with discipline, but at the same time also enjoyment. Of course, you can have fun, of course you can have relaxation, but protect your body. That's how I grew up, how my dad taught me, and it's helped me to protect my body for so long, and not have injuries. Now, I feel like I can do without a warmup, but then, when I do, my body hurts. When I stay on the ice and I show an exercise or show a movement, I realized I also need to be warm and ready.
The new generation are very sensitive, and we need healthy athletes. We need to have fun, so that they can enjoy themselves, because some athletes are too focused. They lose their power [to enjoy skating] when we put too much pressure on them. I realized that I was sometimes too concentrated, and that [hurt me] at the most important moments. But I can tell because I had this experience, and now I try to teach the athletes who also want to reach those heights to be more open.
One last question about pairs as a discipline. The current rules don't give much of an incentive to do quadruple throws or twists. Do you think that that's a good thing or do you think that teams should still be pushing the limits with quads?
I was always going for the full risk. I like the challenge. It's difficult because the high-risk jumps, like the quads, are so low in base value, there isn't the motivation to risk. You see the potential in kids, and then they say it's enough to do a triple, because the value is the same. I think this needs to be changed to make it more interesting. Some elements, like lifts, you need to have a difficult entry and exit to have a level, as well as all the positions. It's too much, there needs to be a balance. Now even in the spins, you have to synch, and do the right position, right revolutions, difficult entry, exit, put something special in the spin. That's interesting for sure. But in the elements like quad twist, quad throw - or the triple Axel throw that I wanted to do and that was my dream - because the value of the elements is so low, you ask yourself, why [am I] doing that? Why, when there is no point? Others are doing double or triple and they get more points. So, I think there should be a balance between the elements, because right now, some elements have high difficulty and earn a high score, and others really nothing. Maybe it can change.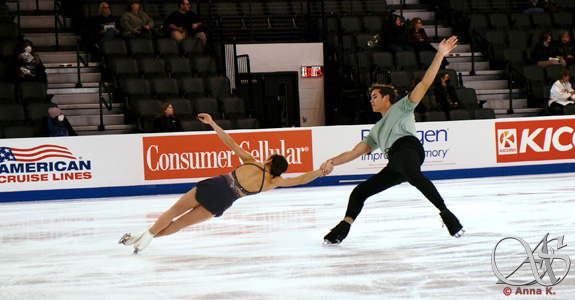 "My heart is still Ukrainian"
You mentioned you have the Ukrainian boy with you. Do you still have family in Ukraine yourself?
Yeah, I have my brothers. They try to survive, and every day I have a call with my brothers, and they tell me they love me because they don't know if it's the last time. It's really a difficult situation and it's painful to talk about, but it's life. There is so much destruction in the country. You know, I moved 20 years ago. When I was 19, I moved to Germany and I don't know a lot of what's happened after that [in Ukraine], a lot has changed. To realize now that my heart is still Ukrainian, is even more painful because I want to go back, because I was born there and raised there. I still have this connection, even if I don't live there.
A lot of people left, even if they didn't want to leave. I have cousins who have moved to Germany. They say that of course they're thankful that the help is there, that they can survive and live, but they feel like they're not at home, and nothing is theirs. And I understand because I feel the same - even if I don't know where my home is.
When it happened, straight away I took in my brother's kid, and he said he wanted to go to the army! I said: "Look you're nine years old." He was drawing all the army stuff, and you know what's going on in his head. We did sports because he needed to go out and to move! But the kids are really hurt, and this is the most painful thing because we can't change it. They need mental help to get over it. They will never forget.
Kids shouldn't have to deal with that kind of trauma.
We try to do our best. I also try with the skater, I try to move him around, so he doesn't think about it...mentally he is destroyed, though the ice helps him a lot...They live in a hotel, and he says he wants his home. I say: "I understand. But your home is anywhere an ice rink is." And he agreed. I think this helps a lot when they can move at least the body. It's difficult. But we hope for the best.
Next up, Aljona will be accompanying the Crafoords to the Grand Prix Espoo 2022.