Stéphane Lambiel: "I want to show that skating is much more than what it is right now"
December 14, 2022
By Reut Golinsky
Photo © Reut Golinsky, Anna Bertoloni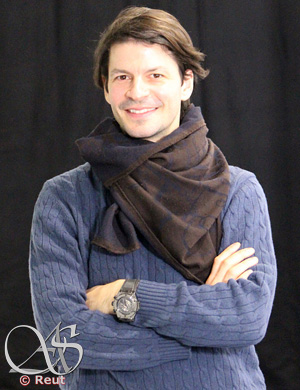 Our first interview with Stéphane was almost 14 years ago. Since then, there were more - interviews, short talks, mixed zone chats, quotes for articles, whatnot. Over the years it was less and less an "interrogation" of an interviewee by an interviewer, but a conversation, and a heated debate at times, too. It was mostly an opportunity to carve out time in his crazy schedule to catch up, get his insight or feedback, see things the way he does - oftentimes from a completely different and unexpected angle.
In a way it's a years' long saga written as a serial novel, a story always to be continued somewhere someday. Because there is always hope that this day will come, - even if it takes a little longer than I would've wanted, - and trust that there will be curiosity and interest from my side and readiness to find time and share ideas and opinions from his.
Stéphane, we're right in the middle of the Grand Prix series, each of your students attended one event and has one event to go. Summing up and looking forward, name one good thing and one not so good thing, something to work on - for each one of them.
This was supposed to be a short answer, something to use as a quote during the competition itself for Koshiro and Deniss and towards the NHK Trophy for Shoma, but he was answering it passionately non-stop for almost ten minutes, taking a big chunk of the time he allocated for our talk... Alas, with him there will always be questions you won't have time to discuss. But then, the answers you get will be longer and deeper than you expected.
Before the Grand Prix all three of them had one more competition, Koshiro had Lombardia Trophy and he also did Tokyo regionals, Deniss had Nepela Trophy and Shoma did the Japan Open. So, it's good that all three of them were able to use their experience of the first competition for the first Grand Prix.
The good thing for Koshiro is that he had a very nice attitude in the free skate at Skate America.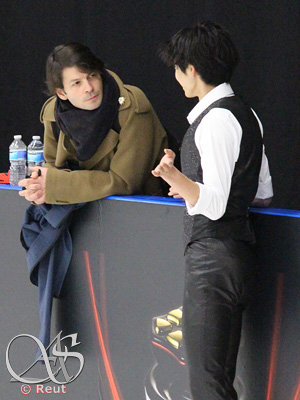 I really loved his spirit in the program, he was very generous, very elegant and at the same time very active, with two beautiful triple Axels. I really liked his performance. It's too bad that in the short program it was not as good since he missed all three jumps. I like that he took the risk [of doing two quads], I think it's good at his level that he goes through that because he can do it. But, of course, the bigger the risk is, the bigger the mistakes could be. Something to work on with him is really to have as much experience as possible within the little amount of competition that he has. But he's growing up so overall I feel he's overcoming the obstacles he faces. He is smart, he is calm, he doesn't freak out. He has a very nice personality, it feels like a privilege to work with someone like that, really.
[Working] with Shoma is also a big privilege, he is a monster. In a sense that he is able to do a big load of work, he's a very hard worker, with a strong mind, strong body. I really enjoyed going to Skate Canada with him and seeing him perform there. I also really enjoyed his performance at the Japan Open. I feel he's becoming more and more responsible; he knows more and more what he needs, what he wants.
And he is a leader now. I think he mentioned in interviews that before he felt Yuzuru was the one pushing and he was behind...
I don't feel that way, because every time I see Shoma he's pushing forward, he has always been the leader of himself, his power is moving forward with such speed. I like seeing where he is, where he stands, what he needs to work on, what he has at the moment. He's also in a place where he's making his way to have opinions on things. He's taking responsibility for doing what he wants to do. During the practices in Canada, he repeated multiple times the sequence of the beginning of the short program or the second sequence of the free skate. He was going and going and going until he really felt okay, and it was in his system. He has this kind of awareness that maybe he hasn't really paid attention to before. This consciousness comes later in the career, and I think that's where he is right now.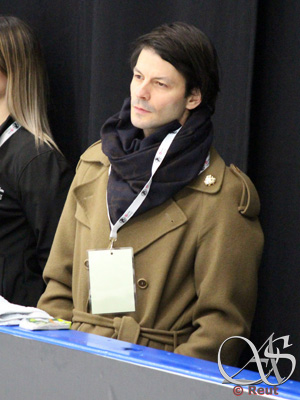 Everybody would agree that all this is happening thanks to you. You gave him this motivation, you definitely have a part in giving him back this will to skate, to improve.
I think, yes. And I think he has it in him, it comes from him. If this wasn't coming from himself, he wouldn't have been able to do it. Of course, we have a good connection since a very long time, even before we started working together as a coach and a student. The environment created within our relationship helps him to be himself, to develop his own opinions and wishes, but it really comes from internal motivation. Without that you won't do it. You can like someone very much, but you don't do it for someone, you do for yourself, right?
As for Deniss... Deniss is very unpredictable. In a sense that when you don't expect him, that's when he arises. What we are working on is really to step forward. Even though we were struggling with the two first competitions I feel he's stepping forward. Deniss is taking responsibility for what he wants to achieve, and it takes time, of course. Even if it hasn't been very successful for the two first competitions, that doesn't mean that he's not improving. When I see his behaviour, his training, I see that there are some parts where he needs to improve, to let go when sometimes he's very "greedy", or when he's thinking and overthinking. But at the same time, I also see that he's realising that, and realising is already a very good step. So, the pieces are coming together for him as well. It's the overall shape that I want to see going forward, more than the results right away.
I haven't seen both of you for a year but the energy during the practices here felt different. He was more into himself, almost didn't talk to you...
I think he was very focused. He takes a lot of responsibility for what he wants, and I like that.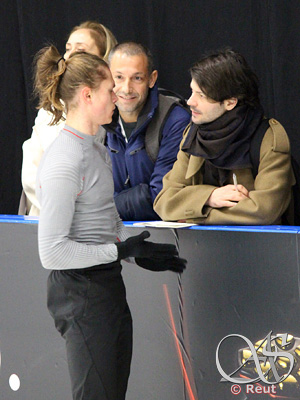 For me the role of a coach is to make the skater as autonomous as possible. Of course, if something goes sideways, I'm there. But if he knows the way... I mean he has worked with me for many years, he knows what I'm going to say. For me it's important that he goes away from that to trust himself. That's what I see, and I think that's great. I'm very privileged to be there and to see that he's surpassing the things that I have given him.
The talk took place at the iceSheffield arena after Friday's morning practice, before Koshiro and Deniss did so well finishing fourth and second at that event. In a way it's even more valuable and touching to read their coach's words now as a proof of how much he trusts and strongly believes in them.
In one of your recent interviews, you said that when you're in the "coaching mode" you can't really talk about shows, your head is not there, but I do want to ask you about that. And first I just want to thank you for your new programs. Especially for "This Bitter Earth" which surpassed yet again anything you've done before, it's so powerful and achingly beautiful...
It was pretty hard to go back to performing because I haven't done that for so long. My last show was in January 2020 and my first performance after COVID was at the end of May 2022 so that's two years and five months. I also had to quarantine for three days before the show started. I spent three days in my room, doing a little bit of physical training, watching the videos of my performance, trying to get into the mood. I had Tuesday, Wednesday, Thursday - the quarantine and on Friday when I was free it was the show day. And two years and five months without performing! Also, I never performed those programs, and for me to perform for the first time is very different than to perform something that I already know...
It's like it usually went for you in "Art on Ice", with each next show you were...
...getting better, yes. So, for the first show I felt a bit nervous and then each performance got better and better and better and then during the second week I started thinking: "Oh my God, I feel really good! It really feels like I've never stopped performing!"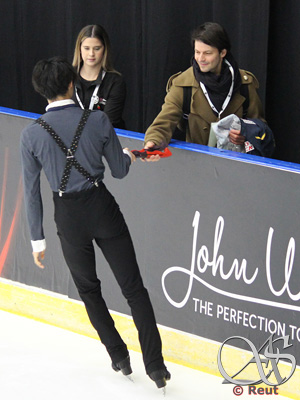 That sensation was amazing, and I enjoyed the tour very, very much.
Yes, I could see it in the videos, I could feel it. We talked once that you have this talent of making people feel what you feel. So, when you're very happy...
...you're happy? (smiles) But that's the same with everyone! When I see a skater who is very bored [during his performance], I feel very bored, too. (laughs)
No, it's a very special talent you have. And it was such a contrast, between your programs and how you looked the moment after, during the bows or in group numbers, you looked so incredibly happy...
I was really glad to perform, that's right.
Like I said before, for me coaching and performing are two very different things... And I really enjoy the coaching process, I love to teach, to find solutions for each student. And each student also has his own way even though I give them more or less the same advice. But like today, the practice with Koshiro and the practice with Deniss (for SP practice they were in different groups -ed.) - I felt like I was in two different worlds! Coaching them brought me to two different environments and the atmosphere - I don't know whether it's because their groups were very different - but I focus on Koshiro and I go somewhere and then I focus on Deniss and I go somewhere else, completely far away from where I was. I like that, that's the beauty of coaching, because they are human beings with their struggles, their power, their aspirations...
You elegantly switched from shows to coaching but I want to get back to shows for a bit. When you retired in 2010, you said something that horrified us all. You said: "Five more years and I'm done performing." You were twenty-five and thirty seemed like a very, very old age for you back then...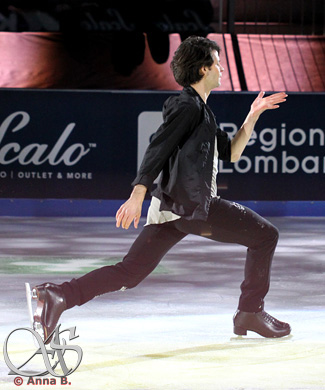 Now I'm 37. So, I'm very, very, very, very, very, very old! (Yes, this is the exact amount of "very" he said; one Swiss journalist once called him "Stéphane très-très" - spot on!)
I can assure you, you're not. But how will it go now, will you just take it show by show when there is an invitation?
I'll take it show by show, yes, but I don't think that my career is in the middle of something, it's more towards the end, for sure. Ten years ago, I could maybe say that I'm in the middle of something. But I'm 37, I'm not 27...
...yet back then, each year you also said: "Well, five more years and that's it!"
No, at the age of 27 it was pretty clear that I wanted to perform. Ten years ago, I was performing and then in 2014 I started my school in Champéry. I mean now my body is not... Of course, I'm holding on and taking care of myself but... (sighs)
You surprised me yesterday when you asked: "Do I still have fans?" Of course, you do! Of course, there were people who waited for you to be back on the ice!
But the kids that I teach don't know what I did, the generation's [changed]...
...there are lots of other people... there are new, younger fans joining...
I know! Also, I'm a little bit afraid - and it is a bit depressing - that the skating that we see nowadays is so far away from the skating that...
...but it doesn't matter, you have your own skating! I mean, "This Bitter Earth", with this idea of improvisation, is on a different level, next step, another element that you added to your art.
I just wanted to tell you about this biggest fear of mine, of your fans...
Oh no... But when something stops, something starts!
...and I agree with that! That fear I was talking about appeared after you announced that you would stop your collaboration with "Art on Ice" at the end of the 2019 tour and not in advance. You have no idea how upset people were, because they thought they'll always have another year, or they were planning to come to the 25th anniversary in 2020...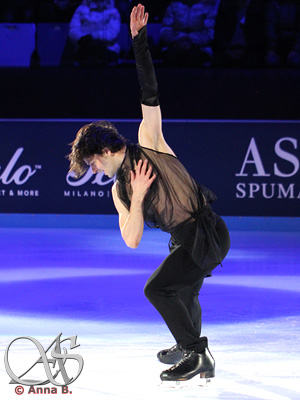 And so, there is this concern now that you will do your final show and only after it you'll announce that.
I see... I don't know, I have no idea... But I can tell you that my feeling is towards the end of my performing career, for sure. I don't know when, but I know that it is near.
I remember you once wanted to have a final tour or something like that but now with your school it's probably not realistic.
It's hard but there are opportunities...
Just don't announce after it's already done!
But why? It's fine! Okay, maybe I will do the final show and that's it. And after that I'll move on.
But just announce!
Okay, I will!
"Ice Legends-3"... or 10...
...my final show!
By the way, what is happening with "Ice Legends"? Not as your final show, as something you mentioned in our interview three years ago...
We're not talking about "Ice Legends", but we are talking about some show, yes.
You also mentioned recently an "internal show" that you did with your group. What was that? And can it be "external" next time, please?
We were thinking about that. We are thinking about different things. For example, we want to do a "creation workshop", that's actually what we did then. It was Koshiro, Deniss, Tòn Cónsul (Spanish pairs skater), Giulia Isceri - she helps us with the school - and me. Five of us, we worked on that little concept, the idea of [developing] creativity, because I think figure skating is much more than just jumps. I want to show that skating is much more than what it is right now. And, well, what it is right now is a bit disappointing to me. I want to do something that can influence the system.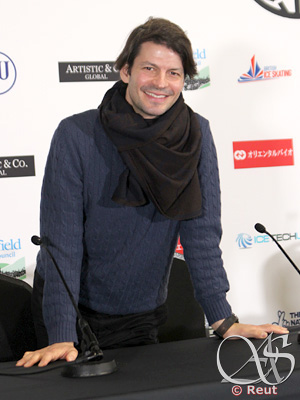 I want harmonious and aesthetic things back in figure skating, harmony and aesthetics need to be in a performance, they are this foundation you cannot perform without. When you ask a skater to do something, the skater needs to ask himself: "Is what I'm doing beautiful? Is it beautiful? Is it attractive? Because if it's not,..
...then why am I doing it?"
Exactly! For me this is important! If I had no knowledge of figure skating and I went to a competition and saw what we are seeing right now, I would not have liked it, because it's not beautiful!
Well, it's not all that bad. I came from afar to watch this competition and I do enjoy it, not least because there are your students here, but not only them...
Yeah, but all my students have to do the same variations in every spin. I feel that before everyone was highlighting the spins a little bit differently and now everybody is doing it forward sit - side sit - back sit [spin].
Different personalities, different programs, they are very different, so I don't even notice they use the same spin.
True, yet there are so many positions that are not nice, but they are doing them because it gives them a level. While I don't care about that level, I care that it is beautiful, for me it's important. I would have put a little bit "less measurable" measures into the world of figure skating.
But skating judging is problematic as it is...
I trust the appreciation of the judge but I'm not sure I can trust [those who decided] how many points to give to each element. Who was able to calculate the value of one element? How do they calculate that? What is the complexity of the element, how can it be higher than for another one? Why this specific difference in points between one jump and another? For example, I like how in breakdancing it's a battle: one person goes to perform, then the other one comes and performs and then you decide who was better in this battle.
And just like that, in the middle of us starting to fantasize about "skating battles", he had to leave.
To be continued?