"New quadrennial, new me" - Roman Sadovsky is ready for the next stage
November 9, 2022
By Anna Kellar
Photo © Anna Kellar, International Skating Union (ISU)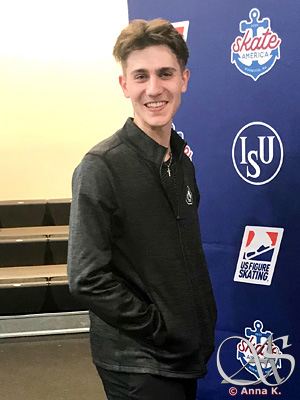 During the 2021/2022 season, Canadian skater Roman Sadovsky faced some of the highest highs and lowest lows of his career. He qualified for his first trip to the Olympics, but after unsatisfying performances at the team event he also had a disastrous short program in the individual event and failed to advance to the free skate. However, he redeemed himself with a strong skate and a 12th place finish at the 2022 World Championships. Putting that roller coaster behind him, Roman enters the 2022/2023 season with new programs and a more relaxed attitude toward his long-term goals. I spoke to the 23-year-old the day after the men's competition at Skate America, where Roman placed 5th in a strong field.
How are you feeling after this competition?
Good. Of course, there were things that could have been better, and I was way more prepared for this competition than for Nebelhorn. The short at Nebelhorn was really good and I wanted to replicate that here and maybe push the score a little higher. It didn't work out, but the long was much better here, and it was also a new program, only two weeks old, so an improvement overall. But for my next event, I'd like to get the good stuff from Nebelhorn, and the good stuff from here and put it together.
How did you take time over the summer to reset after the last season coming into this? What did you do?
For me, the hardest part was between the Olympics and Worlds, for multiple reasons. There definitely was a dip. And besides, my performances at the Olympics were not going to the standard that I expected for myself. I absolutely felt the post-Olympic blues because you're training for this huge event and then it drops off and you lose sight of what you're doing, everything seems smaller in that perspective. So, it took me a couple of weeks to get back into the groove after that. Coming back and having such a strong performance at Worlds reset everything for me. I felt comfortable with myself, my abilities. It felt nice to finally just relax and I took a couple of weeks off here and there. My off season was enjoyable, fun on and off the ice, trying new things. I'd say it being nice can be mostly attributed to having a positive result and experience at Worlds.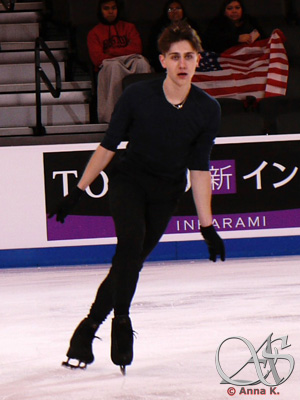 That's great. What did you do for fun over the off-season?
I spent one week in Mexico with my family. And then I spent a week in Florida with my girlfriend, and then. I came back with COVID which resulted in two more weeks off-ice. I've been avoiding it for two and a half years and finally, Florida did me in.
You choreographed your programs this year with David Wilson for the short and then, did Mark Pillay do both of your long programs?
That's an interesting story. Initially, I was going to skate to "Fix You" by Coldplay. The first time I did it was at the high-performance camp in Canada, no one was going to outright tell me that it's not the greatest program, so the feedback was positive. But Tracy (Wainman, his coach) and I read the energy as people weren't as ecstatic about this program compared to other new programs. Eventually we came to the decision: for Nebelhorn to go with "Chasing Cars" (2021/22 FS) and for Skate America to switch. And then the conversation was happening with Mark about finding something. So, going into Nebelhorn we had to find a program, get it cut, and then when I came back, I could redo it right away. It's a two-week-old program, but the mileage from the other program helped a lot in a cardio way. So, the transition wasn't crazy. I was in shape. And overall, I'd say the response was positive so I'm looking forward to seeing how this program plays out for the rest of the season.
What was it like to work with your two choreographers? Do they have different styles? It seems from your videos that they're both fun to work with. But what would you say is the difference between them?
The biggest one is that David is more spontaneous with his ideas and that also means he can change his mind at any time. So, he's very quick and spontaneous versus Mark is more structured and mathematical in a way. He really plans it out. He'll study the choreography in his own mind and then unleash it towards me and I'll have to learn it off him. Versus with David, we're going with the flow, seeing where this step goes, then we're taking it to the next step, taking to the next, and then eventually it all comes together.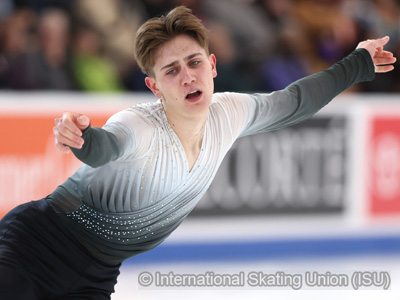 So overall, I'd say I get a more structured approach with Mark and a more spontaneous one with David. And I think it's good to have both, to have a bit different look. This year for the short, we really wanted a different look compared to the short programs in the past. And I think it was successful overall, I'm happy with what I have so far.
Yes, it's a new look for you. What led you to that direction for the short program?
New quadrennial, new me, trying to grow as a skater in different ways. When David came with this piece of music ("Cold" by Chris Stapleton), I didn't even have to question it, my reaction was "great, check mark, short's ready to go." The long was much harder, took half the season to figure it out.
Sometimes you would have one strong and one tougher performance during the event. What do you think you need to work on to build your consistency?
It's a tough question to answer - if I had a conclusive answer, I'd be going crazy right now!
You could sell it to other skaters!
I know, right? For the most part, it's mileage. And for me repetition is huge, I do tend to get better as the season progresses. I'm happy with what I could do at Skate America. In comparison to previous seasons, where I'm at right now is much better than, let's say, my first Grand Prix at other seasons, both in scores, performance, the way I feel in practice, on the ice, off the ice. So, I think the experience from the last four years is helping me a lot if I can lay back on that, trust the practice, and try to bring the practice more into the competition, instead of stressing out so much. Because once you do what I did at the Olympics, everything's way more chill!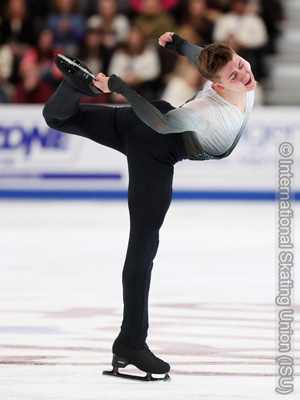 Yeah, that's already happened, so you don't have to worry about it!
Between now and the Grand Prix in Sheffield, what are the things you want to work on?
The biggest one is going to be mileage on the long, because it is still two weeks old. And that's besides the cardio stuff, that's going to happen with the training. I want to get more of those nuanced parts and pieces that didn't quite come out in that performance. I was not exactly on time, with the music. So, there are some glitches that are related to being early with the program and it's the stuff I want to iron out. I am planning to have two triple Axels and two quads, which I haven't done in a while. I was totally ready to do it this competition and I'm upset with myself that I didn't, but that's okay. On the side, I'm also working on getting a quad toe in. If I can really get a consistent quad toe, I'd be pretty pleased with the technical content overall. In the short I'm probably going to keep the content as is, because right now the high risk is not paying off.
So, to clarify, you're thinking about quad toe and two quad Salchows for the long eventually?
As a long term, three-quad program is a goal. Doing the two [quad] Salchows has been very successful for me over the past few years. I don't see it making sense to swap it out for a toe. That strategy would give me some more variety technical-wise, more flexibility to maximize a few points here and there, but it doesn't make a ton of sense. The long-term goal is to have the toe while leaving two Salchows and two Axels. I think we'll do the math with Skate Canada. With two quads, two Axels, if it's all done well, you're punching out some pretty epic points. So, if I can get the toe loop to the same confidence level as my Salchow, I'm sailing, but the trick is to get it there. I don't even know if it'll be a this-season thing, we'll see.
My biggest struggle is getting the toe in the program. I worked a lot, it was improving, I was showing the improvement on YouTube. And then once I started putting it into the program, it really dipped, so the development got stunted. I'm trying to balance skill development, while also competing at the same time. That's an approach we haven't been doing while going into the Olympics because the focus was consistency, to be clean, clean, clean. So now we're trying to be more versatile with my training methods and trying to grow technically.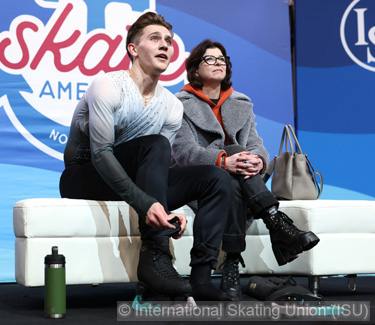 Your skating has such quality that if you can have that, you should be able to ride that somewhere.
We've calculated, and the base value of your program changes by three or four [points]. If you get even a small minus, for example, for a quad with a small step out, you've lost three or four points. And whatever energy you used to do that is immediately lost with that step out.
I was curious, do you have a dance background? Because you have such nice lines.
A little bit. I took dance classes as a kid. My mom thought it was a great idea, so, thanks, mom, good job, you did it! Stuff like contemporary, Afro, jazz. I stopped doing that once I was around 10. But the foundational movement was there. And I think that translated into my skating.
We do a lot of ballet at the skating club, and I also worked with a ballet teacher on the ice occasionally just to fix up some stuff. I would say somewhat of a dance background, but not highly competitive.
I think it's something we can see in your skating, that you have that awareness of all of your body.
There's definitely something there, and there's a skill set that I probably got early on because of it.
You've got great spins, and someone pointed out that you have tied for the highest score for a spin right now. Is that something in the back of your mind that you might get that perfect score?
I haven't seen it lately, because I don't know what the actual number is, but it's close to maxed out. Because there's a potential max, right? Once you reach the plus fives, there is nothing else.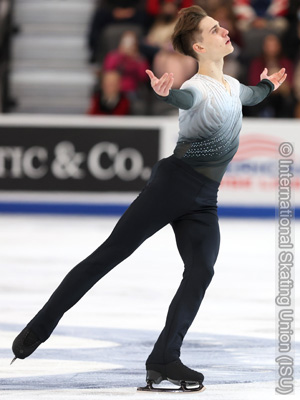 I think you had eight out of nine of the possible plus fives, like Jason Brown, you each have one spin at that level. There's still that tiny bit of room but you're right, it's up at that edge.
I know what spin it is, it's at the end of the program, that's hard to do. But maybe as the season progresses... It's not really something I'm hugely focused on. There are more areas of improvement in that program besides getting that last plus five!
It would be just you and Satoko Miyahara with a perfect spin. If you've ever had those plus fives the internet would be pleased - but the judges might not care.
They wouldn't think twice about it.
Off the ice, you have your YouTube channel. What are you planning to do with that this season? Do you think about ideas as you go along? Or do you have a vision of what to do with it in the future?
No, I don't. The YouTube channel is very impulsive and spontaneous, whatever I want to post. It could be really anything. I haven't updated in a while with how busy I've been with the skating schedule and redoing programs and some of the side work that I do. I just haven't had the time. It's going to ease off now, so I'll do more posts. It's mostly a way to stay connected with the fan base and give an update on what I'm doing, where I'm at. I enjoy it way more - and it feels more organic - than Instagram or TikTok. I like the longer form content. And I like the process of making each video, it's just one big passionate project.
It gives such a nice view into what you're going through, things fans are curious about, but don't always get to see. If you weren't a skater, what would you want to be doing?
That's a funny one. People always asked me this and I always change [the answer]. Music could be one. I say that having turned down music as a kid, I regret it, but that's okay. A dancer is another one. Freestyle skiing after I watched it in Beijing looks pretty epic. So that would be cool, but the injuries associated with it are not so epic... And then the other one is gymnastics.
Do you like that sense of pushing yourself to the edge and that thrill part of it?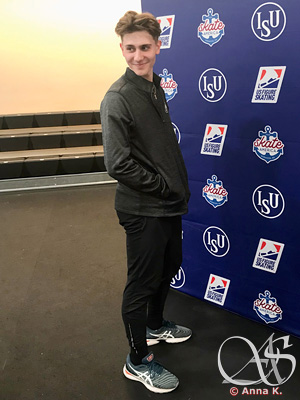 Yeah, that thrill factor, that's what I like about skating and the jumps associated with it. I used to do gymnastics, skating, and swimming competitively when I was eight, nine, ten. Swimming didn't have that feel for me, going back and forth. That's why I dropped it. I dropped gymnastics first because the commitment was way too high. And then I was down to choosing between skating and swimming, it was a no-brainer. Not that I want to offend any swimmers right now! But skating suited me better.
Do you think that you're going to get to see anything in the Boston area, or Sheffield when you are there?
I went downtown Thursday, the day before the short when we only had one practice, I took the train in quick. It's a really nice city. I don't know about Sheffield, what I'll be able to see. For the most part, we usually have that one day to do something and I try my best to take advantage of that one day, because not many people have such opportunity to travel to that many locations.
What's one of the favorite places that you've got to go to?
Japan. It's the go-to answer for everyone.
Canada will have two slots for the World Championships in Saitama, Japan this spring. With his dynamic new programs and regained confidence, Roman will have a strong shot at securing one of those spots and visiting his favorite destination. His second Grand Prix assignment will be the MK John Wilson Trophy in Sheffield, UK.