Deanna Stellato-Dudek and Maxime Deschamps: trying to make mark on the sport
December 8, 2022
By Anna Kellar
Photo © Anna Kellar, International Skating Union (ISU)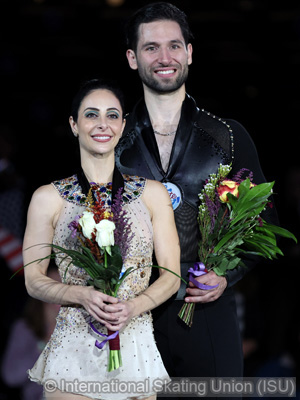 The success of Deanna Stellato-Dudek and Maxime Deschamps is one of the most inspiring stories to come out of the 2022 Grand Prix season. The Canadian pairs team, who won silver at Skate America and gold at the Grand Prix de France, have had a long journey to arrive at this moment. At age 39, Deanna is the oldest skater to have won a Grand Prix event - and, more astonishingly, her last Grand Prix medals were as a single skater at the junior level back in 1999. After sixteen years away from the competition, she realized she had an unfinished dream, and returned to the ice, this time in pairs. She first skated for the US with partner Nathan Bartholomay, but in 2020, switched to Canada and teamed up with Maxime Deschamps. Despite a long and respectable career, and seven previous partners, Max hadn't found the right match to break into the top level. Together, though, the team has found the ingredients for success.

At Skate America, Deanna and Max skated two strong programs to a highly appreciative audience, achieving personal bests and finishing just 3.5 points behind World champions Alexa Knierim and Brandon Frazier. As you'll see from our talk, Deanna and Max are both deeply passionate about skating and are already making contributions to the discipline that go beyond age, records or medals. It takes a special kind of person to thrive in pairs, which is such an intense and demanding discipline.
I always think the pairs discipline deserves more attention, in the skating world and more broadly, than it gets, because it is so complex, and the tricks are so amazing.
Deanna: Pairs is the most extreme of all the skating disciplines. But for any sport, it's pretty extreme. I mean, we're not like Shaun White (three-time Olympic gold medalist in half-pipe snowboarding -ed), doing his 360 degrees whatever things...
Max: But when I throw you in a twist...
Deanna: ...it's extreme.
Max: I always jokingly say, we should get "Red Bull" as a sponsor.
Deanna: Some sort of caffeinated drink, "Monster" or something!
It seems like it could appeal to a wide audience.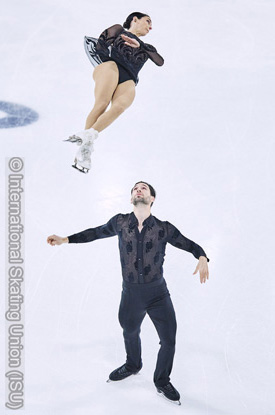 Deanna: In gymnastics, they have the all-around event, but also beam or bars on its own. And there were talks about doing that for pairs. Twist on its own: how high was it? How long did she leave the guy's hand? Or throws. I think that would maybe bring more attention to [the sport]. Before coming here, we were practicing at a rink where we don't normally practice, and there was a whole hockey team there. We did a twist, and they all went nuts! They didn't even know that existed! There is this negative opinion of figure skating because people don't know much about it.
Max: They all have the idea of figure skating being [delicate]. And that could bring a completely different atmosphere to the competition.
Deanna: ...when, for example, you see a twist with height. There was never a time when Chris [Knierim] and Alexa or Aljona [Savchenko] and Bruno [Massot] did a twist and people didn't go: "Woah!" Maybe more people would be open to coming, buying tickets, and watching.
I've heard some talk about making the short program and free skate be more distinct from each other, to have more choreographic elements in the latter for it to be more open and creative and the former to be focused on elements and compare apples to apples.
Max: Bring back more what it was. That was the basis of it when [the short program] was started. Because singles had the figures, dance had the compulsory dance, and pairs had nothing.
Deanna: We always talk about ideas to get pairs more mainstream. I don't know if you even know this, but there are two twists. There's the Lutz twist that everyone does and there's a toe twist, no one does it. My idea was that they should take out a side-by-side jump, one side-by-side done well at the same time is cool, we don't need a second one. But we should add a second twist, imagine having two twists in a free for pairs! It'd be cool! It'd be more interesting to watch it, if it's not just the first element all the time.
Max: You want to kill the boys?!
Or what if you were able to do either one twist and three lifts, or two twists and two lifts. And maybe bring back some throws that have disappeared.
Deanna: Yeah, no one does Axel anymore, it's not worth enough. Everyone does loop and Lutz. Things evolve, we should bring back more of the elements that get the crowd going.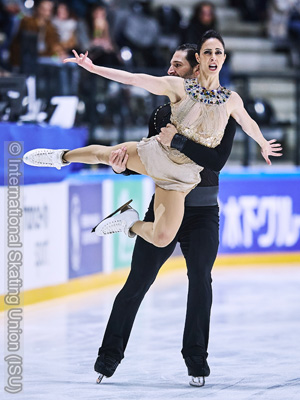 [Max] was saying they should do it more like in juniors, where they do a certain jump or throw [in the short program] because every year it will change, and people will not be as good at some throws, and it will change the game a little.
Max: And not on a cycle either, but a draw. Because at the senior level, we're supposed to master everything.
Deanna: Like the draw for the rhythm in the ice dance. The ISU are having talks with the dancers at each [Grand Prix] event about ideas for the discipline and we're hoping that will spread, to get our own little TED Talk meeting for our discipline.
It seems like you are very creative, with your forward pivot death spiral and your lifts. I believe you did some of that training during COVID while you couldn't train other elements?
Deanna: Everyone was locked down during the 2020 initial COVID lockdown, but in Qu├ębec we were in lockdown again in 2021, from January till March, because the numbers got bad. The only people that were allowed to skate were international competitors, which we were not because I didn't have my release yet. We wanted to add the [throw] Lutz that year, but we realized we couldn't, because we couldn't work on it. So, we thought, what else could we add to increase value, and it was the forward outside death spiral (which has the highest base value of the four types of death spiral - ed). We learned that painfully, outside, until our hands went numb.
Max: Not knowing really what we were doing... Nobody was doing it. In university I did kinesiology and had a lot of classes in biomechanics. I was watching the video, I was trying to understand where the energy would go: if we change this, what we would need to adjust. We worked a lot on it to try to figure it out.
Deanna: We had one video of one team, and we just watched that over and over. I tried to find as many videos from as many different angles as I could to try to figure out what they were doing. So, we would go and try it, and we would watch again, and go and try, and watch again... It's come a long way. I mean, it's only been a little over a year, a year and a half, that we've been doing it.
Max: We're going to keep working on it to improve it, especially with the forward pivot.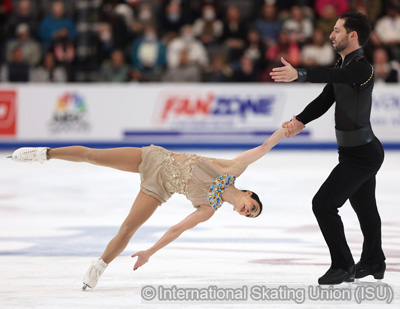 Deanna: Now he's doing that forward pivot, which no one's ever done before.
I was astonished when I saw that in the free skate. My first thought was, wait, is that a mistake? But no, you looked too confident...
Deanna: It used to be allowed to do a backward outside pivot and then go into a forward outside, and they took that out. They said you could do a forward outside, but you have to start with it. And no one's ever started with a forward outside pivot, you'd be the first one to do it, so no one's ever figured it out. [Max] had the idea, he said he wanted to try, and so we tried and tried and tried. We spent a lot of time on it because the center of gravity on it is a little bit different than the back outside.
Every team, every person in figure skating wants to win an Olympic gold medal or an Olympic medal or a World medal. Not everyone gets that, only three teams. But there are other ways to make your mark on a sport, through innovation, keep pushing forward and show everyone how much you love it. So, we're really proud to be able to do a forward pivot and a forward outside death spiral, and being the first ones to be doing that, showing some originality and trying to make our mark on the sport.
Three weeks ago, in Oberstdorf we were told last minute we had to take it out. So, we had to go back to the other pivot and eventually did a not-very-good one because we hadn't practiced that! So, Skate Canada asked if this is something we want to do this season, and we said "yes". They said that the meeting for the rules was right after [the competition]. Luckily, it was approved at the meeting, and we can do it this year with the forward pivot. People are going to be watching our video, like we were watching that other one to figure this out!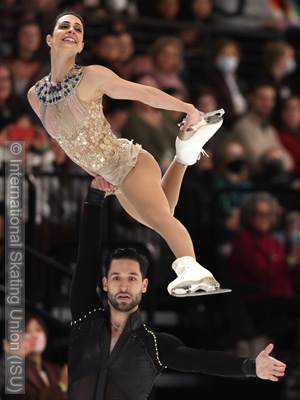 You've both been coaches, and Max is coaching a lot, I heard.
Max: I coach everything, adults, competitive, beginner...
Deanna: He coaches our competitors! He's worked with Kelly Ann and Loucas (Laurin/Éthier) who got third here.
Do you feel like coaching helps your own skating?
Max: For sure!
Deanna: Jos├ęe [Picard] - our coach - and I, if he's having an off day, we say: "You need to coach today!" Because it helps him so much. It gets you reiterating things that you know, but maybe you've forgotten. It also gets you out of whatever mood you might be in from how your day went. Because someone is paying you for your time, so you have to be in the right frame of mind. I think we came so far on our twist because of the coaching that he was doing over the winter and spring. It's been a secret weapon for our team, that we didn't even know was a secret weapon.
Max: Also, when we have a hard time, to be able to ask: what would I do if it was the team I am coaching? Or I say to Deanna: "What would you do if you were the coach right now?" It's a completely different perspective, you put yourself aside and think: "Why do I act like this?" You have no reason. You have a lot of positive things. It was a hard day, but you still accomplished things, good job. That's what I would say to my team, and then you get some positivity.
Deanna: There is this "rule of thirds": a third of the time you should be very good, on your game, a third of the time, you should just be doing well, and a third of the time you're going to be bad. If those thirds are ever off, then something's wrong. If you're doing badly all the time, you need to reassess. If you're doing good all the time, then perhaps you're not pushing yourself enough. If you're mediocre all the time, then perhaps it's a little bit of both of those problems. We try to keep that in mind because it's simply not possible to be great every day, you're going to have ebbs and flows as you train. Especially with the age component, there are times, like after this event, when perhaps the fourteen-year-olds we competed against will be tired, but I will be a different kind of tired. You have to mitigate that and work within it, knowing that you can go back up when you want, when you're ready and when your body's ready, the opportunity will present itself again, but maybe not every day.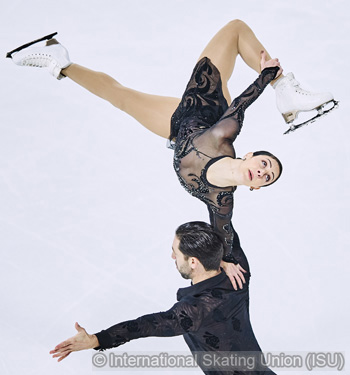 Max: One more thing about the coaching which helps a lot is the way I review my basics. I walk my lifts all the time, just to show [other skaters]. So mentally, I always see myself doing my basic stuff and when your basics are good, the rest can go further. It has been a big switch, in my own career, in the day-by-day training. The coaching has changed it completely.
Deanna: He means that even now, when he's been lifting girls over his head for fifteen years, he will still walk a lift. He's not above it. You've got to keep your basics strong.
Are you more nervous competing yourself or when your students are competing?
Max: It depends! It's so different. But I'm nervous for both. You are so invested in your kids, you want them to do so good, but you have no control, you are just their support. When I compete, I'm in control, I know how to deal with my stress. The main thing is, you know you are going to be stressed, so just accept it, don't try to fight it. It will be fine. But to teach that to the kid who is ten years old, who is "I'm stressed! I'm stressed!" I try to help them calm down, until they can say that it's going to be okay.
Deanna: It's funny, there's this ten-year-old girl, she looked at us and said: "I just don't know why I do this to myself." It was so funny. I said: "But you love it, you love to skate!"
Some people love to compete and perform, but for others...
Deanna: It's a necessary evil, I don't dislike performing. I like it too, but I love the daily grind of training and working, and the gym. But I know Aljona said she misses competing so much. And I was surprised: competing is what you miss? Out of everything? That's the thing you miss the most? I don't think that would be what I'd miss most.
Max: I love the feeling of competing.
Deanna: If you do well, though! If you don't do well, it's just unsettling.
Max: No, no, even if it's just okay. The fact that you've done it, pushed yourself. It's relaxing when it's done and it's fun to perform.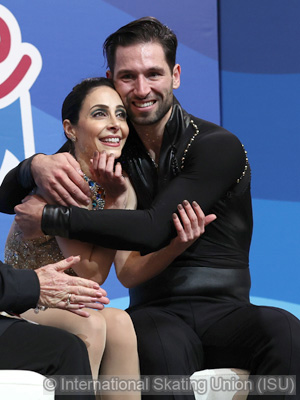 Deanna: It takes a lot of bravery at any age, at any level, to go out there on the ice in front of so many people and show them what you can do. And whether it goes well or not, it took courage to go out there. You need a strong personality to be the one who is out there alone - or with one other person - when those doors close. Not everyone can do that.
Max: It's not like a team sport. You're the only one out there, and everyone looks at you. But figure skating is a good sport to show that life always keeps going, you always keep pushing, you fall, it doesn't matter, you just get back up and keep going.
Deanna, does it feel easier being a pair skater than a single skater, when it comes to performance nerves?
Deanna: For sure. It's so different that it's hard for me to compare, because I was a kid before, but I would say I like this better because I like having somebody else out there with me. I was asked to do pairs a lot when I was younger because I was the same size I am now. I wish I would have done both, I think I would have really liked it and perhaps I could have had more longevity. I hope that the kids that are skating now realize, that if you started in singles, and maybe it's not going the way that you want it to, that you have other options - and not even just pairs, but dance. I mean, look at Daisuke (Takahashi)! There are options in both, other things that you can do if that discipline maybe isn't the one for you.
Max: And that's just if you want to go the Olympics, but you can also go to Worlds in synchro.
Deanna: We have a bunch of people at our rink, they are maybe upper teens, lower twenties, and their singles career wasn't going the way that they wanted, but they love skating, and so they joined a synchro team. That's amazing. If you train as a singles skater until you're in high school or you're 18, you can continue when you're going into college but what are your options? People end up stopping skating and not because they don't like it, because they don't have any other choice, and it's sad.
The other issue I see is that if you want to start figure skating, when you are, say, 14 years old, there aren't a lot of pathways.
Deanna: You won't like taking "Learn to Skate" with a five-year-old. I completely agree with you. There's a lot of places where we're casting a net with way too many holes.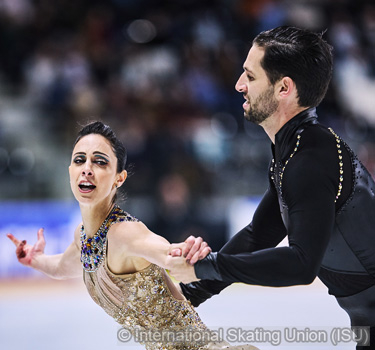 Max: If people love skating, they'll also come and watch, and the sport will keep getting bigger.
Deanna: And when we retire, we're still going to watch, especially the pairs. We're invested in it: where's it going? How's it going to evolve?
What are the most important aspects in finding the right partner? What worked well for you, or what people putting together a team or looking for a partner should be thinking about?
Deanna: Matching body types is very important. Max and I have long torsos and short legs. Or there are teams at our rink that have small torsos and long legs. Something like that is important because inherently our lines will match. Certainly, we have to perfect them, but matching will be easier than if I was skating with someone who was six feet tall with mostly legs. Matching at the skill level, if possible. If the guy can do all his triples and the girl can do a double Axel, it's probably not the greatest match. Temperament, because they have to get along, work well together, have fun, especially when they're young. If they're not having any fun, they're not going to progress through.
Max: Another super important thing: to have the same objective. To be able to push together. If one just wants to go to Nationals for fun and the other one wants to go internationally, that will never work. Even before body type and skills, this is important.
There was so much change in the pairs' field heading into this season, a lot of discussion about why there are fewer teams now. What do you think should be done to encourage more people to go into pairs and to grow this part of the sport?
Deanna: Ten years ago, if you got a score of 62 in your short program, you would have been in the top five in the world. From 2012 to the 2022 Olympics, the level of pairs went up times a hundred, as if you bought a stock for $1, and it went to a million dollars in 10 years. The growth in pairs was outrageous in the sense that it was impossible to maintain. Like with the stock market, inevitably there was going to be a correction, where the level wasn't going to increase or to even go down, potentially, to then rebuild again to something even higher. I do feel we're in a correction phase right now.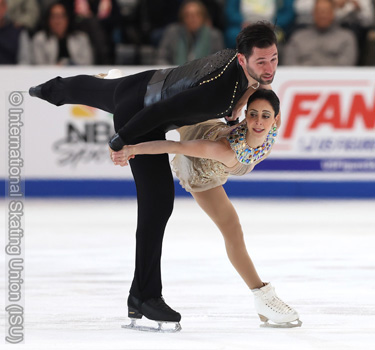 Max: And no one was retiring during that time, top teams being there for so long, while teams under them tried to keep going but all stopped [at the same time].
Deanna: We lost a lot of people. But we have some baby pairs at the rink, they're 10-13 years old. I think learning another skill when you're young is a really great thing to do. If you do pairs for a couple of years when you're a kid, you've got those skills in your back pocket. You already know to skate with somebody else, how to do a death spiral, a throw or a side-by-side jump.
If there's the possibility, they should have boys and girls at a yearly camp where they try to pair people together. Or have a pair seminar to get more coaches coaching, which they are doing in Canada. There are some male skaters who you look at when they're 15, and you think: "You're going be a pair boy. You don't know it yet. But you're muscular, you've got broad shoulders, you're not going to be doing a quad Axel." That person should already be doing pairs. I'm a pushy person, so I would say: "I think that you should strongly consider getting involved in pairs now, because you could be ahead of the game by the time you're 20." If there's a kid in juniors who got last, but he's got the body for pairs, why aren't we saying to that kid: "Hey, we think you have a lot of talent. We just think you're doing the wrong discipline. Why don't you try this? Listen, there's five girls that are interested. Here you go." I think there could be probably triple the number of teams in North America, simply if that was done.
Max: Especially for the boys, it's hard to learn these skills, so start building these muscles, learn to do the lift and be stable, you need experience. Also, maybe, adjust the level of difficulty for the lower levels, to build [gradually]. I remember back in my day, when I was doing lower levels, one revolution on one arm was a level [in a lift]. Now it's two revolutions on one arm. It's too hard for younger teams to do it, too much. Just do a nice one revolution, with good basics.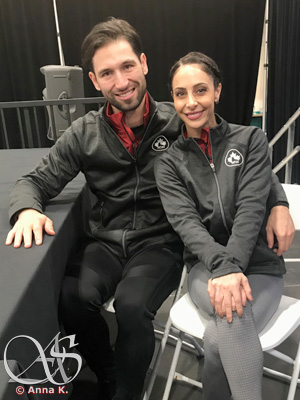 In the Junior Grand Prix this year, you could see how lifts were a struggle for many of the teams in the last group. From a learning perspective it was interesting, though, because you could see the difference and understand what the steps are that teams go through to build up their skills.
Deanna: It wasn't even so different here. Some of the teams at this event were just up from juniors, and you see the difference. Max and I, we did our one lift from one end of the rink to completely the other end, whereas some of them go from the middle. You need to learn all that stuff. You need to be able to do the most basic of lifts and cover the rink at that speed before you'd ever be able to do a level four like that. It's 1000 times harder with an entry and an exit and the one arm, the change of position. I think people wouldn't mind seeing even more basic lifts if they're flying across the ice.
Max: People would like it. They want to see a nice flow, nice execution. I noticed that fans are scared of watching lower-level pairs. If people watching aren't scared, then it will increase the amount of people trying pairs.
Deanna: No one wants to see it be dangerous. If a daughter that thought of trying pairs should see things like a fall on a lift into the boards, she is not going to try it anymore - and the mother probably won't let her!
When it comes to the polish and ease in skills the difference between you or Alexa and Brandon and rest of the teams is really notable. Does it feel good for you to be up in that category with the World champions?
Deanna: Yesterday, we weren't expecting to be that close. We're happy with our scores but this event, as far as pairs go, had the fewest names I recognize. But as the events go on, I recognize more and more. So, we'll see as we go!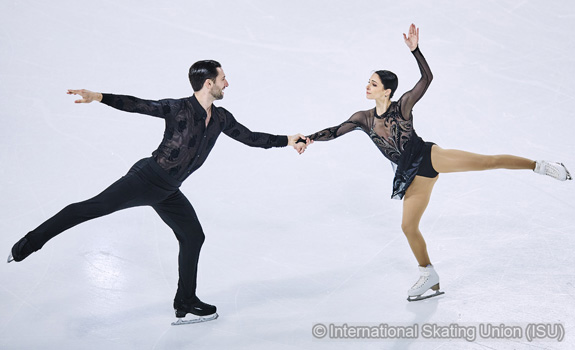 Deanna and Max have qualified for the Grand Prix Final in Turin, and we wish them all the best there and in the rest of their season!