Charlène Guignard and Marco Fabbri: in the season of their dreams
April 12, 2023
By Reut Golinsky
Photo © International Skating Union (ISU), Reut Golinsky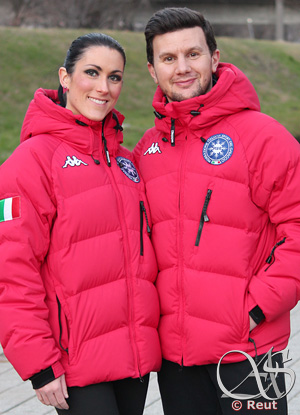 Charlène and Marco have been working towards this season throughout their entire long career. Apart from some disappointment during the Grand Prix Final, it was definitely the season they imagined and dreamed of, and maybe even more. We met in the middle of it, in Bellinzona, where they performed in the ice show "Music on Ice", before the two main events of the season - Europeans and Worlds - took place. They were clear favourites for the European crown, and a World's medal was not out of reach either, but the unpredictable nature of the ice means that nothing can ever be certain. Yet even from this talk, when we didn't mention those potential medals at all, but discussed details of their craft and development of the ice dance in general, you could see how thorough and thoughtful their approach is, how constantly they strive for excellence.
It's been a great season for you so far - gold at the Lombardia Trophy, two golds at Grand Prix events, a medal in the Final. At your first competition, the Lombardia Trophy, you said you were pleasantly surprised by the scores you received. How has it been since then? What was the feedback to your programs these last few months?
Marco: At the Lombardia Trophy, especially for the rhythm dance, we didn't expect such a huge score. As you know, this season the scores in the rhythm dance have changed because the pattern element was replaced, but it was still a really good score. We were quite impressed by the positive reception this dance got. But in our next competitions the score was not as high because I think during the Grand Prix - and not just towards us - in all the events the technical panel was quite strict. But we're still satisfied with the scores we got. Except for the Grand Prix Final because there, especially in the free dance, we got a really low score despite skating well. So we were a bit disappointed, because we lost some levels in the free dance that we were not expecting, something we're not used to, honestly.
But did you check why? Did you ask the judges?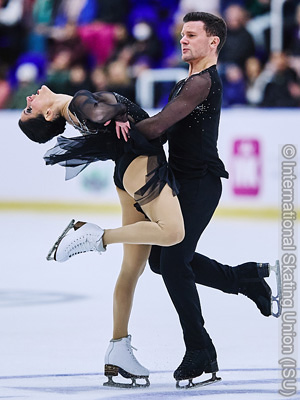 Marco: Yes, we asked the technical panel, but to tell the truth, for the first time I can say that we don't agree with their decision. It's the first time that we have said something like that. For example, they decided to give us level 2 in the spin, and this is really costly. So we watched the good quality video, which is, of course, not the same as the judges' view, when they can watch in slow motion, but it was still a high-quality video, not a fan video from the stands. The panel said that Charlène, during her layback position, raised up a bit and didn't hold it for the required three revolutions, but there was nothing wrong with her position [according to the video] and that cost us almost two points.
It must be quite frustrating because if you want to improve your score you need to know what to work on...
Marco: Of course, we feel that feedback is always very important. After every competition, even after those where we skate really well and get good scores, it's always important because there is always something to improve upon, but for the first time we felt that there were some strange calls at the Final which we didn't agree with. It was a bit disappointing, but this can happen to anyone. It was a pity because we wanted to get a good score with the competition being held in Italy...
Were there any changes you made in your programs during the season?
Marco: In rhythm dance we changed a lift because we were not satisfied with it; we already changed it for the Final because we were not getting the scores we wanted, but we didn't have enough time then, so it was not a really "winning" change. So we changed it again. We put it on a different piece of music, different cut, so we also made some adjustments there. Hopefully this will work better. Maybe it's not even a final version because we talked to Barbara (Fusar-Poli, their coach) and she said: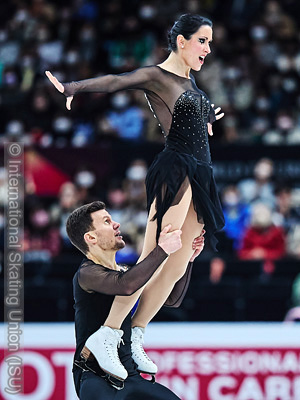 "Maybe I have another idea!" Not a big change but something that might help us to do it better. We also made some adjustments in the step sequence: we're doing it from the opposite side and we changed some steps. (After Europeans the lift in the rhythm dance was changed once again, and finally at Worlds they were completely satisfied both with the program and with the score they got for it - ed)
Having a show so close to Euros, one of the most important competitions this season for you, is it good or maybe a bit too much of a distraction?
Marco: It's good because both nights we perform our rhythm dance. It's going to be a good practice although we're not doing twizzles because this rink is smaller. It's always difficult to adjust, when you need to completely change the direction of the twizzles, [because of the size of the rink] it might be a bit messy. And so, we will be replacing it and also the lift will be the one for the exhibition. Still it's going to be a good exercise.
This is your second time at this show, the first time was last year when it was held in spring. What were your impressions from last year and your expectations towards this show now?
Marco: Last year, in April, it was a really nice experience. The rink was packed so it was exciting seeing so many people coming to watch figure skating, something that is always good to know. In April it was also really nice because it was sunny and warm outside, we could also walk around. It was a lovely experience.
Now, of course, the temperature is different, the atmosphere is different.
Charlène: And we have to rest a little bit more because we're having a competition in two weeks. The previous time it was the end of the season, we were freer.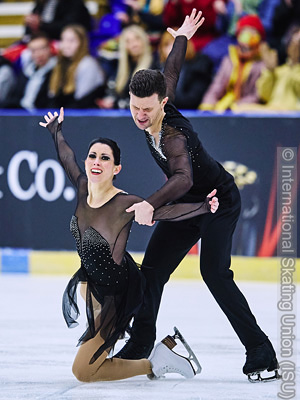 Marco: Last time it was great, I think skaters enjoy doing shows at the end of the season more because mentally you're freer and you're even more thrilled to perform. Shows are always exciting but at the end of the season they are even more fun to do.
Pity that most of the skating shows in Europe are during the winter, usually around Christmas/New Year.
Marco: I think that culturally, unfortunately, figure skating in Europe is less popular than in, for example, Japan or Russia. And because of that many people see it as a winter sport only, that's why all the shows are concentrated around Christmas time when there is this "winter celebration" atmosphere. But it would be nice to do shows in other seasons, to change this culture, because skating never stops, we always skate, even in May-June-July when we don't compete. It's not really a winter sport nowadays, it's a sport which is practised all year long!
Back to competitions and I have a bit of a "fashion" question: you have black costumes for both of your programs this season. Was there any hesitation that it might be too much or "black is a new black"?
Charlène: Good question... For the free dance the mood is dark, so it was fitting. As for the rhythm dance, I already had the red dress, the white and purple one. This time I wanted something more... not elegant, but more mature maybe. Also, it's not pure black, there is also gold and bronze.
Marco: We thought about it, of course, when we were deciding about the costumes. And we did say: "But wait, they are both black." But in the end, for the free dance we felt that there is no other choice for the characters we portray...
Dark violet maybe?
Marco: Yeah... but we didn't want to give off this vampire vibe. While for the rhythm dance, of course, we could choose from so many colours, with Latin there are thousands of options.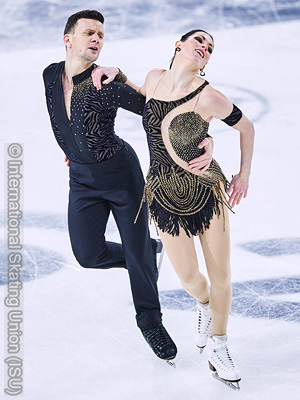 But for the music we chose - especially for the first two parts to Grace Jones, she really had this strong personality - we felt nothing gave a stronger impact than black with bronze.
You already mentioned this at the beginning of our talk, but can you explain for someone like me who has less understanding of ice dance, the main change in the rhythm dance this season?
Marco: I think they wanted to experiment this season to make the rhythm dance look different. It's always been the more technical program while the free dance was the more artistic of the two. This season the new technical commission decided to introduce the choreo step [sequence] and eliminate the compulsory part, the pattern. I think they try to give more freedom to skaters, to make it more enjoyable for the audience. I'm not 100% sure this was the perfect choice, although we personally really love the choreo step [sequence] in the rhythm dance. It gives you the opportunity to make it more expressive. In previous seasons there was not enough time to really dance, to add a lot of choreography. On the other hand, I feel this season the rhythm dance is not technical anymore, because they also reduced the number of technical steps in the partial step sequence - it's two steps for the lady and two for the man, while before it was four and four. I feel they still have to find this balance if they want to keep the rhythm dance as the technical program.
This technical program went through a lot of changes in the last years. There was a short dance, compulsory and original dances before that... You probably have competed with them all?
Marco: Charlène competed with the compulsory dance in juniors. I actually had just one competition in juniors, so I had time to say: "Ah, there is the compulsory dance." And then: "Well, no more". (laughs)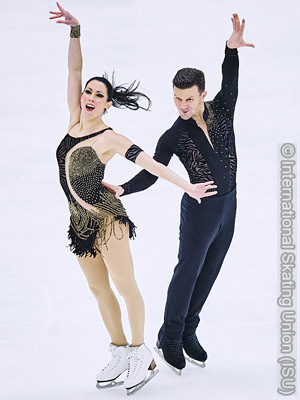 Charlène: I remember that in a way the original dance was almost like a "little" free dance. We had two step sequences, twizzles, one lift. Almost like the free dance but with less lifts. And I remember so many couples did the same elements, for example, the same step sequence in both dances. I think the move to the short dance, when they "put" the compulsory dance "inside" the original dance was good.
Do you feel that in general this is the right direction? I'm all for protocols which make the grading process more transparent, but I'm afraid in ice dance especially you can never understand the points...
Marco: I think the problem with the ice dance is that mistakes are less obvious than in the singles or pairs. Every spectator can follow the program: someone falls, someone does a clean jump and hence gets points for it. In ice dance it's a bit different because mistakes are less visible. For someone who doesn't know anything about ice dance, it probably became the most incomprehensible discipline, because it's so hard to see the difference between a well-executed and less clean step - and ice dance is based on these little things. It's not easy, even with all our experience, not sure I'd be able to suggest how to make it more understandable for the audience while keeping it mathematical. It's really hard to find this balance. The only thing I can say as a skater is that in my opinion, they are setting too many rules. If you check the handbook of single skating, it's like this (shows a medium size book), and if you check the ice dance handbook it's like this (shows a huge book). And they keep changing it...
Charlène: And there are rules for the lifts, for the entry, for the exit, we feel like we're solving a "sudoku"! It's incredible. You need to think: if I have this entry, I can do this lift, but I need a new feature, but then I can't do that exit two times, etc.
Marco: This is getting crazy. And, of course, with too many rules it's getting harder to do something more creative. We realise that every year we spend more time trying to find and show something new, because it's important for us to do something different every season. You can look at it like a pyramid: the less rules you have, the more options you get. And I feel they have to reduce the number of rules at least a little bit, it needs to be more flexible.
My last question is about your "Atonement" free dance (from seasons 2020/21 and 2021/22) which is probably my favourite of all your recent programs. It also had a special meaning for me because I really love this movie, so I just wondered whether you watched it.
Marco: Well, I first read the book actually, and I knew about this movie because of the book. The movie follows the book quite well. Of course, in the movie you can't show everything you have in the book, but it was a good adaptation, I think. And so, I read the book, then watched the movie, listened to the music and fell in love with it. We also like this movie, but the music especially, it's the style we really love to skate to, that we connect with more. Even though the story is absolutely different, the music itself (composed by Dario Marianelli) reminded us somehow of the music from the "Schindler's List" (composed by John Williams) and this is exactly that type of music which we can perform deeper to.
Touching, emotional, but also sad...
Marco: Exactly! And we love to skate to this kind of music the most. Of course, you can't perform every year to the same style of music because people will say that this is the only thing you can do.
Yes, it's always a dilemma, because on one hand as a skating fan and spectator I prefer to see different sides of you, but on the other hand it was really sad to say goodbye to that program!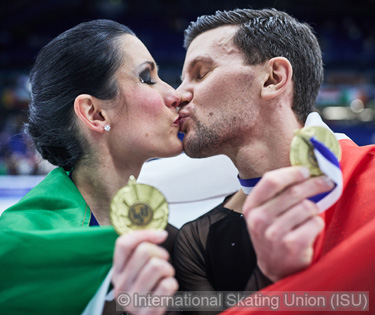 Two weeks later and after two European bronze medals in 2019 and 2022, Charlène and Marco finally won gold. The fact that this was "expected" takes nothing from their victory. In addition to having pressure as European ice dance leaders, they also felt responsibility to continue the great tradition of Italian ice dance. "We are very proud of this achievement, proud that we could get to the same result as great Italian ice dance couples before us. It's a great honour," they said during the press conference. "It's been a really long journey," they added. "It's really hard for us to express what we felt when we saw the scores. When you are younger you think about that only as a dream. And then it comes true. It's unbelievable. We are very, very happy."
After a well-deserved short vacation in Lapland, the team was back to work: "Finally, we have had a little bit of time, because this season we had many competitions, one after the other, and we didn't have enough time to work on many things. However, for Worlds we have finally found time to come together with our coach and discuss what we have to work on and what we need to improve." Their realistic goal was bronze and, as their performances were not flawless, at some point they felt it might cost them the podium. Therefore, getting silver in the end felt even sweeter. "This medal for us means so much," they said. "It's an incredible reward for many years of hard work, of difficult moments, ups and downs. We still have to process this moment because we still can't believe that we achieved this silver medal here at Worlds, but it feels really great."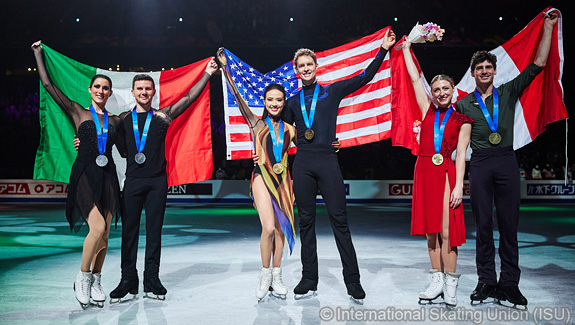 The World Team Trophy which starts tomorrow doesn't feel like a competition, more like a reward for the hard season, an opportunity to see their programs one more time and to bid them farewell. Whether this is going to be the final competition of their career the team haven't announced just yet, so let's enjoy their skating while we can. Here's to more fruitful years for Charlène and Marco, if not in competitions than in shows (and hopefully also some of them in Europe in spring!).