Mariia and Mikhail Nosovitsky: hyped towards their first Worlds
March 19, 2023
By Reut Golinsky
Photo © Reut Golinsky, Absolute Skating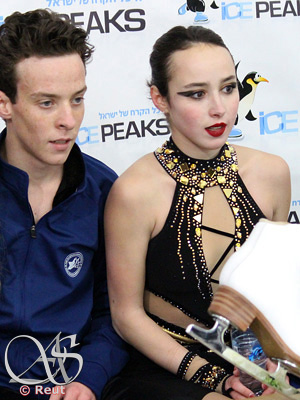 Mariia and Mikhail Nosovitsky were born in Kyiv, competed for Ukraine on a national and international levels as juniors and since 2018 moved to represent Israel. They have two Junior Worlds and multiple international competitions, including Challengers, under their belt, but Espoo 2023 was their first Europeans. We "met" in the virtual mixed zone after their free dance to discuss their European debut and more.
Mariia: Europeans are a very cool experience. Athletes who partake in this event are much stronger than us, we aspire to get to their level. So even just competing here is a big step forward for us, to the next level in our career. Rhythm dance went really well, we got season best. In the free dance we could skate better, but overall, we're pleased with the result.
Mikhail: Considering that this was our debut we're very pleased with how we skated. We've never skated for such a big audience. At Skate Canada there were spectators too, but fewer, so it was a bit stressful, and considering all the nerves, I think we did well. Of course, there are things to work on towards the Worlds.
Talking about Skate Canada, how did it go for you? To tell the truth I was surprised to see you on the roster.
Mikhail: We didn't expect it either, actually. We were preparing towards the U.S. International FS Classic in Lake Placid, when we were told that we got Skate Canada. Galit told us: "Did you see that you got the Grand Prix [event]?" I couldn't believe it at first! Thought it was the Junior Grand Prix although we were supposed to compete in seniors, but no, it was for the Senior Grand Prix! We were in shock!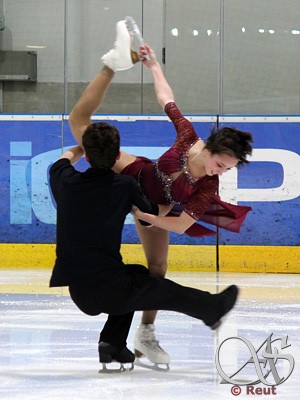 Mariia: We were really happy. It is our second season as seniors, but last season we didn't really have that many competitions. While this season was really busy and eventful, it turned out to be a great one.
And having a Grand Prix event before your first Europeans probably helped.
Mariia: Yes, it was still not easy here, but much easier. When you step on the ice, you grasp it better mentally, you're fully present - here and now.
Mikhail: We haven't really got much experience with big competitions till this season. So, after Skate Canada we were prepared much better mentally towards Europeans. Our last big competition before that was Junior Worlds 2020 in Tallinn, before the pandemic. The next Junior Worlds in Harbin was cancelled, and last season one day before we were supposed to fly to Tallinn for the Europeans, I got COVID...
If I remember correctly, nobody from Team Israel came to that competition in Tallinn.
Mikhail: Yes, since part of our team was going to the Games, it was decided that nobody is going. We all quarantined for two weeks and a half for our teammates to be able to depart to Beijing with an easy mind and no worries.
In the mixed zone during Skate Canada, Yehor Yehorov recalled how you all trained in Kyiv and were changing into the skates on the same bench...
Mariia: Yes, since we were 6 years old till something like 14-15, we were always skating together. We were really friendly, our parents were good friends, too. Then they left, we left, we were not really in touch, but now we meet at the competitions. It's always nice to meet people from our childhood, some of whom are now skating all around the world. It's nice to have people you know to talk to in the changing room. In general, I always try to keep a friendly atmosphere, even when we are all focused and less communicative, I always wish "good luck" or "have a good practice", things like that.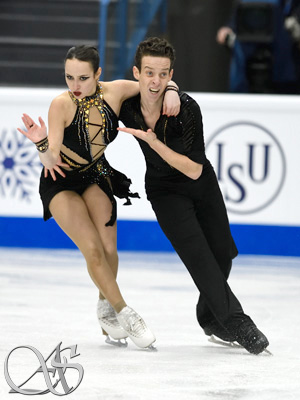 At big events like Euros or Worlds, ice dancers often start their competition later, Rhythm Dance is usually on Friday. How hard was this waiting for you?
Mariia: Actually, this time we were asked when we would prefer to come, and I wanted to come earlier to feel the atmosphere of the big event. Because at your home rink it's, of course, totally different. And so, I wanted to come, to feel the ice here. But mentally this was very hard, not physically, but mentally, because you already want to be there, on the ice, and it's only Monday, Tuesday, Wednesday. Some - pairs - already finished competing while we haven't started yet!
Mikhail: I shared a room with our single skater, he had his short program on Wednesday. And so, he says: "Yeah, tomorrow I need to skate my short program." And I reply: "And I have two more days of practice! Let's switch!"
Mariia: At some point, when you have practice and then one more practice and one more, you forget, don't really comprehend that it's a competition. In Zagreb [for Golden Spin] the situation was similar, we had four practices before we started competing and then in my mind I thought: "Well, this is just another practice."
You already have your technical minimums for the Worlds. It should be exciting considering it's going to be in Japan.
Mariia: Yes! I dream of going to Japan. The flight will be long, but it's all worth it. It's going to be awesome! And the public in Japan is always great. But here, too, the audience was really kind. They truly cheer on you, when towards the end you feel like giving up, they clap, and this gives you energy to push forward and finish your program.
I'm sure you'll get the same warm support in Saitama. Enjoy your time there and I'm wishing you to finish your busy season on a high note with two good performances.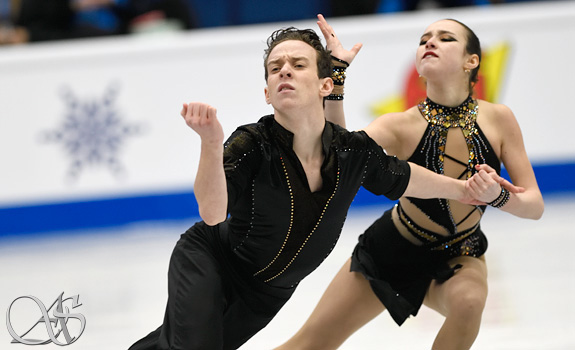 Bonus: Mariia and Mikhail at Israeli Nationals through the years