Proximus Stars on Ice Belgium, 2003
Text & Photos © Joy
Stars on Ice, one of the most famous ice-shows, was finally in Europe, for the first and hopefully not for the last time.
It's a show with lots of well-known and popular skaters. My report will talk about all of them, using the order in which they skated in the first half as a guide-line.

At first the opening, a woman whose name I forgot (Sabine something), announced several things around the show in Dutch and French. And after that the fun really started:

Morning by Edvard Grieg
Was the opening music where all the skaters came on the ice, the individual skaters did some jumps and spins, the ice-dancers showed several lifts.

What are you doing with the rest of your life? by Barbra Streisand
This was Katarina Witt's programme for the first part. Her skating is nice and elegant and gracefull, but unfortunately doesn't appeal to me very much, same goes for her second piece: 'Fever' from True Story. Especially in this part she could have tried to get the audience to participate, by snapping their fingers, but nothing of the kind.
Third to come on the ice, announced as the local boy by this Sabine, who told the audience that just before the show he said to her how 'cool' it was to be skating there. Funny though that he seemed to said so on Sunday-afternoon as well.
Of course I'm talking now about Belgium's 'own' Kevin van der Perrren.
In the first half he skated to 'the age of cathedrals' from the Notre Dame de Paris- Soundtrack. In the second part of the show he did his short programme at Astor Piazzola's 'Tanguera'. I liked both programmes, good skating, nice steps good jumps. But specifically his short programme was very appealing to me. Hopefully he skates this well in Dortmund.....

Next to skate were Shae-Lynn Bourne & Victor Kraatz. They used for their music 'Snake Charmer' – Gregorian. Great lifts, nice footwork, bit of an abstract, but nicely done programme. In the second half they had a .
very funny performance, in which she kind of teased him by waving at him first to come and then to skate away from him. At some point she even dropped him on the ice. Music then was
'Sway ' by Michael Bubble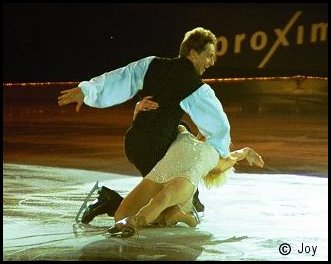 And then again another woman's single skater,
Jennifer Robinson
. She used for her programmes
'Welcome to Cuba' from the soundtrack of Die another day
and in the second part 'Teach me Tiger' by Pink Martini/Ray Charles. At Bofrost 2002 I really liked this girl, she had some 'sparkle' about her which defenitely made her a very enjoyable skater. But now she seemed to lack that same sparkle, she did her programmes and she laughed doing so, but it all seemed to me to be happening some way by using 'the automatic pilot'. She was just going through the motions, I guess. Shame, but nice skating though, just not like last year's.
'Jungle Dance' - Deep Forest/Sacred Space and 'Oriental Dance'- Hisham
This was the music Margarita Drobiazko & Povilas Vanagas used for their skating acts. Both of them are very hard to describe. Definitely good skating, nice moves and lifts but a little abstract, which I very much liked, however.

Steven Cousins used in the first part of the show Bruce Springsteen's 'Streets of Philadelphia'. Not my kind of thing. I must admit: he used the music in a terrific way and most people around me enjoyed it very much, I heard some of them say that he had a nice smile. My opinion about his smile in this act wasn't really good, it was more like: "here he comes with his fake would-be sexy smile". But to stay honest, my thoughts about him changes quickly when he came on the ice the second time together with Viktor and Katarina (more about this later). And I really liked his second solo-act 'Disco Science' very
much. In this act he skates in a black leather pair of trousers and sunglasses. Nice jumps, great hip-movements, a joy for the eye.
Oksana Baiul
was next to skate, this made a carribbean impression on me, using
Jennifer Lopez music, 'Aint it Funny'
. An enjoyable programme. Her second performance was her Olympic Medal winning programme on
Tsaikovsky's 'Swan Lake'
Still as nice as it was then, however I have the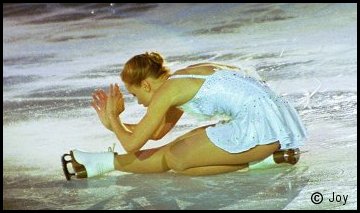 impression there were more jumps in it then, but who cares.... Funny thing was that she fell on her buttocks during the Saturday night show (no, not funny that she fell....) and after her programme, when she was taking her bows she pointed to the spot on the ice where she fell, she rubbed her behind and pouted. She definitlely won the audience's heart by doing so.
Next to come on the ice were Barbara Fusar-Poli & Maurizio Margaglio, who used Lara Fabian's 'Adagio' for their first appearance. Good programme, with lots of dramatic expressions on Maurizio's face. Their second act was their Olympic Bronze Medal winning Rock'n'Roll at 'I will survive' as played by the Hermes House Band. Still very nice to watch, they really seem to enjoy skating it.

Ekaterina Gordeeva is such an elegant and graceful skater, I could've watched her skating two or three programmes in a row. In the first halve of




the show she used 'A Sunday Kind of Love' by Etta James. In the second half 'The Red Scarf' by Stemia. In this programme she really made an excellent use of the mentioned red scarf. Beautiful!

Next was Katia's husband to skate: Ilia Kulik. His first programme, Green Tomatoes by Rick Braun was very exciting, he seemed to have a ball doing it. Ilia laughed and jumped and was so thrilling to watch I really cannot describe it any further. He never stood still for a moment, and that is very hard to photograph, like the picture to the right shows.
His second act was more serious, using James Ingram's House is not a Home. But excellent skating here as well, wow.

At the end of Ilia's first programme Katarina Witt returned on the ice with two guys;

Steven Cousins and Viktor Kraatz behind her. She skated towards Ilia, stroke her arm along his neck and he could go. The rest of the programme was a lot of throwing Katarina from one guy to the other. Both men seemed to really enjoy this act, especially Viktor had a very broad grin on his face all the time. Their music was 'Hotter than blues' by Quincy Jones.
After this threesome the first half of the show was over and Sabine was doing some kind of lottery just before the break on Saturday. Sunday she was thanking all of the sponsors.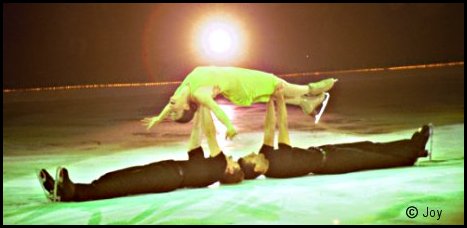 After the break was over, the second part started and all skaters did their second act, just a little different order from the first part. Since I already mentioned their second programmes in my description of the first half I won't repeat it now.
Ilia was the last to skate in part two, before the ending, which was skated to Sister Sledge's We are family. At first all the girls came on the ice, wearing costumes that reminded me a bit of an aerobics class. It took a while and than the boys came out as well.
Trying to get a standing ovation from my surroundings (Sunday-show), I was the only one standing in my block..........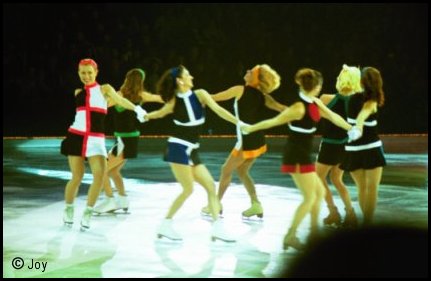 Overall I liked the show very much, I was really glad to get my hands on a ticket for the Sunday-show, so I could go another time after Saturday. Hopefully they'll be back next year (or sooner....).
Go to Photo Gallery
*** Previously published by Europe on Ice