The Bofrost Cup on Ice Exhibition Gala 2004
Part II
Text © Mireille Geurts
Photos © Joy
Following more promotion for the ARD gala and a German figure skating book, Daniel Weiss started the second part. He was a bit too fast though, the skaters weren't ready yet and got an additional 2 minutes (the audience wasn't back in their seats either, and for some reason it looked like Daniel was in a hurry).
Winning the Bronze, Matthew Savoie of the USA opened this part. He skated to a jazzy medley which to me didn't hold anything really substantial, but he ended with a nice cartwheel and even a split!
Russian team Ekaterina Rubleva and Ivan Shefer danced to a French song. They looked very cheery and performed some beautiful lifts. They even included an innovative version of the hydro-blading we all know from Bourne and Kraatz.

Ekaterina's movements even had some resemblance to Shae Lynn, or was it just the music and her short blond hair? [Joy]
On to the silver medalists; Constanze Paulinus, another German girl, skated to "I know I can't be with you, I do what I have to do." She portrayed this feeling well. We didn't see much of her jumps, but she showed us some nice spirals and spins.
| | |
| --- | --- |
| Elvis Presley had us all rocking along with Canada's Valerie Marcoux and Craig Buntin. This sympathetic pair performed a program including many lifts, fast footwork, fun interpretation and a head banging spiral which had the whole audience clapping. | |
The violin music with a beat Ben Fereirra of Canada skated to was also very clapable. Ben treated us to several triples as well as fast and fun footwork. This program was truly a joy for the eye.
| | |
| --- | --- |
| | French icedance champions Isabelle Delobel and Olivier Schoenfelder skated their already famous program "Gladiator", where they are tied together with a rope. She breaks out and in the end he does too. In the beginning there was complete silence in the audience and it pretty much remained throughout this breathtaking program. When it was over there was an awe of silence and then a deafening noise broke out. It was a wonderful performance and they got a well deserved standing ovation! |
The American girl with origins in Russia, Jane Bugaeva, rightfully went home with the gold medal. Skating to "You don't own me" she really had a good time and it was obvious she loves to skate. Unfortunately she tripped on something in the ice which threw her a bit off key. But she still delivered a great step sequence and a fun program.
| | |
| --- | --- |
| The next gold medal winners turned out to be a bit of a problem for Daniel, so he asked an assistant to help him. A fellow countryman called Maxim Staviski, who had the honor of calling Viktoria Borzenkova and Andrey Chuvilaev to the ice. And he did it with great pride! This young couple surprisingly won the pairs competition. Andrey is a very tall man, 2 meters, and they really take advantage of that. Think you saw great lifts before? Wait until you see these, they do all the great moves other pairs do too and then add 2 more positions in the same lift, it's totally amazing. The program to Sarah Brightman's "Adagio" was somewhat only going from one element to the next, but when the elements are this great, it really doesn't matter, SUPER! | |
| | |
| --- | --- |
| | And then another German on the ice and one we luckily didn't miss; Worlds bronze medalist Stefan Lindemann. He took the gold here and Daniel was naturally reminiscent of Worlds and asked Stefan on what date he won Bronze in Dortmund. It was very funny but Stefan didn't remember the date anymore. He used the music "Good Life" from the "Matchstick men" soundtrack, as I had seen the week before at Stars on Ice in Antwerp. Although in other clothes now, it was still very cool looking as Stefan again delivered this very jazzy program, containing some amazing jumps. To me it gets better every time I see it. For the encore he did a quad toe – triple toe, just like that… |
It was already the end of the exhibition, and the last winners of the gold stepped onto the ice. Bulgarian dance team Albena Denkova and Maxim Staviski performed their exhibition program of last year "In heaven". This has been seen many times before, but it keeps being amazing, especially when it suddenly is so close in front of you (second row seats). Of course it's nice to see new programs, but I wouldn't mind seeing this one a few more times first. Standing ovations and many cheers for this team and Germany wants them back again next year for sure!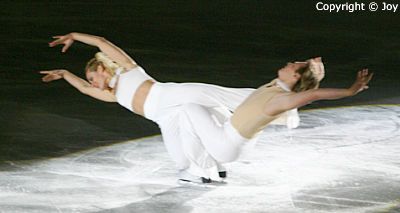 Albena and Maxim did some lifts as an encore and that basically concluded the exhibition. The entire group came out again, did their tricks and skated around and waved and then came back again to throw some leftover Worlds scarves to the audience. All but Maxim that is, he got his out of the package and wrapped it around his neck until some of the other skaters told him to throw it to the audience as well and he complied.
This reporter's company [Joy] caught one, and that was the end of another great competition/gala.
On internet we found out that a part of the Bofrost Gala will be aired at German channel WDR, on December 11 from 15.05 - 16.05.