The Polish Nationals 2004
Part II
Text © Monika Sulik
Photos © Monika Sulik
Przemyslaw Domanski

The team for Junior World Championships

Przemek Domanski had two rather nervous looking performances, but he was clearly better than any other junior eligible man at the Championships. He landed five triples in the FP, including a 3lz-2t-2t combination. His skating skills have improved a lot since last season and visibly since the beginning of this season. I was surprised at how small the difference between him and Maciej Kus in speed and softness was.
Joanna Budner/Jan Moscicki will most certainly be representing Poland in dance. They are visibly smoother and I think faster than last season and have shown improvement in the quality of their lifts. They definitely still need to tweak their Free Dance for the new system though. Despite, clearly being the best junior couple of the championships, their element mark was lower than some of the other couples'.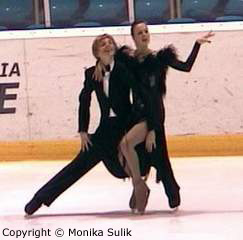 Joanna Budner/Jan Moscicki
We will not be sending a pair and whether we will be sending a lady or not is uncertain. I imagine there will be a test skate sometime in February. The ladies to take into account will probably be Ilona Senderek, Joanna Sulej, Agata Srokowska and Laura Czarnota, but we'll see what the PFSA decides.


Hope for the future

My most hopeful moment of the event came when I saw the senior pair team of Dominika Piatkowska/Dmitri Khromin take the ice. I had heard of this new partnership, but I wasn't expecting much of them, especially since they've been together for something like three months. They didn't even have their costumes ready!

Dominika Piatkowska/Dmitri Khromin

Dominika Piatkowska/Dmitri Khromin
They landed clean side by side 3t in the SP. She's consistently making the rotation on the throw 3s, but has trouble holding it (she got away with a stepout in the FP). They also tried a triple twist in the FP and the attempt wasn't bad. They have a nice double twist and showed a secure lasso lift with one hand dismount in the SP, but the lifts in the FP were very messy. The FP in general looked far from ready for international competition. But I think there's a lot of promise in this pairing. They look good together, particularly for skaters that have been together for such a short time.
They will probably not be ready for Europeans or Worlds this season, but I have high hopes for next season! :)
CoP & results it may have changed
One of the results that was met with some surprise was the senior men's FP. Funnily enough, while it's Maciej Kus who is the guy getting the higher component marks and showing higher quality skating, I think Przemek Domanski benefited from CoP. Many of Maciej's jump landings were messy and he received minus GOE for them. On the contrary, most of Przemek's landings were secure with very nice, steady edges coming out. I think this would have been less noticed under the old system, since Maciej's jumps were landed and he had a triple-triple. While the result could have probably gone either way under the old system, I'm not sure if Przemek would have won.
| | |
| --- | --- |
| Mateusz Chruscinski | Another result that was met with a lot of surprise was Mateusz Chruscinski's win over Maciej Cieplucha in the FP. Maciej Cieplucha landed four clean triples - 3lz, 3f, 3s & 3t. Mateusz on the other hand had just two clean jumps of any kind in his program - a 3t and a 2a. How he won with that? All level 2 & 3 elements and higher program components. I was glad that Maciej built a very strong lead in the SP and that he won the championship anyway because Mateusz winning would have been a very strange result... Maciej Cieplucha is not a skater who can't spin or skate properly, so for me it would have been rather sad if he had lost, even if Mateusz Chruscinski was clearly stronger than him in most of the non-jump areas. But kudos to Mateusz for using his strengths well. |
| | |
| --- | --- |
| And last but not least, the junior ladies results were quite intrigueing. It was a hard event to judge and I think the results even under the old system could have been strange, but when Joanna Sulej won the SP after landing a nice 2a, but singling her other jumps, people were rather surprised. Agata Srokowska had completed a clean 3s-2t combination, held on to her 2a, tried a 3r and showed a nicely choreographed program, but Joasia and her team seem to have studied the new system well and got a lot of points on the spins and program components. | Agata Srokowska Joanna Sulej |
Full results & protocols may be found at:
http://www.pfsa.com.pl/results/sezon2004/mp2005/index.htm