The Proximus Stars on Ice shows in Antwerp 2005
Act I
by Joyce Geurts & the rest of the 'AS-Antwerp Crew'.
Photos © Joy & EMJO
On November 19th and 20th (Saturday and Sunday) I, along with several other AS-crew members, went to see the third edition of ESOI.
This year's theme was the "Pre-Olympics", so John Williams' "Call of the Champions" played through the speakers inside the Sportpaleis in Antwerp: "Citius! Altius! Fortius!" (swifter, higher, stronger) The cast came on the ice and the "racket" (as the MCs called the show) could start.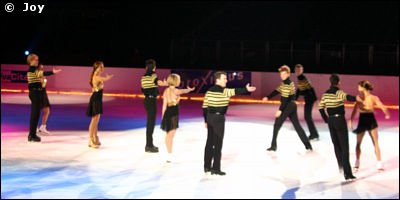 Dressed in black and gold/brown, the guys had some resemblance to bees, the girls however looked great in gold/brown dresses. The opening consisted mostly of fast moves by the entire cast, with small parts for every individual skater/pair. However, since they all had their own cold spots in the show as well, nobody needed to fear they wouldn't get his/her/their chance to show off. At the end of the opening all the skater's names were called out, one by one, by the MCs (former Olympic tennis player Sabine Appelmans and Pierre Robert) and the skaters left the ice.
| | |
| --- | --- |
| | First up to show his skills was the young Belgian Ruben Blommaert. He performed to Buddha-Bar's "Fire". The MCs informed us all, just before Ruben started, that he had only mastered the double Axel for two weeks. He would be showing this jump for the first time in public now, and he did a good job. It was nice to see his program and interaction with the audience improve in just a day's time! He was definitely better on Sunday than on Saturday, and in the show he was better than in the dress rehearsal. Way to go, Ruben! |
Next was Susanna Pöykiö with a medley from the "Down with Love Original Soundtrack". She was dressed in a pink/silver/red dress, and her program was nice and catchy to big band, perky music which called for equally perky but still elegant moves. We noticed she did the choreography in the other direction than in the practices.
| | |
| --- | --- |
| Following Susanna, Katie Orscher & Garrett Lucash stepped on the ice. Dressed in black and pink they skated their short program: an "Egyptian Disco" by DJ Disse. It was very funky, upbeat and energetic. They performed a perfect throw triple Flip, their trademark element. The way they went into the deathspiral was very original. | |
After that Emanuel Sandhu got his turn. His program, using Charlotte Church's "All love can be", consisted of being beautiful and elegant, while wearing a very tight and revealing outfit with his last name written on the back. The program had no jumps, but I was too enchanted by his beautiful and elegant skating to even notice… Not many men (or women) can pull of such a thing. Terrific! Emanuel; as of now I'm your fan!
| | |
| --- | --- |
| | The next skaters were Barbara Fusar-Poli & Maurizio Margaglio, and to be honest, their first skate in the show was a bit of a disappointment to me. Not because of their skating; it was as beautiful as ever, but because they skated the same show program we already saw in Antwerp last year, "Killing me softly" by Roberta Flack, complete with rope and all. Now that they are eligible again, I had hoped to get to see one of their dances for this year's competitions. But looking on the bright side, they wore a different costume this time, which was a lot easier to photograph! |
| | |
| --- | --- |
| Following the icedancers, and definitely not disappointing, was Kevin van der Perren. Dressed in black, he pulled off a really awesome program to "Fever" by Michael Bublé. Just as you thought he was finished, the music changed to "Sway", which wasn't even listed in the program. He performed some very sexy moves and intricate footwork. And he has some biceps! | |
It was time for beauty and elegance with Ekaterina Gordeeva. In a white dress, she skated to "A mother's prayer" by Céline Dion. Yes, this was different than in the program, but in the dress rehearsal on Saturday afternoon, they decided for some reason to switch it. Sabine corrected herself after the performance on Saturday, as she had announced Katia according to the program.
| | |
| --- | --- |
| Margarita Drobiazko & Povilas Vanagas were next to skate. He wore black; she had a red dress and they skated beautifully in a very dramatic program to the soundtrack from "The Phantom of the Opera". This program is their new freedance, and the audience responded exceptionally well to it. | |
Ilia Kulik had a problem after that; it was "Too darn hot"! He was very funny and entertaining, just the way we've all gotten to know him to be on the ice. Using the song from the "Kiss me Kate" original cast recording, he really caught the audience's attention. He "told" us he would like to fool around with his lady, but that it's just too hot! He didn't take his shirt off, but after doing a perfect Tano-FLIP, he did throw off his hat and tie.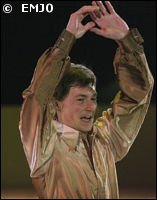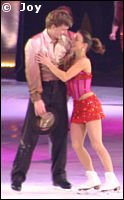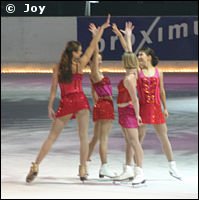 His music ended and some of the girls entered the ice. Time for a group-number? Indeed it was, starting with girls; Margarita, Katie, Susanna and Katia. They were followed by some of the men, who had to treat them like a "Lady" according to Lenny Kravitz. These ladies were no shy little kittens; they were not to be fooled around with. They let those men know it by making them do push-ups and letting them crawl over the ice after them. Good for you girls!

Go to Act II