Euros 2005 - Torino Trouble and Tidbits

Part 1
Reported by the AS Torino Delegation, compiled by
Mireille Geurts
&
Titia Tolsma

Photos © Absolute Skating
The European Figure Skating Championships of 2005 set the attending Absolute Skating crew off to a rocky start. While some of us were already in Torino, Italy, even before the event started, others didn't arrive until the Tuesday the event started, or even Wednesday. This was partially due to the fact that some of us were volunteers (later to be called 'smurfs' or blue people), some of us had all-event tickets and some had tickets only to certain events.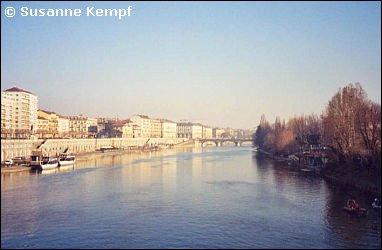 If you're volunteering and have indicated that you can help out during the entire event, chances are you have to be in the city where it takes place a while before the rest of the spectators arrive. Of course there are also a lot of officials arriving prior to such an event, and they need to be tended to and even the athletes arrive long before a general viewer of figure skating would expect. That was why some of the AS crew were already at the scene in Torino, reporting to the rest us about the arrival of several skaters, the accommodation and surroundings, complaining about the attire they had to wear, how hard it was to get them or to deal with certain aspects of the organization.
These volunteers also had a training course "how to volunteer", which one might think would come in handy. Well, it was in Italian only...
Meanwhile others were still at home, preparing to leave, when certain volunteers got word they wouldn't be allowed in the arena while not on duty. This was, by the own organization, blamed on the event being a trial run for the future Olympics. Having volunteered at previous events this came as a cold shower for the crew, because this was certainly not the case at the previously attended events and since it was already publicly known this would be the case at the Olympics, they had specifically asked for information about these kinds of arrangements. Did the organization really want to try to make us believe they knew this only 2 days ahead? Apparently so, but it's really hard to believe. Olympics or not, this organization clearly never intended to offer their volunteers anything but the 'unique experience of work with sometimes the chance of catching a glimpse of figure skating' and while it's fully understandable that the organization can't let volunteers in for free at a sold out house, the "house" was never completely sold out and it would've been fair to give the volunteers something in return for their hard work. After all, working shifts of sometimes 12 hours, not being able to watch any skating or do anything else, being on your feet the entire time, and then being offered just the "new experience" was kind of lame. Had the arena been entirely sold out, it would've been a different story, but that didn't happen, especially since the large part of the seats reserved for VIPs usually wasn't more than 1/3 filled. And informing the people who want to volunteer ahead of time so they can just buy tickets to the events they want to attend doesn't seem too much to ask.
But since they didn't, some volunteers ended up leaving for Torino not even knowing whether they'd have to work or would be able to attend some of the skating. Others arrived later, because they were still waiting for confirmation if it would make any sense to come.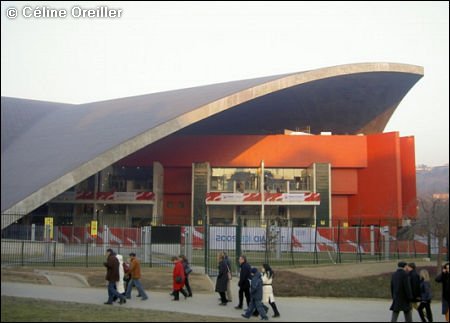 Getting the volunteer outfit (yes, the smurfy-blue one) was also a drama for some of the volunteers. It was easy to get lost in the directions, because the clothes weren't to be picked up at the arena or somewhere else close by, but at an office above a mall. Going from the Palavela arena to the part of town called the Lingotto District, asking directions at the Meridien hotel in the Lingotto District to be sent back to the Palavela, only to be sent to the Lingotto District again, with the right directions this time, the office was finally found; 16 original dances could have been witnessed during this time, including ice resurfacing!

Having this kind of background information makes it a lot easier to understand why some of the volunteers were completely stressed out and ready to snap at you when you did something wrong. And it was terrible that most of these volunteers didn't seem to understand or even want to understand any English, or any language besides Italian. Not really clever for an international event… Picking up your tickets was an easy task, but oh the horror if you asked or got asked any questions! Or if you did something out of the ordinary, like arriving early to an event because you wanted to watch practice, which all-event ticket holders were entitled to. But try explaining that to 6 people dressed in blue! Yes, they were numerous alright (too numerous according to some skaters), but when none of them spoke any English at all, it didn't help a bit. And having to show your tickets 4 or more times before you got in your seats got quite frustrating too, especially as it happened everyday. This led to having frustrated volunteers and a frustrated audience, something one should not strive for when trying to stage such a huge event.
And while on the whining path, let's deal with the arena too. The Palavela was just rebuilt and may look aesthetically perfect, but there are quite a few things about it that aren't ideal for the audience. It's built of concrete, and the audience seats are concrete steps with metal seats without back supports. Most of the readers already know this through the numerous reports, so lets not elaborate further.
| | |
| --- | --- |
| | To summarize; it leaves no space for your bag or coat (Not that you ever wanted to take it off, since it was so cold). Your feet are on the butt of the person sitting in front of you, while your back is comforted by the feet and knees of the people behind you. The organization is obviously aiming for a full house; but with feet to back, back to feet and shoulder to shoulder, there isn't much room to move. But why would there be? A competition event only lasts about 4 hours… |
And toilets, who needs them anyway? There are 2 ladies' and 2 men's per level, by the entrances. With the arena seating 8.500 people this makes (very random count, not including ISU tribune and toilets there) 24 to 6000 people, or 4 toilets to every 1000 people, pardon me if this was miscalculated. But there was no mistake about the long lines and people deciding not to go, and giving up the thought of even filling up their water bottles. There were complaints about this at the press conference held by the Olympic Games committee on Sunday and there were also remarks made by the skaters that the rink seemed a bit small for Olympic games.
Also, by some, the skater's warm-up area was regarded as way too small and while warming-up, TV-cameras were annoying and persistent, almost to the point of harassing!
| | |
| --- | --- |
| | Getting to the arena wasn't always easy. By taxi it was sometimes 15 minutes, sometimes 45 from the same starting point! This is because there is lots of traffic in Torino (ok some taxi drivers taking alternative routes doesn't help either). By bus, it was sometimes 20, sometimes 50 minutes from the main station (Porta Nuova). The TOROC is hoping to solve the big traffic problems by building a metro line that will link the city centre to some Olympic venues. The only thing that wasn't planned was the finding of Roman ruins while digging out some squares where metro stations have to be built... |
But that's not all. There was no hot food available, and at the beginning they even tried to forbid eating your own food in the arena. Luckily this changed, and hot dogs became available later in the week. Sandwiches were also available at the food-stands but out of stock already in the first day. Just like the tea later in the week. Directly outside the arena, there was one restaurant, opening after 8 o'clock at night, because that is when the Italians eat dinner (exceptions on weekends only).
The skaters were served cold pasta and were joking about writing a petition to have the Olympics without an audience because then the seats shine so nice and brightly. The press people weren't even offered cold pasta, they got nothing at all! The volunteers did get free food but only one meal a day, choice between lunch -available between 12 and 2 - and dinner after 6 (while the eveningshift started at 6). Except the lunch packages, those were available all afternoon. So they mainly ate those.
And we all got our own involuntary souvenir to take home… concrete dust! Everything you put down in the arena; doesn't matter if it was your bag, coat or butt, you were destined to take some concrete dust with you; there was just no way around it. Would hosing down have helped? I don't know, I am neither an engineer nor an architect, I just know concrete is dusty!

And while not being an architect or an engineer, I do know that open doors on opposite sides, directly facing each other, will create a draft. This explained the wind in the arena, making it too cold for the audience while being too hot for the skaters (the ice was one level down, thus not in the wind stream).
| | |
| --- | --- |
| | The doors had to be open, because you cannot get into every section within the rink without having to go outside first and then take the stairs back in, making it a very long way to go back and forth (for example when being a volunteer on duty). |
By now you must be thinking "was there anything positive about these championships?" and sure there was! The skaters and the skating! There was also some talk about the judging, as usual, and maybe even more so with the new CoP system. But figure skating is still a sport that can be enjoyed, and we did. It was the skating that made all of the above bearable. It might not have been a top-competition for all disciplines and their respective skaters, but for a fan there's nothing quite like live skating!
Europeans is a major event, so all the skating witnessed will not be described, it would be quite redundant since most of it was aired on TV throughout Europe and later also in the US and discussed on most skating boards and sites. So this report will be restricted to some personal highlights and downers and other things happening around the ice and arena that might not have been caught on TV.
Go to part 2