Euros 2005 - Torino Trouble and Tidbits

Part 3
Reported by the AS Torino Delegation, compiled by
Mireille Geurts
&
Titia Tolsma
Photos © Absolute Skating

Thursday was the day of the original dance and the men's final. We tried to get to the arena early to catch the last two groups of men practicing, but because of the Fiat employees striking, no one was let in. That made no sense to us, but yeah, what could we do? We got in eventually, sometime during the last group and heard we even got lucky, because other people had been waiting even longer, over an hour!
It was very nice to see the two gold medal contenders rivaling even here, or pretend they didn't know each other while skating by. Kevin kept on trying his triple axel. The interaction between skaters and their coaches was interesting to watch and Stefan really seemed 'on'.
The Original dance made a fun afternoon. It was great to see how much Sinead Kerr enjoyed the audience! The Kerrs had to wait a while before they could start their program and she kept making contact with the audience and flirting and waving. Quite a contrast to some others, being very focused.
| | |
| --- | --- |
| | We already knew Albena Denkova was quite sick, she was even seen crying at the end of their training session in the morning, so it was no surprise she didn't look as much into the program as she usually does. She was very unsure, although Maxim Stavisky surely tried to make up for this, singing along to parts of the program. She was coughing badly at the end of their program. Still it was quite a shock to see their ranking and it wouldn't be a very big surprise to hear of their withdrawal the next day. |
Tatiana Navka, having feathers on her behind, left a part of her costume on the ice, making the flower girls pick it all up, even after the next couple (the Kerrs) had been on the ice. Ms Navka was heard being called a 'chicken' in this costume and maybe she should consider wearing something else for Worlds. Navka/Kostomarov did take the lead with this program ahead of the Ukraine team Grushina/Goncharov. Rightfully so? We really couldn't tell, they did have more speed than the Ukrainians, but technically they looked inferior. The couple from Israel was back in the run for the medals again, and they skated very well, very energetic and of course with their usual speed and flow.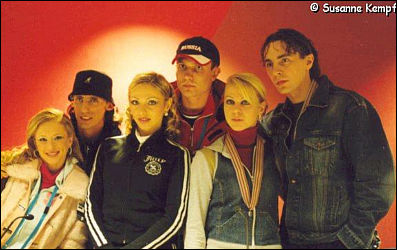 It was an interesting skating afternoon, with the new judging system seemingly working well in the lower ranks, but a little less well in the top groups. Let's hope these were beginner "nerves".

The kids in the arena were booing some of the French skaters, leaving us wondering why. This is not acceptable behavior at a skating event and not something we want to see repeated, it's not soccer!
A very positive point was the music played during the breaks. It was entirely different from what we'd heard during programs and it was really good. It made your body wake up and want to move, to dance. Really a plus point, hope they won't change that during the Olympics!
Somewhere during this part of the competition we learned that there had been some talk in the corridors, picked up by Dee & Mige, about fixed medal spots for the men. Since this were only rumours we had no way of knowing how much truth was there, but it did fit into all the happenings at that point.
Mishin had 'lost' his protégé Plushenko, but found him soon enough (sometimes the blue people did come in handy). He appeared to be quite nervous, which is not surprising since having his protégé in second place.
Something should be said for Evgeny; he has gotten so much more comfortable with the press! His English has improved and is quite good now and he made a lot of jokes. There was always laughter when he spoke.
Ari Zakarian was a bit puzzled when asking a volunteer in Russian if she spoke Russian, and he got "nyet" for an answer. He also seemed to have the idea that the Netherlands are very close to Africa. Sure Ari, if you think so…
The language difficulties wasn't just a problem for the audience and the Italian speaking staff, but also for the English speaking volunteers it could be quite difficult. At the information desk there was no one speaking English so the skaters turned to those they knew who did. For example where the draw would take place. But not assigned to the info-desk, these English speaking volunteers didn't receive this information from the organization. The people assigned at the desk had learned the answer "on the second floor" by heart, but they didn't understand the questions. So the others told the skaters. Can you imagine their surprise when the skaters came down from the second floor and told them it was actually on the first floor? The skaters thought it had just been a prank and played it on other skaters too. This remained the running gag all week. Although the spot actually changed daily: "Draw? Yes, second floor!"
We stayed in the arena during the break, yes, this was actually allowed, and sat down (outside the actual rink) to eat a sandwich/muffin and drink some coffee, no tea available alas.
After that; men's final! It started off with Italy's own Paolo Bachini, who seemed to have fun skating here. The British guy, John Hamer, had a fun step sequence and we did enjoy his 'freedom blades' moves. Vitaly, being awed by my company, had a very typical skate with some weird but very enjoyable moves.
Ari Pekka Nurmenkari from Finland did look a lot more grown up this season, but unfortunately had a disastrous skate. But for some reason he managed to catch our attention, or would that have been the bright smile he flashed in our direction when picking up one of the kids, err, stuffed toys, being thrown on the ice?
| | |
| --- | --- |
| Quite amusing was the stuffed elephant being thrown on the ice for George Chiper of Romania, it almost looked bigger than the tiny flower girl carrying it off the ice. Too bad he never got to actually see it, publicly that is. To our disappointment, the items picked up by the flower girls were not presented to the skaters in the Kiss & Cry, but behind the scenes. That took a lot of the fun out of throwing things on the ice. We understood some skaters didn't even see their gifts and left them behind. | |
Samuel Contesti of France skated to "Schindler's List", and it was better than remembered from the Bofrost Cup on Ice. He has very original ways of going into some jumps and the audience really seemed to appreciate it. Brian Joubert had a pretty good skate to the beautiful music of "1492, Conquest of Paradise". It brought back a lot of memories of Elvis Stojko using that music, the same way Plushenko's "Godfather" reminded us of Philippe Candeloro.
Stéphane started off well, landing the triple axel just fine and (since the injury) his quad toe again, but unfortunately seemed to lose focus later in the program. He sat in the Kiss & Cry totally destroyed and even more so later in the audience. He was really mad at himself and was devastated over it, it was a sad sight indeed. Kevin, fortunately, had a great skate and landed his triple axel again, something we were very happy about. Going back to his "Robin Hood" program (although adjusted in choreo) seemed to have been a wise decision. Being in 6th place at the end of the competition made him a very happy camper.
Plushenko had a great skate, the only flaw was doubling the 3 loop, setting the entire audience on fire, wow! Stefan, who skating after Evgeni, had a hard time, and started with basically no applause or support at all, but managed very well anyway. A good skate and we were tickled he proved he can win a medal even away from his home crowd.
| | |
| --- | --- |
| | After this event we went back to our hotel to get some well deserved rest. Not all of us did though, as some of our crew didn't care much about sleep and instead collected bar-memories. There was a story about Gregor and kiwis, apparently he liked to throw them around... Let's just conclude they enjoyed themselves. |
Friday started with some Torino city troubles for us, some messed up arrangements, mix up in the traffic, traffic jams etc, causing us to arrive at the arena way too late for the ladies sp. The traffic wasn't just annoying to us, the skaters also complained about it. Some nearly missed practice and many meant the hotel was way too far away from the rink.
We were actually glad we made it in time for the free dance, and we didn't even manage to have dinner yet! Our little corner audience briefed us about the sp, and we were very pleased to learn and we were very pleased to learn that Karen Venhuizen of the Netherlands had skated well enough to make the final. It looked like we'd unintentionally missed a lot of well skated programs, but luckily there was Eurosport and helpful people with VCRs at home.
And again the language problem showed his ugly head. Jaqueline Belenyesiova from Slovakia had problems with her skates and a repairman came to fix them. But surprise, he only spoke Italian. This time the volunteer on duty did speak English, but Jacqueline and her coach don't. So another volunteer girl was needed to make the necessary translation. It ended up like this: Jacqueline told her coach in Slovakian, the coach who speaks Hungarian, told it to a Hungarian speaking volunteer, who explained it to her boss in English and she could then tell the repairman in Italian. And of course all the way back for an answer. Well, at least she got her skates fixed...
The free dance was a night of entertainment we had looked forward to. Of course we were saddened by the withdrawal of Maxim and Albena, but considering the circumstances withdrawing was a very understandable and probably wise move.
| | |
| --- | --- |
| | The couple from the Czech Republic, Diana Janostakova and Jiri Prochazka, were the ones standing out in the first group. They skated to "the Notre Dame de Paris" and choose dramatic parts of the music, but still had plenty of speed. They showed us some really nice and original elements/lifts and skated with lots of flair. This was their first European Championship together and they still have a lot to learn, but their program was very enjoyable. |
In the second group the Polish team, Kauch and Zych, took a bad fall coming out of a lift, which was sad since they had skated well. They quickly got up and moved on but seemed shaken up. This was quite a shock and the couple themselves looked devastated at the end. The German Beiers have a great FD this season, portraying an Indian couple. Their costumes are great and with every performance this dance gets better, although this was not their best. A bit distracting during the performance, but much fun to watch, was their coach, Martin Skotnicki. He was so nervous and ran up and down the rink. He must have been very tired after his team had skated.
| | |
| --- | --- |
| The third group got a little 'hairy', with all the Cats playing around. Two teams (Gudina/Beletski and Pechalat/Bourzat) used the music from the musical right after each other. Gudina/Beletski had a nice showy program and skated with much flair. Pechalat/Bourzat's version was very different as they really portrayed the cats. It was very cleverly done and well performed through most of the program. The Hungarians Nora Hoffman & Attila Elek were so sweet to each other before the start of their program to Spanish orientated music. They used very original lifts and difficult steps, all with a lot of speed. The last footwork section really brought the audience to a 'wow'! | |

The Kerrs had an off night, as Sinead later confirmed on their AS message board. They didn't skate their best, a bit slow and messy unfortunately, but it was still an entertaining program to watch and we are sure they will rock the house at Worlds.

Faiella/Scali brought the mostly Italian audience to loud cheers with their joyful skate to "Think" by Aretha Franklin. Kristin Fraser & Igor Lukanin had a mixed skate of fast and melancholic music. They portrayed all emotions in the music very well, using innovating elements, had a fantastic lift and still kept the pace.
The last of this group Domnina/Shabalin also had a great and very expressive program. The choreography matched every beat of the not so easy music, holding the power until the very end, impressive!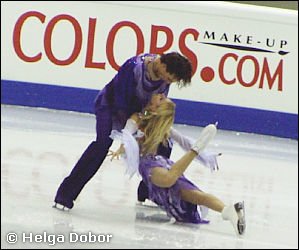 Elena Grushina & Ruslan Goncharov started first in the last group and what a start it was! A beautiful program, full of original moves and lifts, all performed with wonderful speed and unity. Isabelle Delobel & Olivier Schoenfelder skated their technically very difficult and classy freedance with bucket loads of feeling and flair. It was pure magic on the ice. They saluted the enthusiastic audience and waved particularly to the people throwing stuff on the ice. It was also very cute to see Isa's extremely happy reaction when they got their points.

| | |
| --- | --- |
| | Chait/Sakhnovsky performed another fast program and it was particularly nice to see was how sweet he was to her before they started, even before the cameras were on them (but still resting on the happy Isabel). Galit looked very nervous and Sergei was intensively talking to her, like he was giving her half of his courage. Navka/Kostomarov skated a nice, but not flawless, program to the beautiful music of Tosca, earning them the gold medal. |

It was an evening of amazing skating. No comments on the end result, let's just say that the outcome wasn't ours, but hey, it's still icedance, right? Not questioning the placement, but still an 'aaaww'-feeling for the Israeli when they just fell out of the medal range, again.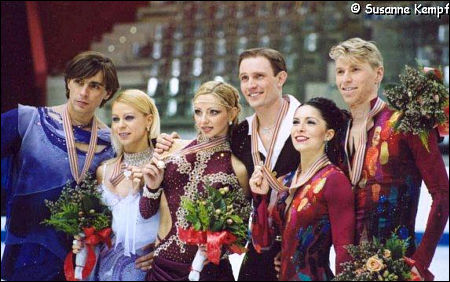 At the end of all this we needed some time to call our hotel to pick us up (and explain this) as we had miscalculated when the dance would be over and arranged the taxi-service wrong. To make a long story short, this seemed not to be explainable to 6 (!!!) Italian-speaking-only volunteers (even though the word 'taxi' is the same in Italian) and making them even want to call security on us. We did leave on time, but on a very frustrated note…
Go to part 3