Euros 2005 - Torino Trouble and Tidbits

Part 4
Reported by the AS Torino Delegation, compiled by
Mireille Geurts
&
Titia Tolsma

Photos © Absolute Skating
On Saturday we decided to work on some Internet issues, seek some background information and make a stop at the Majestic hotel to arrange some dealings and meet ups. While being there, we accidentally bumped into Kevin van der Perren, who didn't know we were in Torino and mentioned that he hadn't seen us earlier. Of course he hadn't been watching TV where we were shown several times, but one of us (that person prefers not to be mentioned due to obvious reasons) replied: "Well I saw you!" - A very clever answer, after the men's sp and lp already passed...
| | |
| --- | --- |
| We noticed Evgeny Plushenko walking around, being a lot more relaxed without his numerous fans being present, and same with Maria Petrova & Alexei Tikhonov. Galit Chait came all dolled up in one of her very famous pink outfits. It became apparent that it was her birthday, as we caught Sergei giving her a huge bouquet of flowers and heard Tatiana Tarasova singing "Happy birthday". They had a nice, relaxed party in the lobby. | |
Oleg Vassiliev was very desperate to use the computer, which was a problem, since it was out of order. William Beier was looking for something and we saw him pass by 5 - 6 times.

| | |
| --- | --- |
| | Going back to the arena we managed to catch the last group of ladies, although if we had known before hand how disastrous those skates would be, we might not have bothered. On the bright side, Susanna Pöykiö skated quite beautifully and in our hearts she won the long program (not talking about the entire event, as we missed the sp's). Irina Slutskaya herself was walking around looking quite puzzled. |
At night, after having had a terrific real Italian pizza, we decided to meet up with our fellow AS-girls in the most exciting place to be for an fs-fan on the Saturday night of such an event, the skaters' hotel lobby! They had the banquet that night, because so many were leaving on Sunday afternoon. Maxim Stavisky walked by; when asked how Albena was doing he smiled and said "quite well, she is resting in the hotel room". He seemed very pleased by the attention and was handing out the calendars they make for their fans. It is very amusing to see some skaters really enjoying the attention, while others walked in, saw all the people in the lobby and fled into the elevator.
Plushenko even dared to venture into the hotel lobby and stay for a drink, Mishin was caught dancing with volunteer girls, an enjoyable sight.

While many skaters walked by, the local star Carolina (Kostner) was nowhere to be seen and reportedly she didn't even go to the banquet, being fed up by all the people expecting too much from her. She is known for liking practice more than performing in front of an audience and having Euros in her home country, with all the attention focused on her, must have been very hard.
We decided to call it a night and went back to our hotel.
Some others went to the skaters' party and it was a lot of fun! But we got several reports that catching the bus back had been a real problem. It was supposed to come at 2 am, but from 1.30 to at least 2.30, there hadn't been a bus in sight! Calling a taxi seemed to be the only option next to standing out in the bitter cold, but cabs were scarce and the complaints many. It was a great party though where everyone got a free drink and some skaters were seen wearing cowboy hats.
On Sunday we arrived in time to witness the gala practice, which is a must! To begin with the group performing in the first part of the gala (before the intermission) would practice and then the others arrived for the group practice, preparing the closing, and finally the second group practiced their solo spots. It is very funny to see some of the skaters being half asleep (Julia and Sergei), some waking up during practice (Julia Sebesteyen), some who never woke up (Stefan), some being bored stiff (Stéphane) and some feeling quite at home (Carolina) etc etc.
Since we were just waking up ourselves, there aren't that many notes. The German couple didn't do much, Aliona Sawchenko was practicing alone for the most part, while Robin Szolkowy only skated around, very slowly. Julia Sebestyen was a bit late because the security people didn't allow her to leave the bus. She had to wait for 10 minutes until the security check was done, then the bus drove 2 meters and then she was allowed to get out. Okay...
Not that this story was very surprising, half the time the skaters weren't recognized and got asked for names and accreditations so often really got annoying to them.

| | |
| --- | --- |
| | At the group practice, Maurizo Margaglio was the coordinator. Faiella/Scali and Chait/Sakhnovsky started out standing in a square, which was all understood, but when starting the run-throughs Sergei managed to miss his starting position at least twice, making the start a bit difficult for Chalit. Sergei seemed to be easily distracted. ;) At the end of the gala, after everyone had been introduced, the idea was to have the group of ladies and the men form a triangle and skate towards each other. |

But both groups were very confused about who should be where, and resulted in one big confusion-fest and poor Maurizio stated: "The girls were perfect, the men a disaster" and everyone laughed which concluded the group practice… The YMCA music played and some skaters' facial expressions were priceless (Oliver) and some were going wild dancing like their life depended on it (Andrei G.). It was decided that Federica (Faiella) and Massimo (Scali) would do the dance first and then the rest would follow. We were waiting for disaster to strike.
| | |
| --- | --- |
| | After this the first group left. The day before, a volunteer had to run to town to pick up a CD of Tom Jones with "Sexbomb" on it, as Plushenko forgot to bring his music. It wasn't hard to figure out what he would do. His run-through was hilarious, because while his music played he wasn't doing much, and it looked very silly when he made some half moves, like he was embarrassed to do the program without the muscle suit. Carolina skated her program beautifully and Obertas/Slavnov had a hilarious gala number! It was silly looking without the real costumes, but also with. |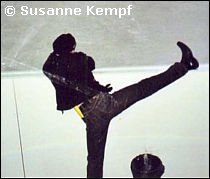 Mr Alexander Zhulin proved he is still as flexible as in the old days.
Of course Edvin Marton was also there and after the practice sessions he practiced too, play-backing the violin which looked odd to say the least. Afterwards he told us he would be in Torino again next year and would even open the games (not sure if he meant the opening ceremonies or just the fs-part), backed up by 15 live drummers. Sounded pretty cool!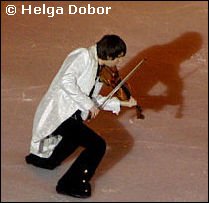 Between practice and the gala we caught up with the corner Dutch audience, and they informed us that although Karen Venhuizen had managed to get into 20th place while being sick, the Dutch Federation had decided she should have made 18th and would send the runner up to Worlds, instead of her. That sounded insane! Nothing against Martine (Zuiderwijk) but she was clearly second at the Dutch Nationals. It seems the federation was just harassing Karen, and trying to make her quit the sport. Her funding had been cancelled this year and she'd had to arrange and pay for everything herself, but she still won Nationals! She may not be the best skater the Netherlands ever had, but she is the best right now, so how about some support?
News update: Karen Venhuizen appealed the Dutch federation's decision and won, and she will now be competing at Worlds in Moscow. Good on you, Karen!
Skating politics was a term we really started to hate. Luckily, the before mentioned rumor about fixing a medal in the men's event, didn't happen the way we heard it. If this was because of the way things turned out or because the rumor being false we don't know. It's common knowledge that fixing podium spots is a scenario not new to the sport. And there were more rumors flying around, not about this event, but about the upcoming World Championships and the top 3 positions in ice-dance. We sincerely hope that won't be the case. The judging, the scandals and even the skater-dramas won't kill the sport, but the politics might. Let's hope that this is understood by all involved and that it won't ever come to that.
Concluding this event was, as always, the gala. The second part was aired by Eurosport, unfortunately not the first. It was a great show, as most of you have seen and read. Elena Sokolova skated to a very beautiful song, using a scarf as a prop. Andrei Griazev skated his tango sp from last year and really had the audience going, skating with so much passion we almost couldn't make him stick on our photos. Galit and Sergei skated their entertaining "Gypsy King medley" and Julia's "Singing in the rain" with the umbrella was very entertaining. Stéphane really got into his music, skated with his heart, and sang along so much he almost forgot he had to skate too! It was the second time we saw Delobel/Schoenfelder's exhibition to "Gladiator", and it was as beautiful as the first time. The second half of the gala, after the intermission, was aired in its entirety. It was a terrific show, making us leave the arena for the last time with a very good feeling.
We had to leave immediately because we had to take the train to Milan the same night and catch up with one of the volunteers to travel together. She almost didn't make it though, since she was in a bus with, among others, Elena Sokolova who, when the driver didn't turn up on time, suggested she could drive the bus. All the way to Moscow, arriving just in time for Worlds...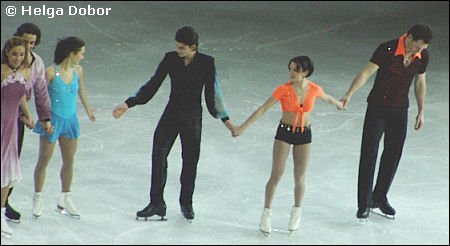 To make a concluding remark about the event, yes, it was great and yes, we had a terrific time. But take out the skaters and the skating and the experience would have been mostly negative. We sincerely hope the organizing committee reads similar reports and learns from it, and that it intends to make the necessary improvements. Let's all keep our fingers crossed that next year's Olympics will be something to look forward to!