U.S. Nationals
Portland, Oregon January 9-16, 2005

Part II
Text & photos © Kristina Ziegler
Ladies
Novice Ladies – I attended the SP, but no one stands out for me.

Junior Ladies – I attended the SP, and the one I'm watching is Anna Peng, who finished 4th overall. She has a lovely style but made some mistakes in competition.
Senior Ladies – Short Program –
Amber Corwin does the only triple-triple in the event, then doubles her next jump.
Beatrisa Liang was superb, full of energy, skating to music from the "Harry Potter" soundtrack. She was robbed in the marks but received a standing ovation.
Jennifer Kirk (left)– her program to the soundtrack of "Chicago" from last season. Excellent, no mistakes, really got into the music and sold this program.
Kimberly Meissner (second to left) – lovely, delicate, long limbed.
Sasha Cohen (second to right) – a hand down on the triple lutz marred an otherwise outstanding SP, the first time we've seen it this year since she did not compete in the Grand Prix.
Michelle Kwan (right) – completely solid, expected to win this event, lovely program to "Samson and Delilah."
Emily Hughes – all eyes on her as the sister of Sarah. She's good.
Senior Ladies – Free Skate

With Michelle Kwan fully expected to win her 9th National title, Sasha Cohen expected to make mistakes, the only real excitement for me of this competition was Kimmie Meissner and her triple axel! I went to several practices and saw her land a total of 4 triple axels that were perfect. When she did another during the warm-up, it was clear she was going to put it into the FS, and I noted where it came on the ice so was very ready for it in the program! Well, she barely held onto it, but she did it, and she made history! The first triple axel by an American lady since Tonya Harding in 1991. What a bright future this young lady has!
Jennifer Kirk seemed calm and cool, did well, but less of a spark than in her SP.
Sasha has made some improvements to her "Nutcracker Program," and she finally has the costume, but a fall isn't going to put her on the top step.
Michelle again was totally solid and deserved the win. But I cannot see how she deserved any 6.0's for presentation (much less four of them) when she was slow and off her music for most of it.
Final Standings:

1) Michelle Kwan
2) Sasha Cohen
3) Kimberly Meissner (too young for Sr. Worlds, she will go to Jr. Worlds)
4) Jennifer Kirk
5) Beatrisa Liang (I'd have had her 4th)
6) Emily Hughes
7) Alissa Czisny
8) Amber Corwin
9) Katy Taylor
10) Megan Williams-Stewart (a lovely skater)
11) Danielle Kahle
12) Jane Bugaeva
13) Erica Archambault
14) Stephanie Rosenthal
15) Angela Lien
16) Yebin Mok
17) Katherine Hadford
18) Shanell Noji
Men

Novice – I didn't attend.
Junior – I attended two practices and the Junior Men's Freeskate. The ones I'm watching for the future, based on practices and Tommy Steenberg and Princeton Kwong. In the event, Jeremy Abbott deserved to win with the "cleanest" performance of the day. No clean FS, and no triple axels.

Senior Men – Short Program
This was a truly incredible event, as we were out of our seats many times! Evan Lysacek started it off with last year's toreador program – with more energy, less "arm flailing" and a great sense of excitement. However, to see a 6.0 for presentation for that was a bit much. Standing ovation.
Ryan Jahnke had a terrible week overall, even his practices were poor, and it was painful watching him compete, as he just didn't have his jumps.
Matt Savoie (left) was superb in the short program. Beautiful line, transitions, perfect jump landings. However, his combination being a triple flip-triple toe seems to be his downfall in the technical marks. I think he should have been placed higher based solely on presentation. Standing ovation.
Scott Smith was great in the SP but was marked low due to skating early.
Michael Weiss (second to left) just did not seem to be "into" this competition. His "Henry V" program lacked any sort of spark, and he fell on his quad toe, thus having no combination.
Timothy Goebel was probably the best I've ever seen him, although thinking back I cannot remember any specifics about this program. Standing ovation.
Johnny Weir (second to right) had some slight problems on his triple axel and triple flip landings, the kind of problems that for almost any other skater one would applaud as landed jumps. The circular step sequence made the crowd roar. Standing ovation. Johnny said that he didn't know how he got a 6.0 for presentation.

Free Skate
Derrick Delmore had the skate of his life here, a clean program well skated. Standing ovation.
Two of my personal favorites, Scott Smith and Jordan Brauninger (right), each had several small mistakes that added up to not great placements, which was disappointing.
Shaun Rogers, the surprise in the final flight, did not skate well, with several falls.
Michael Weiss again just seemed to give up. His rock music program just isn't fast enough nor is it well choreographed.
Matt Savoie was great again, more edgy music than he usually uses. He needs to work somehow on portraying more of his charisma on the ice, as he is a truly beautiful and gifted skater.
Timothy Goebel had a few mistakes and didn't skate with the emotion of the SP.

Johnny Weir was breathtaking, taking full command of the ice from the moment his program began. Two tiny mistakes – a scratchy landing on the triple flip that prevented adding the combination jump and two bobbles on the straight-line footwork. It was clear that he would win from the second jump onwards. Standing ovation.

Evan Lysacek – enjoyed his "Singing in the Rain" FS. Standing ovation.

Final Standings:

1) Johnny Weir
2) Timothy Goebel
3) Evan Lysacek
4) Matthew Savoie
5) Michael Weiss
6) Shaun Rogers
7) Derrick Delmore
8) Nicholas LaRoche
9) Scott Smith
10) Braden Overett
11) Jordan Brauninger
12) Jordan Wilson
13) Ryan Jahnke
14) Wesley Campbell
15) Jason Wong
16) Parker Pennington
17) Daniel Steffel
18) Mauro Bruni
19) Pierre Balian

Exhibition Gala
The event on Sunday first featured some local talent. Two young girl singles skaters, a group of ice dancers ages 12-59 doing a group number, and a Special Olympics husband and wife team
The gold medalists in all disciplines for Novice and Junior, and the top four finishers in Seniors participated in the Gala. The pairs all seemed to do really fun numbers with lots of "tricks." Stiegler and Magerovsky were obviously not prepared with an exhibition number, as they repeated their FD to "Evita." Gregory and Petukhov did a new, fun number in which they pretend that she is a doll. Belbin and Agosto skated their "Green Acres" program, which had the crowd roaring with delight. Sasha Cohen repeated her "Romeo and Juliet" exhibition program from last year and the year before, and she fell once. Jennifer Kirk also repeated her "Chicago" exhibition program. Matthew Savoie's program was lovely but hard to get "into," while Evan Lysacek did another big band dance type program. Timothy Goebel skated to "Rocket Man" by Elton John. Michelle Kwan and Johnny Weir both stole the show with their programs, receiving standing ovations, Michelle skating to "You Raise Me Up" by Josh Groban, and Johnny skating to "Unchained Melody" by the Righteous Brothers.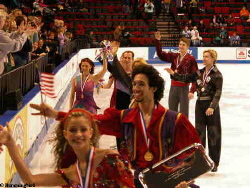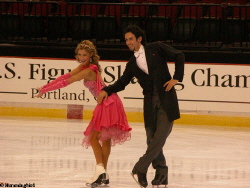 Personal Experiences
Although it was a great US Nationals (everyone who won deserved to win without question), the entire event had a shadow over it when Angela Nikodinov's mother was tragically killed in an auto accident on Wednesday morning as they were driving from the airport to the hotel. Many of the skaters were obviously affected, and it took a lot of the joy out of the event for many, many people including spectators. There was a moment of silence called for in the arena at the start of the Sr. Ladies Short Program, and many were in tears.
I had the great happiness of taking my 6-year-old granddaughter with me on Wednesday, where we attended the Sr. Men's SP practice, the Sr. OD practice, and the Sr. Original Dance. She got to meet her favorite skaters (Tanith and Ben and Johnny) and have her picture taken with them after she presented them with drawings she did. She also attended the Gala with me on Sunday.