Variations on a theme of Canadian Nationals 2.0
by Megi
Photos © Brett Barden
Ottawa, ON - January 9 - 15, 2006
Here's the thing some of you have (not!) waited all year long: Megi's review of Canadian Nationals 2006.
Just like I did last year, I'll start this, ehemÂ… report with a bit of a disclaimer - I'm just a fan and all you can find here is written from a fan's perspective. Also, my style of writing is rather loose - definitely different from what you're used to reading at Absolute Skating. If you don't like that - don't read! (There's nothing better than self advertising, lol).
Anyway, since I've been suffering from a total lack of creativity the last couple of weeks (the self advertising continues, wheee), I'll just follow the national championships reviews 'guidelines' (read: fill in the blanks).
Knowing that this review will be posted after the Olympic Games and no one would be interested in reading about who made the Canadian Olympic team and who didn't, I decided to focus on some lesser known yet very promising skaters.
Overall impressions
Once again, Canadian Nationals proved to be one of the most exciting events of the season in Canada. The fact that it was a deciding factor in choosing some of the members of the Olympic team, there was some extra tension to it too. Some of the competitors didn't handle it better than the others. But as I said in the opening, most of the people interested in the event have already seen it, read the protocols, etc. so there's no point in getting into details. I'll write down some general impressions instead.
| | |
| --- | --- |
| Well, I was really happy to see some promising teams in the junior pairs event (details to follow), and to see Meagan Duhamel improving greatly over her last years performances in both singles and pairs. To see one of my favorites, Michelle Cronin and Brian Shales make a successful debut in senior ranks, to witness John Mattatall skate what I believe was his best performance in singles ever (the LP in the qualifying), and first-year senior Maxim-Billy Fortin delivering one of the most interesting short programs in men's event and getting a standing ovation. It was also a pleasure to see Ken Rose delivering three very strong performances and showing wonderfully choreographed programs (done by Lori Nichol). There were so many moments that made this event special that it's impossible to name them all. | |
Biggest surprise of the championships

For me, it's definitely Matthew King from Western Ontario. Even though this choice may appear quite obscure for those of you who have never been to Canadians, for me it was indeed the biggest surprise of the event. Matthew (23 years old) finished 25 at Nationals last year and did not make it out of the qualifying round. This year, he skated clean programs in all three portions of the event, landing five clean triples in both qualifying and the LP. In addition to that, he showed some very good basic skating skills and wonderful edges. Matthew skated as well as he possibly could and definitely made himself proud. Appears I'm not the only one who thinks that, since Matthew's achievement was recognized by Skate Canada with the "Possibility" award.
Controversy/Close rivalries
surprisingly, the closest rivalry didn't take place in the men's event as it was generally expected (I'm thinking mostly about Jeff Buttle and Emanuel Sandhu) but between the senior pairs. While the defending champions, Valerie Marcoux and Craig Buntin, were the class of their own (especially in the SP), the battle for silver and the second Olympic spot was very interesting. The top four teams skated clean or close to clean in the SP and it all came down who'd lay it down in the LP. And as we all know, Jessica Dube and Bryce Davison did it and won themselves a trip to Torino. The bronze medalists, Utako Wakamatsu and Jean Sebastien Fecteau recovered well after a shaky start of the free program and grabbed the bronze. And personally, I found their "Tango" FP to be the most choreographically challenging among the top teams and I was happy to see them pull it off so great. It almost felt like a dance program at times. The team that placed second in the SP, Anabelle Langlois and Cody Hay did not have the best skate in the LP and finished just off the podium, but even with the obvious mistakes it was a good effort considering it was Cody's senior debut at the National level, and the fact that it's been their first season together.
Biggest highlight

For me, the "biggest highlight of the event" title goes to Kyra and Dylan Moscovitch who delivered two clean performances to claim the Junior Pairs title, which was their third National title in a row after winning Pre-Novice pairs in 2004 and Novice in 2005. What's even more remarkable, it was not only their first junior event on the National level, but a first competition since Broadmoor Open (July 2005) short after which Kyra broke her leg on a fall on a lift and was forced to stay off the ice until November, and as a result missed all the fall events, including Sectionals and Eastern Challenge which are the qualifying events for Nationals. Thankfully, they were granted a bye to compete in Ottawa.
I was not sure what to expect from them after such a long break in trainings, but whatever I expected, their performances definitely exceeded that. Kyra and Dylan delivered two clean performances. Their SP consisted of side-by-side 2 Lutz, throw double loop, levels on the non-jump elements varied from level 2 on the lift to level 4 on the sibs spins which were probably the best I've ever seen from any pairs team - the speed was great, positions neat and well matched, and the unison was hard to believe. That was definitely a great effort, which put Kara and Dylan in third place, beating Rachel Kirkland/Eric Radford and Taylor Steele/Robert Paxton. However, the difference between the top three teams was within a point what made the LP a real nail biter. Kyra and Dylan were to skate last, and once again, delivered a clean program to "Samson and Delilah". Once again, not only all the elements were-whistle-clean, but the program was beautifully choreographed and performed. Congratulations to Kyra and Dylan for overcoming the injury to become the Junior pairs champions of Canada in their first try!
| | |
| --- | --- |
| | Also, an honorable mention goes to Adrian Oleksyszak who was skating in both senior men's and junior ice dance events. His qualifying LP, even though didn't let him make a cut to the LP, was probably one of the voidiest performances I have ever seen. Everything from costume, to choreography, music, and even some of the mistakes was adding to the overall impression. Adrian is quite a performer, but his future is in dance in my opinion. This has been his second season as an ice dancer which was really impossible to tell, even in comparison to ice dancers with much more experience. I'm sure once he finds a suitable partner he will be going places in ice dance! |
Biggest disappointment
The fact that none of the wonderful top-three pairs teams is eligible for junior international competitions is one of the biggest disappointments for all the skaters, Skate Canada, and the fans. Unfortunately, Kyra Moscovitch is just twelve and therefore too young for ISU events, and so are Rachel Kirkland and Taylor Steele who both turned 13 after July 1, 2005 which is the day used to determine skater's age eligibility for season to come. In addition, Steele's partner - Robert Paxton is already too old for Junior internationals, while Moscovitch and Radford will be too old before their respective partners meet the eligibility requirements, and that means the teams will never be eligible to compete at the Junior Grand Prix Circuit.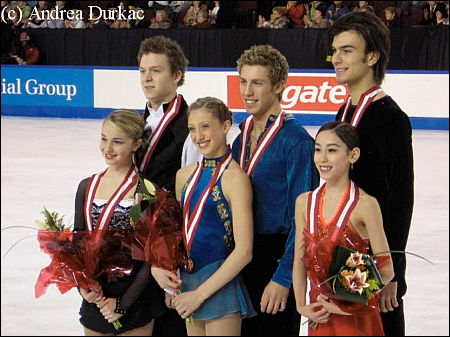 Another disappointment was seeing two dance teams I was really impressed with (Kelsey Gallagher/John Simpson - 12th in their senior ice dance debut, and Brittany Lockwood/ Dylan Fieldhouse) split short after the Nationals. I thought both teams had some very nice qualities to their dancing. Anyway, best of luck to all of them in the future!
Hope for the future
As I said above, I was more than impressed with the Moscovitches and I really hope that they stay together regardless of the eligibility problems. They have wonderful quality to their skating, and unison that is comparable, if not better, to the best senior teams. As soon as they get the triple throw and side-by-side jumps into their programs they will definitely be a factor in the senior ranks in Canada.
As for the other events, I think Canada's future in men's skating should be very bright looking at the depth of talent here. To name a few skaters: Patrick Chan has gorgeous basic skating skills, solid jumping technique, and despite the young age is able to pull demanding choreographically programs with lots of maturity and spark.
| | |
| --- | --- |
| Another young skater who deserves a mention here is 16-year-old Kevin Reynolds who despite being the tiniest competitor in the senior men's event managed to rotate and land (with a slight two-foot) quad Salchow in all three parts of the competition. Kevin skated clean SP and LP earning himself a spot at the Canadian Junior World team alongside Patrick Chan. Also, honorable mentions should go to Joey Russell who won Jr. Men's, Jeremy Ten who had a very energetic free skate in the LP and finished second, and to Jamie Forsythe whose skating skills, choreography and interpretation were way above the average. I'm really looking forward to seeing more of those skates in the future! | |
Farewell

Going into Nationals it's not been a secret that that would be Ben Ferreira's last appearance at this event. After a long and successful career, including two trips to World Championships, and the silver medal at the 2004 Nationals in Edmonton, this was his last shot at making the Olympic team. Unfortunately, Ben did not skate his best and finished eight overall. But it was great to see the crowd giving him a standing ovation at the end of the LP, and Chris Mabee, who was next to skate, shaking hands and exchanging a hug with him. It was by far one of the most touching moment of the event. Good luck to Ben in his future endeavors.
Organization of the event
When it comes to organization of the event this year's Nationals was a big step up comparing to last year's. First of all, Ottawa is a place that is easily accessible from most of the places in Canada, and at acceptable coast. There are many suite hotels to choose from, the transportation from downtown to the arena was fast and convenient. That's already an improvement over London last year. Second, the seats were cushy and therefore very comfortable, which is never a bad thing if you spend the entire day at the arena. For the same reason, having many food and beverage options available was a very nice thing. Also, unlike last year, Skate Canada waited with releasing the ticket for 2007 Nationals until after people attending the event in Ottawa were back home and in a position to book.
The only organizational downfall I can think of, and an unfortunately a major one, was the condition of the arena's roof which was leaking and basically falling down on the ice and audience. And I still remember how shocked I was to see a bucket standing in my row to retain the water leaking from the rooftop. It's really embarrassing to organize the pre-Olympic Nationals in the arena with such a serious problem.

Off-ice

As some of you may remember from my last year's review, there were some interesting things that were thrown on the ice following skaters' performances. One of the most "gifted" skaters was Dylan Moscovitch and this year he definitely defended the title of the skater who has put the best show in the kiss and cry, and the exhibition. See yourselves!

Also, since we're just past the Oscar gala, here are some awards borrowed from the Academy.
Achievement in costume design - this award goes to whoever designed Mylene Lauoureux's Westminster Waltz pink dress - simply stunning.
Achievement in sound mixing - goes to whoever chose the music and did the cuts for Sylvain Bouillere's LP. Imagine having everything from classical to techno in one program.
And even though it's not one of the Oscar categories, I decided to give "Achievement in Hairstyle" award to Junior Dance competitors - Brittany Lockwood and Dylan Fieldhouse who both showed some great hairstyle over the week!
Well, hope there are some individuals who made it to this point. If yes, hope you enjoy the read. And stay tuned for interviews with some of the rising stars mentioned in my report!