Ice Symphony 2006, an exhilarating jubilee

by Maria Bagdasarova
Photos by Olga Timokhova and the Moscow Figure Skating Federation;
http://www.moscowskate.ru/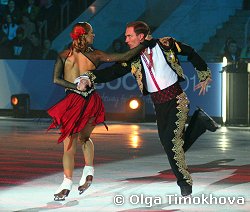 Ilya Averbukh's company "Ice symphony" always indulges Moscow figure skating fans with splendid shows. This jubilee show on 11th of October, which was the official celebration of 1976 Ice dance Olympic champion Alexander Gorshkov, (with Ludmila Pakhomova), was no exception. Due to the "genre" of the show, it started with speeches from Russian sport officials and ISU President Ottavio Cinquanta, congratulating Alexander Gorshkov. Then ice ballet took to the ice, skating to the music of Ludmila and Alexander's programs.
Elena Sokolova opened the gala. She skated the program to a Russian song "Destiny" in a black outfit. She was as always emotional, but obviously she has not reached her top shape yet.
Then Russian folk dance ensemble "Berezka" ("The Birch") performed a number on the stage, joined by the ice ballet on the ice. The folk theme was continued by Irina Lobacheva's students, who skated a very nice program with quite difficult lifts, and received an enthusiastic response from the audience.
After that Ilia Klimkin, now No.1 of the Russian team, had his turn with his new short program to Vanessa Mae. His skating featured great speed, several clean triples and for the finale, a fast scratch spin with the fireworks coming out of his blade, which was impressive.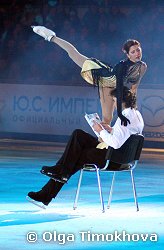 Following Ilia Klimkin, ice dancers Jana Khokhlova and Sergey Novitsky stepped on the ice. This young talented pair from Moscow, coached by Alexander Svinin, participated at the Olympics and Worlds last season and left a vivid impression on figure skating fans. This time they skated to Sam Brown's "Stop" with great speed, deep edges, exquisite lines and lifts showing all the flexibility and extension of Jana. The audience responded very well to the uninhibited and energetic style of this young couple.
After that the MC talked about the Tango Kumparsita, that was originally created and performed by Ludmila Pakhomova and Alexander Gorshkov, and then he announced the duel between two young ice dance couples, Lobacheva's students Ksenia Shmygina/Denis Bazdyrev and 2006 Junior World silver medalist Natalia Mikhailova/Arkadi Sergeev. Between these two pairs, I undoubtedly preferred the latter, since they showed more of the tango character and their skating skills, in general, excelled their "rivals".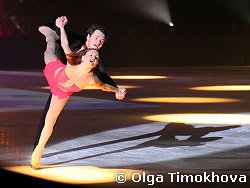 Maria Petrova and Alexei Tikhonov were next to step on the ice. They did their new exhibition program "Nostalgia" to the live accompaniment of famous saxophonist Igor Butman, who skates with Maria in Russian version of "Skating with Celebrities" show. They pulled off some very difficult elements including beautiful spirals, sparkling throw triple loop, the ride-out of which was marked with the fireworks and their trademark breath-taking lift with Maria not holding her partner at all.
After that Andrei Griazev took the ice with his new Rumba short program, featuring some triples and intricate footwork.
Following Andrei, 2006 Olympic champions Tatiana Navka and Roman Kostomarov got their turn. They skated their Olympic program "Carmen" and were the first to do an encore.
Irina Lobacheva and Ilya Averbukh were next. They did their new program to "Yunona & Avos", a tribute to Ludmila Pakhomova.
Intermission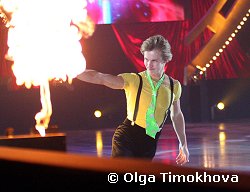 After the Zamboni break the show was continued with 2005 Junior Worlds bronze medalist Sergey Dobrin skating his upbeat and energetic exhibition program "Hafanana", featuring several clean triples and fast spins.
Following Sergey, Lithuanian ice dancers Margarita Drobiazko and Povilas Vanagas stepped on the ice. They delivered a very emotional, musical and spirited performance to "Spente le Stelle" by Emma Shapplin.
The show was continued with the special present by the Russian version of "Skating with Celebrities" show which is also produced by Ilya Averbukh's company "Ice symphony". Maria Petrova and her partner Igor Butman as well as Alexei Tikhonov with actress Anna Bolshova appeared on the ice out of the big gift box, which was funny, and did their most successful numbers.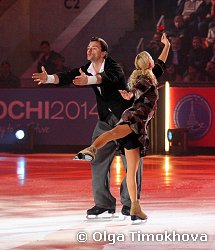 The next skaters were Elena Berezhnaya and Anton Sikharulidze who did the new version of their Chaplin exhibition program. They were amusing as well as extremely joyful to watch. The audience responded exceptionally well to them. For an encore Elena landed a clean triple loop throw.
Then it was turn for another surprise. Tamara Moskvina stepped on the ice and then joined by her former student Anton Sikharulidze performed several impressive lifts.
After that Tatiana Totmianina and Maxim Marinin got their turn. They delivered a dazzling and flawless performance to a recent Russian hit. They did a gorgeous triple loop throw, double twist and elegant death spiral and were as always very enjoyable to watch.
The last skater to take the ice was Olympic champion Evgeny Plushenko, skating his" Tosca" performed by Edwin Marton. Evgeny pulled off triple axel and difficult straight line footwork which has become a definite trademark of this emotional program.
I really enjoyed the show as it was exhilarating to see figure skating stars live after quite a long time. And I must accept that Ilya Averbukh is a very talented producer since each show is unique and original as he always finds something new to surprise the audience.