Belgian Nats 2008: A look in Lommel
Text & photos © Mireille Geurts & Joy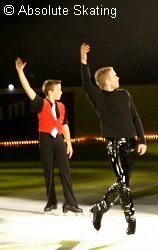 When multiple national champion and European bronze medalist Kevin Van Der Perren tells you that a competition will be excited and is well worth a visit, you can't hardly not takes his word for it and not go.
He was talking about the national championships in his country, and in particular about the junior men section of it. Ruben Blommaert, who we've followed ever since his experiences at the Stars on Ice shows in Antwerp and who debuted at the senior European Championships last year, would be up against 2 other guys, who are all on similar levels at the moment.
That taken into account with the fact we know quite a few of the contenders (due to the >>Ice Fantillusion shows<<) and the fact that we have never been to Belgian Nats before, made us curious enough to venture to our neighbour country even tho it was storming pretty badly that day.
It was well worth it tho. The promised 'fight' was sure on, and familiair faces were all around. We entered into the cafetaria thats above the icerink, as is common in a lot of Belgian icerinks. No seats really behind the boards at the ice level (just one bench) and to get at the boards one had to actually stand on the ice so it was nice to be able to sit at a table and watch the skating 'downstairs' with a warm drink in our hands.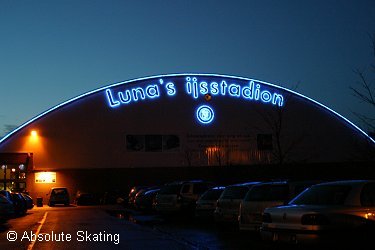 It seemed quite crowded and despite this being a competition, there seemed to be a relaxed atmosphere, if you didn't count the agitated kids running around, dressed in their costumes already or not, fretting and being fidgeted on by worried moms and dads. Starting orders were for free available at a desk, as well as some general information, and a nice look at some pictures been taken there 'live', meaning, just a few minutes ago.
Strange was, that there was no screen in the icerink nor in the cafe, or anything else that indicated to the scores the skaters got. As we learned a bit later, even the skaters themself didn't learn their scores nor their ranking. Having the new judging system is one thing, but this really tops all the complaints about secret judging.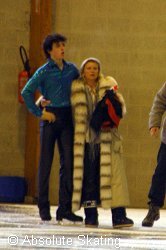 Ruben Blommaert had to skate as second in the junior men after a decent short program by rival Jelle Butzen, who didn't fall but has to work on his axel technique. Ruben skated on River Dance and we could clearly tell he has been working on his general expression. He jumped a nice 3F-2Toe combination, but unfortunately had a hand down on his triple lutz. After the program he seemed content to stand with his arm around his new coach Vera Vandecaveye, to watch his fellow competitors.
His biggest rival yet to come was Jorik Hendrickx, who skated one to last. His program consisted of music that kept the audience wondering if something went wrong with it, but because the sound came back and he just continued skating we can assume it was really supposed to be this way. That kinda distracted from the general impression of the program, but despite minor flaws on the landings, his jumps were solid and counted. Which left us wondering which of the 2 young guys would be in the lead.
Belgian nats are so-called open nationals, which means other countries competitors can join in, altho they can't win the title of Belgian champions. This lead to a Dutch and some British contenders. Namely Mark Frost and Josh Inglish at the junior men, Manon Van Hijgevoort (Dutch) Katie Powel and Kristie Robertson at the junior ladies, Karly Robertson at the senior ladies and the only male senior Nick Rigby, since Kevin Van Der Perren was competing at the Cup of Russia.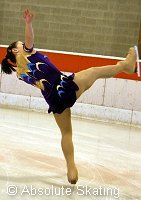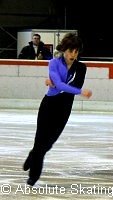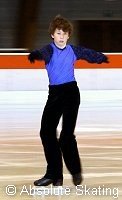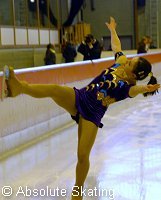 Having a little chat with some of the senior ladies Isabelle Pieman and Kaat Van Daele, before their skate, both claimed not to be nervous. Isabelle said stated down to earth that it was just doing her job, and Kaat after some probing admitted that ok she was a little nervous, because it's still a competition. Unfortunately neither of these ladies managed to grab the title of Belgian champion, that honour was was again for Barbara Klerk, even tho she came only in third place after the short program, but she won the free.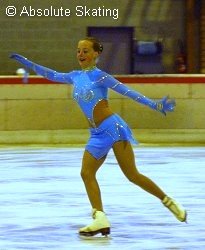 Clear winner at the junior ladies, Ira Vannut skated her program as third in the list. She sparkled and it wasn't just because of her costume! We knew form the Ice Fantillusion shows that she's a very spunky showskater and luckily she doesn't lose a bit of that in competition. Even tho she didn't jump a triple in the short, her jumps were spot on.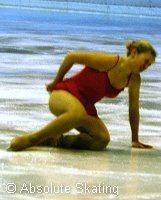 Forementioned Katie Powel from England, did attempt a triple toe, but unfortunately fell on it, she ended in a 6th place.
Nelke de Groote fell really hard at the beginning of her program, and even tho she bravely tried didn't manage to boost up her points much and ended in a last place on that day. Luckily she managed to fight back a bit the day after. One could see she was really hurt when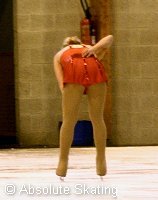 she went off the ice, and even spotted her limping afterwards too, so we really hope she didn't get injured. If so, get well soon Nelke!
The actual scores and rankings we only learned later, as previously told.
We had during the day a longer chat with Ruben, which we'll fill you in on later, and at that time he had no idea in what ranking he was. We were very curious, but would only learn after getting back home that he was second and Jorik first. Even tho Ruben won the free program the day after it and discussions were being held during and after the competition concerning the final results of the junior men, it was not enough for the total scores, so with 3 quarters of a point Jorik Hendrickx became the junior Belgian champion. Congratulations Jorik!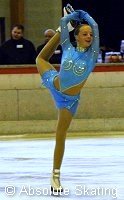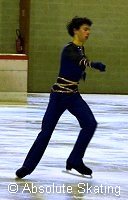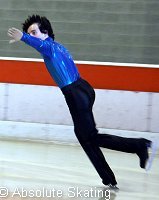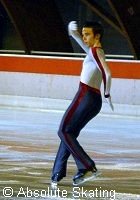 Overall speaking, there is definetly some figure skating talent in Belgium waiting to jump into the international senior scene soon, and much more for later on. We were genuinly surprised with the basic skating skills of some of the young ones, and the use of great edges and free expression. That combined with a really awesome athmosphere we are convinced, Belgian Nationals is a fun event to visit again! Check here for more detailed results.