Cup of Russia 2008 - Day 1
Moscow, Russia
Text © Maria Bagdasarova
Pictures © Maria Bagdasarova, Natasha Ponarina, photo.fsonline.ru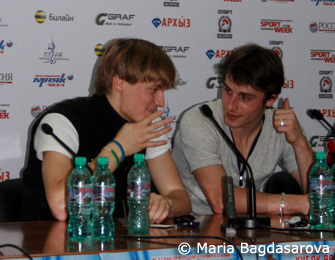 Over the last three years, Moscow has become a regular place to host the fifth Grand Prix event of season – the Cup of Russia. This year the cold capital of Russia gathered world-class skaters in the cosy Megasport arena, including four medallists from the last World Championships held in Gothenburg.
The Friday evening session started with Pairs' Short Program. Dan Zhang and Hao Zhang of China who alongside Yuko Kawaguchi and Alexander Smirnov headline the pair event, took the lead with a powerful performance to "Riding on the Wings of Songs" music featuring a huge triple twist and strong throw triple loop. But the 2008 World silver medallist could not avoid mistakes, as Dan Zhang stepped out of the side by side triple salchow and fell several steps later. Overall, the short program of Dan Zhang and Hao Zhang who already won their home Grand Prix event, the Cup of China earlier this fall, left a positive impression as the Chinese couple has definitely improved their expressiveness and music interpretation. Their Short Program was awarded 67.06 points which gives Zhang/Zhang quite a confident margin coming into the free skate and all the hopes to book a spot in the Grand Prix final.
The 2008 Russian National Champions Yuko Kawaguchi and Alexander Smirnov came second with a total segment score of 58.76 points. All their elements except for the twist received level 4 from the Technical Panel, but Tamara Moskvina's students struggled with the jumps. Yuko fell on the side by side triple toe loop and then stepped out of the throw triple loop. Although the performance was obviously far from being strong technically, one cannot deny the fact that Kawaguchi/Smirnov's Short Program to the Swan by Camille Saint-Saens has all the potential to be one of the most spectacular programs of the season.

Close to the Russian pair lie Tatiana Volosozhar and Stanislav Morosov of Ukraine who finished third with 58.34 points. The couple who joined Ingo Steuer's camp this summer had a very strong showing at Cup of China and definitely hopes to claim the spot in Korea, where the Grand Prix Final takes place this season. The Ukrainians performed a magnificent triple twist, a very confident level 4 lift and a beautiful spiral step sequence. However the jumping elements unfortunately were not there: Morosov fell on the side by side triple toe loop and Volosozhar missed a throw triple loop. The couple was obviously very disappointed with their performance, though accepted that apart from errors, the skate was solid.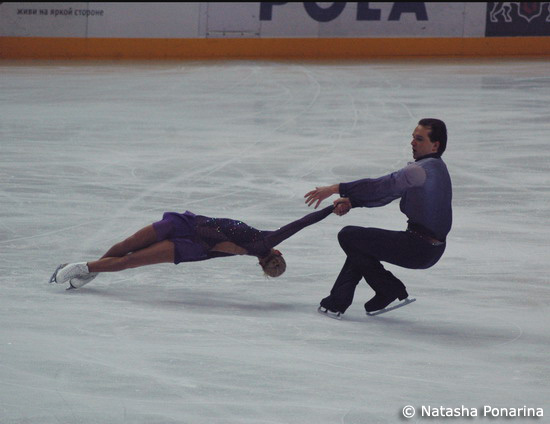 The only clean performance of the night belongs to Ksenia Ozerova and Alexander Enbert of Russia. The young pair from St Petersburg got 3rd best element score having cleanly landing side by side jump and the throw. The couple over-scored 2008 Junior Worlds silver medallist Lubov Iliushechkina & Nodari Maisuradze who, with a very choreographically demanding but not flawless performance, are in fifth place.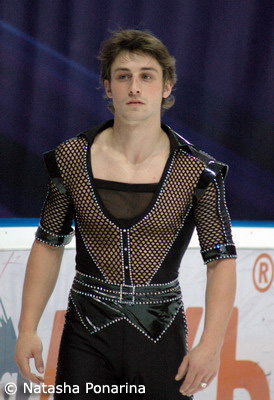 2008 World silver medallist and 2007 World Champion Brian Joubert almost decided the outcome of the men's event taking the lead with more than a 12 point margin. The Frenchman scored 86.10 points setting his new personal best. Joubert landed quad toe – triple toe loop combination, triple axel and triple lutz. Two of his spins got level 3 while the flying sit spin was awarded with level 4. However the 2007 World Champ was not 100% happy with the level he got regarding his straight line step sequence which received only level two. A very dynamic performance from Brian Joubert to the widely known "Rise" by Safri Duo got a very enthusiastic response from the audience. As Brian confessed at the press-conference, he very much enjoys performing in Moscow where the crowd loves and supports him - this gives him a lot of energy and motivation. Joubert also added that he's very happy to improve his last week's result from the Trophee Eric Bompard though he admitted he's still not 100% physically ready. The Frenchman hopes to have a clean free skate featuring two triple axels and a quad.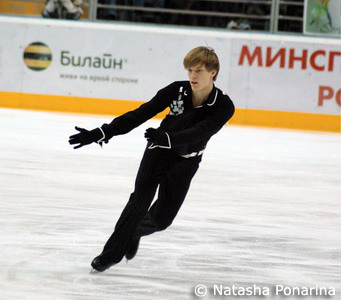 2008 European champion Tomas Verner finished second with a fall on the quad toe loop attempt which was planned to be in combination. Clean execution of the other element including triple axel and lutz, as well as two level 4 spins allowed Verner to score 73.20 improving his result from Cup of China by more than 7 points.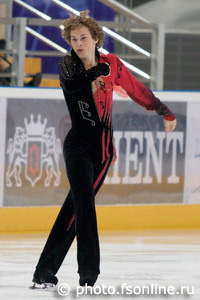 Adam Rippon stands in third place with a second best element score of the night. After the disappointing performance at Skate America which the 2008 Junior World Champion described as a "total mess", he decided to go back to his last year's "Storm" by Vanessa Mae as he felt more comfortable with it. Rippon was really pleased with his performance featuring triple flip – triple toe loop combination and level 4 spins. The triple axel, which Nikolai Morosov's student has started to include into his programs only this season, didn't have a clean exit, while the triple lutz was two-footed. Despite these small mistakes, Rippon reeled 71.62 points which still allows him to challenge Tomas Verner for silver. Alban Preaubert of France with 71.60 pts can also be a threat to 2008 European champion.
Go to Day 2 report.