Artistry On Ice 2010
September 26, 2010
By Fannie Wang
Photos © Fannie Wang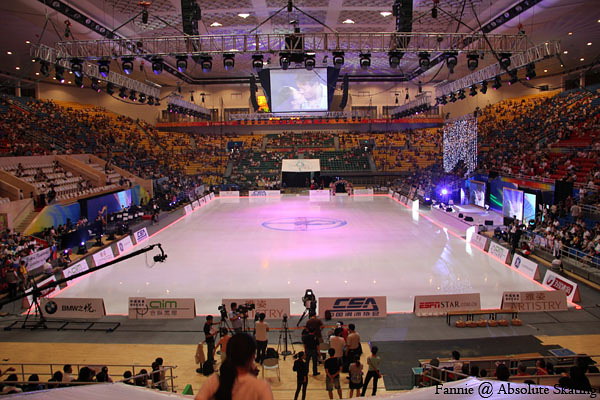 Elite athletes are dream-catchers. They pursue what seems to be unbelievable in our eyes and persist on it despite all the barriers.
For Chinese pair skaters Xue Shen and Hongbo Zhao, the year 2010 marks a glorious page in their career, for they have two long-awaited dreams to fulfill: an Olympic title and holding the very first world-class commercial Figure Skating show in China.
On September 4th, "Artistry On Ice" brought bright figure skating stars to Beijing and it turned out to be an 'autumn festival' for the fans.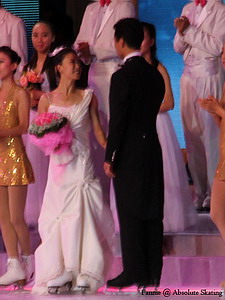 The show
Capital Indoor Stadium, Beijing, China | September 4th, 2010
The moment the two young pairs Dong Huibo/Wu Yiming and Zhang Yue/Wang Lei stepped onto the ice for the opening, they were welcomed by waves of screams. The rink was almost full, occupied by 17000 enthusiastic fans. All skaters, except Shen and Zhao, showed up for a joyful group dance to some percussion music.
Red roses appeared on the big stage screens. The skaters gathered next to the stage, standing in a row. Then came the most romantic scene of the night: while their coach Bin Yao (head coach of Chinese National Figure Skating team) was playing 'Wedding March' on piano, Hongbo Zhao skated to the center and kneeled down to his bride Xue Shen who was skating to him surrounded by kids before carrying her to the stage.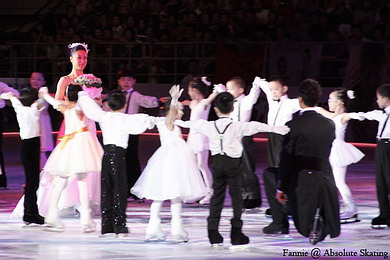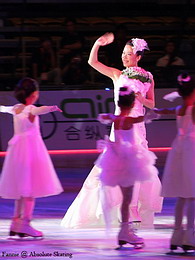 After a short looking-back video of their career, Johnny Weir, Alexei Yagudin and Mao Asada represented the guests to give their wishes.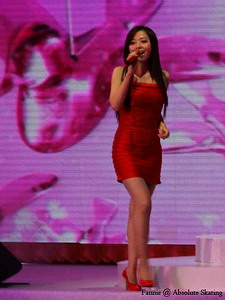 Then came a solo performance from Zhang Liang Ying, a famous Chinese pop singer, singing "I believe", who dedicated the song to the couple
In return, Shen and Zhao skated with Zhang Liangying to a song named 'Incomparable' (Tian Xia Wu Shuang). A lot of white feather was attached to Shen's costume and it fluttered every time she was carried by Zhao for a lift or a throw. The singer's high-tune echoed in the ever silent stadium, with the gentle and soft performance from the couple who had been skating together for 18 years.
Then the real show started. Johnny Weir, exactly as he stated in the press conference, skated 'Poker face' right after Shen and Zhao's wedding gala. He wore the old costume because "the new one still needs some changes", said Weir. It was either the choreography or the insufficiency of warm-up that somewhat slowed him down that evening, but the performance was satisfying. The other program from him was 'Heartbroken', an unusual combination of heavy metal make-ups, costume close to training clothes and light classical music. Surprisingly, it was all in perfect harmony with Johnny's movements. Johnny expressed himself better with it than without. He visualized the 'heart' with his arms while doing his trademark sliding, and literally 'broke' it by sliding his arms to each side right on the point of the music. This program was deeply touching, highlighted by the passionate step sequences in the middle of it.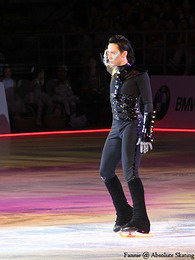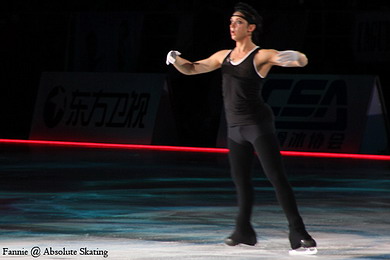 When it comes to skating skills, images of the Canadians appear in people's mind spontaneously. Joannie Rochette skated smoothly. Her blades steaked across the ice in the most comfortable way. 'My immortal' was a special number for her. Indeed, not everyone was aware of the reason, but they could see how this Olympic bronze medalist indulged herself in the music until she became part of it. The second number from Joannie was her old one 'Die another day'. Unlike the slim Asians she was more about energy and power, demonstrating her dancing techniques. She did a beautiful Ina-Bauer while wielding her whip.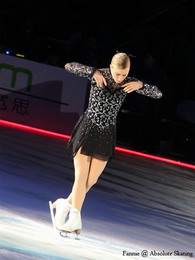 We cannot say Mao Asada was in her best shape that night. She struggled in her first Axel and singled the flip at the debut of her new short program 'Tango' for the coming season. Yet you can tell almost at a glance that it was a competitive program, for it consisted of much more demanding transitions, footwork and spins. Her step sequences were intense. The audience soon recognised the quality of this skating and kept clapping for each of her difficulties. 'Tango' could be very competitive if she could polish it. Nevertheless, to this 20 year old world champion, the style of her second program 'Ballade' was more in her comfort zone, an easier medium to convey her natural grace. The flow was astonishing and she maintained it throughout the entire program. There were several beautiful spirals in various positions, and two double-Axels.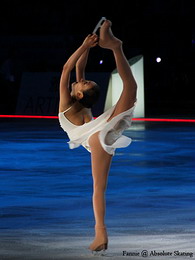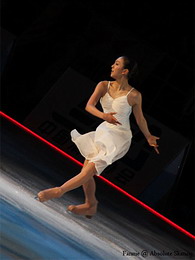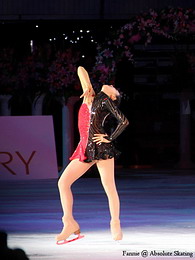 Zhang Dan and Zhang Hao took to the stage to give a short explanation why they weren't in their skates: several days before the show, Zhang Hao broke his finger in a training session. Unfortunately, the pair will have to miss all the upcoming competitions because of this injury.
Shen/Zhao, Dong/Wu, Zhang/Wang in addition to a few dancers at the side of rink performed 'Bullfight', a spanish number they put together with help from professional dancers. Certainly the skaters couldn't master a Spanish piece in a few weeks, yet we felt the sharpness in their movements. Nice attempt from the pairs.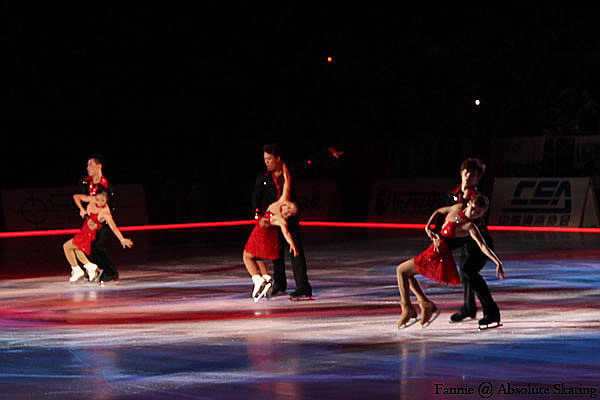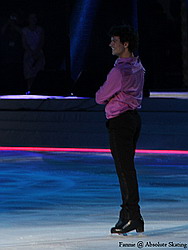 Stéphane Lambiel was definitely in his show-man mode while doing 'Let the good times roll'. He mouthed the lyrics of Ray Charles, jumping and turning cheerfully in all directions. All of his jumps were clean that night, including two triple flips and several double Axels, showing he was in very good shape (He did a quad again in pre-show practice). Stéphane's second number 'Ne me quitte pas' echoed the title of the show in the most exquisite way. Regardless of the location of your seat, the aesthetic view his bodyline provided was perfect. It brought out a breathtaking effect when the audience followed his rhythm, clapping at the climax of his emotion, jumps and spins and that proved again the remarks "via skating, Stéphane speaks a language everybody understands".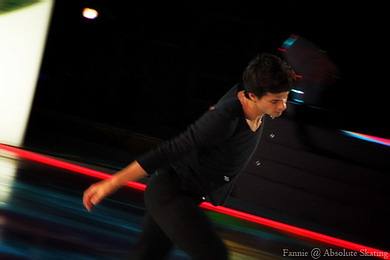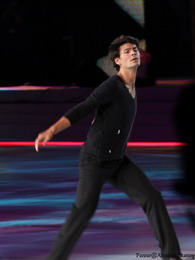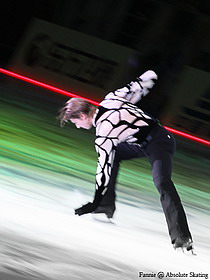 Through artificial snow drifting, Alexei Yagudin showed up with his legendary program 'Winter'. He wasn't flawless but had trouble with the opening jump in the corner where Mao had stumbled. (A puddle lay there according to the audience nearby). However, it was the atomosphere he created over the whole rink that mattered. We were thrilled to see his eyes shine like many years ago when he threw the snow. That night, Alexei was in better shape skating 'Sway' for the second half. He landed four triples, two of them at a remarkable height. Given the surgery he underwent years ago, one may wonder how could anyone even skate afterwards, but Alexei was still capable of his distinguished steps - the straightline footwork was nothing but brilliant.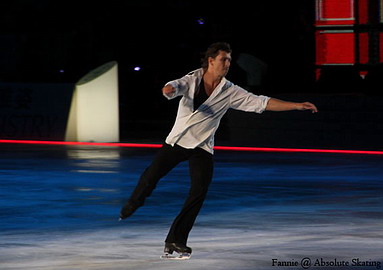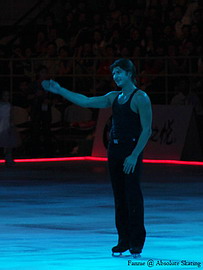 Although his eligibility to participate in next season remains unclear, Evgeni Plushenko's 'Sex Bomb' did the trick to turn the whole rink upside down. All in all, a serious Olympic champion is nice. A funny one? Precious. Besides, he likes to give surprises - in the second half, the speaker announced his much more intensive Olympic program 'Tango' instead of 'Je suis malade' written on the list. Evgeni showed us his gift: the speed of his skating was fast as a falcon gliding and we were not even aware of the time he needed to accelerate from standing still. When he landed his third triple Axel that night, the crowd literally gasped before screaming. He was also the only one who hit a triple-triple combination. Moreover, the sense of humor never left the 28 year old Russian. He twisted and swung, exaggerating the dance moves in a corner where a banner read 'Alexei you're our champion'.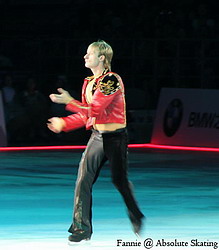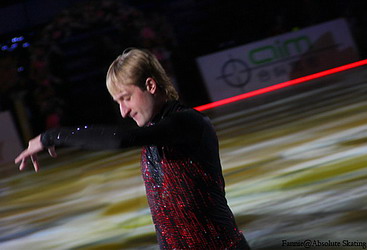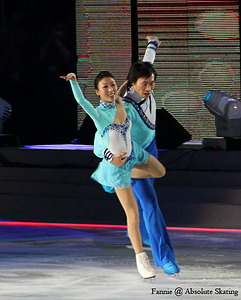 Reigning world champions Qing Pang/Jian Tong performed an amazing piece with the famous violinst Lv Siqing on the debut of their short program for the next season. With this pair's usual style retained, 'Nocturne' was the kind of program that didn't disappoint, but not exceed the expectations much, either. Anyway, the technical elements went smoothly and they did a spectacular throw jump. At the end of this program a final kiss was choreographed (by Lori Nichol) somehow showing a greater romance than ever. 'The Impossible Dream' for the second session was skated with more force, although Pang fell unexpectedly on a throw jump. The lifts were perfect.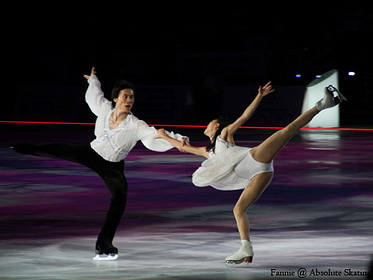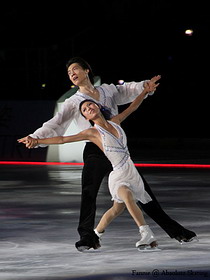 Xue Shen and Hongbo Zhao appeared in red for 'Turandot', which brought them the very first world title in 2002. They used a long silky fan to emphasize the moves of Chinese folk dance. This program, performed with emotion as much as skills, marked a splendid finishing touch to the show, and received a standing ovation from the audience.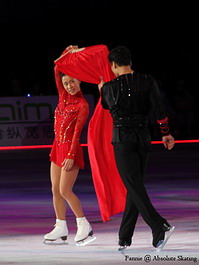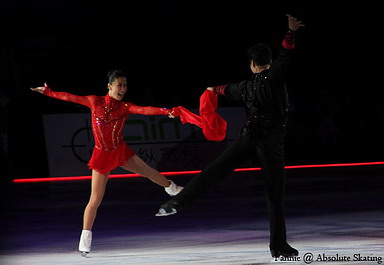 The skaters gathered again on ice for the finale number before throwing sweets from baskets (it is a tradition of a Chinese wedding), concluding the show in a very sweet atomosphere.
Behind the scenes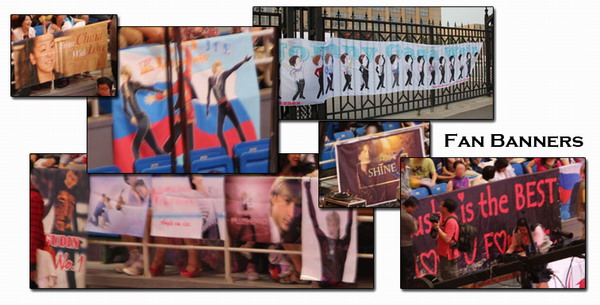 The organisers of this show were clearly well-informed how poor the Chinese market for figure skating could be. Hence, they did their best effort to catch the attention of the public. They had two TV channels for official videos, and invited a TV-broadcasting team from Canada, who also worked at some events at the Vancover Olympic Games. On September 3rd, they attended the pre-show press conference. There weren't 30 journalists (as seen at the COC or GPF), but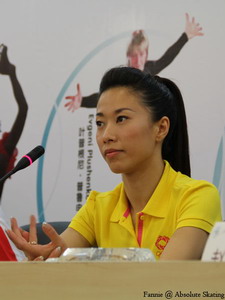 more than a hundred of them. Such media coverage was a hint of the ambition of the organizers to advertise.
When asked of the first feelings as show organiser, Xue Shen describe it as 'tired... like giving birth to a baby'. Indeed, every detail must be taken care of, adjusted and changed right up till the last minute. During the dress rehearsal, Zhao Hongbo skated to the side of the rink communicating with the technicians every once in a while. Two arena assistants kept shouting to the dancers on the stage, who had to fold the 10 meters long ribbon quickly at a specific time point.
Practice was intense to some extent. It was arranged on a daily basis. According to the schedule pasted on the lobby wall, on Sep. 3rd it started at around 10 AM and all the skaters stayed in the rink till the rehearsal session finished at around 8 PM.
Still, the skaters managed to have some fun. Joannie tried to show her most angry look when Stéphane hit her again accidentally after the trio throw (Johnny, Stéphane and Joannie) which they were assigned to do for the opening. Mao made everybody laugh when she answered 'Yes, a electric cooker' to the question of 'Do you plan to give a present for Shen and Zhao's wedding?' at the press conference. When the cliche of rivalry was brought up again, Alexei and Evgeni looked at each other and then Alexei answered: 'We have competitions now... we play Ping Pong.'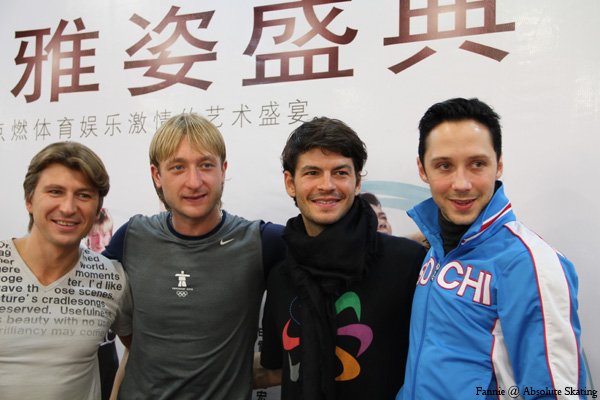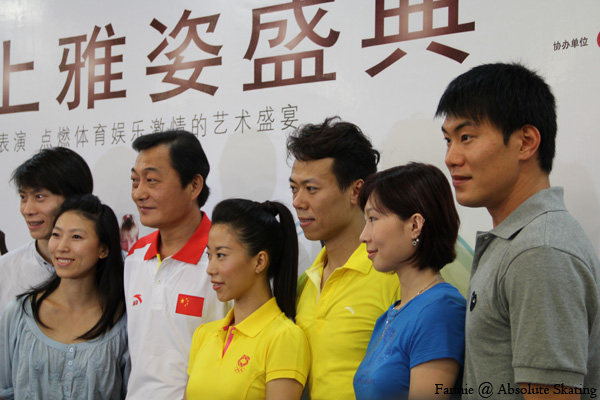 Before leaving, we were glad to be informed by various sources that Shen and Zhao were considering shows for next year and, if possible, in other cities. This would be a great help to advertise figure skating. We are more than thankful to all the skaters who devote themselves to this sport, and wish them the best of luck each step they take.