Japan Open 2010
By Atsuko Kuryu
Photos © 2010 Absolute Skating, Caroline Pare, Andrea Chempinksy
Team Japan edged Team North America out for the win by 0.13 points and won the Japan Open, a three-team match in Japan to win $80,000 US dollars in prize money. The total score of Team Japan was 517.36 points, while Team North America, which took the runner-up prize of $60,000, collected 517.23 points. Team Europe was third with 460.11 points and brought $40,000 home. Each team in this competition consisted of four singles skaters; two men and two ladies.
Before the event started, many people thought Team Japan would probably gain a significant lead because the team consisted of four skaters raking in the top 10 in the world. However, the match between Team Japan and Team North America became very close. The primary reason why they were so close might be a result of the performances of Joannie Rochette and Mao Asada, who were supposed to be the highest point-getters. Joannie skated last season's free program, "Samson and Delila," flawlessly while Mao Asada's new program, "Liebestraume," was far from perfection. Adding to the tight competition, in the men's field, Adam Rippon showed brilliant skates and gained the best score of all of the men, 166.63 points.
As for team Europe, both female skaters were not in good condition and neither was Michal Brezina. Unfortunately, Evgeni Plushenko was also not in the best condition, so this team was left far behind their rivals.
Men
Jeffrey Buttle Tribute to Glenn Gould - 128.39
After six minutes of warm up, Jeffrey was left on the ice alone with a soft gray shirt with wide white lace and black pants. He looked very pure and classy. He wobbled on the opening triple flip/triple toe combination and he struggled with other jumps during the performance including a step-out on the triple Salchow, doubled his attempted triple loop, and put a hand down on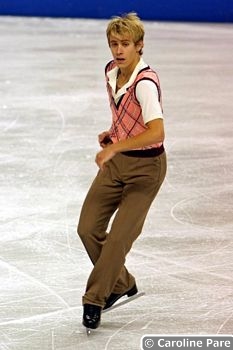 his other triple loop. In spite of these mistakes, the overall impression of his program was not bad - especially the Ina-Bauer and Spread Eagle in the middle of the program and the choreography in the step sequence at the end were fantastic.
Michal Brezina American in Paris - 134.90
Just recovering from a groin injury, Michal said he didn't have much time to practice, therefore he struggled with many of his jumps. Even so, he courageously attempted a quad Salchow, but stepped out on the landing. He pulled off three triples and two triple axels including two combinations with single toes. He also popped an attempted triple loop and triple Lutz. Even though his jumps were off, he still attracted the crowd with this cheerful and sort of comical program. He said he will add some changes to the program and it will become more competitive as the season continues.
Takahiko Kozuka Liszt Piano Concerto No.8 - 150.71
Takahiko also attempted a quad jump which he almost succeeded in doing, but right after landing the jump, he seemed to slip off of his edge, then he popped a triple axel into single. He collected the rest and earned the second best TES in this event. Takahiko has definitely improved on his expressiveness. Adding to his prestigious skating skills, this expressive power could make him a threat this season. Today he was just fourth among the men because his PCS were ranked fourth with 5.8 points less than Plushenko, who was third in PCS.
Adam Rippon Rachmaninov Piano Concerto No.2 - 166.63
With rather solemn music, Adam skated a beautiful and flawless program in which he received +GOEs for all his elements. All eight triples he put into his program were exceptionally consistent, especially the two 'tano Lutzes. Recently, many skaters have tried this jump, but his 'tano jump is special because he raises both arms above his head. Adam's double axel took off from a Spread Eagle, which is also done beautifully. The audience was excited with his performance and gave him a standing ovation. You might be afraid he was in too good of shape for this pre-season event, but don't worry. Last season, Joannie Rochette showed a brilliant performance at the Japan Open and went on to win the bronze medal in the Olympic Games at the end of the season.
Evgeni Plushenko Tribute to Vaslav Nijinsky - 151.00
Many figure skating fans at the venue were excited when they found out they would see Evgeni's famous 2003-04 free program again. Maybe today's performance was much less exciting, but still there was magic. He completed two triple Axels, one of them in combination, five triples including a triple lutz/triple toe combination and two doubles. Two of his spins received a level one. His base value, 59.84 points, was the second lowest score in the men's field, but he was able to collect a high PCS score of 83.50 points.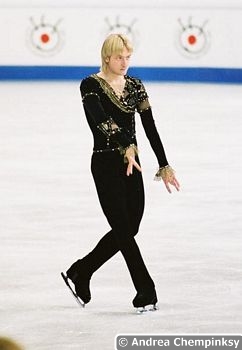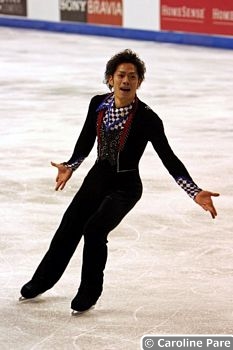 Daisuke Takahashi Invierno Porteño/Piazzolla - 159.19
Daisuke nailed a high quality quad toe right after opening his program and the audience therefore expected a super-splendid performance from him. Unfortunately, the program turned into only an adequate performance after he popped the following triple Axel and stepped out of two more jumps. Maybe he needed more time for his spins as he picked up only a level two for all of them. However, his two step sequences were outstanding. He truly felt the music and knew exactly how to interpret it. He received the best PCS score of 85.72 points and ranked second in the men's field.
Ladies
Julia Sebestyen Selection of music by Raul di Blasio - 81.48
The Japan Open was the first time Julia skated a competitive program since retiring from competitive skating. This competition was a surprise because she was entered recently due to Laura Lepistö's withdrawal. She completed only two triples and no combination jumps during the performance. Most of her jumps were not up to her usual standard, but her solid double axel was big and her ice coverage was great.
Miki Ando Piano Concerto/Glee - 115.02
Although she is one of the most consistent jumpers in ladies field right now, Miki made two big mistakes on her jumps in this performance. She stepped out of the triple Lutz and the second loop that was in combination with the double Axel. Her expression was great because she felt her music deeply. She has become a really mature and solid skater. I had feeling that what the culmination of what Miki and Nikolai Morozov had been aiming for all these years seemed to be completed or at least very close to completed. Her performance was relaxed even though she said this free program was choreographed only a week or so ago.
Cynthia Phaneuf Rapsodie sur un thème de Paganini - 99.50
Cynthia completed five triples and two doubles in combination with triple toes, but she popped her Lutz and Axel. Along with the soft and elegant music, Cynthia skated a brisk and sporty program. Her spiral sequence was very nice and the spin at the end of the program received a level four. Her score of 99.50 points didn't seem to be a level she was satisfied with, but as the season continues, the program will grow to suit her more. Even though her white costume looks like gym clothes especially without sequins, but I love it.
Sarah Meier Love in the Time of Cholera/Antonio Pinto - 92.73
Sarah struggled with her first three jumps, putting a hand down at the landing of triple Lutz, an edge error on her triple flip and then she popped her double Axel into a single. Other than that, her jumps seemed all right because they were all doubles except for a triple Salchow in the latter half of the program. This performance was not too exciting but very graceful as Sarah always is.
Mao Asada Liebestraum/Franz List - 92.44
The audience might not have been able to believe what they saw while Mao Asada was skating. She attempted eight jumps and landed only one successfully. Her score of 92.44 was the lowest since she began competing in the Senior level. Her spins were weak enough to only earn her a level one for the flying combination spin at the end of the program. She seemed to break into tears in Kiss and Cry when her teammates Miki and Takahiko talked soothingly to her which relieved the audience. The reason why her jumps were poorly executed might be because she just changed her coach and they have not had the time to get to know each other and Mao's jumping style.
Her coach Nobuo Sato said, "It is very difficult steering (leading Mao in the right direction), but neither Mao nor I can skirt the issue."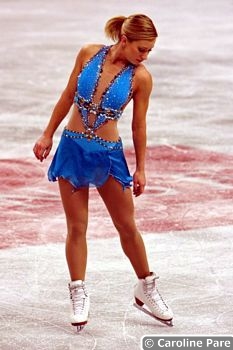 Looking back to last year, Mao also had a bad performance in this event, however she won the World Championship later in the season, so things might go well. Let's wait to see what happens.
Joannie Rochette Samson and Delilah - 122.71
Why did Joannie decide to not compete in the Grand Prix Series? I know why, but I couldn't help wondering because she gained the highest score of all of the women and naturally, her performance was outstanding. At the very beginning of the season, other skaters did not appear prepared to compete, yet she was completely ready. She didn't receive a single –GOE, which means she outscored other skaters both in the technical and in the components score. She had a little problem and doubled her Lutz in the opening of her program and singled a loop in combination, but it did not matter. She showed a worthy program as the bronze medalist at the Vancouver Olympics and the crowd was excited about her solid and beautiful program.
Note: The photos used were not taken at this event.