Japanese Nationals 2010
Part II
By Atsuko Kuryu
Photos © Munenori Hashimoto
Ladies' SP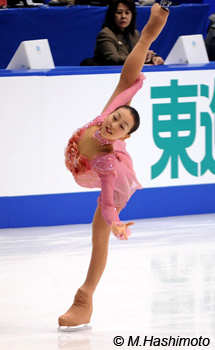 Most of the top female skaters gave excellent performances in the short program.
Mao Asada took the lead followed by Yukari Nakano by 0.22.
Miki Ando who already has a place in the Olympics was 3rd, while Akiko Suzuki was 4th. The margin between Asada and Suzuki was only 1.28.
Mao performed a powerful and consistent short program. Before she finished her short program "Masquerade", the audience was giving a standing ovation. After her two dismal performances in the grand prix series, people in Japan started to worry about her. After this adequate performance from Mao-chan, (as Japanese people fondly refer to her) there was a sigh of relief. The opening triple axel - double toe combination looked high and beautiful, but the score for it was downgraded. She collected level 4 for two of her spins and spiral sequence and level 3 for the last spin and straight line step sequence to gain 69.12 (36.84/32.28).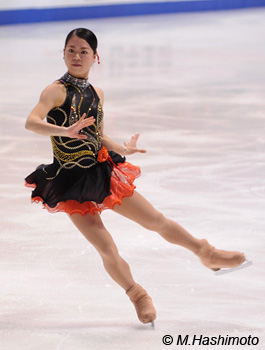 Akiko Suzuki performed an almost perfect program, which gained the second highest elements score of 37.80. She wore a strained look on her face, but she skated good enough that the crowd gave her a standing ovation. They looked a little surprised when her high score of 67.84 (37.80/30.04) was announced and felt sorry for Nakano.
However, Nakano had another outstanding performance and beat Suzuki by 1.06. She picked up level 4 for all of her spins and spiral sequence then was awarded +GOE for all the elements, except the opening triple lutz - double toe, to get the highest elements score. She also gained a higher PCS than Suzuki, so Nakano got second place in the short program. The score was 68.90 (38.70/30.20).
Miki Ando who skated in the last group also delivered a solid performance for third place. The world bronze medallist included a level 4 spin and spiral sequence but her straight line step sequence was rewarded a level 1. She didn't include the triple - triple combination but all her jumps were solid and beautiful. Her score was 68.68 (36.80/31.88).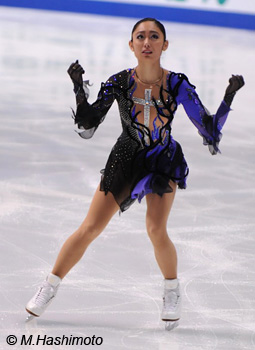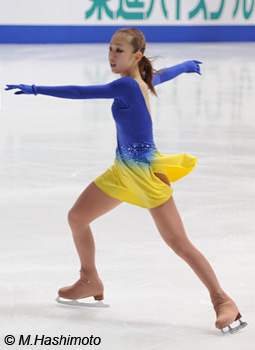 Another possible contender for the Olympic team is Fumie Suguri who ranked 6th with the score of 58.70 (31.10/28.60). She fell on the opening triple lutz which she planned in combination, otherwise she seemed to focus on what she had to do. She earned level 4 for two of her spins and spiral sequence and a level 3 for a spin and straight line step sequence.
The junior national champion Kanako Murakami came fifth. Her performance was vivid and powerful and it entertained the crowd. She scored 60.28 (33.80/26.48).
The junior silver medallist, Haruka Imai, and bronze medallist, Yukiko Fujisawa, delivered clean performances to come 7th and 9th respectively. Imai's score was 55.98 (32.90/23.08) while Fujisawa gained 55.82 (34.30/21.52).
Ladies' FP
The defending champion Mao Asada won her 4th straight title after she placed first in the free skate. She only did one triple axel, which seemed to be a good choice. After she landed the opening triple axel cleanly, she put 4 triples and 2 double axels into her routine. All of her spins were awarded level 4. However, her double toe and double loop as the second and third jump of the combinations were downgraded. Her total score was 204.62.
"Skating a clean SP has been my goal and I managed it here, which was very nice. However, I tried not to be too pleased because the margin between me and others was very small. I thought I had to push myself and it worked," said Asada. "Now I'm very happy and also quite relieved. I was quite nervous while I was waiting for the score to be announced because I was worried about my scores being down-graded."
The runner-up was Akiko Suzuki, who edged Yukari Nakano just by 0.17 and earned a place in Vancouver. She landed 7 clean triples including 1 combination and 2 sequences. Although her spiral sequence was level 1, she racked up the +GOE as well as a level 4 spin and two level 3 spins. Her overall score was 195.90.
Suzuki explained how she felt after she finished her performance. "I felt relieved and had a sense of accomplishment. I was pleased that I had done what I should have done. I wanted to enjoy the whole competition and I did. Actually, West Side Story was a tragedy, but I want to end my story with a happy ending."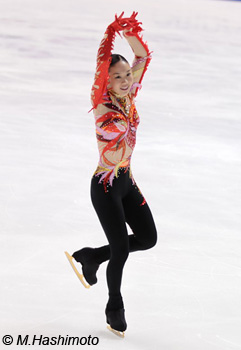 Yukari Nakano was just one step away from taking part in the Torino Olympics four years ago and again this year failed to qualify for the Vancouver Olympic team. Her performance looked just as good as Suzuki's. They had the same PCS score of 63.28. The element which decided Vancouver and Torino (Worlds 2010) was a triple lutz. Yukari stepped out on the landing and Suzuki fell just after landing. Her overall score was 195.73.
"I have been thinking of the nationals 24/7 these days. I even had dreams about it sometimes. I can't tell what kind of dreams they were. I don't know if I should try triple axel. I know I'd better not do it, but I can't help thinking what if I tried it. It is a very complicated feeling."
Fumie Suguri slipped to ninth in the free skate with 102.59 (42.83/59.76). She exposed her inconsistency on the jumps and lost the spot in the Olympic team. She came seventh, which was bad enough to know she was in a desperate situation.
She said "I'm so frustrated. I did not feel ready for this important competition. I don't know what will happen in the future. I'll decide afterwards as I have to talk about it with my family. I'll be happy if I can support figure skating in any way."
Kanako Murakami, 15 years old was the only person who didn't have to care about the Olympic spot in the last group. So she had no pressure. She was influenced by the other skaters' tension at the beginning of her program, but she collected herself after the fall on the opening triple lutz. She said she felt as if she had just woken up suddenly after the fall. Her overall place was fifth with 176.61.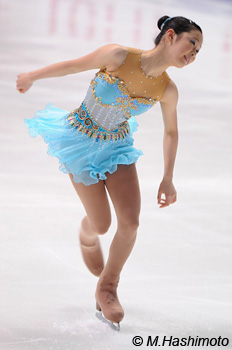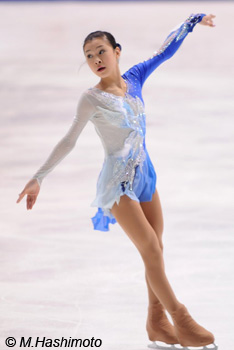 Haruka Imai, also from juniors, climbed one spot from seventh after placing 6th in the free skate. She skated an almost flawless skate and gained 110.18 for the free skate. Both Murakami and Imai improved on their performances, especially in terms of consistency and flow of the whole program. As Yukiko Fujisawa finished ninth, all the medallists of the junior nationals came into the top 10.
After the heated competition was over, the Olympic spots were decided. JSF said that the original plan for the Olympic qualifiers in the ladies' field was agreed unanimously as with the men's field. The qualifiers are; Miki Ando, Mao Asada, Akiko Suzuki.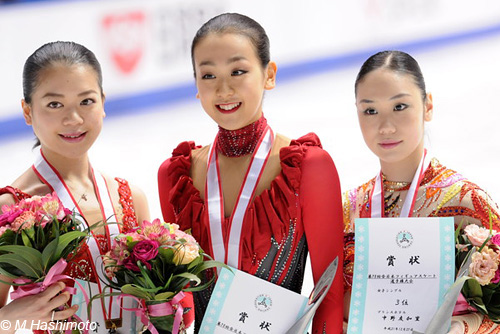 Mao Asada
"I am very happy because I can compete in the Olympics for the first time. I'd like to enjoy myself. I'm really excited!"
Akiko Suzuki
"For me everything is unreal but still I'm very happy. I want to build on my training plans from now on. I will appreciate every day more and more. I'd like to enjoy the Olympics as much as I can."
Miki Ando
"I'm very happy to get another chance to compete in Olympics. I want to show off a powerful Miki Ando to the world. I want to be on the podium after skating well as a member of Japan's national Olympic squad."
Ice dance
There were only 2 couples in this field. Cathy Reed & Chris Reed led the field from beginning to the end. The Reeds won the third straight title and their places in Vancouver with 163.37 in total. Their original dance was Japanese folk dance and they wore Kimono-style costumes which were made of cotton. At the Olympics, they'll wear beautiful silk Kimono. Their free dance "Angels and Demons" was a beautiful routine with complicated lifts and elegant step sequence.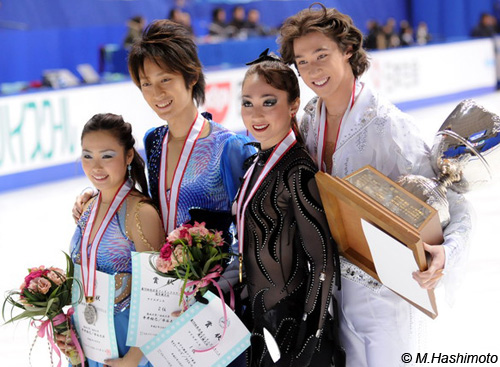 Emi Hirai &Taiyo Mizutani partnered up just 6 months ago so they need more time to grow unison between them. Their total points 119.49. Of course they need more improvement, but visually they matched very well. They said they would decide if they'd continue their partnership after checking the result of this competition.
Cathy Reed & Chris Reed
Cathy: "I feel like the dream has come true. Our little sister will also go to the Olympics representing Georgia. So it's like the whole family will go to Vancouver. I'm so happy."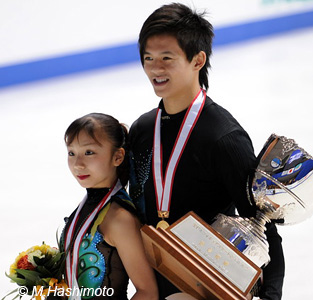 Chris: "We have so many things to do until the Olympics but time is very short. Since we have to work on improving every element, we will focus on training from now on."
Pairs
Narumi Takahashi & Mervin Tran were the only competitors in the pair's field. They earned 50.96 for the SP and 100.21 for the free skate. Total score 151.17 was their season's best.
In each event they improved, which is really amazing. They didn't get a place in Vancouver this year but they will be ready for the next Olympics.
Back to Part I