Art on Ice 2011: A dream within a dream
February 13, 2011
By Nadin Vernon
Photos © EMJO, Nadin Vernon
How is Art on Ice 2011 going to top last year's show which marked its 15 th anniversary? So many different acts have been announced, how are they all going to seamlessly fit into the same production?
With these questions in mind, I flew to Zürich to find out what Art on Ice 2011 had in store for its audience.
The show is presented as an eight-year old girl's dream whose wish it is to become an ice princess. She transcends the whole audience into this dream and takes us on a journey of freedom, passion and love, played out by an Olympic and World class line-up of skaters and musicians accompanied by the Art on Ice dance crew.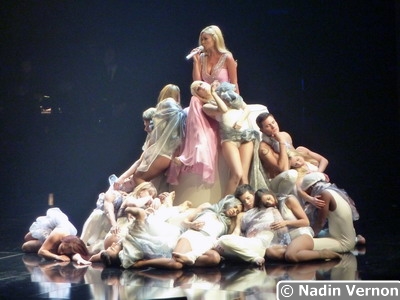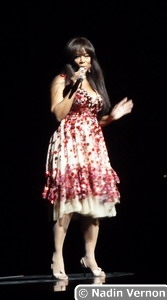 With only a couple of exceptions, all acts perform to live music. The first, more lyrical half of the show is led by Welsh mezzo-soprano Katherine Jenkins, while Donna Summer transforms the Hallenstadion into a huge disco dancefloor in the second half.
The talent we're about to see on the ice is stag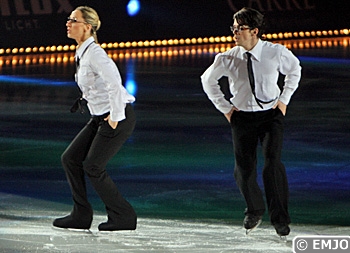 gering, at one point three Olympic Champions skate back to back.
Scottish ice dancers Sinead and John Kerr who won the Bronze medal at this year's European Championships, open the show with an Elvis Presley Medley sung by Gary Scott. This energetic routine stands in contrast to their second number which is Mad Men's A Beautiful Mine, a program which I first saw live in Bern and which is really growing on me with its cool feel.
Tatiana Volosozhar and Maksim Trankov open Katherine Jenkins' set with Amore Sei Tu (The Bodyguard's I Will Always Love You). The Russian Champions which are due to compete together for the first time on the big international stage at World's in Tokyo this March, enchant the audience with their beautiful natural harmony. Already in training it becomes clear that this newly formed team really enjoys working together and in the finale we are all treated to their trademark throw twist, which is so high it defies belief.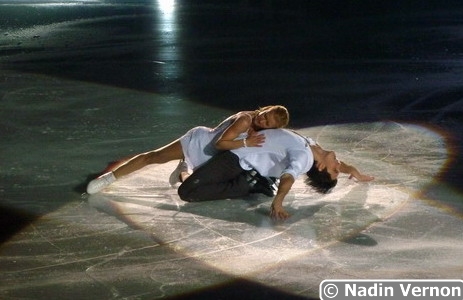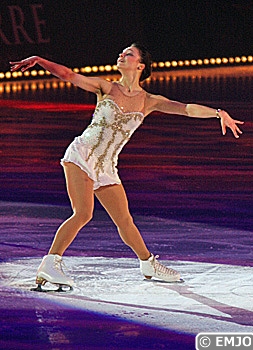 With Sarah Meier's performance, we see that a new dimension has been added to the Art on Ice production this year, in the form of short video clips which feature the performing act and blend into the programs. As Sarah Meier – the freshly crowned European Champion – takes to the ice to perform The Prayer, the audience lets out a huge roar to welcome her to Zürich.
During each performance, comedy duo Oropax consisting of brothers Volker and Thomas really gets the crowd going with its hysterical way of presenting the show. Even after a few nights, I am still laughing at the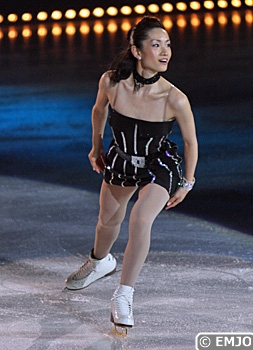 jokes – the majority of which is based on clever wordplay.
2006 Olympic Champion Shizuka Arakawa kicks off one of the two most dramatic performances of the evening. Her interpretation of Who Wants To Live Forever sung by Katherine Jenkins is stunning. Her style suits the song perfectly and Shizuka really lets go, showing us her flow over the ice with softly landed jumps and perfectly executed spirals and spins – not to forget her Ina Bauer which is one of a kind. In a contrasting performance to On The Radio in the second half, it is nice to see Shizuka singing along and really enjoying the party atmosphere.
Stéphane Lambiel's Bring Me To Life is highly anticipated and the title literally describes an Art on Ice phenomenon. After all, we've seen real masterpieces come to life during the premieres of recent years, with fireworks sparked by the interaction between Stéphane and the singing acts. And once again a spectacle is created with Katherine's dramatic interpretation of the song, Stéphane's intense style of skating and a video clip that is projected on stage. As usual, not only the audience is blown away as Katherine Jenkins later admits to having "a teeny weeny crush".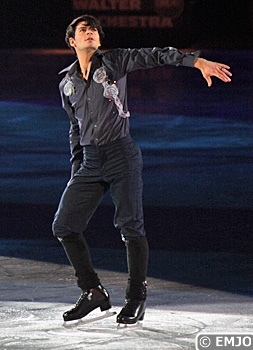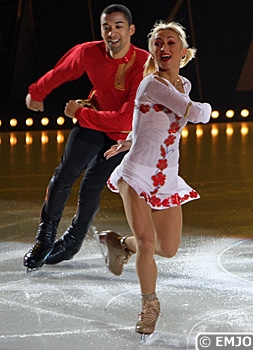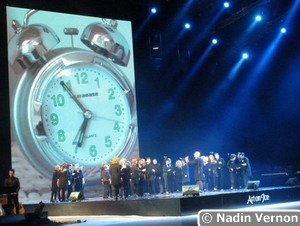 Aljona Savchenko and Robin Szolkowy show their short and free programs – you may think it's not an innovative choice, but their programs are completely transformed for Art on Ice. Pink Panther is played live by the Christoph Walter orchestra, and the Russian folk dance holds a very special surprise. Steve Sidwell from London conducts a sound effect choir which sings Korobushko in its instrumental version. This performance is introduced by a small film which shows Aljona and Robin getting ready for a competition, waking up, making coffee, taking a flight, etc. and all sounds in this clip – such as running water and the plane's take-off - are produced live by the choir. What a unique treat!
Unfortunately Evgeni Plushenko shows the same program we've already seen last year – his free skate from the 2009/2010 season. Even though we're used to seeing high jump content in his show numbers, it's still incredible how easily he can land three triple Axels, a triple toe-triple toe combination next to other triples in one show program. In his next number – Dim the Lights – Evgeni really pulls out the showman, flirting with the audience and challenging Donna Summer for the loudest applause.
The Art on Ice dancers introduce Donna Summer to the show, prior to which a huge disco ball is suspended from the ceiling in the middle of the ice. The group number which is choreographed by no other than Salomé Brunner gets the pure disco feeling going. Sarah Meier joins the dancers to show us more of her beautiful skating, while Sergej Yakimenko adds to the explosion on the ice with his somersaults.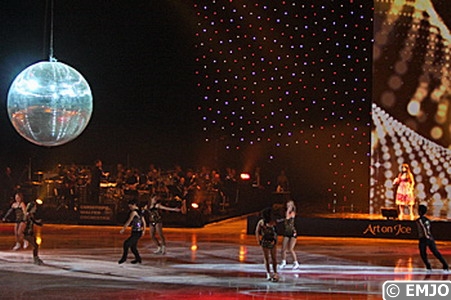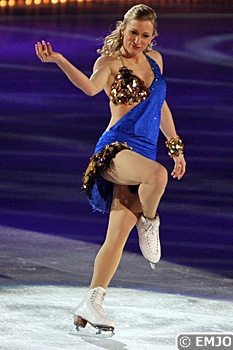 The feeling continues with Joannie Rochette's interpretation of She works hard for the money. In a fitting gold and royal blue costume, Joannie really gets the crowd going with this upbeat performance, perfectly landed triples and exciting step sequences. Already in the first half of the show, her skate to Objection Tango sung by Coco Gfeller stands out for being very energetic.
Fiona Gabrielle Zaldua and Dmitri Sukhanov use I Feel Love to showcase their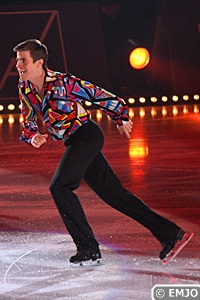 acrobatic skating, and once again prove that they are the best Adagio pair in the World.
The 2008 World Champion from Canada – Jeffrey Buttle - is visibly at home in shows. We get to see his musicality in two numbers: Sunglasses At Night sung by Gary Scott and Donna Summer's Enough is Enough. In both programs, Jeffrey shines and you really get the feeling that he loves his skating and sharing it with the crowd. It's no wonder he enjoys choreographing programs - more on this in a future article.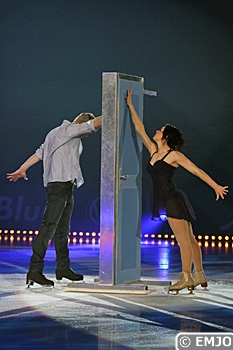 When it comes to innovative numbers, Isabelle Delobel and Olivier Schoenfelder don't disappoint. Their first program, an interpretation of Alanis Morissette's Uninvited is sung to perfection by Coco Gfeller and captures an atmosphere of forbidden passion acted out by Isabelle and Olivier with a backdrop of opening doors that are in sync with the haunting melody. Donna Summer introduces the second number as 'her favourite song' and incidentally Michael Jackson's favourite song, too: Smile which was written by Charlie Chaplin.
Donna Summer's set continues as we are about to see one of the highlights of the evening: 2010 Olympic Champions Shen Xhue and Zhao Hongbo skating to La Vie En Rose. As the arena fills with a pinkish red light, and several red roses are projected onto the screen behind the stage, the Chinese pair impresses with its beautiful deep edges and acrobatic moves.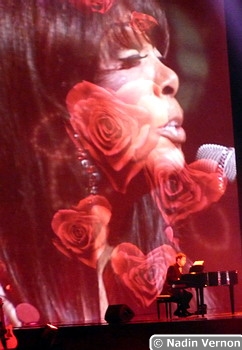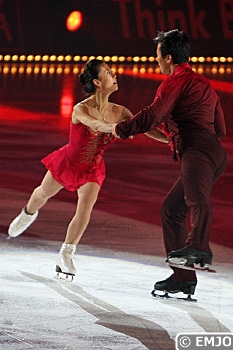 The time has come for Oropax to announce the finale as the Art on Ice crew both on and off ice puts its dancing boots on to Bad Girls and Hot Stuff. We get to see all the skaters again who come out to treat the audience, which by now is on its feet, to trademark elements. What a night! But wait a minute: are we only going to see one number by Stéphane Lambiel? Surely that can't be right. And sure enough, after the finale, Stéphane comes out for a Last Dance with Donna. (Watch out for my interview with Stéphane to find out more about how this came about.)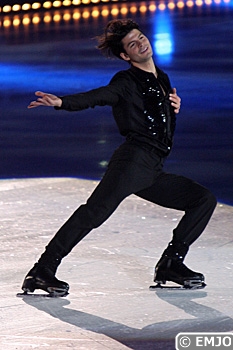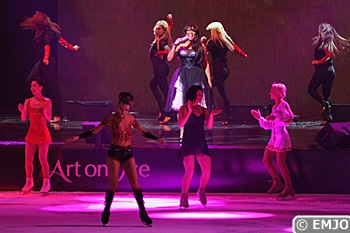 As this number draws to an end, I realise I have the answers to my questions: Art on Ice has done it again! It's not about being better than last year, it's about coming up with something new and different and that mission has certainly been accomplished.
Oropax and the little girl from the beginning take to the stage for a final dialogue in which brothers Thomas and Volker compliment the girl on her crazy dream and admit that 'adults can dream too, and sometimes dreams come true'. The little girl's answer: "Yes, as Sarah Meier showed us all".