Eisgala Davos and Open Air Eis Revue 2011
Part I
April 1, 2011
By Reut Golinsky

Photos © Reut Golinsky, Ana Kurbarova
This winter, Switzerland was blessed with figure skating more often than usual. If only my wishes could match my possibilities, I would have spent the whole month in this beautiful country starting with the European Championships in Bern, continuing a week after at "Art on Ice" in Zurich and Lausanne, a week later proceeding to "Eisgala Davos" and finishing with an amazing open air extravaganza in St.Moritz. Since I could afford only four days, and since I was able to enjoy "Art on Ice" the last two years, this time I chose to go to the show in Davos. In this mini-blog, I would love to share with you my experiences, feelings and thoughts from those four great days of my Swiss vacation.
Thursday, February the 10th
The trip there took me half a day – exactly hours from the middle of the night when I got in my car to drive to the airport, to the minute I was lying flat on my bed in the hotel, totally exhausted from travel. "How skaters are able to take all those long flights from one side of this globe to the other and then be able to come to practice, to perform... to move?!" This thought helped me get up and crawl toward the rink, which was luckily only few minutes away. "Vaillant Arena" was almost empty. The skaters had not arrived and the crew was arranging lights, props, and cables. I really love these quiet moments of preparation behind the stage. I really love to watch long – and what some would call boring – practice, where detail by detail, the final product – one program or the whole show – is shaped.
First to practice were Sarah Meier and the group of "Art on Ice" skaters. Salomé Brunner was working with them on Sarah's program to Donna Summer's, "MacArthur Park," which consisted of half, her solo, and the other half, a group number.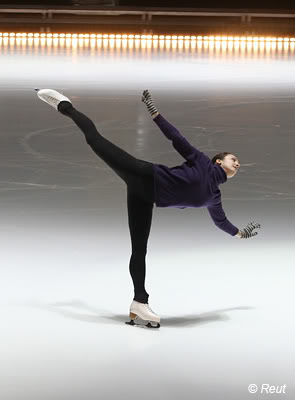 After that, Salomé continued with Moris Pfeifhofer, working on his program to "You Give Me Fever." Always with a smile and kindness, knowing precisely what she wants to see in each movement and each gesture, Salomé repeated fragments with Moris, showing him how she thinks it should be performed.
Skaters were coming in little by little, practicing their programs on the ice. During such practices, you almost never see the whole programs with all of the elements; practice consists of mostly sketches. Single skaters skip jumps and dancers and pair skaters only mark lifts or throws.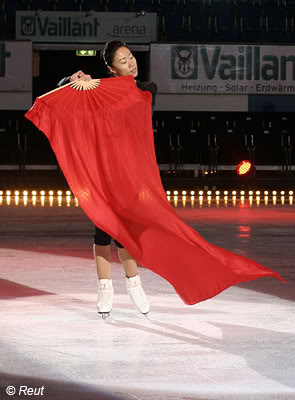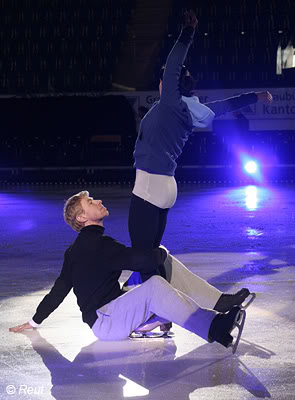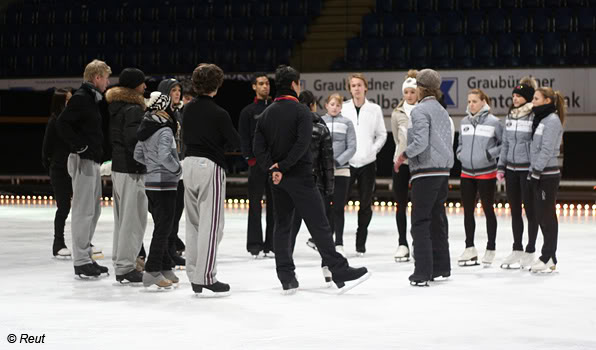 After Sinead and John Kerr spent their portion of time on the ice and practiced their programs, we had a nice chat about their future plans, a second European bronze, a very expensive "McDonalds" in Bern and about their secret weapon which makes them "second favourites" to fans all over the world (second because fans usually cheer for their countrymen... and for the Kerrs). On a funny note: I know our editors already joke that in every interview of mine, no matter who and no matter about what, I always have "Lambiel's cameo." Here, I didn't plan to mention Stéphane at all, but it was John who brought up this topic over and over again. I think he absolutely "out-fanned" me in his excitement. I wonder if the editors will believe that I truly have nothing to do with this!
Friday, February the 11th
Friday afternoon was the run through practice. It went much faster than the previous day; no repetitions, no pauses, and the timing was similar to the real show. Even as the rehearsal neared its end, every single detail needed to be rehearsed, including bows and high fives with the audience.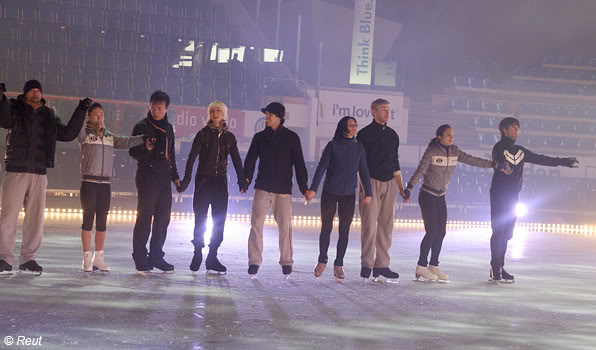 While waiting for their turn to enter the ice, Isabelle Delobel and Olivier Schoenfelder found some time to catch up with me about how this first year as pros turned out for each one of them. They both sounded happy and satisfied with their lives now and I can't express how glad I was to learn that. I think the most important and the hardest thing for every skater is to find his own way after retirement from competitions.
Saturday, February the 12th
Saturday afternoon, Sarah Meier, Aljona Savchenko and Robin Szolkowy gave a master class to children on the open rink and all the skaters took rides in horse carriages.
A special experience for me personally was the opportunity to be present during the private practice Stéphane Lambiel had later that afternoon. He was working with Salomé Brunner on his new program to, "I'll stand by you," created exclusively for the show in St.Moritz. Salomé's part was different from what I saw on Thursday because here she worked in full collaboration with Stéphane, who brought his own ideas and vision. This is the way they always work on Stéphane's programs since he matured as a skater. This season he also began choreographing for others. He created a short program for Denis Ten and an exhibition and short program for Daisuke Takahashi (the latter was never performed in the competition though). It has now officially become the union of two colleagues.
Do they always agree on their vision? What are the differences in their approach while choreographing for someone? How does one create a good program? What makes the certain move become beautiful or ugly? I hope my interview with them will answer to all those questions.
Go to Part II.