Eisgala Davos and Open Air Eis Revue 2011
Part II
April 1, 2011
By Reut Golinsky
Photos © Reut Golinsky
The show
The show was hosted by the duo, "Oropax", naturally in German, which unfortunately I don't speak. The entire arena laughed so hard at jokes I could not understand. I asked John, by the way, if he knows what jokes precede their performances. He said that jokes sometimes differ at different shows. "Oropax" translated the jokes for them once, but it wasn't that funny, so he didn't remember the details. According to the audience reaction, I believe that I missed quite a lot of fun.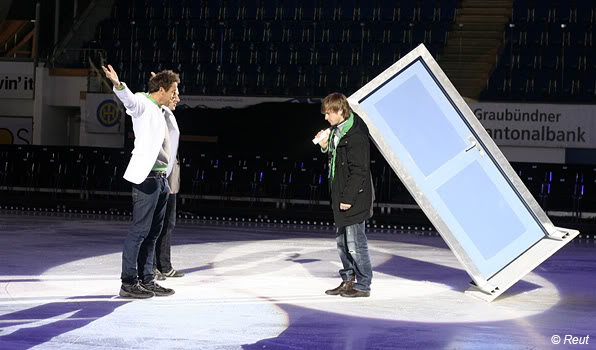 The cast was almost the same as in Zurich and in Lausanne; it consisted of professional skaters holding numerous titles and many programs were repeated from what was shown in "Art on Ice." If you already read the interesting and detailed report from Nadin, and saw Maria's beautiful photos, there is no need for me to duplicate their work. Instead I'll make a few subjective points and remarks about some of the performances I saw.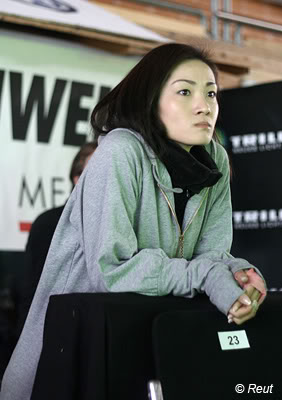 Shizuka Arakawa stood out to me among the cast members. With the flawlessness and complexity of her programs and the beauty of every single move in them, I believe since she retired, she improved her skating even more. Stéphane Lambiel mentioned in the joint interview that they both had with the Swiss press, that Shizuka has been his role model in his pro skating career. I think he couldn't choose someone better for this.
Sarah Meier was the ultimate heroine of all Swiss shows. During the skaters' introduction, she was presented to the audience last, after the Olympic and World champions, which is the biggest honour. Of course she deserved to be in the spotlight. What she did in Bern was absolutely outstanding and I still can't internalize that it wasn't only my dream. During her program to, "The Prayer," the whole arena was lit with small flashlights which were distributed to the audience before the show. I was a bit late and didn't get one. I also didn't understand what hosts were saying to the public, so it came to me as a total surprise and oh my how beautiful and touching it was.
Two other Swiss skaters, Tomi Pulkkinen (2009 Swiss silver medalist) and Moris Pfeifhofer (2005 and 2007 Swiss bronze medalist), were opening the first and second acts respectively and I think this was a great opportunity for them to meet their home crowd and to learn more from the experienced cast they were working with.
They both did great. I especially loved Tomi's upbeat and energetic performance; he had an amazing connection with the audience and definitely has a talent for showmanship.
Stéphane Lambiel performed, "Bring Me To Life," created especially for "Art on Ice" shows, and "La Traviata," which was his long program last season. This program was shown only twice - at the European Championships and in Vancouver. I'm glad its life continued into shows. No doubt this refined waltz, like many other Stéphane's competitive programs, looks equally great as an exhibition program. "La Traviata" was never shown in Switzerland before so it was a great present for all his Swiss fans. During "Art on Ice" in Zurich, "Bring me to life" was followed by an interesting video clip with Stéphane as the leading role. For me, it was even better that they didn't screen it in Davos so that nothing could distract me from Stéphane's skating – even his handsome self bringing back to life the young lady frozen to death.
The second act started with a cute number with a group of children wearing ladybug costumes. I don't think they meant any connection, but of course I couldn't help recalling that once the ladybug was Stéphane's lucky charm and a kind of "trademark;" he continues to receive them as presents even now. Which reminds me of a very important question I asked him once: What happened to his famous "Salut de la Coccinelle" ("ladybug greeting", the sign he usually made in K&C) and why did he not show it during his last competitive season? Apparently he didn't notice how this sign dropped out – it wasn't some decision he made or anything like that. My guess is that he just matured...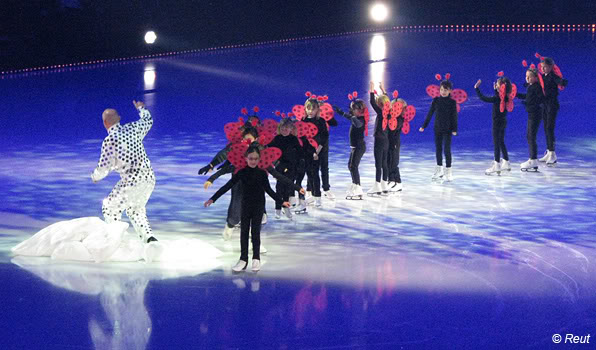 "Eisgala Davos" has a more standard approach and is more similar to a "regular" skating show. There is no live music or dancers on the stage and no special effects or films, but the quality of the show is very high and the total number of medals and titles the cast possesses is very impressive. The "special feature" of this show was the rare opportunity for spectators to sit directly on the ice without any borders between themselves and the skaters. This creates a unique atmosphere both for the audience and for the performers and makes their interaction more intimate and personal.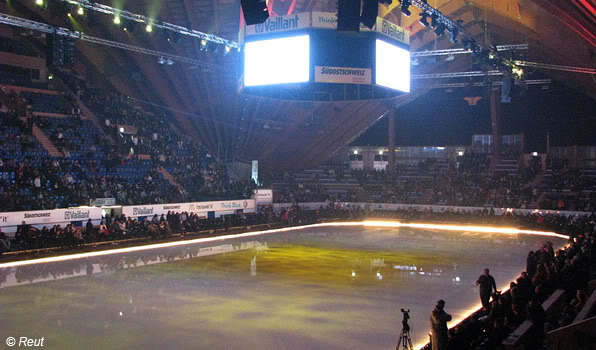 Sunday, February the 13th
For this last day in Switzerland, there was another place for me to visit and another skating show to watch. "This is what a typical small Swiss show looks like," my Swiss friends who helped me get there explained. A very special first time experience I'd call it. Just a small number of people, an opportunity to stand right near the boards, bright sun, fresh air and picturesque Swiss Alps as the scenery - all these made the show in Glarus different from any other skating show I've seen before.
The cast consisted mostly of very young Swiss skaters, some of which were Novice or Junior medalists in recent years. For elite skaters, they had the only dance pair, Ramona Elsener/Florian Roost, Moris Pfeifhofer and Swiss stars Sarah Meier and Stéphane Lambiel. This was very nice of Sarah and Stéphane to take time and effort to participate in such a small and simple show. Fanny Dietschi, Joulia Chtchetinina, Yasmine Yamada, Zora Largo, and Joelle Pfister also skated. Who knows... maybe one of those little girls will repeat in years to come Sarah's or Stéphane's story and maybe this will happen thanks to the Open Air Eis Revue 2011 where they had the unique opportunity to meet their idols, learn from them and find the inspiration and motivation to continue in this beautiful but very demanding sport.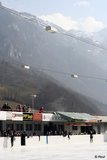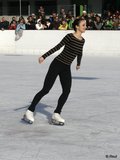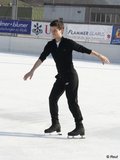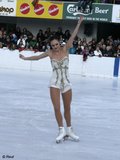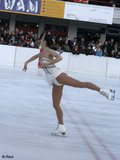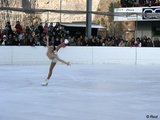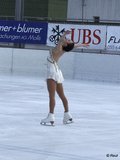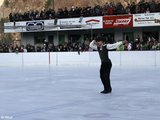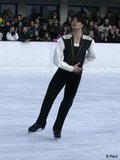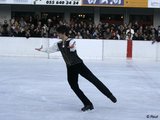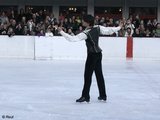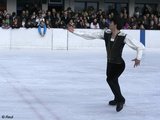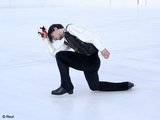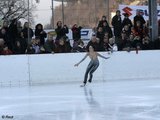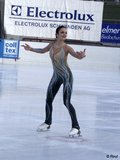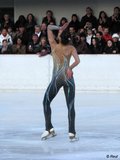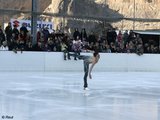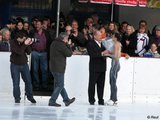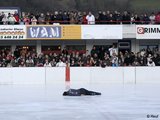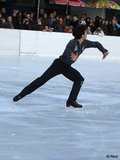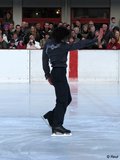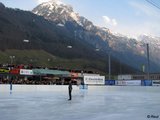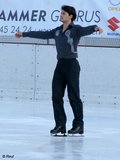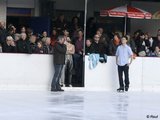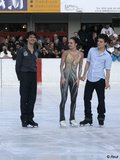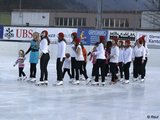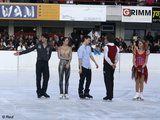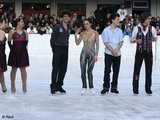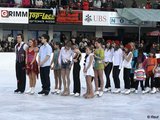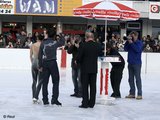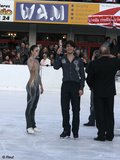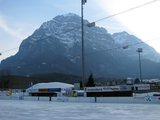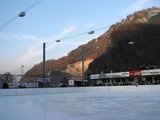 Go to Part I.