Music on Ice 2012
(January 7-8, Bellinzona, Switzerland)
April 11, 2012
By Reut Golinsky
Photo © Reut Golinsky
It became a nice tradition each winter to visit my favorite European country for a skating show. While "Art on Ice" is the most famous and most impressive of them, it's not the only show Switzerland can present to figure skating fans.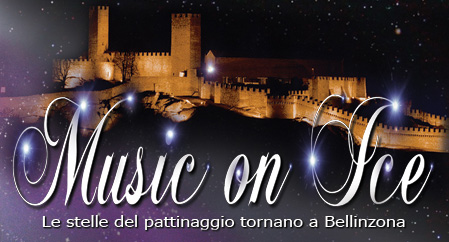 This year I decided to give "Music on Ice" a try, held at the beginning of January in the City of Three Castles and an administrative capital of the canton Ticino, Bellinzona. It was a great opportunity to visit new places and watch on the ice the skaters I've never seen live before.
Japanese flavor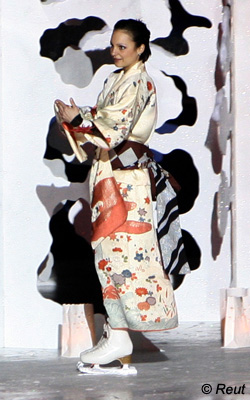 Following last year's success, it was the second edition of the show. This time it was also dedicated to a special cause - the catastrophe that befell the Japanese last spring. A portion of ticket sales, 15,000 Swiss Francs in total, was donated to the Red Cross and will be used, according to the Red Cross representative, to support the elder generation that suffered from this natural disaster. "When such things happen, people talk a lot about them, but with the time we tend to forget. However, I believe that Japanese people still need our help; need to feel not abandoned, not alone", said Laurent Tobel, director of the show, in one of his interviews promoting "Music on Ice".
Here and there during the show we could see a "Japanese touch" - in the design of the rink, which was supposed to remind us of a Japanese garden; in kimonos worn by the host and by lady skaters. Japanese culture and traditions were also mentioned in some of the performances both in lyrical and humoristic ways.
"If you just smile..."
Yes, humoristic too. Though the cause this show was dedicated to was tragic, the atmosphere was very light and festive, filled with laughter and joy.
Each good show should have something special about it and contain features which will differentiate it from others. For "Music on Ice", it's first of all the personality of its creator, Laurent Tobel. Known for his original and comical programs, he has a similar approach defining the character of his shows. I don't see a contradiction here; the main purpose was not to concentrate on tragedy but to bring hope and support.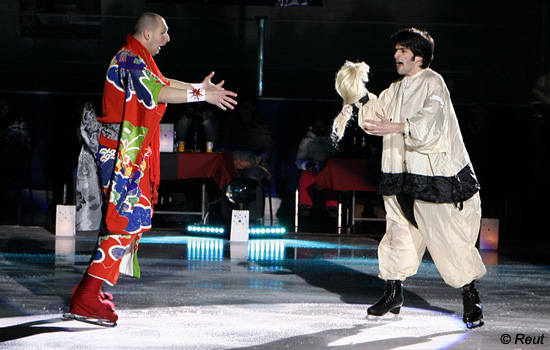 Something else I especially liked in this show: all the programs were connected by small miniatures in between them, transforming this show into a continuous chain of performances rather than separate show numbers.
In many ways this show was especially "fan friendly". There was an opportunity to buy tickets for the seats right on the ice. This VIP package also included a "Meet&Greet" with skaters after the show.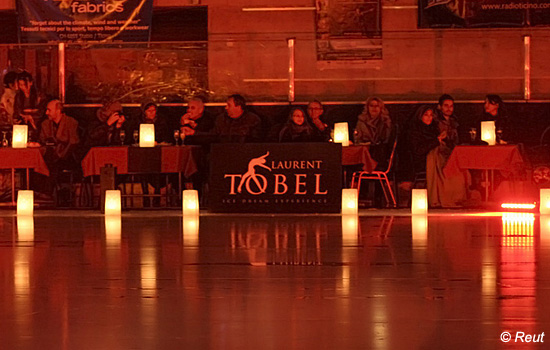 For the fans all over the world that couldn't come to Bellinzona, there was an online broadcast on idealweb.tv. For those who want to re-watch the show and relive great memories DVDs can be ordered via e-mail.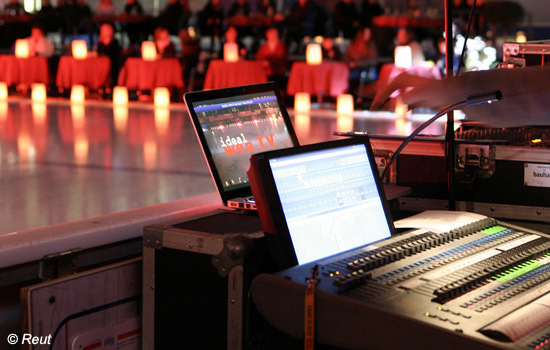 A little bit of everything
The show was very well-balanced both in cast - different ages and generations of skaters, different skating disciplines - and in programs.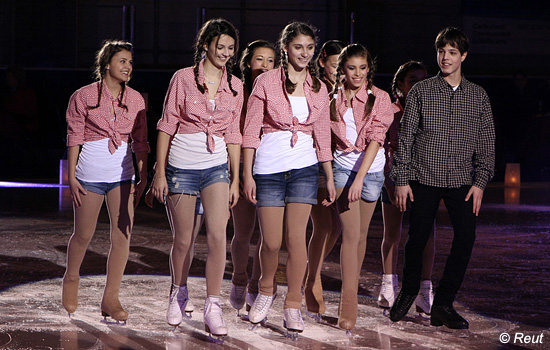 Skaters of a few generations partook in "Music on Ice". From the "old guard", presented by Tobel, Tchernyshev/Lang, Sabovčík and Margaglio, the latter was the host, to the youngest skaters - Diana Zanta and children from the local skating club.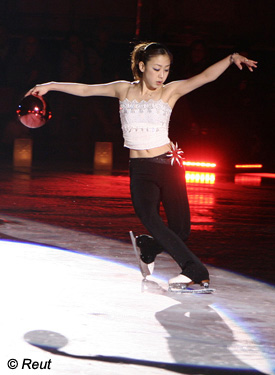 The content was balanced too. Funny routines were interspersed with dramatic, lyrical and passionate programs.
Fumie Suguri used all the freedom in shows that isn't in competitions; she changed costumes, mixed allegedly contrasting styles of the music, used different props and even threw candies to the audience members. Her first program had two distinctive parts. In the first half, wearing a simple black dress and long gloves, she skated to Bach's "Air", it was a delicate, pensive part, which resembled a prayer. Then, suddenly, everything changed. Gloves and dress were thrown away. Fumie showed the other side of her personality, rebellious and sexy, skating to electronic hip hop of "Girls on the dance floor". This unusual combination of Bach and "Far East Movement", music pieces crossing three centuries, worked surprisingly well in one program!
Her second number was performed to the medley from "Quidam", one of my favorite shows of "Cirque du Soleil".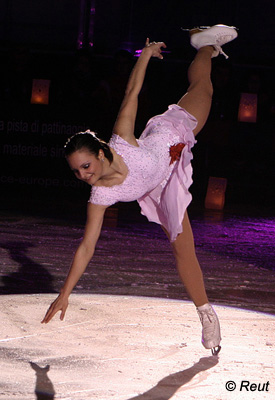 I especially loved how she included the red ball prop in the choreography and in her interaction with spectators.
Free from strict rules of competitions, Sarah Meier decided to try on new costumes and new styles. Her first program, to Etta James' "At Last", was closer to her usual delicate style, but had a nice jazzy touch.
Her second program was very different from everything we've seen from her before; she was "not herself that night," exactly as a title of Christina Aguilera's song she was skating to. Like Fumie, she had some creative transformations of her costume. "The costume was also Marvin's (Marvin A. Smith, the choreographer of this program - ed.) idea and came along day by day when working on the program: first the feathers, then the belt, then the idea of being able to take the feathers away and stick them on another place on the costume," Sarah explained during her interview for Absolute Skating. "Basically, we wanted to work with the costume and 'undress' without doing the obvious and get more naked".
Adagio pair skaters, Fiona Zaldua and Dmitry Sukhanov, showed two very contrasting performances. The first one, energetic and even aggressive, to Deep Purple's "Smoke on the Water", was close in style to their programs I've seen in other shows. However, their number in the second part of the show really surprised me. I didn't know that this acrobatic and technical pair could be so poetic and gentle. Skating fluidly to Yanni's "One Man's Dream", showing unusual, impossible lifts for human beings, they looked like aliens in their open white costumes... or maybe like angels?
Naomi Lang and Peter Tchernyshev decided to talk to the audience about love and its different faces, this eternal and always timely theme. What is love? What life is about? Naomi and Peter reflected about it on the ice. And soulful Barber's "Adagio for Strings", was accompanied by the text written by Peter especially for this program: "Life. People. In our quest for happiness we sail through the universe of life chasing our hopes and dreams... Strangers passing, vanishing into the unknown as we stay our course. And then it happens. Suddenly like a shooting star another soul raps itself into our own... What draws two souls toward one another? Is it love? Passion? Is it miracle incidence? Or is it destiny?.."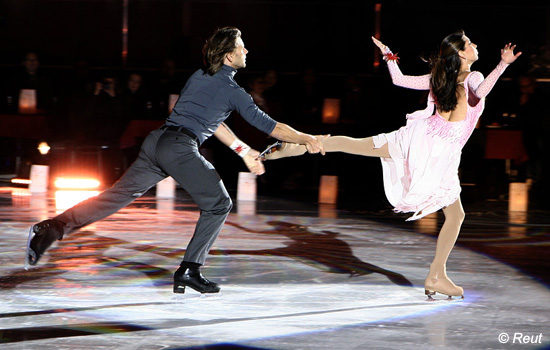 But sometimes love is painful, angry and unforgiving, like in their second program to the tango from Schnittke's opera "Life with an Idiot". This piece was initially choreographed for "Ice Age", the TV show created by Ilia Averbukh, in which Tchernyshev teamed up with actress Kseniya Alferova. It was considered one of their best programs together. Laurent Tobel saw the video on YouTube and asked Peter to recreate this number with Naomi Lang.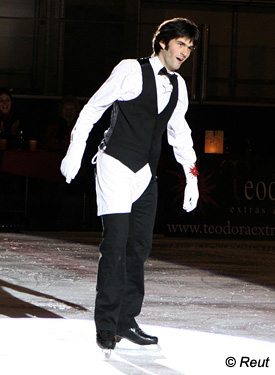 The main idea for both of Samuel Contesti's numbers was just pure fun. Whoever he portrayed, negligent waiter or sumo fighter, he definitely challenged Laurent Tobel for the status of the funniest skater of the night, making the audience laugh out loud non-stop. We are used to seeing Samuel playing different characters on the ice, even in his competitive programs. He was an orchestra conductor in his short program this year and a cowboy in his long program a few years ago - but I've never seen him being so hilarious!
Common for Stéphane Lambiel's two programs, was the feeling of improvisation. His first one, to Jamie Cullum's "Don't stop the music", continued the jazzy direction Stéphane already tried previously in his "Tainted love" and "Let The Good Times Roll" programs, but went even further. Its choreography is packed with innovative ideas, it looks as if the performer creates those moves on the fly, inspired by jazzy arrhythmic tunes, just like a jazz virtuoso who while improvising comes up with melodies off the top of his head. Of course this impression is wrong.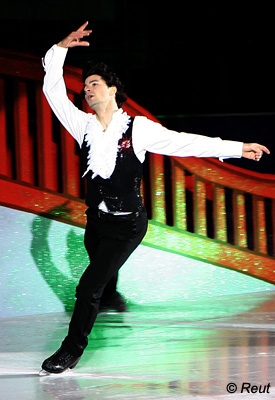 Every little gesture is well-thought-out and it took Stéphane almost half a year from the first time he mentioned working on this program until he finally showed it to the audience.
His second program, to Verdi's "La donna è mobile", is an improvisation on a theme of the opera character. It's a satirical sketch on the Duke of Mantua, who sings this aria in "Rigoletto". "We worked with Salomé on this character who talks about women. He says, 'All women, they all lie; one day they say 'white', one day they say 'black', don't trust any women'. But he is probably worse than all those women!" Stéphane revealed the idea behind this program during the meeting with his fans. "We spent few hours doing the choreography and it was very new for me to work in this direction, because I never did any funny numbers. After it had been proposed that I skate to "Rigoletto" (for "Opera on Ice" show in Verona last October. - ed.), we studied the character of this personage and I really loved it. He is so different than me! It was a new thing to learn and a new spirit to understand."
The finale of the show started to the music of the Japanese song, "Arigatou", written by Akiko Yoshida (KOKIA), as if skaters wanted to say, "Arigatou," "Thank you," to the audience for coming to the show and supporting its important cause. Then it continued with the famous aria "Nessun Dorma", from Puccini's "Turandot". It is sung by the main character, Calaf, who waits for dawn, anticipating his victory over the beautiful but cold Princess Turandot: "Vanish, o night! Set, stars! Set, stars! At dawn, I will win!"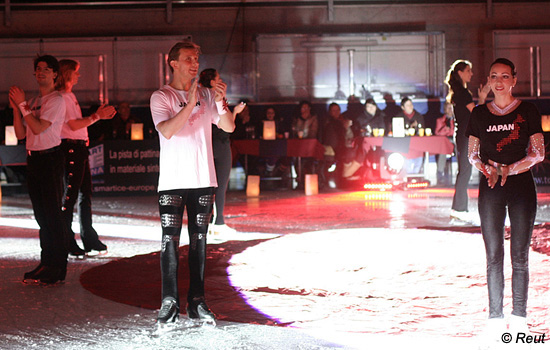 Red round material put during the finale in the middle of the rink represented the Japanese flag, which symbolizes the sun and reflects the name of the country, "Sun-Origin". Two cultures, Italian and Japanese, interwoven together to convey hope that the dawn is about to come to the Land of the Rising Sun and its people.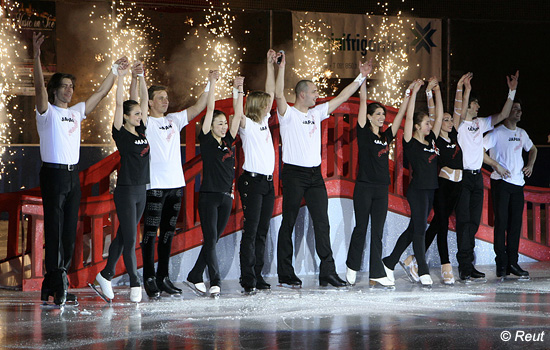 P.S. Check more photos from the show here.