Stars on Ice 2012
(February 25, Seattle, WA)
April 25, 2012
By Anna Zeitlin
Photo © Anna Zeitlin
We were strolling in the Seattle Center Pavillion during the holiday season last December when I suddenly noticed a small poster pinned to the newsboard: "Stars on Ice tour in Seattle". "Oh my," was all I could say. Honestly speaking, what I really wanted to do was scream "OH MY!!!", but I decided not to scare off the people around me, so all I did was repeat quietly but excitedly: "Oh my!" Attending a figure skating show as famous as "Stars on Ice" was my dream for quite a few years and there I stood after just having moved to the US and Seattle area and the show was coming to me.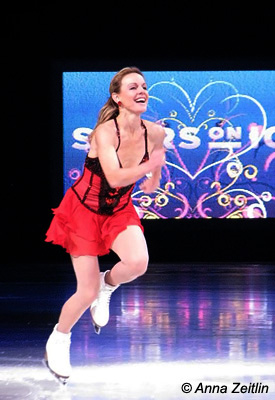 Then February 25th came and I found myself in front of the Key Arena, clutching the ticket in my hand, still not entirely believing I'm going to see the show. Next shot - I'm in my seat at the arena. Lights go off, music starts playing and the show commences.
The opening number included the entire cast (choreographed by Geoffrey Tyler) and gradually presented all of the skaters entering the ice under spotlights while their voices were heard, sharing their opinion of what life is about, thus presenting the theme of the show, "Love n' Life". After the intro, the solo routines followed, intermingled with some very nice transitions.
Ekaterina Gordeeva opened individual numbers of the show with "Love Will Keep Us Together" by Captain & Tennille and later skated to "Feelin' Good" by The Pussycat Dolls in the second act, including nice and clean double jumps in both programs. While her first number was very entertaining and light, the second one, close to the show's end, was really passionate. (The sexy glittering black dress indeed helped the mood of the number). I also liked her hands very much in both programs - beautiful and expressive. She was extremely elegant and a joy to watch - a true legend of figure skating she is.
Kyoko Ina & John Zimmerman performed to a very energetic and rhythmical "Johnny Got a Boom Boom" by Imelda May and to a more calm "Take Me There" by Rascal Flatts in the second act. They did some impressive lifts and very scary moves, causing the audience to ooo and ahh more than once. Some of the moves were Kyoko jumping over John and him catching her in the process (Fly High and Say Bye) and also John holding Kyoko by the ankles and twirling with her head coming to a dangerous proximity with the ice a couple of times (Headbanger). They did have a hiccup in their second number when one of their lifts went wrong, but both their performances were still very enjoyable.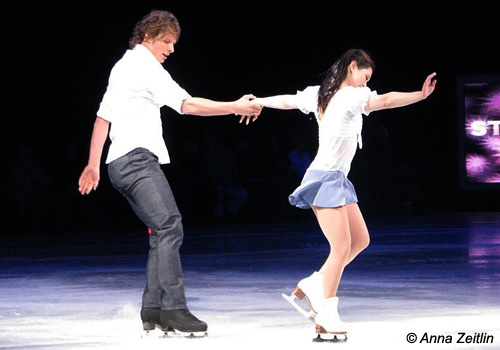 Kurt Browning's number in the first act was to "I'm Yours" by Jason Mraz. He went out onto the ice and began dancing, smiling, making faces and otherwise flirting with the audience. With every repetition of the "I'm yours" mantra, he took off another piece of clothing (jacket, waistcoat and long-sleeved shirt in total) and presented those same words printed on the inside of the garment; except for the last bit, when taking off the long-sleeved shirt, he revealed a T-shirt bearing the words "I'm still yours" on the back. This number is really heartfelt and Kurt is unbelievably light-footed and intricate in his footwork. Kurt also closed the solos in the second act with "Feeling Good" by Adam Lambert. This was a powerful program, again with his trademark footwork; I loved his arm and body movements a lot here and in all he did an absolutely fantastic job visualizing the power and passion which the music and Lambert's voice provided.
Regarding Kurt, I also must make my first deviation and make a little confession.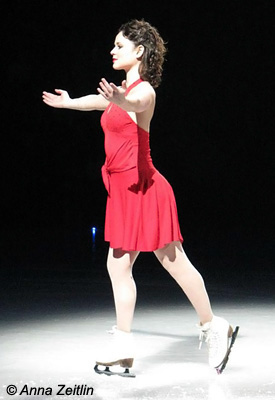 I wanted to have something a bit more substantial than just fond memories to assure myself later on that I really attended the show and it wasn't a dream. Also, since I wanted to have some nice pictures to go with this article, I photographed a lot throughout the whole show; probably even somewhat more than was necessary; except for when Kurt performed his numbers. All I could do then was just stare at him and smile happily and sheepishly (well, I still took one or two photos, but that's it). What he does on ice is simply unbelievable; his moves, his acting, his interaction with the audience... aah, I'm still all shivers and smiles. One of my biggest figure skating dreams up 'til now was to see Kurt Browning perform live. Now one of my biggest figure skating dreams is to see Kurt Browning perform live again!
Sasha Cohen skated to "Dos Gardenias" by Buena Vista Social Club and "Big Spender" by Nicola Hughes/Shirley Bassey. She didn't jump, but her energetic and bursting sexy performances included very good spins and trademark spirals. I especially enjoyed the second program, which Sasha sold to the audience perfectly, dressed in a sparkling silver dress. She is a great skater and I am very happy I could see her skate in this show.
This is Ryan Bradley's first season with "Stars on Ice", but it looked like he had been touring for a while. Nice performance to "Footloose" by Kenny Loggins - no complex choreography or footwork there, but I was taken by his bursting energy, and his back-flip is sooo impressive. His second number to the "The Best is Yet to Come" by Frank Sinatra was somewhat flavourless, though. I saw Ryan skate at Trophee Eric Bompard back in 2008 and I must say his artistic skills have really improved since then. He is a great entertainer and maybe just needs more interesting choreography for his programs.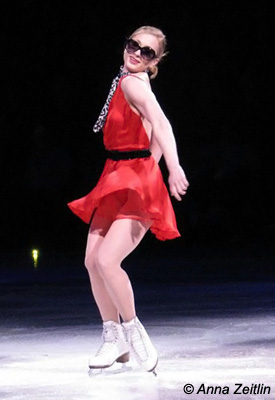 Joannie Rochette was very flirty in "Formidable" by France d'Amour (the French lyrics didn't hurt the "flirty", I must add). She looked gorgeous in a red dress, sunglasses and a scarf, which she used as a prop, waiving it gracefully in the second part of the program as she glided along. At the start of the number, she stopped right near my seat and stood there jauntily, waiting for Ilia Kulik to leave the ice (Ilia did the transition to Joannie's number, trying to offer her chocolates and a bouquet, but in vain, which really upset him, apparently, since he started asking himself "Why? Why?" in Russian, putting "triple Salchow" in the middle, to add some familiarly sounding words to his grumbling). I was very impressed by her posture and the entire number really flowed for me. Joannie looked great on the ice and I was very pleased to see her as part of the show. In the second act, her number was much more energetic and rhythmic, to electronic sounds of "Indestructible" by Robyn and I liked that performance as well.
Todd Eldredge showed his entertaining side (with some help from Ina & Zimmerman) skating to "The Waiter's Gallop" - he was impersonating a negligent waiter who, instead of tending his customers, runs and dances around, knocking off John Zimmerman in the process and spilling water on him later on, forgetting to bring the food in time and then taking it away too early. The number was very comedic and all three skaters played it really well. Later on Eldredge demonstrated his romantic side in "Amazed" by Lonestar, skating smoothly and elegantly and presenting nice flowing choreography and some very good spins.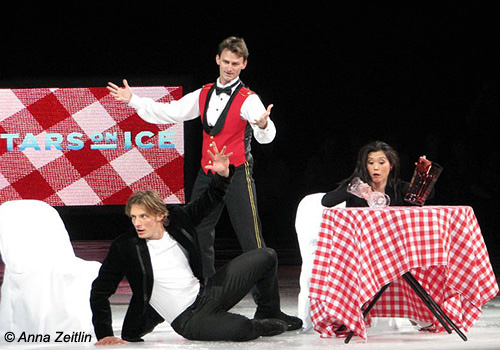 Sinead & John Kerr, also newcomers to the "Stars on Ice" cast, performed first their free dance from last season, "Exogenesis: Symphony Part 3" by Muse. I think this was one of their career best free dances and they skated it perfectly here - smoothly, beautifully, elegantly, profoundly. Their second number to "Pencil Full of Lead" by Paolo Nutini was the total opposite - very entertaining and fun to watch, including some fast step sequences and interesting lifts. Their costumes also helped to create and emphasize the mood of both routines - calm lilac for the first program and vivid pink with wide black and white stripes for the second. I must make another deviation here and say that as happy as I was finding out I would finally see Kurt Browning live, I was equally happy to learn I would be able to watch the Kerrs again. They were my favourite ice dance couple when they competed and they always left me with shivers after their "serious" routines (their two programs to Muse)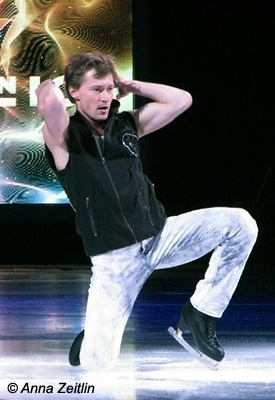 and a smile after the more "light" and entertaining dances (like their second number in this show). I really hope they will come back to skate with "Stars on Ice" in the years to come.
Ilia Kulik was yet another skater I was really looking forward to seeing live. He is responsible for triggering my interest in figure skating. Who knows, if I hadn't seen and liked his golden Olympic "Rhapsody in Blue" routine, my world could be different now. Kulik gave two very strong performances which were among the highlights of the show for me. The first program was to "Who Wants to Live Forever?" by David Garrett - passionate and powerful; even though this program didn't have a complicated choreography, it captivated you right from the start. The second program (and one of the show's favourites for me) was to "Love in this Club" by Usher - techno-style, with Kulik in jeans and a black hoodie. This program really suited him and his power on the ice very well, and was very enjoyable to watch. Ilia also exhibited excellent comedic abilities in a few group numbers and transitions. Apart from the aforementioned introduction to Joannie Rochette's number, Kulik also participated in a few guys-only transitions (with John Kerr, Todd Eldredge and Ryan Bradley), playing the outsider of the pack. In the first one he was wearing a huge flower in his buttonhole, while the others had normal flowers and it was interfering with his moves all the time. In the second one he kept getting punched by Ryan Bradley, not able to follow the choreography as required. He brings a lot of fun and power to the show and I'm truly happy I saw him skate there.
Even if the show had all these great skaters and numbers and nothing more, it already would have been good, but what transformed the show from just 'good' to the level of 'absolutely amazing', in my opinion, were the group numbers and transitions between the solos, which really gave a nice flow to the whole show and made it a single piece of work and not just a collection of standalone (although superb) numbers.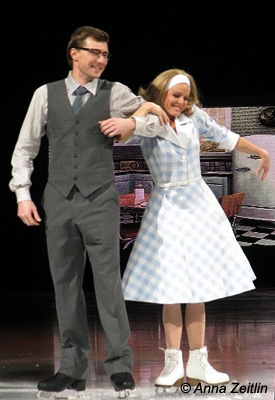 The thanks here must go to Kurt Browning, co-director since this season, who with the help of Jef Billings, Jeffrey Buttle and Geoffrey Tyler, created clever, touching, elegant, funny and energetic transitions and group numbers. The closing group numbers in both acts (to "Rolling in the Deep" by Adele and "Dog Days are Over" by Florence + the Machine) were powerful and impressive, especially the first one with lots of moves, steps, lifts and other bits from different skaters (including some mixed pairs as well). One of my personal favourites was the artistic (and also absolutely hot) number to "Waiting for my Real Life to Begin" by Colin Hay, performed by Kurt Browning, John Kerr, Ryan Bradley and John Zimmerman with stand-up spotlights, which were switched on and off, illuminating the solo skater at the moment and leaving the rest of the arena in complete darkness. The number looked very innovative and intricate and the skaters performed it beautifully. My second favourite was an absolutely marvellous second act opener to "A Life Loved" from the "Up" animated movie soundtrack. If you have seen that movie, you will probably remember a short sequence depicting the entire life of a couple - young love, daily life, growing old together and then, in the end, the old husband, alone, remembering his wife and the good old days. When I was watching this sequence in the movie, I had tears in my eyes.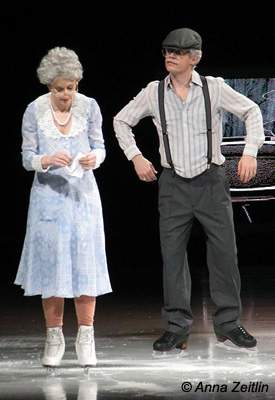 And I was deeply moved by practically the same story here, represented by Sinead & John Kerr as youngsters, meeting each other for the first time; Ilia Kulik and Ekaterina Gordeeva as a young married couple; Kurt Browning and Joannie Rochette as an elderly husband and wife; and Todd Eldredge as a lone man coming to the end of his life, sitting in an armchair with the photo of his late wife while the images of the past happy days are passing and dancing by. This number didn't have all the complex choreography of the two acts closing group numbers, but it had story and meaning, and that's why I liked it so much. This is what I call the art and the power of figure skating - not just entertain the public, but sometimes open a window to small pieces of real life--and passion--and love. And the "Love 'n' Life" title of this season's tour suits it perfectly.
When you're watching a movie (or eating, or drinking wine; the movie example is just most illustrative here, I think), there is such a thing as an aftertaste. Sometimes, while watching, you can enjoy the acting and the special effects, but then you start to think of it afterwards, finding loopholes in the plot and other oddities, and you cannot understand what you actually enjoyed and why. And sometimes it's the opposite - the more you think about what you saw, the more you like it. The more scenes from the movie you bring to your memory, the better you understand its flow, drive and message and the more you like it. I can tell that the "Stars on Ice" show had the same good aftertaste for me as did some great movies I have seen. The more I recall certain numbers and look at the photos I took, the more I like what I saw and experienced there.
I can only hope the next season's US tour will be as good and that I will have the luck, the pleasure and the privilege to see it again.