Celebration of figure skating in Sofia

March 8, 2014
By Veneta Yaneva
Photos © Veneta Yaneva

It's been years since Bulgaria was a power in figure skating with Ivan Dinev and two time World champions Albena Denkova and Maxim Staviski. The last few years have not been successful for Bulgarian figure skating. People here use the typical excuses: poor federation, lack of ice rinks, expensive sport, no possibility of keeping kids on the ice till their senior age...
But now the situation is improving. Young coaches are working with talented kids that have success even internationally. Bulgaria is hosting the World Junior Figure Skating Championships in a couple of weeks, and then there's the Denkova-Staviski Cup which brings many famous skaters to Sofia. Hopefully this will increase the public's interest in this beautiful sport again.
From November 29th to December 1st, Bulgaria celebrated figure skating with the second edition of the competition which bears the names of the country's biggest figure skating stars.
Alone but not lonely
The biggest stars in the Winter Sport Palace were Vanessa James and Morgan Cipres. This French pair won the competition which did not include any other pairs. For them it was only the second competition as they had sat out a large part of the season due to injury. Vanessa and Morgan gathered 166.65 points. They were not in their best form, but skated their programs Minnie the Moocher and Angels and Demons nicely. Even missing a lift in the short program did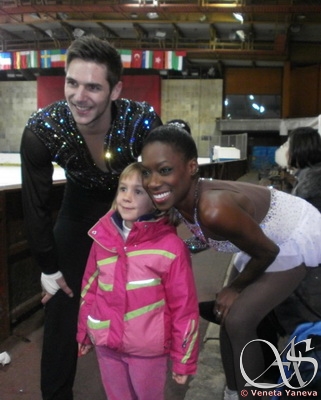 not erase the smiles on their faces. They were alone in their field, but not lonely, because the crowd cheered for them long and hard after both performances. Vanessa and Morgan spent a lot of time posing for pictures with young fans and with two elderly ladies who seemed more excited to see them than the kids.
"We are a little bit surprised to be the only couple here. But every competition is a good competition. For us it's important to feel better, get more ranking points. We are not motivated by other pairs but by our own results," Vanessa said. When asked about their programs, she punched her partner and asked him to answer. "The short is something like swing, humorous. For the free we have Angels and Demons, which is more classical and dramatic," Morgan explained. Then his talkative partner added: "It's more dramatic. We like dramatic music, not classical."
Gold again for Misha Ge
If Vanessa and Morgan were the most successful skaters, the biggest attraction was Misha Ge. The young skater representing Uzbekistan came here for the second time and won with ease again. Probably because the people remembered him from last year, he was applauded all the time. The warm reception made this amazing skater give his all in his two programs – the short program by Gary Moore, and Dance collection for the free. He was not perfect but scored 199.20 points which is not bad for him. "It feels great to come to the place where you had good results. I came back and won another title. I'm very happy. And this time, I feel that the organization of this competition was better; people did a very good job. The audience knows this competition and is more into it. It's great when more people enjoy this sport. Compared to last year, it's a much bigger competition. You need time to make more people come, but I see some improvement."
Frenchman Chafik Besseghier stood second with 170.93 points after a strong free program to Peter Gabriel's music. It was an interesting performance. Chafik wore a beautiful outfit and did five good triple jumps in his first competition after being off the ice for a long time due to injury. His compatriot Pierre Noel-Antoine finished third with 166.51 points.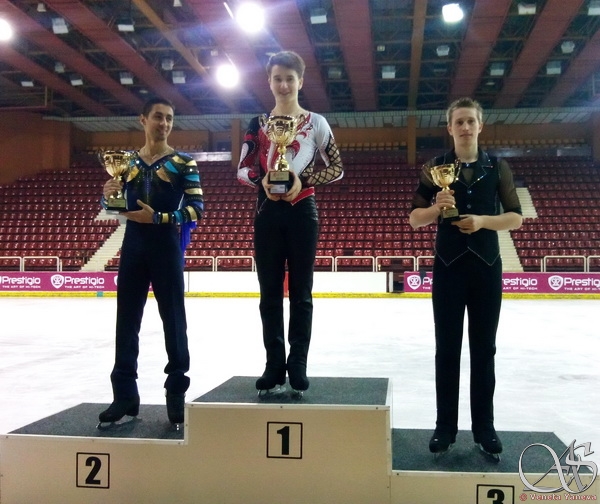 Two Italians on the podium for the second time
One of the largest international groups, for the second time, was the Italian team. Again we had two Italian female skaters receiving medals: Roberta Rodeghiero came first and Francesca Rio came third. Last year the podium held Valentina Marchei, Francesca and Roberta. This time we did not have the stunning Valentina on the ice, but we had Joshi Helgesson, who won the silver.
Actually Joshi was the most interesting skater. She and her mother/coach Christina Helgesson were followed around by the TV crew that was filming segments for the TV series Road to Sochi that aired in Sweden before the Olympics. "I did a good short program and my free was pretty good even though I had small mistakes. This was my first competition. I've been injured since the beginning of the season so I'm pretty happy. There are three of us competing for one ladies Olympic spot. I was injured and I'm not so sure about my chances, but I will do my best in the upcoming competitions," said the younger of the Helgesson sisters.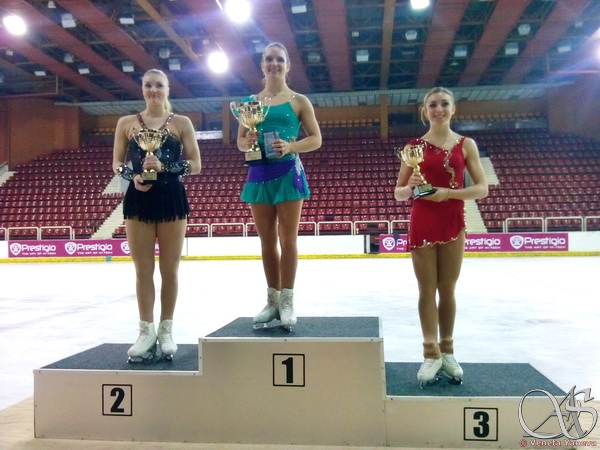 Juniors
Deniss Vasiljevs did a great job at the junior competition winning with 194.11 points. The three top junior ladies gathered in a one-point margin, placing as follows: Ekaterina Vysotina (Russia, 136.05), Bogdana Lukashevich (Russia, 135.63) and Mikol Cristini (Italy, 135.32).
The hosts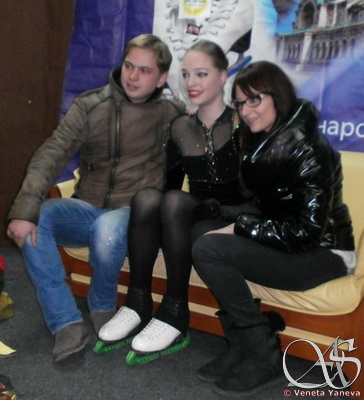 The youngsters won Bulgaria many medals. The most prestigious was Alexandra Feigin's first place in the Advanced Novice Girls' competition. The 11-year old earned 88.28 points. She could be the next big star in Bulgarian figure skating and already has the minimum technical points to participate in the European Championships for seniors.
Manol Atanassov placed fifth in the men's competition and Anna Afonkina was 8th in the ladies' event. Unfortunately pair skaters Elizaveta Makarova/Leri Kenchadze (12th at the last European Championships) did not participate because they had a "more important" start in Dortmund a week later.
Interesting fact
For the second time in history, the United Arab Emirates had a participant in an international competition. Amira Abdul Moati finished last in the junior ladies with 62.94 points but still celebrated with the country's flag during the UAE National Day.
See the full results here.