The complete Grand Prix Final 2013
December 15, 2013
By Atsuko Kuryu
Photos © Keiko Kasai
Men, Free Program
Yuzuru Hanyu won the big title for the first time with a surprisingly big margin of 13.17 to World champion Patrick Chan. Hanyu crashed his quadruple Salchow but it didn't matter in the final score. He landed the following quad toe and all other triples including two triple Axels. His PCS was also high and his overall score was 193.41. He sometimes loses his energy in the last part of free program but he survived well this time. After he skated he remained on the ice longer before taking his bow for the audience, relishing in his fabulous success. His overall score was 293.25 which suggests he could hit 300 soon. He was humble after this huge success, "I received a high score, maybe a little too high after falling on my quad toe. I was able to learn a lot from this."
Patrick Chan paled with disappointment and surprise. After opening with a quad toe, he doubled the second toe in the combination, but other than that his performance was strong and fantastic.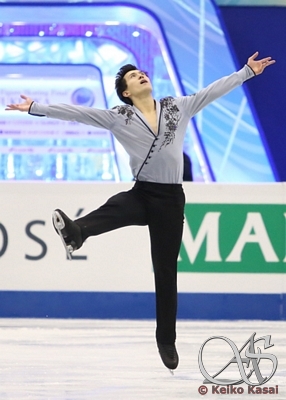 Amazing speed, good ice coverage, sharp body movement and miraculous footwork; everything amazed the audience. His free skate score was 192.62 which was just 0.8 behind Hanyu. He gave a long speech at the press conference which showed how inspired he was by today's result. "This is actually a gold medal for me, because I learned to appreciate the fact that I get more satisfaction out of skating a good long program than from winning the gold medal." He explained the reason why he felt like that. "I'm always doing a good short and then a bad long program and I always managed to win because of the short program. But here it was actually reversed. That's a lot of points in my book."
Japan's veteran, Nobunari Oda claimed the bronze medal. It would be a good sign for his chance to get to the Olympics. He fell on the first attempted quad toe-triple toe combination but landed the second quad toe and managed to make it a combination. He landed the other 6 triples perfectly but stumbled on the triple loop. He involved the audience during the steps quite well and they gave him a standing ovation. "After I missed the quad, just like yesterday, I came back to myself," said Oda. "I am not a 100% satisfied, but compared to yesterday's short program I think it was better."
His fellow countryman, Tatsuki Machida, who had a devastating short program came back with a great free program. He got 170.37 points for the free skate. His expressive performance and invincible spirit moved the audience's hearts. They gave him a standing ovation as well. He of course is a strong contender for Japan's Olympic spots too. Russian hope Maxim Kovtun showed a strong program with two quads, Salchow and toeloop. He also landed two triple Axels perfectly and came in 5th overall. Han Yan of China fell on his opening triple Axel and stumbled on his triple loop. He somehow lost his usual smoothness and finished last with the score of 154.80.
Junior Pairs, Free Program
Chinese Xiaoyu Yu and Yang Jin grabbed the victory although they were second in the free skate. They showed graceful free skating but had a few mistakes. Xiaoyu stumbled on the landing of the double Axel-double Axel sequence and put a hand down at the landing of throw triple loop.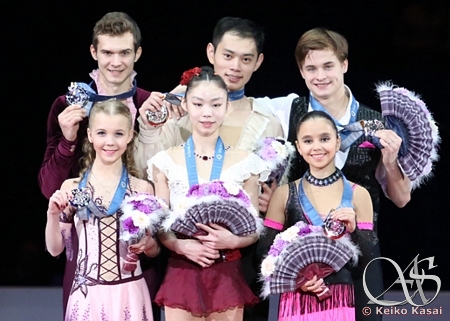 They also didn't have a good flying combination spin and throw twist. They got 106.50 points for the free skate but stayed in first place with 163.52 in total. Yang explained Xiaoyu's mistake in the press conference. "My partner has been sick and we didn't have enough energy in the free skating. But we are pleased to have won."
In the short program Maria Vigalowa and Egor Zakroev were third but they came first in the free skate. They piled up two level 4 combination spins and their reverse lasso lift was fabulous with Maria in a beautiful position. The audience gave them applause for their steps featuring a spread eagle. "We really skated well. We reached our goal," Maria said. "We'll strive for first place."
Lina Fedorova and Maxim Miroshkin were second in the short program but dropped to third in the free skate (97.97). They were overall third (156.55). Their performance was really enjoyable but unfortunately they had several mistakes. "We had some errors, not so few actually," regretted Federova. "We'll try to skate cleaner and we are happy to have included a triple jump into the program and dealt with that."
Evgenia Tarasova and Vladimir Morozov did quite well except for the opening throw twist where Vladimir kneeled down. Their flying combination spin looked beautiful but had some mistakes in the beginning.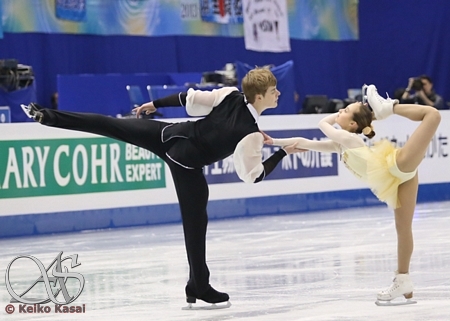 Their score for the free skate was 97.10 and they stayed 4th overall. Vasilisa Davankova and Andrei Deputat's performance was wonderful and included a beautiful twist lift. Their last combination spin got thrown out. Their overall score was 151.02 and they finished 5th. For Kamilla Gainetdinova and Ivan Bich it wasn't a good day. Kamilla fell on the landing of the triple toe-double toe combination jump and made additional mistakes. Their score was 92.25 for the free skate and they remained in 6th place.
Day 3
Junior Ice dance, Short Dance
Anna Yanovskaya and Sergey Mozgov from Russia led the short dance. They reached their season best score of 63.71 points in their short dance, which featured a well-balanced and very fast synchronized level 4 twizzles as well as a rotation lift. Anna reflected on their performance and said: "There were mistakes, but technically it was a good performance."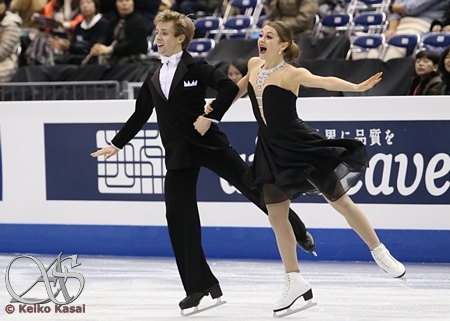 Americans Kaitlin Hawayek and Jean-Luc Baker ranked second with 58.05 points. They also got level 4 for their twizzles and rotation lift, but only level 1 for their steps. "We are very happy with our performance," said Kaitlin. "We put on a solid performance and did everything in the program."
The other American couple Lorraine McNamara and Quinn Carpenter followed their fellow countrymen with a score of 55.14. They also received level 4 for their twizzles and straight line lift. Even though they are Americans, Quinn's costume somehow had a taste of Russia. The music was cheerful and a good choice. "We felt good about our performance. We skated strong," said Quinn.
Russians Betina Popova and Yuri Vlasenko were fourth with 52.50 points. Their performance was lots of fun and had good speed, but they picked up only one level 4 for their rotation lift. Ukraine's Alexandra Nazarova and Maxim Nikitin's humorous performance eased the tense atmosphere of the competition. They had two level 4s for the rotation lift and the twizzles. They received 51.32 points and placed 5th. Rachel and Michael Parsons, USA, finished in 6th place with 46.11 points. Their twizzles generated nothing because Michel lost his balance and bumped into Rachel.
Senior Pairs, Free Skate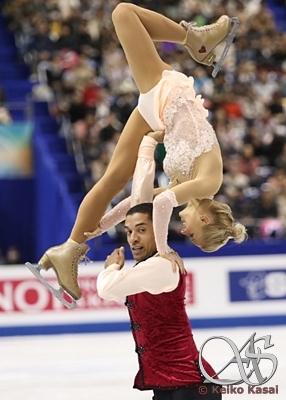 Anything can happen in this competition. The most successful pair so far this season lost for the first time this year. Aljona Savchenko and Robin Szolkowy claimed the victory and beat Tatiana Volosozhar and Maxim Trankov by 3.2 points. Skating to The Nutcracker, the Germans showed a powerful and flawless program. All of the planned elements were done more than perfectly. They piled up +GOE and got TES 74.36. They received 147.57 points for their free skate and 227.03 overall. "We are back," declared a delighted Aljona. "We will work hard and keep doing our best."
Overnight leaders Tatiana and Maxim dropped to second place both in the free skate (141.18) and overall (223.83). Just after they executed a perfect throw twist for the opening and got 3 +GOE points from all the judges, Tatiana fell on the side-by-side triple Salchow. When she fell again on the triple toe right, the victory slipped through their fingers. They collected themselves but couldn't get enough points for the gold. "I was more nervous in the short program. I even had a good feeling just before the start of the free program," Tatiana said and seemed disturbed. Maxim said: "We haven't been defeated all year so it is a pity that we couldn't win the Final." But at the same time he thanked the Japanese audience for their yellow outfits and waving of flags to cheer them on. "I felt like I was skating in Russia as the audience welcomed us so warmly. Especially when I saw some in the audiences with yellow flags; that moved me a lot."
China's Qing Pang and Jian Tong, who recently got engaged, also reached the podium. Their rather quiet performance to I dreamed a dream was breathtakingly beautiful. If there was any regret, it might be the level 1 pair combination spin. "We are satisfied. The final spin gave us a little trouble because we did not have a good entry. However, we were able to show everything we've been working on," Jian said.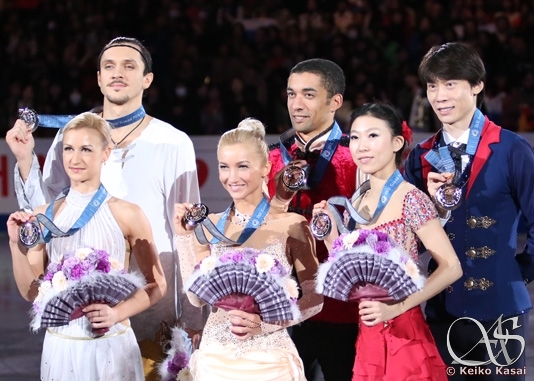 Chen Peng and Hao Zhan earned 128.50 points for their free skate and climbed to 4th and 197.37 overall. Chen fell on the side-by-side double Axel, but other than that they did quite well. Meagan Duhamel and Eric Radford had quite a few mistakes and slipped to 5th overall (193.38 points). Their 120.31 points for the free skate put them last of all six pairs. Kirsten Moore-Towers andDylan Moscovitch was 6th overall (189.11) but 5th (120.34) in the free skate.
Senior Ice Dance, Free Dance
Meryl Davis and Charlie White walked away with their fifth GPF title. The margin between the runners up Tessa Virtue and Scott Moir was only 0.07 points, but was somewhat extended in the free dance.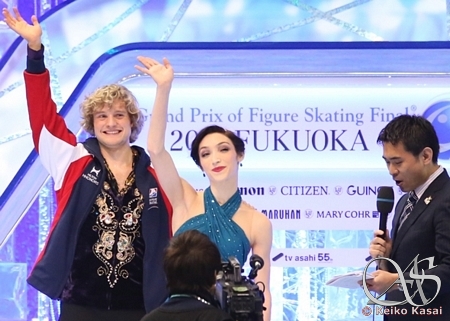 Watching this kind of performance could leave anyone speechless, Meryl and Charlie really gave the audience the pleasure of watching ice dance, and very high quality such. They piled up seven level 4s and one level 3, and received 113.69 points for their free dance. Their overall score was 191.31. "This program is definitely the hardest, most demanding program for many reasons," Charlie said at the press conference and then talked about the Olympics: "Our Olympic silver medal was our first medal and that was our introduction to a really high success. It also made us hungry having that success, and we just wanted to build on it and see where we can take it."
Tessa and Scott were also outstanding in their free dance. They had amazing speed and graceful movements. The music to Petit Adagio, and Waltz in Concerto No. 2 by Alexander Glazunov went very well with their classy performance. They collected seven level 4s and one level 3 as well. Their free dance score was 112.41, and 190.00 overall. They finished second. "Tessa and I were really excited the whole competition. Today we felt like we went out there and accomplished exactly what we wanted to," Scott said as answer to the question of how he felt about their performance that night.
Nathalie Pechalat and Fabian Bourzat came back from a disappointing 5th place in the short program, to bronze, both in the free dance and overall. Their programs are always fun to watch because they have their own style which we may call esprit of France. Le Petit Prince was no exception. Both of their step sequences were evaluated as level 3, but they received level 4 for the rest of the elements.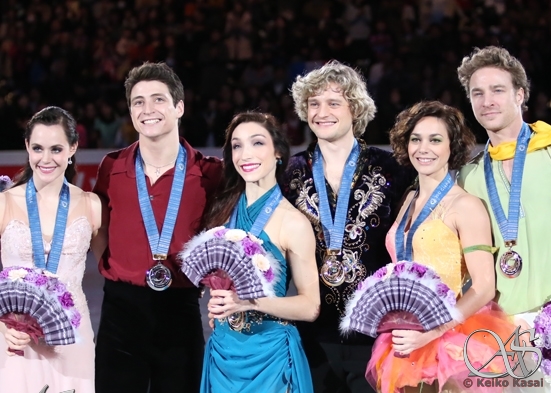 Ekaterina Bobrova and Dmitri Soloviev finished just off the podium. They started strongly with amazing speed but right after the straight line lift Dmitri fell near the boards. They received 97.82 points for their free dance and stayed 4th overall with a total score of 166.72 points. After their performance was over Ekaterina burst into tears and hit her partner on his chest. Kaitlyn Weaver and Andrew Poje performed a variety of dances to the changing music. They received level 4s for their lifts in which Kaitlyn's positions were so beautiful. Anna Cappelini and Luca Lanotte performed with charm and good speed, but even five level 4s and one level 3 was not enough for them to move up.
Senior Ladies, Free Skate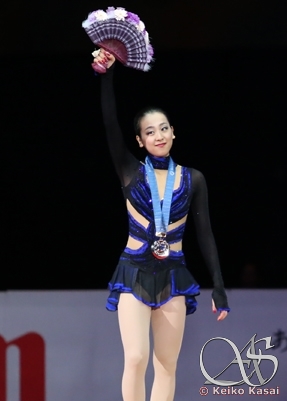 Mao Asada won her second consecutive victory after attempting two triple Axels in the free skate. She didn't land either, but she said she had a good feeling about the Olympics. She was also judged under-rotated, but she still deserved the victory because of her beautiful spins, step sequence and high PCS. She looked a little tired but the audience supported her with cheers and clapping. When her performance was over, she again got a huge standing ovation while presents rained on the ice. Her total score was 204.42 points. Julia Lipnitskaia bounced back from her 4th place in the short program and ranked second overall (192.07). She landed most jumps cleanly but under-rotated a triple Salchow and got an edge call for her triple Lutz. I can't even describe how fantastic her spins were. It was so original and looked really difficult if you don't have her flexibility. She earned 125.45 points for the free skate and 192.07 overall.
Ashley Wagner managed to stay third even though she fell. She looked like today's kind of woman in her cool black dress, not at all like other girls who wear classic costume. Her total score was 187.61 points.
Elena Radionova fell on her triple Lutz and got an edge call on her triple flip. Other than that her performance was flawless. She earned a total of 183.12 points and went up to 4th overall. Adelina Sotnikova had a disastrous performance and dropped to 5th overall with 173.30 points. She made many mistakes, not only on jumps but also on her spin. Her score for the free skate was 104.92. Anna Pogorilaya also had a few mistakes and got a deduction for time violation. Her total score was 171.86 points.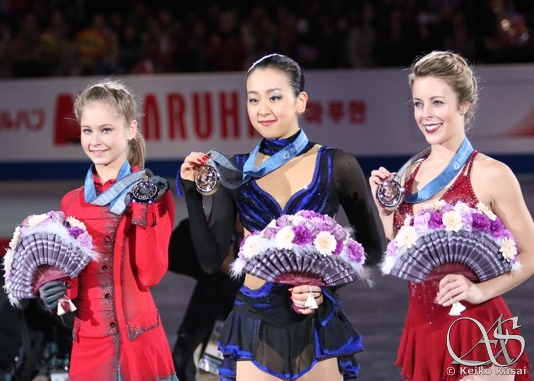 Day 4
Junior Ice Dance: Free Dance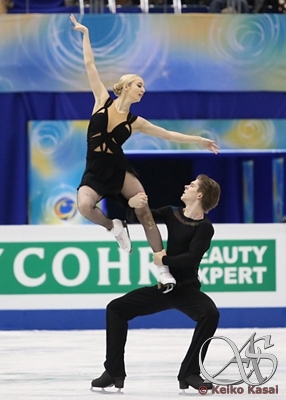 Anna Yanovskaya and Sergey Mozgov dominated the Junior Ice Dance with their strong free dance featuring two level 4 lifts and fast twizzles. Anna's positions in their lifts were so beautiful and the position changes were fast and smooth. They gained 88.77 for the free skate and 152.48 overall.
Kaitlin Hawayek and Jean-Luc Baker had good speed across the ice but the dance was less complicated technically. They received only two level 4s (curve lift and combination spin), but the execution level of the performance was great and the audience gave them generous applause. They received 81.37 for their effort today and 138.48 overall for second place.
Lorraine Mcnamara and Quinn Carpenter followed their countrymen with 135.89 points overall. Skating to Sherlock Holmes, they duplicated the atmosphere of the famous drama very well. They collected five level 4s and surpassed Hawayek and Baker but were inferior in the PCS.
Skating a vibrant and distinct program to Spartacus, Betina Popova and Yuri Vlasenko stayed in 4th place with a score of 76.87 for the free dance and 129.47 overall. They received three level 4s for all of their spins but only level 2s for their steps.
The Ukranian team of Alexandra Nazarova and Maxim Nikitin performed a humorous program and placed 5th. Maxim stumbled during their opening straight line lift; they got 71.85 points for their free skate. Dropping his head in to his hands, Maxim appeared disappointed in the Kiss & Cry.
Finishing last were Rachel and Michael Parsons from the U.S.A. Their performance was not bad; they finished without any obvious mistakes. It was clear they were not satisfied with their performance when you saw Rachel's disappointed face. Their score for the free dance was 70.49 and in total, 116.60.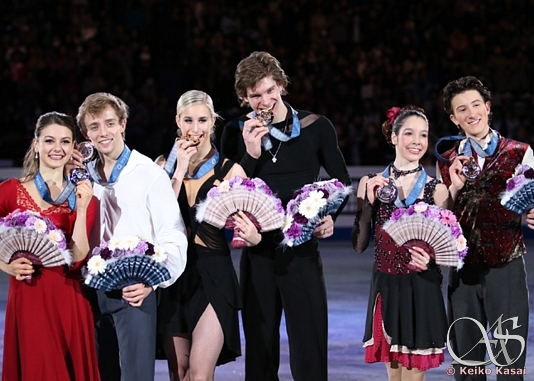 Exhibition
After 2 hours intermission, with the excitement of the competition still hot, the exhibition began its farewell to this big event. The medalists of all senior disciplines, the winners of junior's and some invited skaters appeared on the ice and skated for fun.
In the opening, local young skaters dressed in kimono costumes, as well as flower girls from the competition, appeared on the ice, with fans in their hands. Later they held the national flags of Japan, China, Canada, France, Germany, Italy, Russia, Ukraine, and U.S.A. Then the skaters who were going to skate in the exhibition were introduced one by one.
The first skater was Maria Sotskova skating to Nuevo Tango which featured an amazing step sequence. Keiji Tanaka danced energetically to Afro Freak before Ekaterina Bobrova and Dmitri Soloviev performed amazing lifts in their program to Talullah, Cosmic girl. Upcoming youngster Boyang Jing's brisk Michael Jackson Medley featured very fast spins; his performance uplifted the audience.
Meagan Duhamel and Eric Radford used a scarf from Radford's waist effectively in their program to True Colors while Nathalie Pechalat and Fabian Bourzat performed a dramatic and entertaining Frankenstein. Japan's Tatsuki Machida's expressive program to the music from the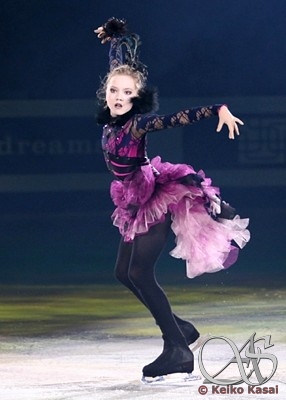 Japanese drama Byakuyakou really moved the audience.
The junior pair champions Xiaoyu Yu and Yang Jin gave a lyrical performance to You Are Not From Here followed by Elena Radionova magnetizing the audience with her adorable interpretation of Zombie Dance - and her own cuteness! Junior ice dance champions Anna Yanovskaya and Sergey Morozov's program included long beautiful lifts and spins, proving they are ready to step up to the senior stage.
The World champions who had failed to win but had shown their presence in the competition, performed back-to-back at the end of first part. Tatiana Volosozhar and Maxim Trankov, playing the roles of James Bond and a Bond girl, thrilled the audience. Patrick Chan's unique costume caught the crowd's eyes but his performance opened their eyes more widely. He moves so fast with intricate footwork and looked really dandy.
During the intermission, Go-chan, the mascot character of this event, provided us with a funny performance.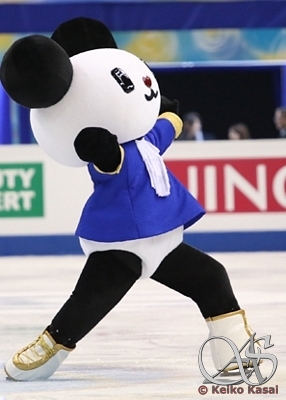 Throughout the whole event Go-chan appeared on the ice several times and gave the audience the time to rest and enjoy.
The youngest of all skaters, Nathan Chen, performed next and showed how he can entertain the audience despite being so young. Being a pair for just a year, Chen Peng and Hao Zhang skated to Coronacion and showed their potential. Ashley Wagner was so charming and sexy in her black costume when she skated to Sweet Dreams while Tessa Virtue and Scott Moir's performance produced a luxurious and comfortable atmosphere with their polished skating style in their program to Stay.
Nobunari Oda created his own world on the ice through his program Last Samurai which represented the depth of Japanese culture. The veterans Qing Pang and Jian Tong's (photo below) I dream a dream embodied the world of love while young Julia Lipnitskaya showed how her flexible body could be expressive in her program of Sabre Dance.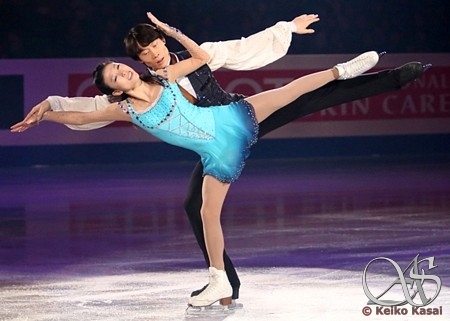 The first of the four senior champions, Meryl Davis and Charlie White skated to Fade Into You. Their performance seemed to be finished as soon as it started because you were so involved in the program that it was easy to forget time. The men's champion, Yuzuru Hanyu skated to the Japanese pop song Story and he didn't hesitate to give his best even in the exhibition. Aliona Savchenko and Robin Szolkowy's Suit and Tie had a 'city look' like a suited businessman and women and was really enjoyable.
The last person to skate was Mao Asada; her music was Smile and What a wonderful world. She was wearing a gold dress and looked so mature. Her joyful performance somehow felt like giving hope for the future. For the encore, each champion gave another performance and the delighted audience got even more excited.
In the finale all the skaters appeared on the ice, hand in hand with young local skaters in kimono and danced the waltz to Nut Cracker.
And that finally concluded the gala and the whole event. Almost all of the skaters spoke about their gratitude for the Japanese fans for their support and their great support during the competitions. Just as in their hearts the Japanese fans must have thanked all the skaters to deliver these wonderful performances.
If you want to see more of these photos, check out the dailies of day 2 , day 3 and day 4 we previously published.
Go back to part 1