Stars On Ice creates magic with "Now and Then" Tour

March 7, 2013
By Cate Meighan
Photos © Tina Tyan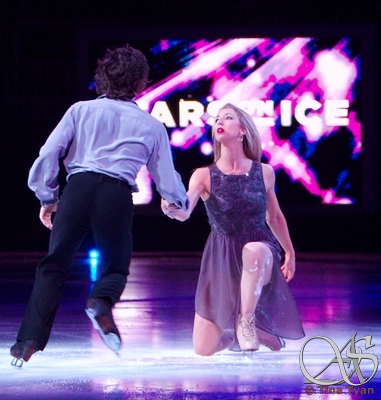 Long-time skating fans in the United States probably remember Stars on Ice as the power house tour built by Scott Hamilton nearly 30 years ago. It started off small - kind of like "the little engine that could"- and by the mid-90s, the show hit 60 U.S. cities before embarking on its lengthy Canadian leg. The arenas were packed as the market for skating was massive. Fast forward a decade and the landscape has radically changed for figure skating fans. Now you're lucky if there is a single competition or event near you each season and fans scramble to snatch up tickets for the privilege of driving mega hours just to see their favorites either compete or perform. Even Stars on Ice has had to scale back and this year it will visit only a tiny handful of cities. The 2013 show debuted in Lake Placid, NY, followed by a New Year's Eve performance in Hershey, PA and only four other cities on the U.S. itinerary and I would suggest if you're near a tour, stop then grab yourself some tickets because the worst part of this two hour skating spectacular is the fact that so few people will ultimately get to see it.
It's being called the "Now and Then Tour" and the 2013 show has been choreographed by World Champion Jeffrey Buttle, with great assistance from former Stars on Ice cast member, Renée Roca. The two have teamed up to create, hands down, the very best show in years. Buttle brings a real edge to the choreography and he seems to have channeled other great choreographers in various genres of dance, and the finished product really works. Roca also tapped into the Stars of old, back in the days when Sandra Bezic was at the helm and individual numbers overlapped with seamless flow. "Now and Then" keeps going and there are never any flat moments as skaters change spots on the ice.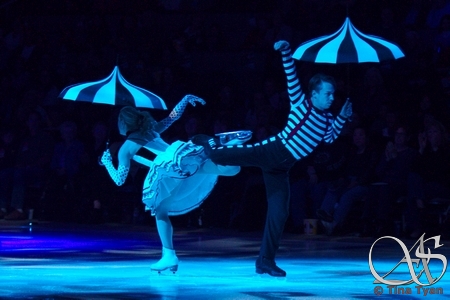 The opening number features the full cast and its set to Gotye's "Somebody That I Used to Know". This is probably, at least by my standards, one of the coolest parts of the show and I wish that they'd brighten up the lighting just a little bit because photographing was really rough. This whole routine reminded me of something that Mia Michaels did for "So You Think You Can Dance" a few years back. The costumes are all black and white with red accents, lots of corsets and tutus with a red umbrella passed around as a prop. It's irreverent and quirky and I fell in love with these characters. Thankfully they pop up throughout the show in little vignettes, helping to usher in different performances.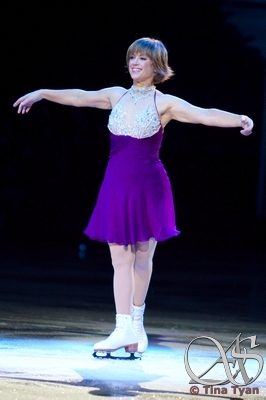 The legendary Dorothy Hamill is up first with a solo skate to "As If We Never Said Goodbye". I'm not sure the last time Dorothy actually toured, but I'm thinking it was back in the late 90s and I think she looks better now than she did way back then. She's as graceful as ever and in absolutely amazing shape. You could hear a pin drop while she performed in a purple dress and it was like the knowledgeable crowd realized that they were seeing something amazing. While her jumps are few, moves like her layback spin are still supreme.
Ryan Bradley followed Dorothy and infused a bit of young blood onto the ice. He skated to "Ho Hey" by the Lumineers and was led to the ice with a big chain by one of the muses from the opening number. The girls love this guy and although it was a bit of a rough skate, with a hand barely saving one landing and a full out mistake on another, he played to the crowed and still one them over with his performance.
Sinead and John Kerr (photo at intro) are 7-time British Ice Dance Champions and the tour is absolutely lucky to have them. The brother-sister team has a great quality (and her gray dress is stunning) to their skating and it's pretty clear they've followed their mentors', Torvill and Dean's example. Quality really does trump quantity, so instead of stringing together trick after trick, the Kerr's actually dance and use their lifts and dance spins when the music calls for a big moment. Their skate to Adam Lambert's "Mad World" was just flawless. I love when people come to a show to see someone like Dorothy Hamill and discover a team like Sinead and John. The audience adored them, as I knew that they would.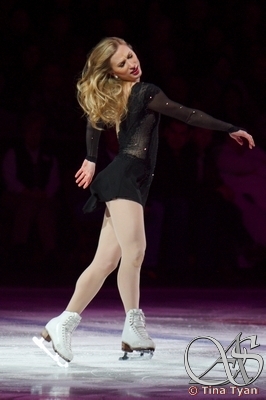 Shawn Sawyer was my personal surprise of the evening. The Canadian Silver Medallist took the ice to "Cirque Du Soleil's Alegria", standing on his head and it only got better from there. Man is Shawn fast and he can really jump. His flexibility is crazy, making his spins better than most of the female skaters that I've ever seen. He totally owned this Cirque performance and could likely fit in with their travelling shows just as well as he does with this one.
If you attended a Stars show back in the 90s then you'll remember that there was always one chick cast as the sex kitten. Her number (usually choreographed to the letter by Sandra Bezic) was all sparkly cut-away dress and hair on skates. It seems Joannie Rochette has wasted no time slipping into those skates and wears the look really well. Her performance to Sade's "Is It a Crime" was going to require a lot of confidence and she sold the whole sex kitten look in a good, not over done way. Joannie won a bronze at the last Olympic Games and has seen her pro career really blossom. She follows a long line of excellent female skaters in this show and after watching her last night I'd say she has really earned her spot.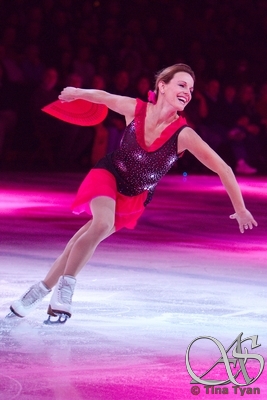 If you're in the states then this is the last year that you'll be able to catch Kurt Browning on tour down here. After 20 years with the show, Kurt is ready to cut down his schedule and so he is going out in the most celebrated way possible. Kurt's Song is by his favorite group, The Tragically Hip and instead of doing a killer rock piece, this is quieter. It kind of allows you to just watch Kurt's feet doing what they do best. Small, quiet details here and the man's jumps are still awesome. I just wanted him to keep skating long after the music stopped.
Katia Gordeeva is another long running Stars on Ice cast member. Her first solo is to "Carmen Fantasie" and features a very confident Katia in a hot pink dress using a fan as a prop. I've always been amazed at how easily she transformed from a pairs skater to a soloist. Jumps aren't her strongest suit; and so rather than triples, Katia pulls off doubles, but I don't think anyone really cares. She's a ball of energy and you end up investing in whatever performance she's trying to sell.
The tour newbies are Kim Navarro and Brent Bommentre. They are ice dancers but have recently been challenged with some of the most dangerous pair moves. "Because You Need Me" is a nice welcome to the tour for them. They work great together and really are team players when it comes to the big group numbers. They made their impression on the audience by including an infamous head-banger bounce spin in their solo. The audience loved their lifts and they had a clear fan base sitting near me. They have definitely arrived.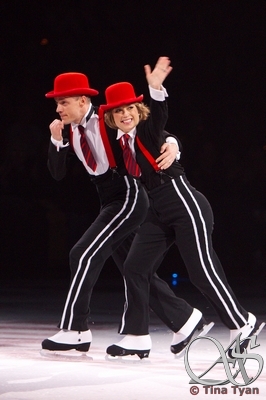 Up next to skate was Katia's husband, Olympic Champion Ilia Kulik. Watching him just never gets old. His performance to a techno version of "Carmina Burana" was non-stop and he has a command that makes you trust that he's going to nail each and every jump (which he does), no matter how close he is to the edge of the ice. His costume is simple, the lighting is simple and this skate proved that if you skate well, that's all you really need to pull off an amazing performance.
To close out the first Act, our muses were back, each with their own spotlight. It was to set up Kurt and Dorothy's duet to "Me and My Shadow" by Robbie Williams. They were wearing their opening number costumes complete with red hats used as props. It was cute and the crowd loved watching the antics between these two characters that spent 4 minutes trying to one-up each other.
Act Two began with a full cast routine to The Beatles "Come Together". It was vintage Stars with the girls at one end of the ice playing to the slick, leather clad guys who were too cool to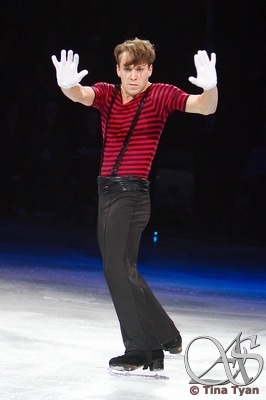 pay too much attention, at first. It was really well skated but still probably one of my least favorites of the evening- which says a lot about the caliber of skating here!
"We Speak No Americano" is one of those songs that you don't know by name but you'll know it the second it begins. Shawn Sawyer appears on the ice in black and white with suspenders and gloves, as a mime. He is fabulous. Hits every jump and never drops the character even for a second. His quirky flexibility is on full display again as his mime seems to be completely collapsible. I walked out of the show loving this guy.
"Coronach" is a high energy tribute to John and Sinead Kerr's Scottish heritage. She has an adorable tartan dress and he has an equally adorable tartan plaid kilt with knee socks. Lots of dance lifts here including an awesome one where Sinead is carrying all of John's weight just long enough to get a great crowd reaction.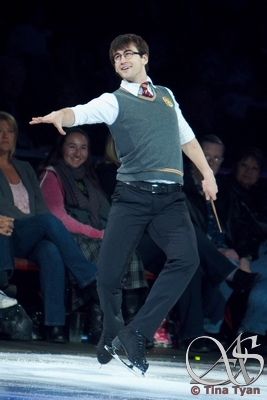 I'm thinking that Ryan Bradley must be a Harry Potter fan because for his second solo he brought the character to life, specs and all. "I Put a Spell on You" was charming and packed just enough heat to understand why the ladies cheer so loudly for Ryan. His feet were under him this time around, and his jumps were solid.
Years ago there was a routine in Stars on Ice that featured Katia Gordeeva and Ilia Kulik skating pairs for the first time. It was an angsty, kind of hot number and it looks like the choreographers here were trying to recreate that same magic with Pink's Try. They are joined by Kim Navarro and Brent Bommentre (photo below) and the foursome skates through overhead lift after spin after partner swap. You get the idea. I happen to love watching Katia in the air so this is a goldmine performance for fans of pairs skating.
After skating with his wife, Ilia pumps up the audience with a high energy skate to "Let's Go" by Calvin Harris. Hat? Check. Jeans? Check. Footwork and jumps? Double Check. It's all good.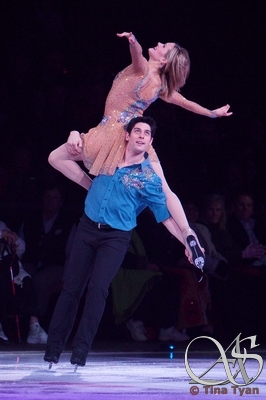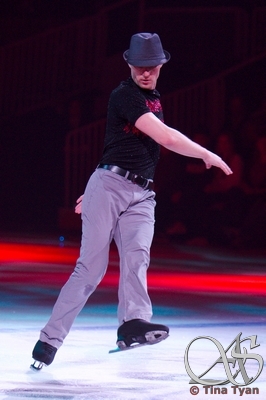 Katia has obviously been working really hard on her choreography and modernizing her routines a bit more. Her skate to Ellie Goulding's "Lights" is one of my all time favourites for her. She has the super glitzy dress, more contemporary moves and there are even some acrobatics thrown in for good measure. I like that Katia continues challenging herself and doesn't just settle for a standard tried and true style.
Hands down, THE moment of the evening for any long time skating fan came when Kurt Browning took the ice to create his infamous skate to "Singing in The Rain". He is just magic brought to life. This program was originally done 20 years ago and it is timeless. Kurt has often been referred to as the Gene Kelly of skating and he really owns that title.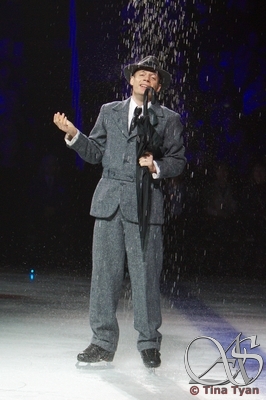 If Gene Kelly did it through puddles, Kurt brings it to life, on the ice, complete with a spotlight filled with falling rain. Kurt actually sat down on one jump but he made the mistake part of the choreography so if you weren't watching closely, you'd have no clue a mistake was made. There is no better way to say farewell to American audiences than by bringing back this old favorite.
In tribute to Kurt and his fabulous umbrella, the show closes with the entire cast skating to "Marching On" by One Republic. They all have black umbrellas that double as marching sticks. It's a classic Stars' closing number with everyone together on the ice and it clicked; the umbrella theme ran throughout the entire show, an ode to one of the best skaters to ever grace the ice.
Like I said earlier, the worst part of an evening with Stars on Ice this year is knowing that this magical show will be seen far too little and it truly deserves more than a total of six tour dates across the country. There are only two remaining US cities (before the tour moves on to Canada) where you can catch this show and here are those magic dates:
March 8 in Rosemont, IL
March 10 Portland, ME
If you're near one of these great venues then I'd seriously grab seats before they sell out because you'll be really glad that you've decided to spend an evening with the current cast of Stars on Ice!