Team Challenge Cup 2016 - Skating Spectacular
May 3, 2016
By Anna Zeitlin
Photos © Anna Zeitlin

I really like watching figure skating competitions - they bring with them the adrenaline, the pressure, the beautiful programs and the amazing stories of endurance and success. But after the competition is over, there is still something else to look forward to - the exhibition gala. After the tension of the competition week (or weekend), it's so nice to see the athletes much more relaxed and just skating for fun and our entertainment.
And the Skating Spectacular exhibition after the Team Challenge Cup event in Spokane, WA was just that - fun and entertaining.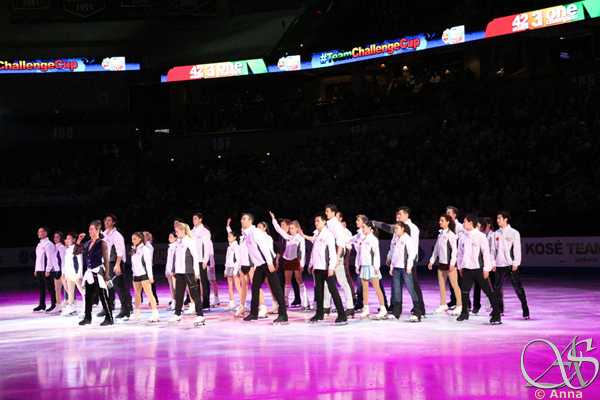 The exhibition opened with a group number to "Let's Go Crazy" by Prince, with Jason Brown, wearing his old costume from "Question of U" by Prince, leading all the skaters to the ice. Everyone lined up in the center of the rink, dancing to the music, and then some of the skaters showcased their moves, like the lifts by Chock/Bates and Cappellini/Lanotte. It was a cute number, although not very rehearsed (which is understandable, as the skaters only had an hour to rehearse both the opening and the closing group numbers).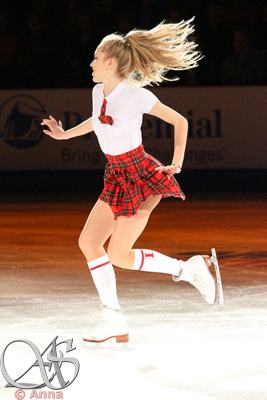 The solo numbers of the night were opened by Elena Radionova skating to "Worth It" by Fifth Harmony (feat. Kid Ink). She came on the ice dressed as a high school girl, in a coat and a cap, wearing headphones and backpack, all of which she soon took off, revealing a school uniform with a red tie and plaid skirt. She did a couple of jumps, but mostly just skated to the music, which was still a lot of fun to watch. Somewhat cheesy, but definitely a very amusing number.
Boyang Jin's program to "Chimes" by Hudson Mohawke/"Technologic" by Daft Punk was packed with technical content - a quaq, triple Axel, another triple, and a Biellmann spin. It was energetic and interesting to follow. Boyang was carrying two neon balls throughout the program, which he tossed occasionally and in the end threw into the audience. Cool program.
Penny Coomes and Nicholas Buckland skated to "Michael Jackson Mix" - a groovy number that made me want to go listen to Michael Jackson for a while - right after finishing clapping to their routine to "Billie Jean".
Denis Ten introduced Gracie Gold, his training buddy, to the ice as "the most beautiful athlete around the globe". Skating to "Maybe This Time" by Kristin Chenoweth, Gracie looked very beautiful indeed in her elegant dress matching the song's style, and with two triples, a double Axel, great spins and gorgeous hand movements, her program looked lovely.
Mikhail Kolyada performed to an instrumental version of "Fever" by Elvis Presley. Sweet number with a couple of triples and very nice spins (including a Biellmann).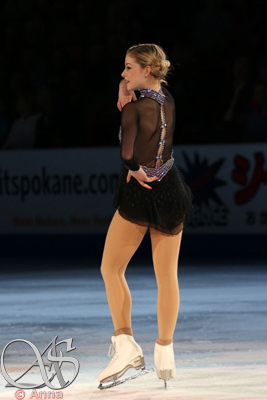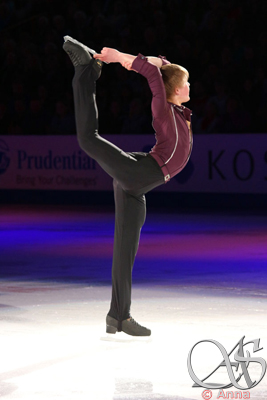 Xuehan Wang and Lei Wang delivered a heartfelt performance to "The Prayer" by Andrea Bocelli and Celine Dion. Beautiful lines, great lifts, triple twist, death spiral - all adding up to an inspired number.
Nam Nguyen's introduction was done in a video by Polina Edmunds, whom he asked to be his prom date while awaiting scores for his free skate - this was a super-cute touch! His music was "Writing's on the Wall" by Sam Smith. Nam looked like he already started to prepare for that prom (love the suspenders!), but he might have been thinking about it too much, as he popped his first jump (nailed the second one though). Other than that mistake,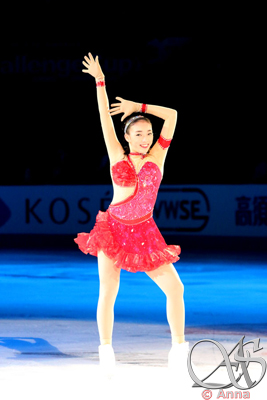 I liked his number - simple but dreamy and endearing. Good luck at that prom!
After a few slow romantic numbers Rika Hongo brought a refreshing change with "Let's Get Loud" by Jennifer Lopez. Great energetic performance which Rika delivered with a lot of skill (and three triples). Loved it!
Ksenia Stolbova and Fedor Klimov had a great performance to "I Put a Spell on You" by Annie Lennox. So much elegance and might at the same time, and with great technical content - a throw triple toe, side by side triples, great lift and a death spiral. Very impressive!
Adam Rippon's performance to "O (Fly On)" by Coldplay was inspirational. I really liked the allusion to the song's secondary title ("Fly On") in all Adam's movements - those bird-like arms, I could watch them forever. He doubled his first Axel and stepped out of it, but did a beautiful triple Rippon Lutz later on, though the second double jump in what was supposed to be a combination followed a bit late. But topped off with another nice triple and a great layback spin, this performance didn't leave any feel of lacking of technical content, and the artistic presentation was nothing less than perfect.
Madison Chock and Evan Bates were very sweetly introduced to the audience by Penny and Nicholas, on the grounds of them being fellow countrymen of presented exhibition number's choreographer (and Team Europe's captain). The number, to "Everybody's Free to Wear Sunscreen" by Baz Luhrmann, was indeed great, as one could expect from Christopher Dean's mastermind, delivered by the skill and presentational abilities of Madison and Evan. A lot of funny pantomime representations of the song's lyrics, with splendid lifts and clever moves. What a way to end the first half of the gala!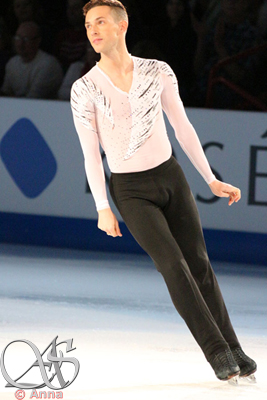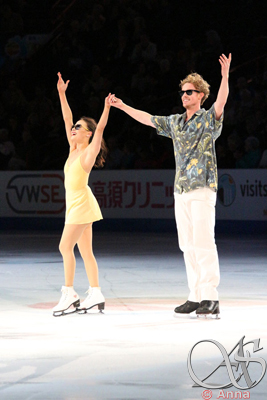 Evgenia Medvedeva opened the second half of Skating Spectacular. Before her number there was a short video from her TCC's SP with Scott Hamilton's commentary filled with praise for Evgenia. She skated to "You Raise Me Up" by Celtic Woman, delivering a soft, lyrical and technically flawless program with a 3+3 combination, another triple and great spins. A charming performance.
Michal Brezina's introduction was done by Anna Cappellini and Luca Lanotte, who were comically acting as if they were half asleep from all their arduous training (building up to their own performance). After telling the audience that Michal was best man at Anna's wedding and her husband will be returning the favour to Michal when he will be marrying next year, Luca announced the "Czech devil" and Michal stepped on to the ice. He skated to "The Best is Yet to Come" by Frank Sinatra - a very light and easygoing number. Michal has messed up the landing on his triple Axel, but his second triple jump was perfect, and the entire number looked and felt really good.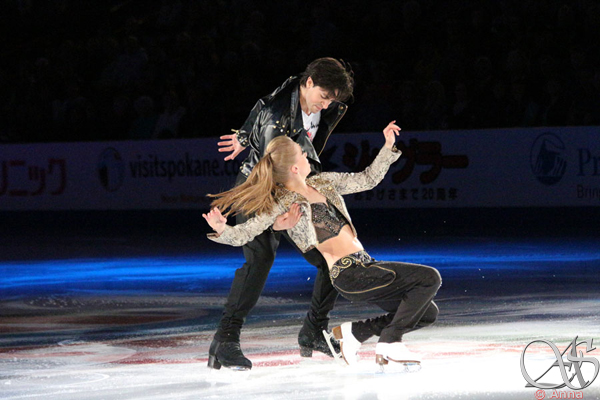 Kaitlyn Weaver and Andrew Poje brought the house down with their dance to "Get Low" by DJ Snake. After their powerfully emotional and passionate free dances, this techno skate looked very unusual on them, but did they pull it off perfectly! A lot of cool moves, and they also approached the boards and danced with the audience a little bit. Super fun!
Denis Ten played a rapper in his number to "Lose Yourself Remix" by Eminem, complementing the song with his hooded look and techno/rap moves. I'm not very used to seeing Denis skate to this type of music, so it was very interesting to watch this number, and I enjoyed it a lot.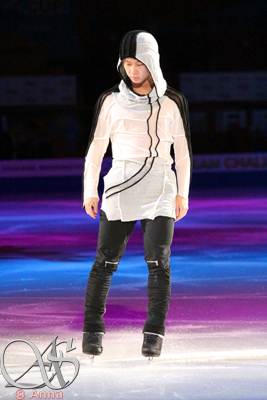 He didn't do much jump-wise (double-footed his triple Axel and his other triple jump close to the end of the program), but with his rap step sequences, nothing felt lacking.
Gabrielle Daleman continued the upbeat feel with her performance to "Break Free" by Ariana Grande. Her jumps were not very successful - double-footed 2A with a hand down and a fall on a triple (she did nail her second double Axel though), but the number itself was energetic and sexy.
Anna Cappellini and Luca Lanotte presented a spectacle on ice to "Dance of the Hours" by Amilcare Ponchielli. They played a couple ready to go to sleep, with Luca wearing pajamas and Anna a nightgown. Throughout the entire number they were taking turns in trying to lie down and sleep, with the other person interfering. Really clever use of props - a blanket and a teddy bear - and some very theatrical choreography - I loved the ostentatious yawning from Luca during their lifts. And final touch was top notch - after finishing the program and bowing to the audience, Anna dropped to the ice and grabbed the blanket, so Luca had to drag her off the stage, I mean, ice. Very entertaining!
Shoma Uno skated to "Violin Sonata No. 9" by Beethoven - a nice classical number, with good triples (flip and Lutz, but he did open up too early in his triple Axel) and a great cantilever towards the end. A cute performance, but I would really like to see Shoma skate more to modern music (like in his SP) next year.
I really enjoyed Ashley Wagner's performance to "Dangerous Woman" by Ariana Grande - it was powerful and sexy. Smooth moves and nice jumps - a double Axel and triple toeloop, and her delivery of the mood and feel of the song was excellent.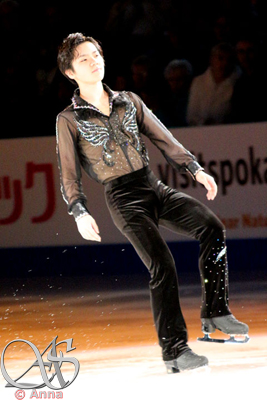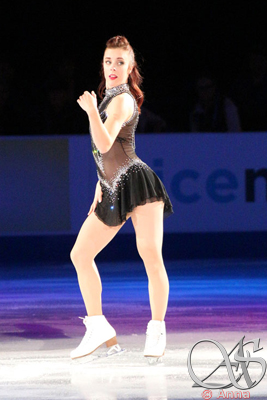 Jason Brown's "Canned Heat" by Jamiroquai was somewhat goofy, but in a good way. It started with Jason laying on the board, continued in the same humorous vein - with a lot of wiggling on the ice and funny hand movements, and finished with Jason lying on the ice. But in addition to being comical, the number also had some great technical elements - two good triples, split jumps to die for and of course a Biellmann spin. I thoroughly enjoyed this performance.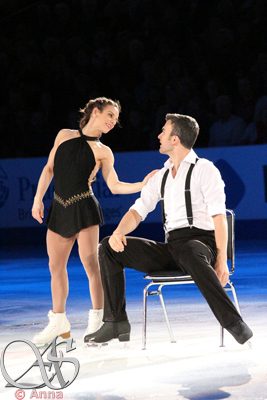 Closing solo number of the night came from Meagan Duhamel and Eric Radford. Skating to "Piano Man" by Billy Joel, they delivered a great performance, using a chair as a prop, with Eric sitting on it at the beginning and the end of the number, and Meagan taking her turns too in between. Of course, they didn't just sit on the chair, but skated a wonderful classy number, full of great lifts and throws (that last throw from the lift was something!). What a way to end the solos of this great night!
For the finale all the athletes came out on the ice and grouped into their respective teams of Asia, Europe and North America. Then each team started challenging their rivals - first Adam Rippon did some moves as he proceeded from his team towards Team Europe. Michal Brezina accepted the challenge and skated to call on for someone from Team Asia. Denis Ten then completed the circle going back with some of his moves to Team North America. The second round had Meagan Duhamel and Eric Radford execute their cool throw jump towards Team Europe, Evgenia Medvedeva move out towards Team Asia and finally Boyang Jin going in the center and finishing off the competition. After which all the teams mingled together, danced, bowed, skated around the rink and then started throwing gifts (brightly colored frisbees and little towels) into the audience - a very nice touch indeed!
This concluded what had been a great exhibition night and an even greater weekend of team spirit, friendly rivalry, inspired artistry and excellent skill of these top of the world figure skaters. I already can't wait to see what the next season will bring!