The Grand Prix Final day 3: An all-Russian podium, swans and standing ovations
December 10, 2017
By Atsuko Kuryu
Photos © Keiko Kasai

Junior Free Dance
Anastasia Skoptcova/ Kirill Aleshin of Russia won the ice dance with an overall score of 153.61 points, followed by Christina Carreira/ Anthony Ponomarenko, USA, who earned 151.76. Anastasia and Kirill are very mature and well synchronized for a junior couple and their basic skills are great.
Christina/ Anthony's W.E program was quite theatrical and enjoyable. They had good flow and moved gracefully on the ice but somehow lacked speed compared to yesterday's short dance.
Nailing a very impressive Black Swan, Sofia Polishchuk/ Alexander Vakhnov of Russia stayed third with 149.04 points overall. Sofia fully used her amazing flexibility for balletic movements and beautiful positions.
Their team-mates, Sofia Shevchenko/ Igor Eremenko also performed a memorable piece which included some original and creative movements. Their overall score was 144.38. Amazingly their base value for technical elements were completely the same, 30.30, from first to 4th place.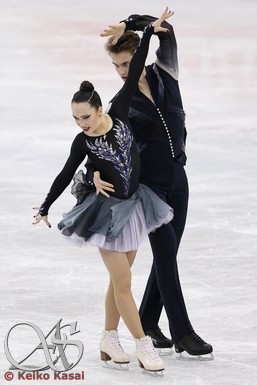 Kirill said their victory hadn't sunk in yet. When asked about competitors/ training mates Christina and Anthony, he explained that they are always competing which pushes them a lot. Anthony said he felt really good about their performance and was super happy. He, whose parents are Olympic gold medalists (Sergei Ponomarenko/ Marina Klimova), admitted that he looks up to Madison Chock and Evan Bates and was feeling very happy to have them as training mates. Alexander said they were pleased with their performance today, because they did everything they had planned.
Junior Ladies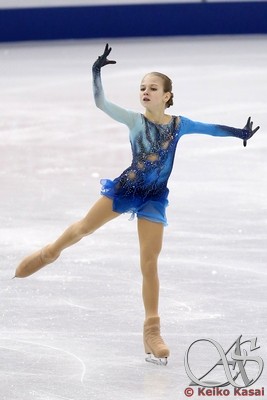 In this discipline there was an all-Russian podium. Alexandra Trusova won the title with an overall score of 205.61, however, she was only second in the free skating. She attempted a quad Salchow but fell, then she stumbled at the landing of the triple Lutz-triple toe combination. She had selected difficult classical music, Summer by Vivaldi, which she managed very well with speed and dynamism.
Despite of being first with a flawless performance, Alena Kostornaia stayed in second place. She put all her jumps in the second part of her program and collected extra points. Her performance kept flowing like a river, and even elements like jumps and spins were executed with the same flow. She received 132.93 for her free skate and 204.58 overall.
Anastasia Tarakanova skated fast and energetically to secure a podium spot. She moved her whole body in the step sequence where she was given level 4 and +GOE. She was just short of reaching 200 points (199.64). Although nailing an amazing triple Axel-triple toe combination at the opening of her free program, Rika Kihira, Japan, missed the podium. Her step sequences were the highlights of her performance.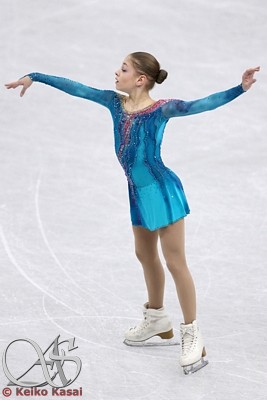 Alexandra said afterwards that she was happy because she won, but upset about missing the quad Salchow. Alena was pleased with her performance but knew she could be better. Anastasia was glad she could calm down and skate clean programs.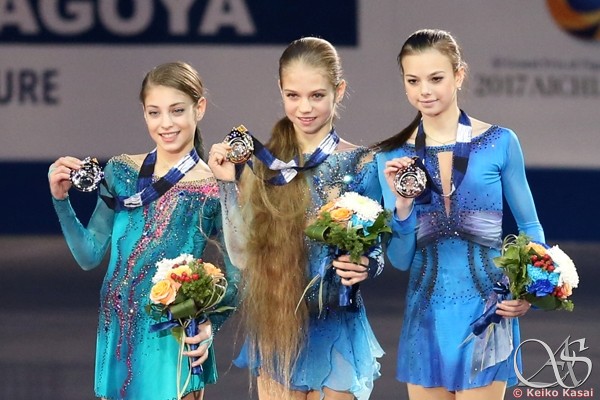 Pairs Free skating
Aljona Savchenko/ Bruno Massot from Germany dominated the pairs free skating with a truly stunning performance. They delivered one gorgeous element after another while maintaining amazing speed. Even if there were little mistakes, still they received 157.25 points, a world record! Their overall score was 236.68 and of course they won. They were beautiful and sophisticated all through their programs. The audience was really excited and the excitement lasted quite a while.
Chinese Wenjing Sui/ Cong Han also showed a brilliant program and accomplished all the elements without major mistakes. They got 155.07 points, with an overall score of 230.89. They put their game face on from the very beginning and we felt their determination. Their performance to the opera Turandot had wonderful musicality, dynamism and speed. Many fans believed they would win in spite of their low score in the short program.
Meagan Duhamel/ Eric Radford, Canada, also had a nice performance with solid elements. They won bronze with 210.83 points overall. Unfortunately Evgenia Tarasova/ Vladimir Morozov lost their momentum and finished last in the free skating, but fifth overall.
Bruno said that when he saw the score of the Chinese team he knew the level was very high; he felt this event would be a major practice session for the Olympic Games. Cong's interesting remark was: "Regardless of points, we wanted to do our best and I knew we can get our best result when we perform the best. It is a fight against ourselves, not against others." Eric said they took a step towards Nationals, but they need to take one more step, upwards.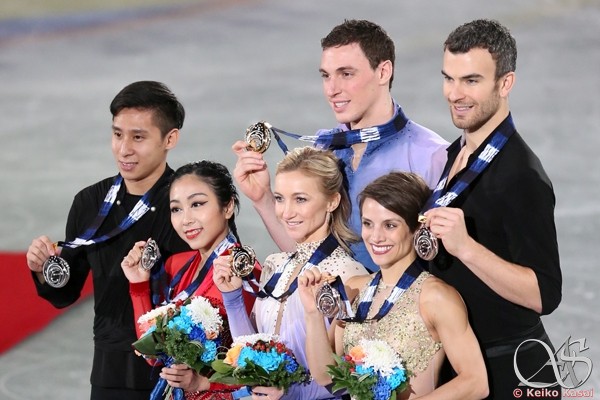 Free Dance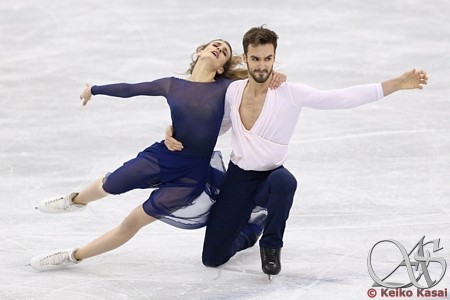 Gabriella Papadakis/ Guillaume Cizeron reached a world record score of 202.16 and won the title. They were absolutely awesome at everything: artistry, speed, execution of elements and more. The audience started applauding even before they finished their performance, and the standing ovation lasted and lasted.
Canada's Tessa Virtue/ Scott Moir finished second and were excellent in their powerful and energetic free dance to Roxanne, Come What May from the Moulin Rouge soundtrack. They scored 118.33 for the free dance and 199.86 overall, which was their seasons best.
Three US teams stayed 3rd, 4th and 5th but with a very narrow margin. To our surprise, Maia and Alex Shibutani only got 109.91 points in the free dance, which put them 6th. This was because Alex made mistakes on their twizzles again, like yesterday. Thanks to high points from the short dance, they made it to the podium, although just barely.
Madison Hubbell/ Zachary Donohue got 187.40 overall with a cool and urban flavored program, while Madison Chock/ Evan Bates received 187.15 points for their two beautiful performances.

Gabriella said they were happy to have won this competition and it was good practice for the Olympic Games. Guillaume added that there are still some things they can improve in both programs. Scott said their programs are pretty demanding and tough, but they are on their way to where they want to go. Alex acknowledged that he just had issues with the twizzles this week, but added that he was not too worried about it; it's disappointing right now but he will have time to fix it before Nationals.
Ladies Free skating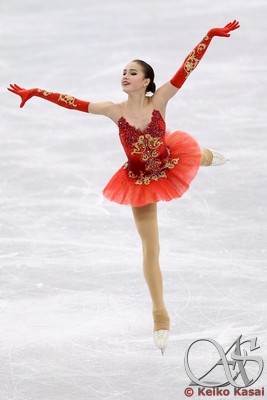 Alina Zagitova of Russia won the title with an overall score of 223.30. She was very graceful and adorable in her Don Quixote costume, and delivered a very solid performance. She had some minor mistakes in the free leading to some minus GOE for two jump passes, but it overall didn't mean much because she has the ability to get high scores: she was highly appreciated in the components score and she had placed all of her jumps in the latter half of the program to get the maximum bonus points (x1,10 - ed).
Her team-mate Maria Sotskova bounced back to second from her disappointing fourth place after the short program. Her performance was absolutely perfect and in her silvery costume she looked like a fairy dancing in the moonlight. Her overall score was 216.28.
Unfortunately Kaetlyn Osmond, Canada, made several mistakes in her performance, but still ended third overall with 215.16 points. She portrayed Odile (more swans!) with power and determination.
Carolina Kostner finished 4th with a fabulously artistic performance, while Japan's Wakaba Higuchi doubled two of her jumps and received an edge call on her triple flip and Satoko Miyahara underrotated two of her jump passes.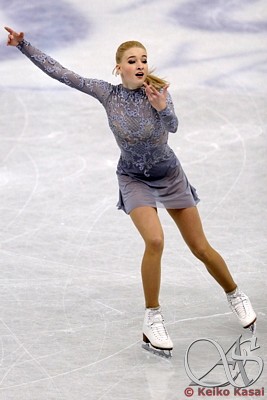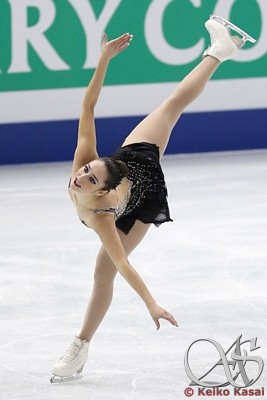 Alina said she really wanted to do well and her legs were a bit shaky, so she was glad she was able to deal with her nerves. Maria said she was glad to improve and move forward. She also said every competition inspires her to work more. Kaetlyn said that she felt good overall; that her performance was getting better each time and hopefully she will peak at the right time.
The Grand Prix Final of 2017 is over. Most of these skaters will now be going into their Nationals as the next step towards the Olympics. Many recognize this competition as valuable training for the event of events coming up soon. I hope every skater having competed here will make good use of their experience and have great results at their Nationals and other up-coming competitions before gathering in PyeongChang.
Check out more photos of the senior skaters of day 3 here, day 2 here and day 1 here! (the juniors follow later)