Skate America 2017 Day 2
November 26, 2017
By Suzanne Herrmann
Photos © Suzanne Herrmann

Short dance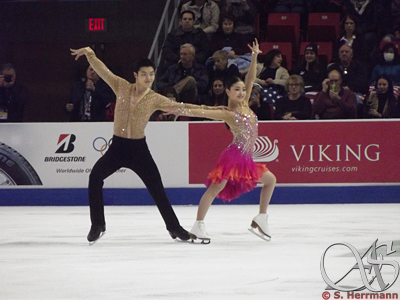 Time and time again I heard skaters comment on how amazing the Lake Placid audience was, the level of support they showed and knowledge of skating. Maia and Alex Shibutani from the US commented that all crowds have been amazing, but this is the best one they have ever skated for. The crowd cheered when they completed their twizzles - they average 20 turns!! - but also when completing the compulsory pattern dance, the Rhumba. They stood out in a class of their own in the dance event, ahead by about 6.5 points.
Anna Cappellini and Luca Lanotte, representing Italy, were surprised that they did not score better as they felt the performance to be superior to NHK. They vowed to do what they could to regain the level 4's received in their previous Grand Prix.
Russians Victoria Sinitsina and Nikita Katsalapov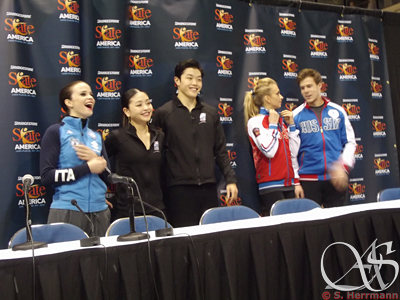 were sitting in third place, about 4 points behind the Italians.
Ladies short program
The surprises of the evening in ladies were Bradie Tennel from the United States and Kaori Sakamoto from Japan. Bradie skated second and held her lead through the first group and remained in the first three until the very last skater, Japanese Satoko Miyahara, took the lead. Satoko skated so well she was surprised by her own score! Kaori skated beautifully and nailed her technical score - it was the highest in the event! She is a beautiful skater and time will only further develop her presence on the ice! Rounding out the top three for the short was Canadian Gabrielle Daleman. She had one fall but was otherwise strong and was happy with her skate. As for the fall in practice, she said it was silly. She went down after she attempted a crosscut and only could laugh about it with her coach. He told her that was one more they'd have on video to laugh at! She apparently has silly falls regularly. As for coming into the event sick, she said she considers that extra endurance traning - haha! Special shoutout to Serafima Sakhanovich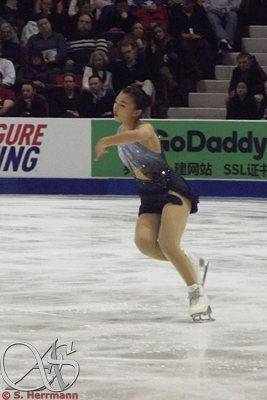 who replaced a withdrawal and skated so well she was also surprised by her score! It's great to see those reactions in the Kiss and Cry.
Pairs free skating
Aljona Savchenko and Bruno Massot finished with the gold medal by about 5 points after a good skate. Aljona singled the last two toes of a three jump combination, which is not characteristic for her. Luckily it did not seem to throw her off and their elements remained strong. Finishing in second with the silver medal were Xiaoyu Yu and Hao Zhang from China. Their throw triple twist is astounding and their throw jumps always cover an expanse of ice. I was happy for them to have a solid skate. It was surprising that Meagan Duhamel and Eric Radford from Canada finished in third with bronze. They usually show stronger skating and were disappointed with they didn't skate better, but they said they will take their experience and learn from it.
Men free skating
The men's event was not without its share of drama. For starters, Russian Maxim Kovtun withdrew before the start of the free skate event with an injured foot. Daniel Samohin, who represents Israel, fell on a quad Salchow and as he spun around on the ice, his shoulder dislocated, leaving him writhing in pain and waving the referee to stop the music. The medical team was able to put it back in off the ice and sent him to the hospital for xrays. Needless to say, he withdrew.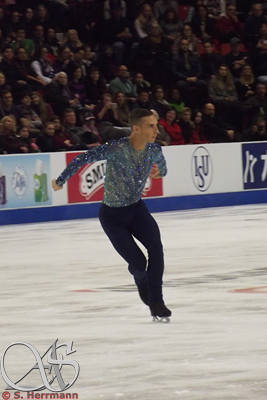 Most of the skaters were aware that there was a delay, but no specifics as to why until after they skated. Han Yan from China was the next skater up and he fought for his jumps. It would be curious to know how much the delay affected him. American, Adam Rippon, said he was ready for anything and though he did know there was a delay, he refused to let that affect him. Good thing, because the referee had him pick up bugs off the ice before he skated!! I mostly saw standard house flies, but he said there were other bugs, spiders, and Deanna Stellato, the US pairs skater even mentioned a wasp! Mostly the ice sweepers picked them up. Brings new meaning to "Ice Flys" (a popular make of the Edea boot)... Adam graciously complied, then revisited his coach before taking the ice for his program. Shortly after he began, he took an awful fall on a triple Lutz that popped HIS shoulder out. Fortunately, he said he knew what to do as it happened before and he knew he had to get his arm up and was able to pop it back in, moved it a few times to make sure it was ok and completed a stellar program, focusing on one element at a time, winning the free program and finishing with a Silver overall! My friend pointed out that she had not seen Sergei Voronov attempt ONE quad in all of his practices or warmup, but successfully completed all he attempted during the competition. He had a strong skate, finishing with the bronze, ahead of Boyang Jin from China by less than two points. Jin was falling out of his jumps, but showcased a crowd-pleasing skate. Nathan Chen was a surprise. He would complete the most perfect quads, but he popped far too many jumps, losing a lot of ground, but his phenomenal short was enough to keep him in the lead and finished with gold.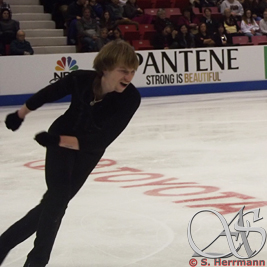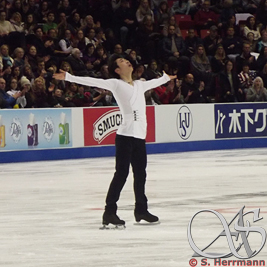 Stay tuned for the final day, which will include Ladies' and Dance free and the gala with a sneak peek from within! (I am in the opening group number with approximately 150 other skaters!)
Don't miss our social media updates (containing text updates and fun pics) on Twitter and Facebook.